5 very unusual portraits of famous writers on Russian streets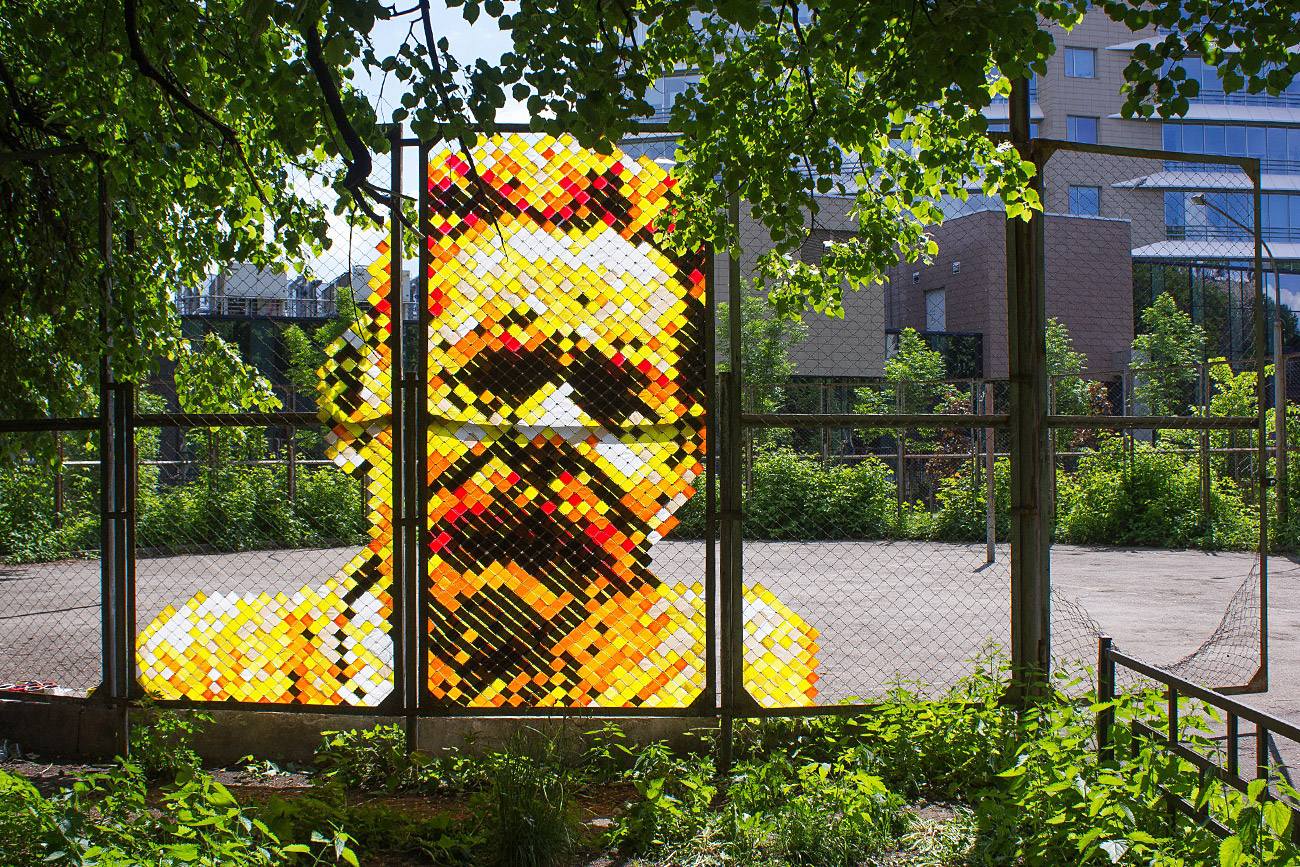 Sticky Maxim Gorky
Katya Firsova/Project "Place"
Russian streets are home to some rather original and unusual portraits of literary giants. Here's some of the most unusual and interesting.
1. Sticky Maxim Gorky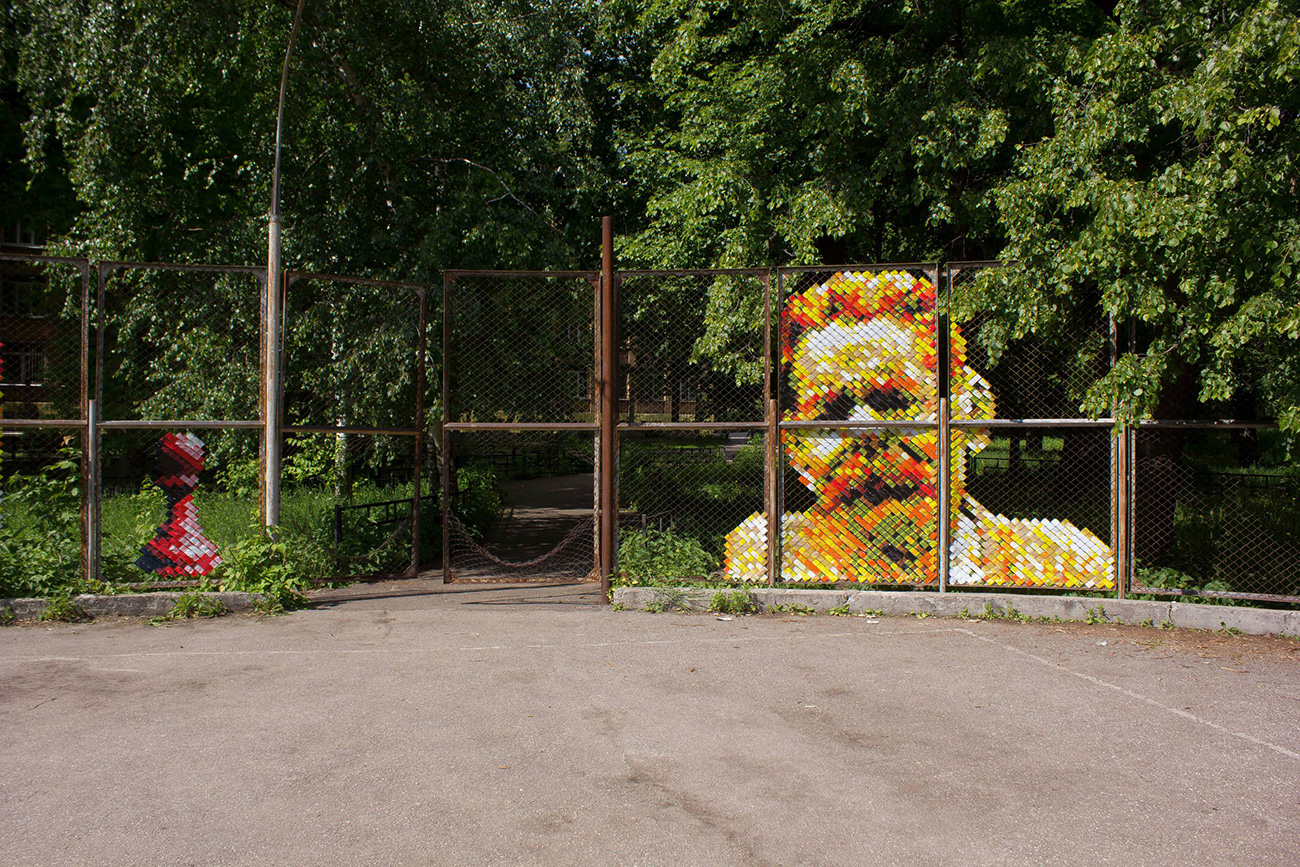 Portrait of Maxim Gorky made from sticky tapes. Source: Katya Firsova / Project "Place"
Alexander Zhunev, an artist from Perm (850 miles east of Moscow), created a unique portrait of Russian writer Maxim Gorky in his native city of Nizhny Novgorod. The artwork was made with help of different colored sticky tape, and the artist calls his project, "pixel-scotch-art."
"This style is very similar to cross stitching and it's suitable for the urban environment," Afishaquoted the artist as saying. "The image is easily recognizable when you look from far, but when standing close you can only see a colorful abstraction of little squares."
The artwork was made on netting mesh, so Zhunev says the sticky tape is the perfect material – both cheap and the right size.
2. Industrial Sergei Yesenin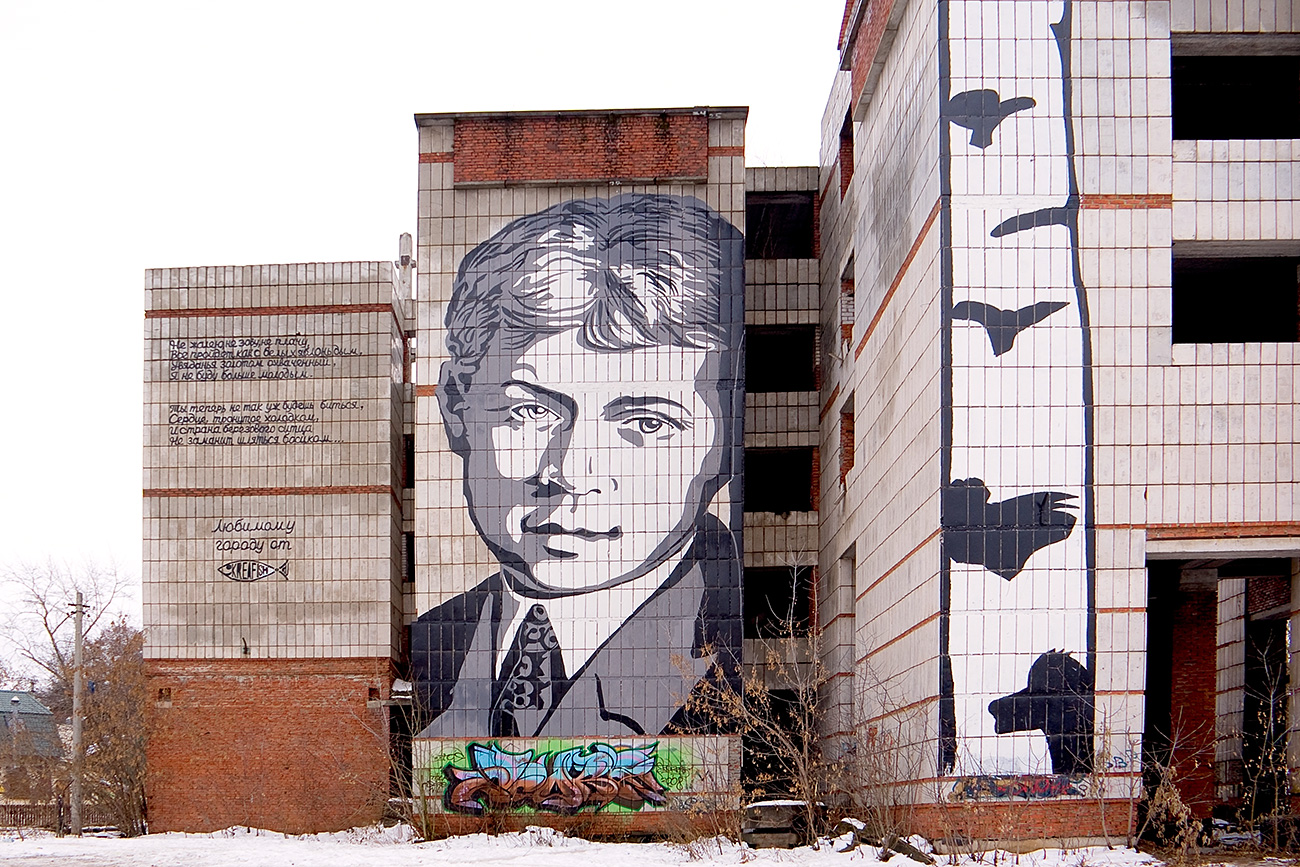 Graffiti in Perm. Source: Legion Media
Zhunev is already famous for another work – a black and white portrait of the great 20th-century Russian poet, Sergei Yesenin, which was painted on an unfinished building in Perm. According to local media, this building was left uncompleted since 1990 and became the city's symbol in 2009 thanks to the image of Yesenin. This spring, however, the building was demolished, but the artist said he's ready to repeat his artwork.
3. Hollowed Hermann Hesse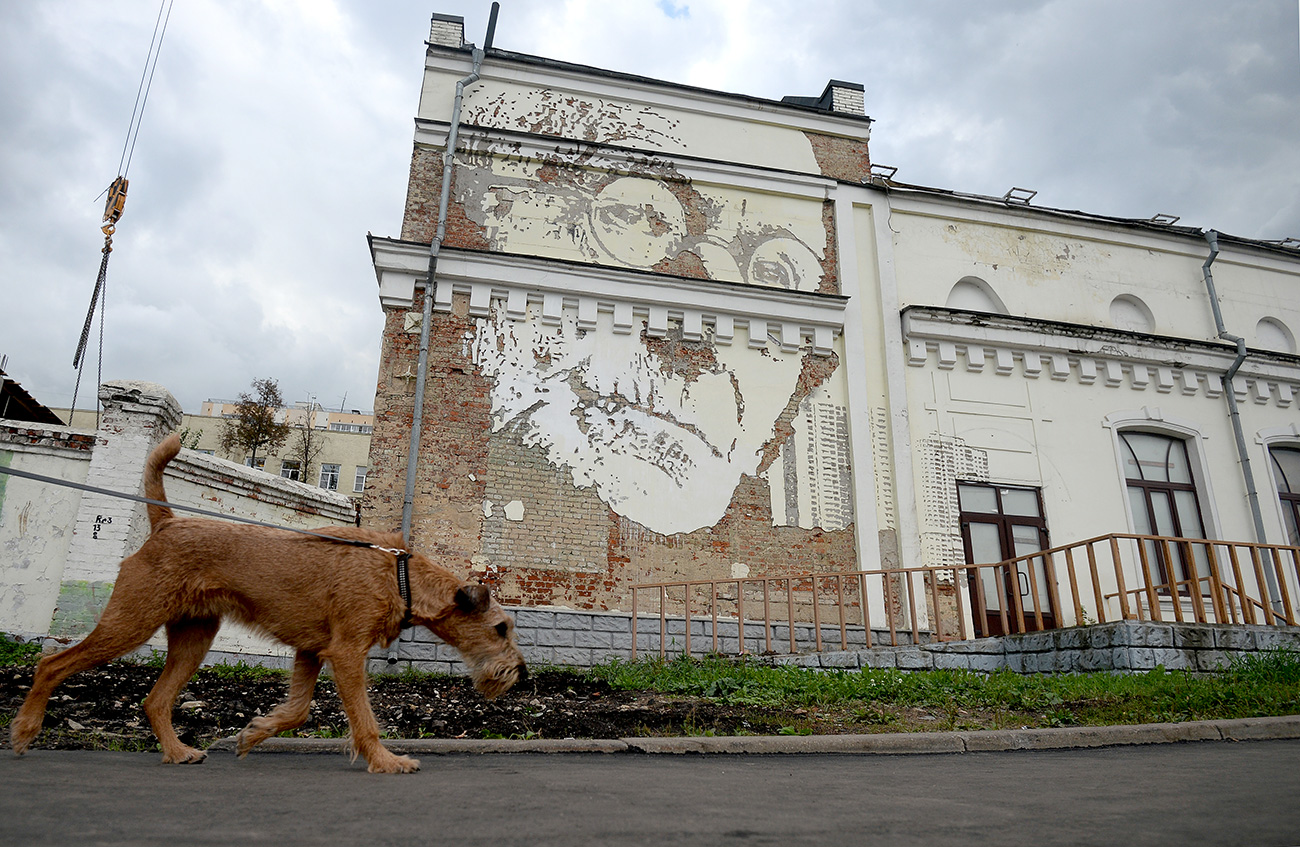 Portrait of Hermann Hesse in Moscow. Source: Konstantin Chalabov/RIA Novosti
This is one of the most eye-catching images in Moscow. Portuguese artist Alexandre Farto (Vhils) made this artwork on the wall of an abandoned building on Savvinskaya Embankment, and it's visible from far and especially for drivers. The secret behind the image of the German writer is that it's not a painting. Instead, it was hollowed into the building facade with drill and hammer.
4. Ivan Turgenev and birch trees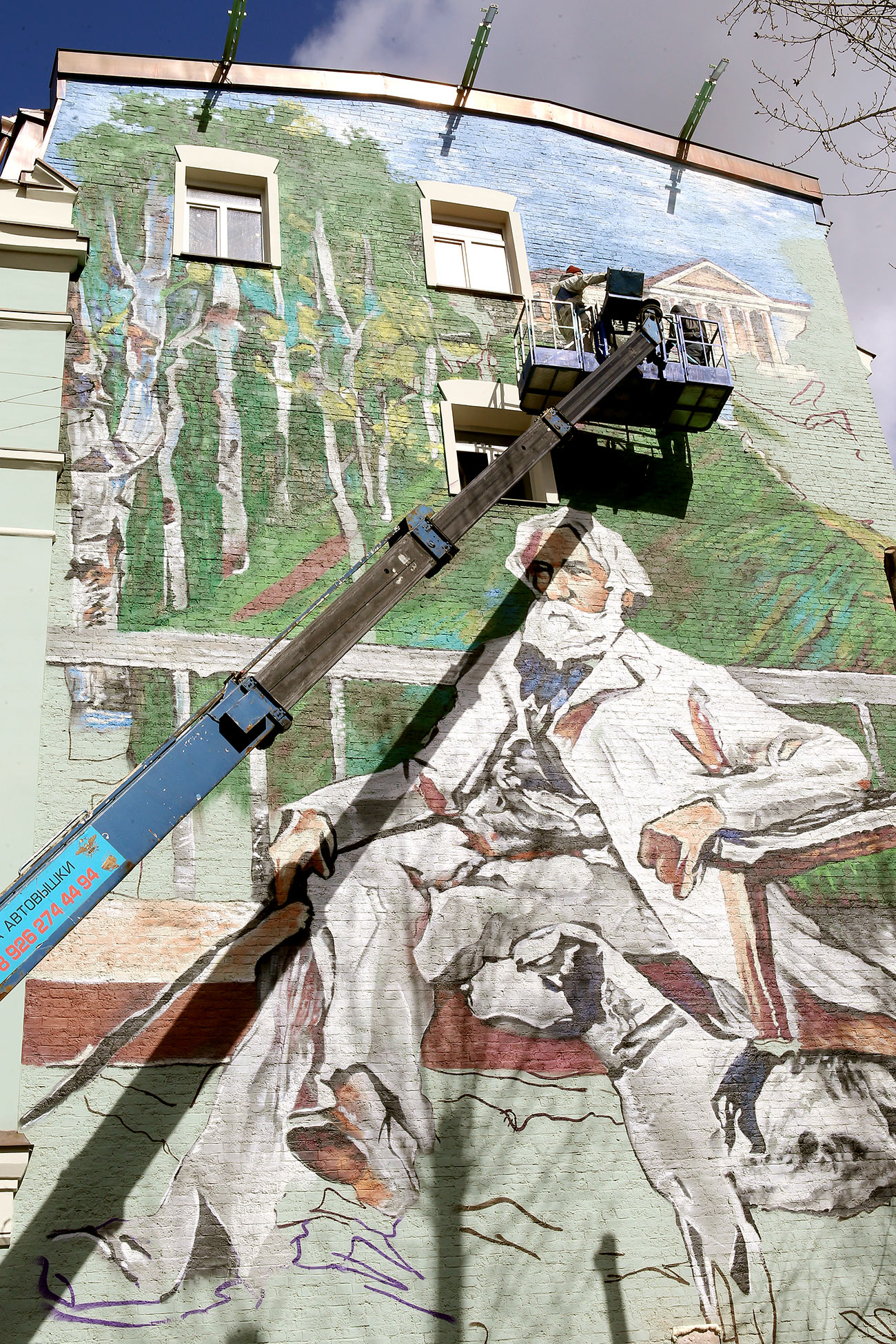 Graffiti-portrait of Ivan Turgenev on the wall of 37/7 Ostozhenka Street, Moscow. Source: Vitaliy Belousov/RIA Novosti
A huge graffiti image on an entire wall appeared this spring on Moscow's Ostozhenka Street. The image shows Russian writer Ivan Turgenev, author of Fathers and Sons, sitting on a bench surrounded by birch trees. The building next to the artwork is actually a museum dedicated to the writer.
5. Mysterious Mikhail Bulgakov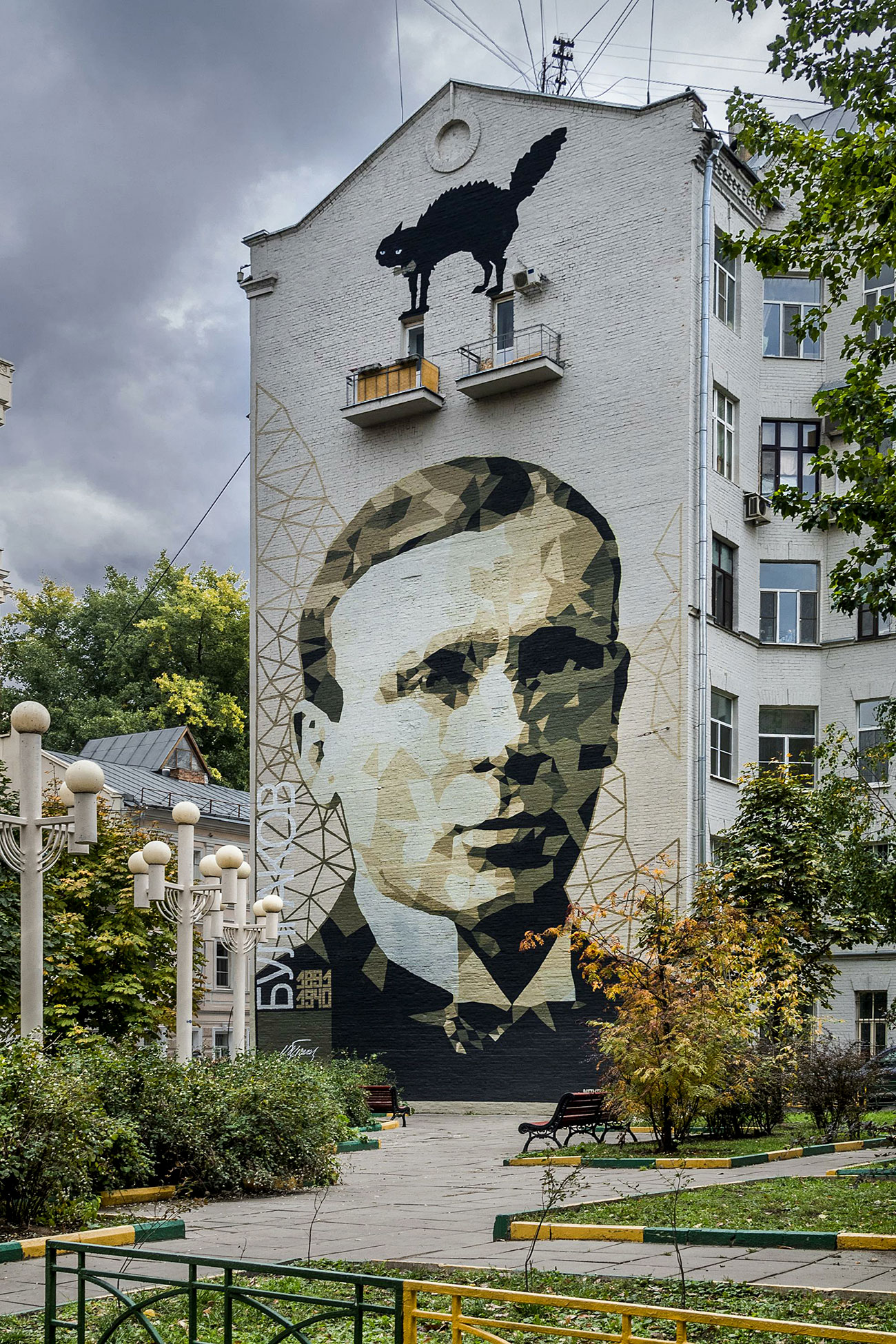 Portrait of Mikhail Bulgakov on the wall of a building in Bolshoi Afanasievsky Pereulok in Moscow. Source: Konstantin Kokoshkin/Global Look Press
A dozen cubist graffiti portraits of famous Russian art figures appeared in Moscow in 2014 as part of the Heritage project. The image of the most mysterious Russian writer, author of Master and Margarita, was painted in Bolshoi Afanasyevsky Lane where the action in the novel took place. The black cat on top symbolizes the devilish nature of Bulgakov's prose, and legend has it that the character, Behemoth the Cat, can be seen in this area, walking on two legs and talking like a man.
If using any of Russia Beyond's content, partly or in full, always provide an active hyperlink to the original material.