Moscow might seem too far away and too much of unknown to consider moving to. As Russia's largest and most expensive city, we try to make the city look real to potential expats, and offer a list of major expenses that residents have to endure. Do you think you can afford it?
Housing and accommodation
Finding a place to live in Moscow is tricky, but there are many options for any budget. The cheapest way is to rent a single room in a shared apartment. Depending on the location, the average monthly cost is from 15,000 rubles ($253) to 30,000 rubles ($507). More convenient and nicely furnished studios, as well as one-bed room apartments, will set you back each at least 30,000 rubles ($507) per month in the suburbs, and as much as 110,000 rubles ($1,859) in the city downtown.
Food shopping
Moscow has grocery shops on every corner: big ones, small ones, local ones, organic and vegetarian. So finding food items that you're accustomed to in your country won't be a problem. But prices on imported goods might be, because on average they're twice or three times higher than in Russian stores. On the other hand, there are many domestically grown vegetables, fruits, fish, and meats of excellent quality, and prices are affordable. Prices for specific items vary depending upon the store, but here's a list of the most popular shops according to budget category:
Cheap - Auchan, Pyaterochka, DIXY
Average– Magnolia, Perekrestok
Expensive – Azbuka Vkusa, Globus Gourmet
Transport
Moscow is a large city and commuting takes a significant share of your time and money. The cheapest option is to buy a monthly pass for all forms of public transportation (buses, trams and metro), which will cost 2,000 rubles ($33). If you'll be staying in Moscow for a while, you might consider getting a three-month pass that costs 5,000 rubles ($84), which will save you 1,000 rubles ($17). Another option, if you don't commute often, is to buy a Troika card: 1 trip on a bus or metro costs 35 rubles (59 cents). If you don't get a Troika card, the cost of a trip increases to 55 rubles (93 cents). Check our guide on using the Moscow metro if you need more details.
Love to cycle? Consider renting a bike (watch how to do it here). One day will cost you 150 rubles or $2.5 (for 30-minute rides); one month – 600 rubles ($10); and for the entire season – 990 rubles ($16.7); or 1,190 rubles ($20) for 45-minute rides. In summer, this is popular among Muscovites, but as the weather gets colder many choose other means of transport.
A more convenient, but not always time-saving option, is to travel by car. A taxi in the city center on average costs 150-300 rubles ($2-5), and travelling to the airport or suburbs will set you back 1,000-2,000 rubles ($17-33). Renting a car is possible for 2,000 rubles ($33) a day, with luxury options available for up to 35,000 rubles ($591) per day. If you think about buying a car, keep in mind that the most affordable option starts at 100,000 ($1,690) and reaches up to millions of rubles for new vehicles. Monthly gas expenditures vary from 5,000 to 15,000 rubles ($84-253) depending on the distances you travel.
Eating out
It's always good to grab a cup of coffee on the way to the office. In Moscow this might cost you 120-300 rubles ($2-5) on average depending on what you like. It's definitely cheaper to have a cappuccino in McDonalds or at local cafes than at Starbucks or other international coffee chains.
Lunch might set you back 200 to 500 rubles ($3-8) on average. The cheapest options are local cafes, especially those in your office building. The most expensive are obviously in high-class restaurants.If you choose to have a nice dinner at a restaurant in the evening the average check might be 1,000-2,000 rubles ($17-33) per person. Here is our guide on finding something to eat in the city center, just in case.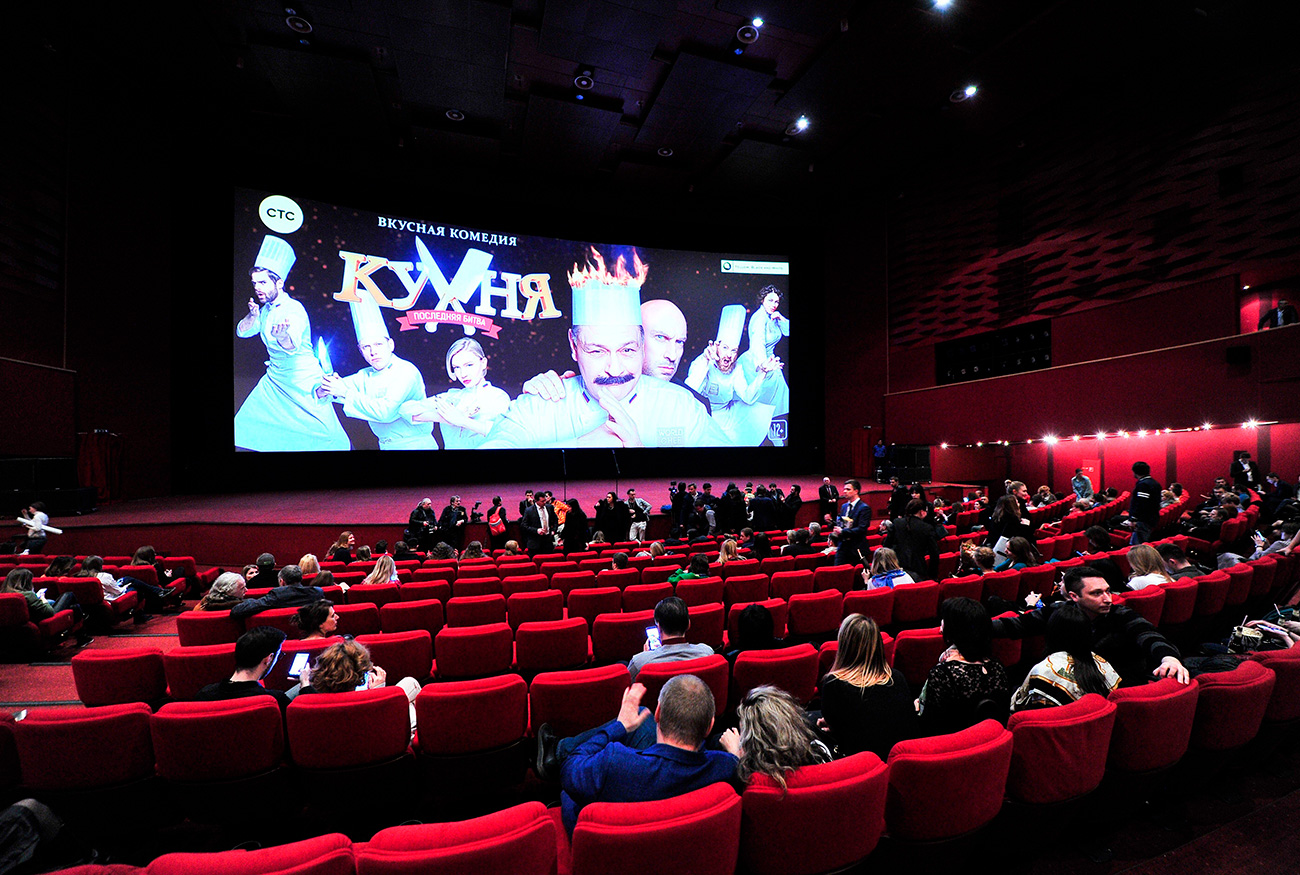 A ticket to the cinema might cost you 300-400 rubles. / Moskva Agency
Entertainment
The cinema is one of the most popular and affordable forms of entertainments in Moscow, and the average cost of a ticket in the evening is 300-400 rubles ($5-6). However, movies in the morning are usually cheaper (around 100-150 rubles, or $1-2), but on weekends in the city center cinemas charge the most, with tickets as high as 700 rubles ($11).
Another popular past time in Russia's capital is bar hopping. Prices vary of course, but on average a cocktail such as a Long Island, or a glass of white wine or a beer, will cost around 300-400 rubles ($5-6). Sometimes there is a cover charge for entry (up to 500 rubles, or $8), and you might want to reserve a table (deposit costs about 2,000 rubles or $33) on busy nights.
Many options are available for those interested in music, theater or circus. If you book in advance, affordable tickets can be found for as little as 1,000 rubles ($17). On average, however, prices are as follows: a concert by a famous international music group costs 3,000-4,000 rubles ($50-67), a ticket to the Bolshoi Theater – 5,000-7,000 rubles ($84-118); and to the circus – 2,000-4,000 rubles ($33-67).
Prices indicated are an estimated average to give you a sense of what life in Moscow is like and to help you decide how much money you need. These prices are relevant at the time of publication and most likely will change in the future.
Read more:
If using any of Russia Beyond's content, partly or in full, always provide an active hyperlink to the original material.