A lover of dogs and long walks, Chekhov was also a practicing doctor and married a beautiful young actress who worked at a theater that was later named in his honor.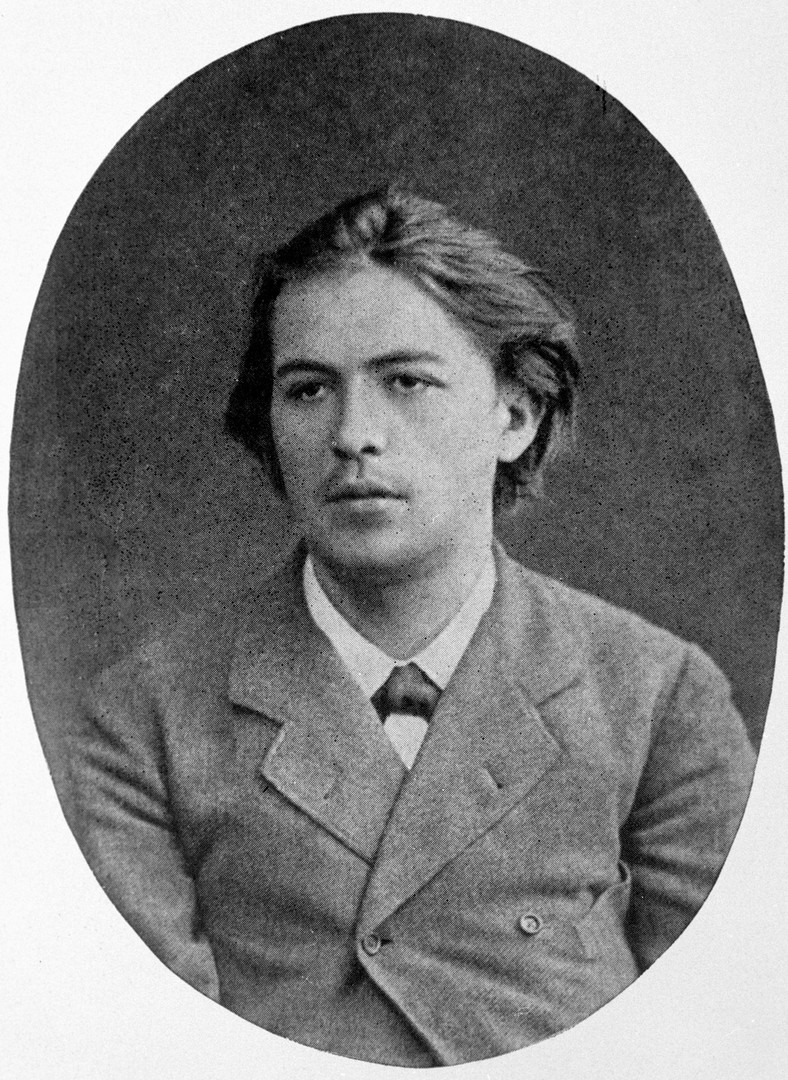 Where you've got art, where you've got talent, there's no room for old age, there's no room for loneliness or being ill. Even death is only half itself.
Can you imagine that this young man is the great Russian writer, Anton Chekhov? Without his famous pince-nez, and with long hair, he is hardly recognizable. The photo was taken in 1883 when Chekhov was a student at the Medical Faculty of Moscow State University.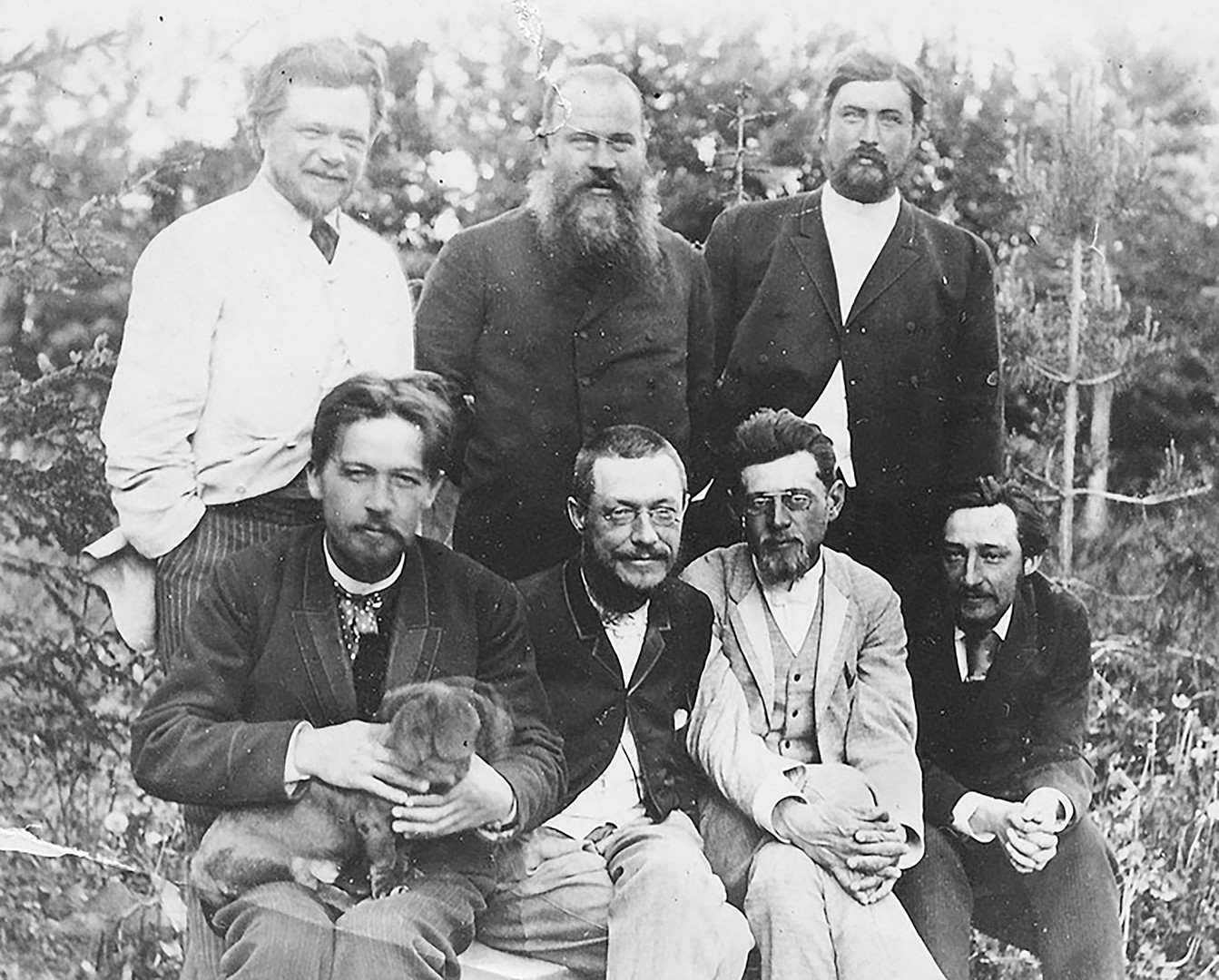 The medical profession is a feat that requires self-sacrifice, purity of soul and purity of thought.
Chekhov (below left) is pictured at his Moscow Region estate, Melikhovo, in the company of local self-governance delegates and his dog. He had two dachshunds, and as a doctor, he named them after medicines – Brom, and Khina. Today, canines from all over the country visit Melikhovo during the Russian National Dachshund Festival.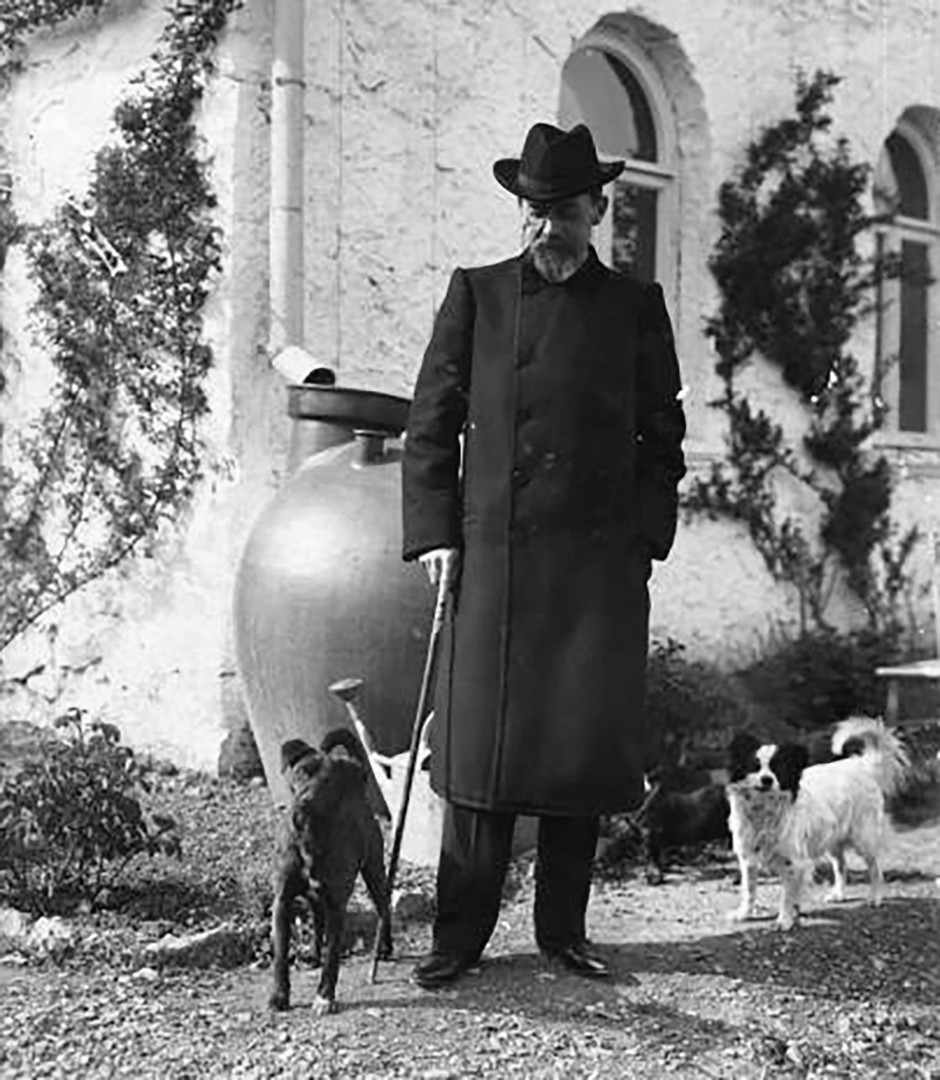 A nice man would feel ashamed even in front of a dog.
As you can see, Chekhov was a fan of dogs. Here, the writer is pictured in the Crimean city of Yalta in the early 1900s. By the way, this is where the plot of his short story, The Lady with a Dog, takes place.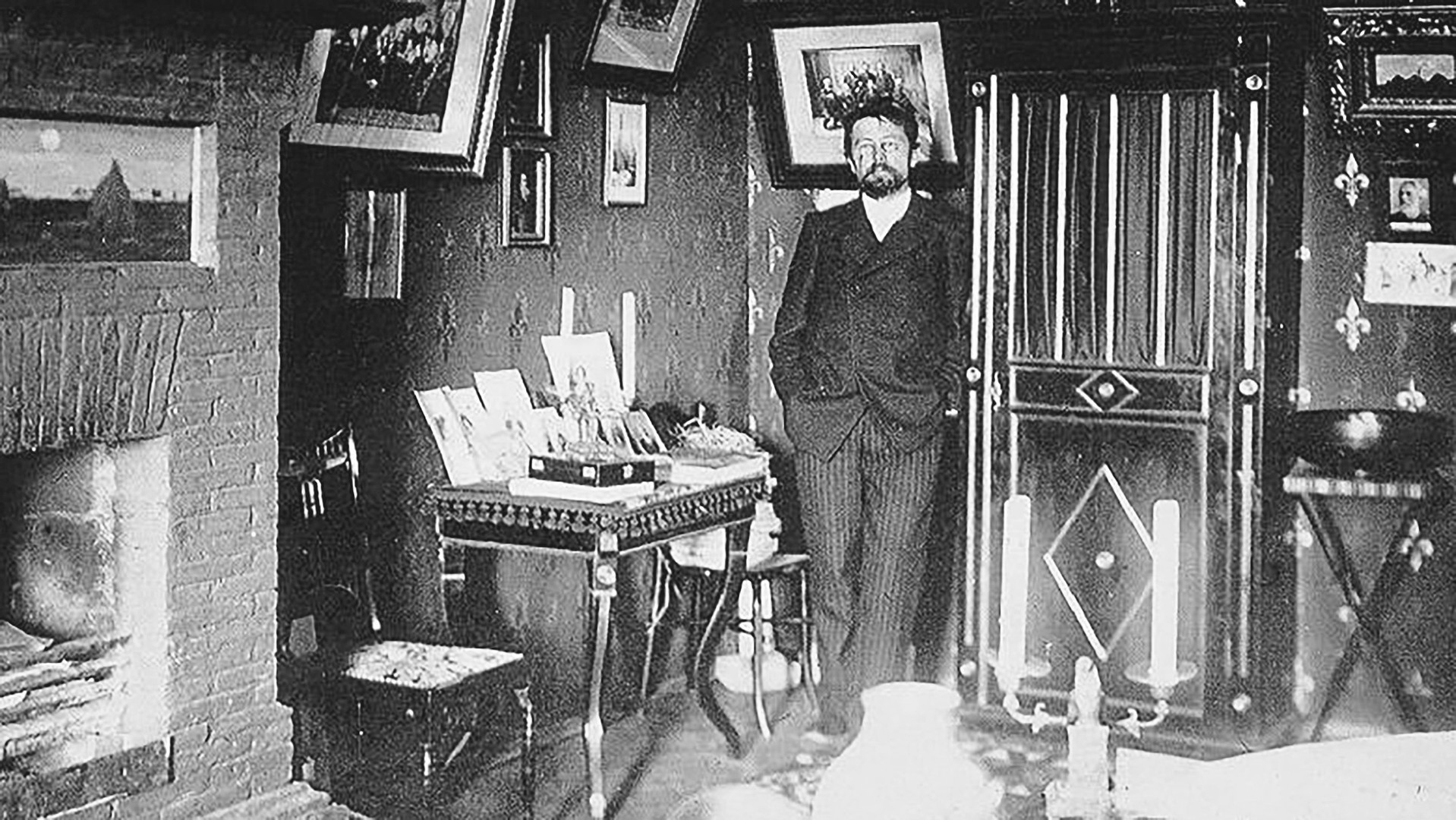 Wikipedia
Everything I know about human nature I learned from me.
Ill with tuberculosis that grew worse in 1898, Chekhov spent much time in Crimea with its more favorable climate. He bought a house, the so-called White Dacha. Here, the writer is pictured inside the dacha that is now the Chekhov Museum.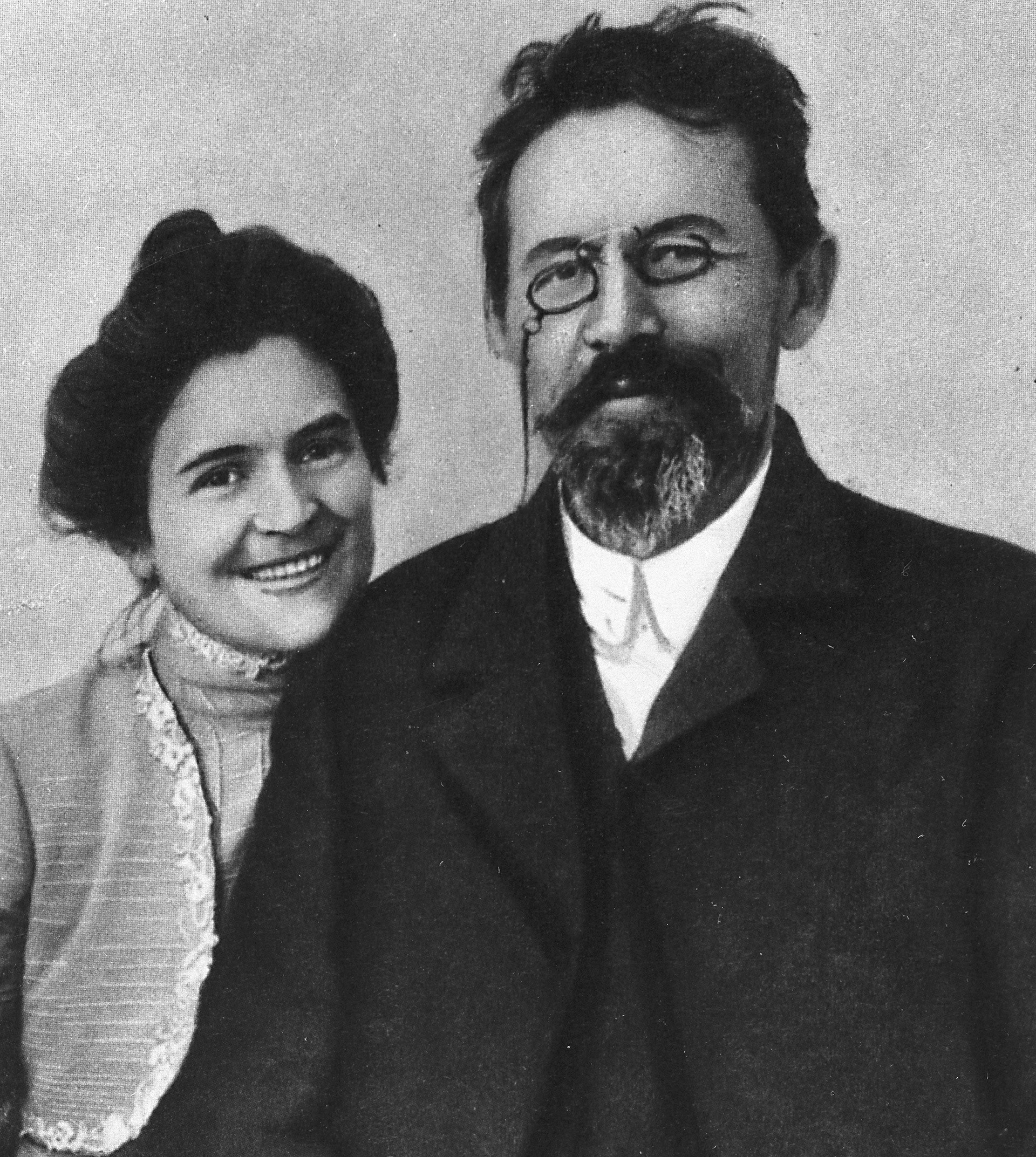 RIA Novosti
Being in love shows a person who he should be.
These are rare photos of Chekhov smiling! And almost all are taken with his wife, actress of the Moscow Art Theater, Olga Knipper. She played leading roles in his plays, and they met during a rehearsal of The Seagull.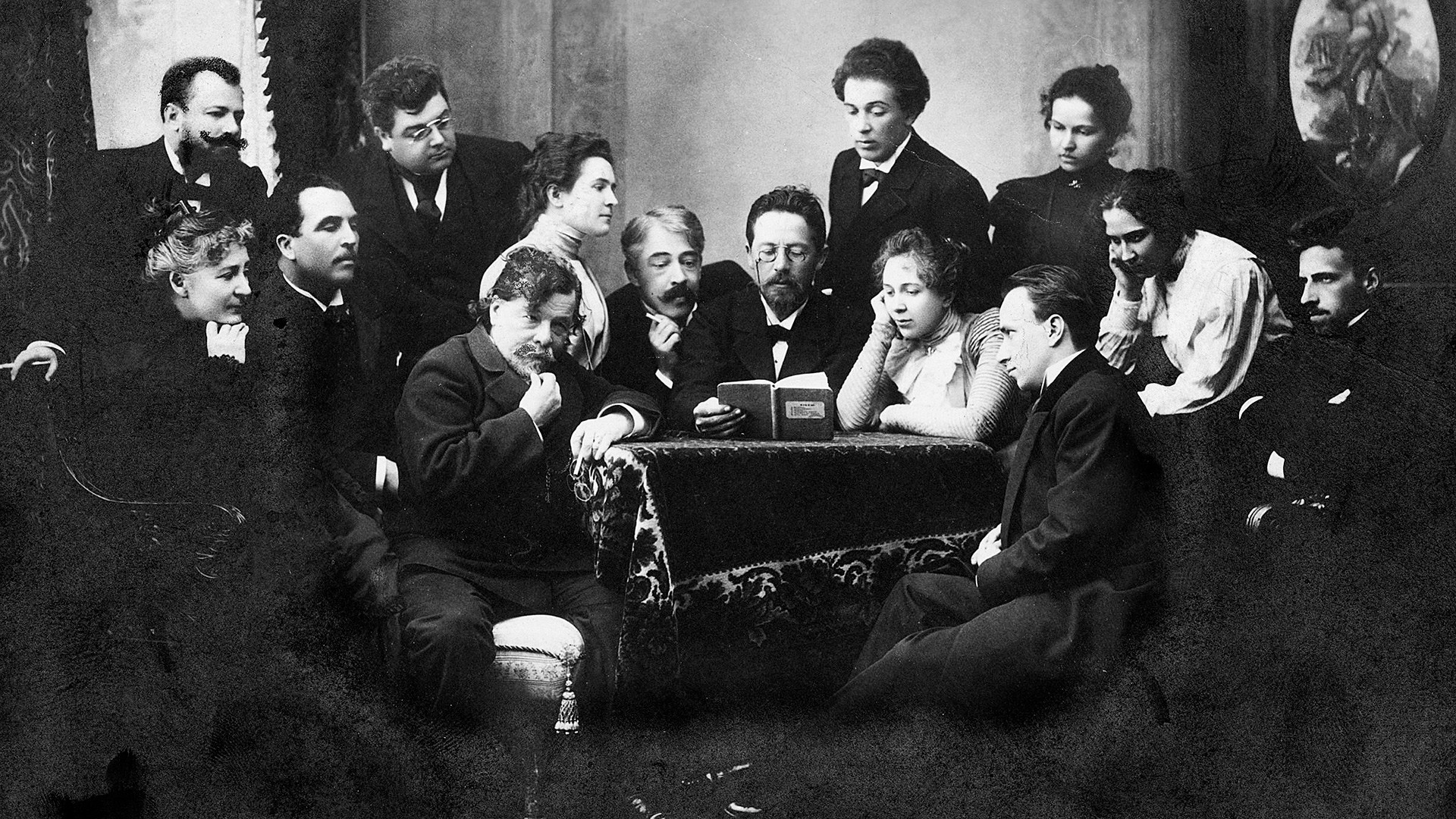 Global Look Press
If in the first act you have hung a pistol on the wall, then in the following act it should be fired
Chekhov reading The Seagull to a group of actors of the Moscow Art Theater; among them are Konstantin Stanislavsky (left from Chekhov), Olga Knipper (second left from Chekhov), Vsevolod Meyerhold (right), and Vladimir Nemirovich-Danchenko (stands left). This is probably the moment when Chekhov and Knipper first felt something towards each other.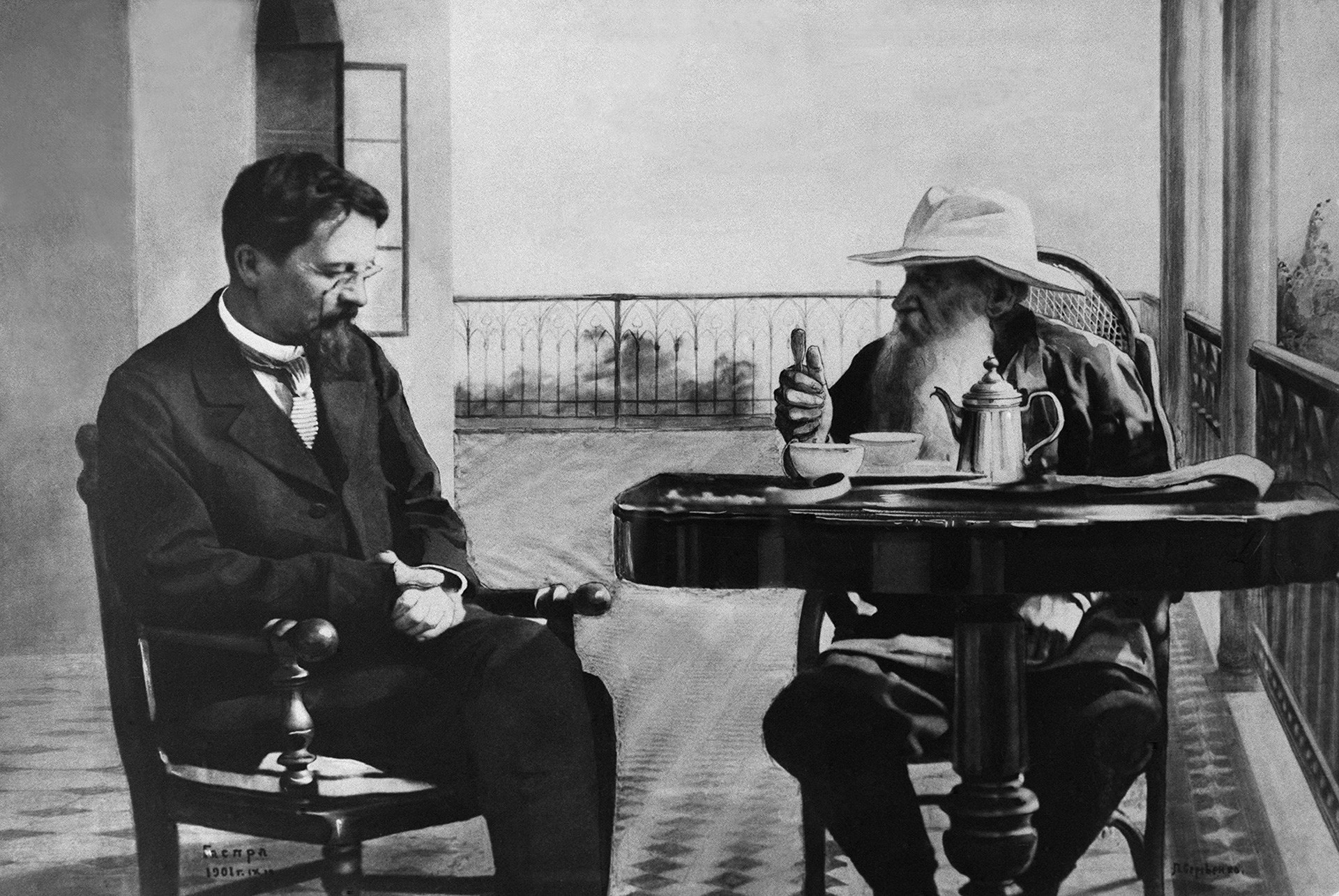 RIA Novosti
Love, friendship and respect do not unite people as much as a common hatred for something.
What a good thing to see two great people of the past caught in one photo? Leo Tolstoy and Anton Chekhov playing chess in Crimea, a historical meeting.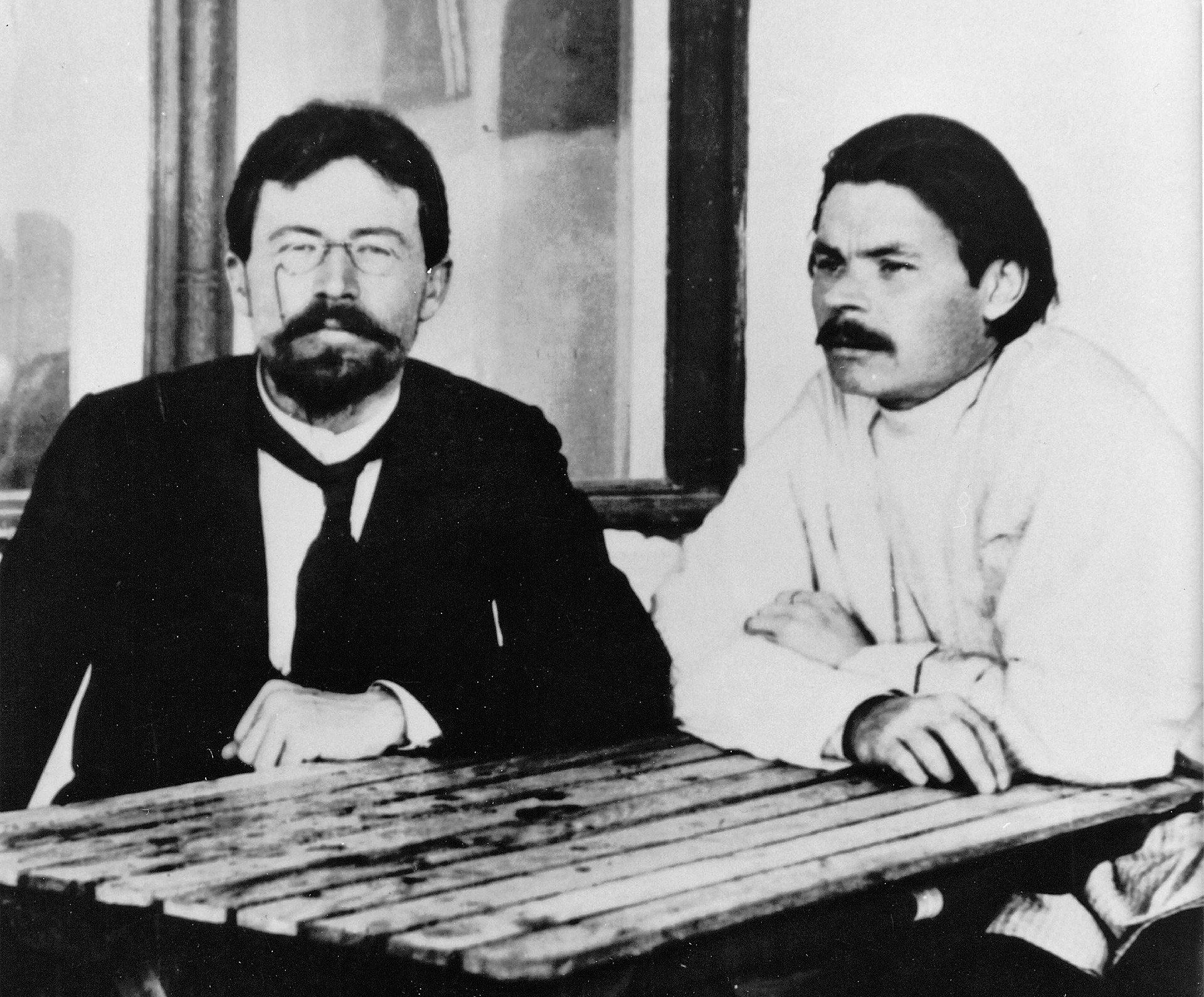 Getty Images
The wealthy man is not he who has money, but he who has the means to live in the luxurious state of early spring.
Maxim Gorky adored Chekhov's talent, and after some correspondence Chekhov suggested to meet in person in Crimea, where they are pictured. The two literary giants had daily meetings and conversations. Gorky was amazed by Chekhov's inner freedom, and asked Chekhov to point out all his stylistic roughness.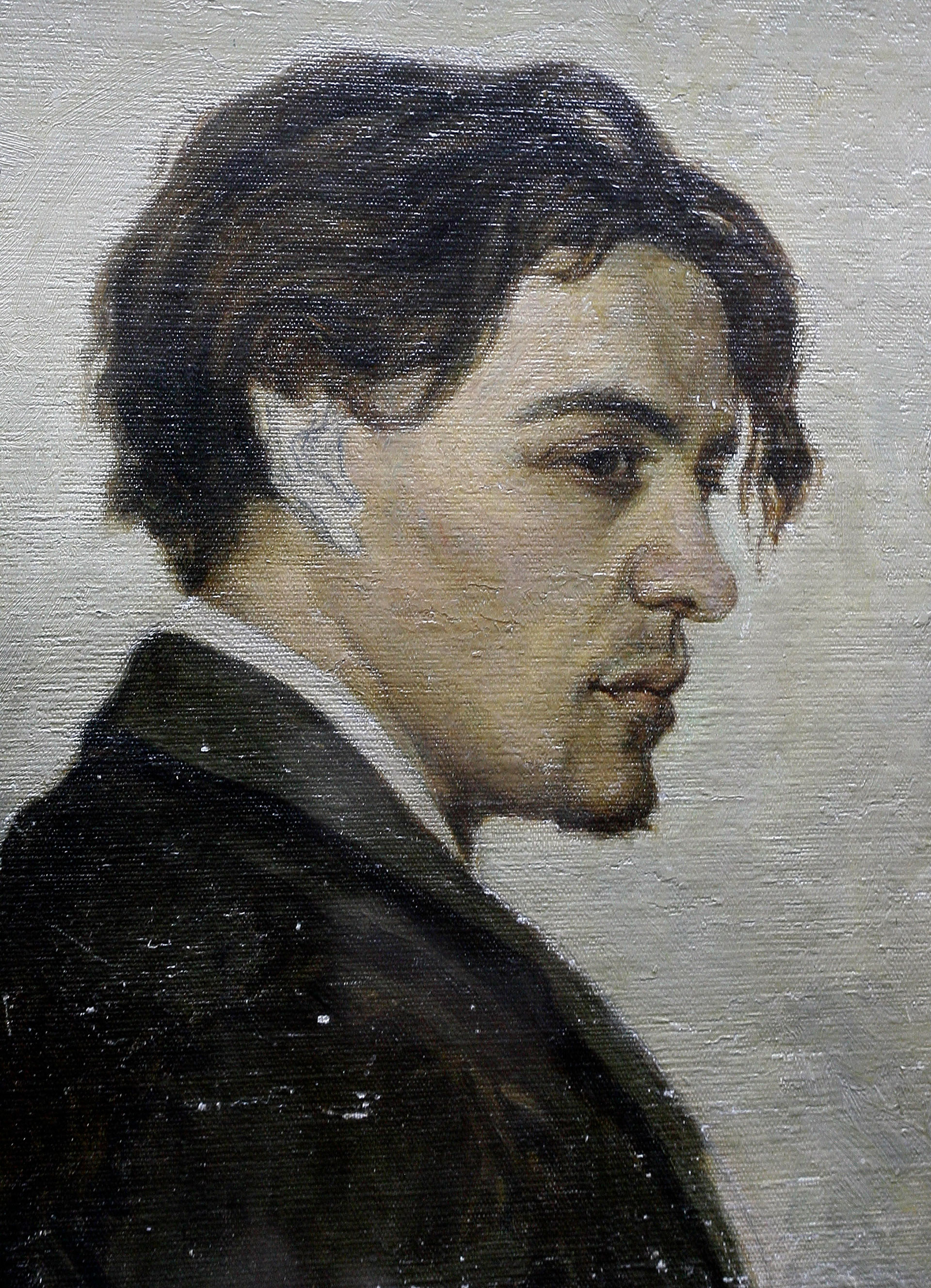 RIA Novosti
A good upbringing means not that you won't spill sauce on the tablecloth, but that you won't notice it when someone else does.
This is a less known portrait of Chekhov painted by his brother, artist Nikolai Chekhov. The portrait is now on display in the Chekhov Literary Museum, which by the way, is located in the building of a former gymnasium where the Chekhov brothers used to study.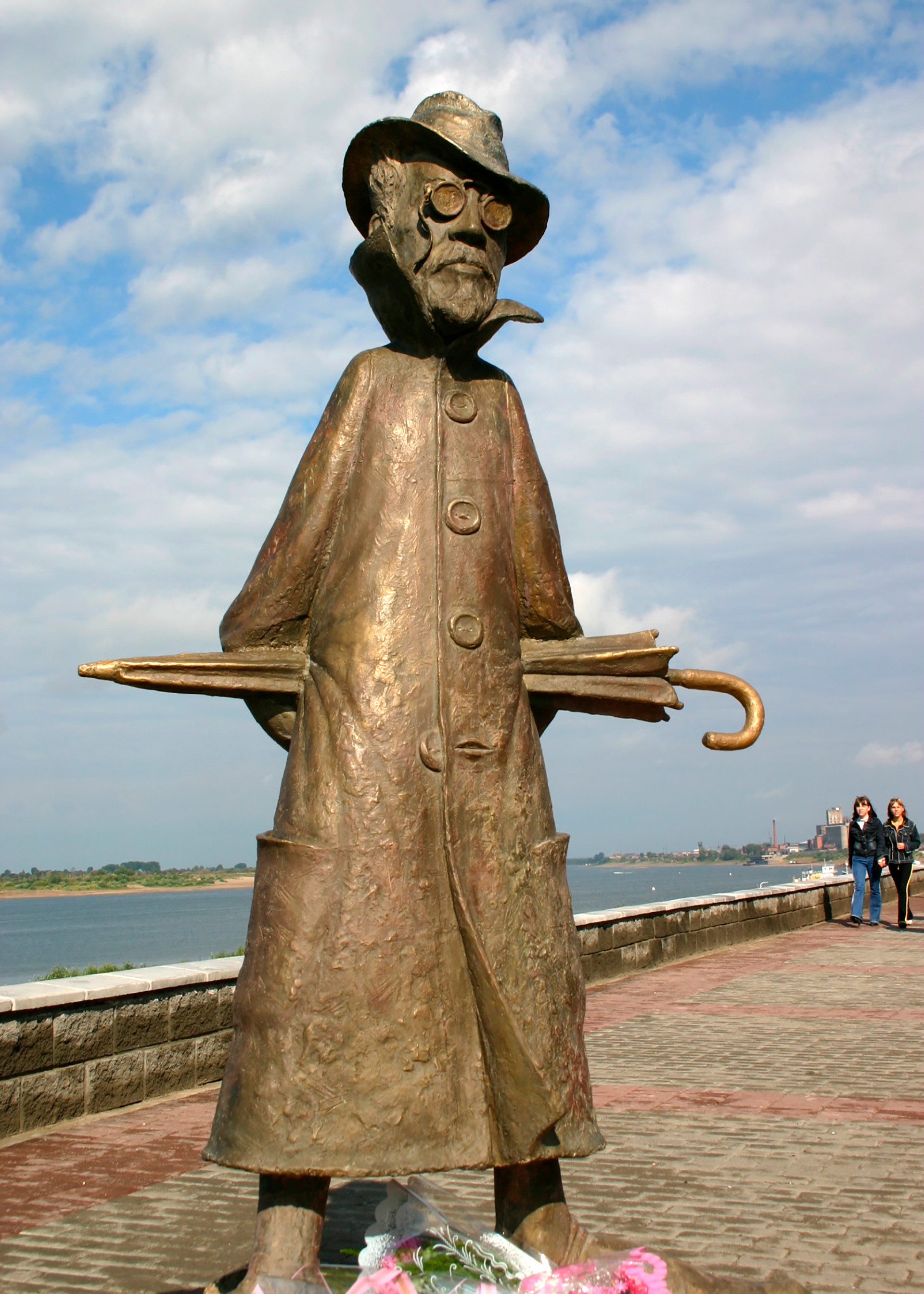 RIA Novosti
Tomsk isn't worth a brass nickel… an incredibly boring city…. the people are incredibly boring… the city is full of drunks… endlessly muddy… the maid at the local tavern wiped my spoon on her butt before giving it to me… The dinners here are excellent, unlike the women who are rough to the touch…
This is not one of Chekhov's words of wisdom, and for sure, not an idiom. But that's what he wrote about the city of Tomsk after visiting it on his way on Sakhalin. As a result, in 2004, the citizens of Tomsk erected this caricature monument as revenge on the great writer. The caption on the monument says, "Anton Pavlovich in Tomsk seen through the eyes of a drunk lying in a ditch and who hasn't read Kashtanka."
If using any of Russia Beyond's content, partly or in full, always provide an active hyperlink to the original material.