How a Disney movie based on ancient Slavic legends became Russia's top 2017 box office hit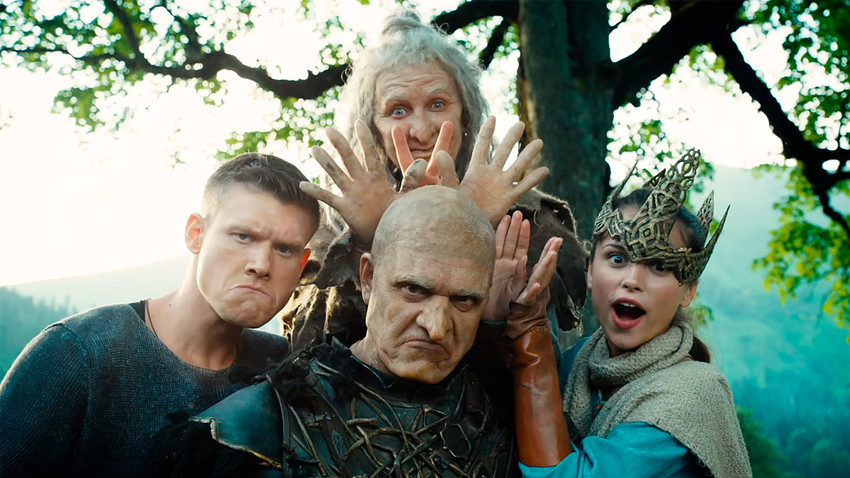 Can you imagine an ordinary 21st century man who suddenly finds himself in a fairy tale universe and is required to be a hero? What would you do on his place? He decides first to take a selfie with his evil opponents.
A progressive millennial from Moscow, Ivan, suddenly appears in a fairytale world, where he meets Vasilisa the Beautiful, Koschei the Deathless and other characters from Slavic folklore. He is forced by circumstances to take sides in an eternal battle between good and evil.
This is the plot of the movie The Last Warrior (also known in English as The Last Warrior) that has taken Russian cinemas by storm, becoming the biggest domestically produced movie at the Russian box office this year, grossing 1.3 billion rubles ($22 million) during its first two weeks on release. The film has also reached sixth place in the top 10 box office hits of the year, bettered only by such Hollywood blockbusters as the latest Pirates of the Caribbean, The Fast and the Furious, and Despicable Me.
So what is the secret of its success?
The movie is co-produced by Disney and Russian company Yellow, Black and White, which helps bring it to a new level of realism. This is the second and most successful attempt of Disney to enter the Russian film market – in 2009 it produced the movie The Book of Masters, also based on traditional Russian tales; it took nearly $11 million at the box office.
Following the Soviet boom in films based on Russian folklore, there was a long period during which several films drawing on traditional tales bombed at the box office and dozens of cartoon stories mainly aimed at younger audiences that were quickly forgotten. But The Last Warrior may have a longer shelf life due to its humor and high production values. Moreover, it does not pretend to be a real fairy tale.
The movie is rated 12+ so it doesn't have to explain what is good and what is bad, as films for children would need to. The film interprets traditional Slavic characters in new and bold ways: They are not 100 percent good or evil; they are complicated characters with many different qualities.
New roles for traditional Slavic heroes
Baba Yaga is traditionally an ugly old witch flying on a broom and Koschei The Deathless is also old and ugly, even though he is a powerful, sorcerer who constantly tries to steal princesses. In this movie they show up on the surface as terrible creatures, but their inner worlds offer as much humor as can be found in, for example, Despicable Me. They are cynical and smart and usually appear in foolish situations, just like other comic characters.
Ivan, The Last Warrior, is not an unwavering and brave hero, but a nice and ordinary man who takes selfies with Baba Yaga and Koschei.
For Russians all these folklore characters are well known from childhood, so seeing them in such new circumstances is a clever way to capture the imagination of audiences. Viewers are also flattered that not only Marvel superheroes can be cool and attractive, but the heroes of Russian folklore too.
The movie also boasts beautiful landscapes, splendid interiors of tsars' palaces and Russian music such as songs from Alexander Borodin's Prince Igor opera – and a lot of good jokes. The director, Dmitry Dyachenko, previously worked on several other Russian comedies; one of the most successful was the hugely popular road movie What Men Talk About.
If using any of Russia Beyond's content, partly or in full, always provide an active hyperlink to the original material.