Who is Zhenya Machneva, the only Russian artist invited to the 2018 Triennal in New York City?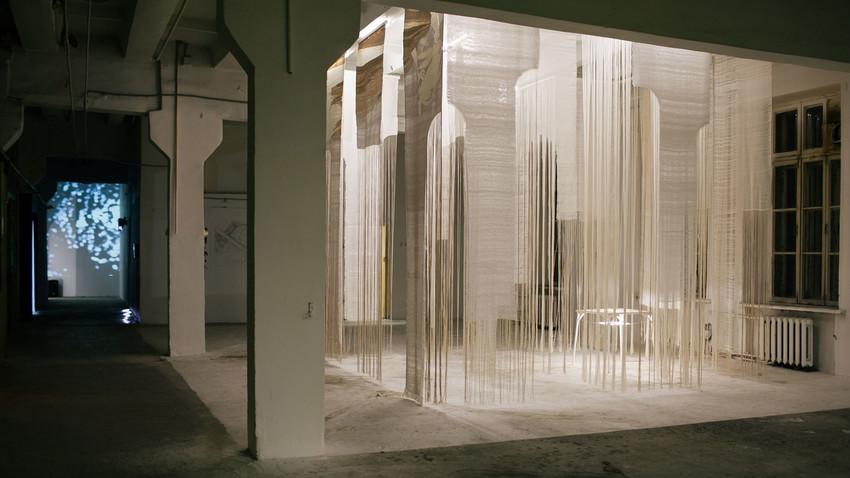 Zhenya Machneva's White Pavilion at Ural Industrial Biennial
Press photo/Ural Industrial Biennial
The young female artist from St. Petersburg is influenced by national traditions, and reinterprets them in a contemporary context.
"Songs for Sabotage," the fourth New Museum Triennial, will be held in New York City from Feb. 2 to May 27, 2018, and more than 30 artists from 19 countries will engage society with their creative and daring vision. As to be expected from the title, the exhibition is a call to artistic action and engagement.
"Through their distinct approaches, the artists in 'Songs for Sabotage' offer models for dismantling and replacing the political and economic networks that envelop today's global youth," said the curators in a statement.
As most artists in this exhibition, 30-year-old Zhenya Machneva will be shown in the U.S. for the first time.
Machneva graduated St. Petersburg's Art and Industry Academy, founded in 1876 by Russian industrialist Alexander Stieglitz. Today, it's one of the country's leading educational institutions in applied arts, handicrafts and design. In Soviet times the academy was named in honor of Vera Mukhina, the creator of the famous monument in Moscow, Worker and Collective Farmer. In recent years, the academy was given back its original name in honor of Stieglitz.
Machneva's artistic work is steeped in Russian national handicrafts, but through her industrial images she tries to find common ground between traditional art and technical progress.
In 2015 and 2017, Machneva took part in the Ural Industrial Biennale and worked as an artist in residence in Kasli, a town famous for its cast-iron sculptures. Machneva is a rare case of an artist working with tapestry textile art, and her textile paintings research issues of place and memory.
Machneva's latest project was a reconstruction that paid homage to the Kasli pavilion built for the World Expo in Paris in 1900. The Ural Biennale commissar, Alisa Prudnikova, told Russia Beyond that Machneva started working on the project in Paris in 2016. Later, it was shown to the Portuguese curator of the Ural Biennale 2017, and he was delighted.
Avoska and the Vera Mukhina's legendary glass tumbler are well known abroad, but they are far from the only items that Soviet industry produced. Read more about 10 common consumer goods that postwar Soviet citizens grew up with and cherished.
If using any of Russia Beyond's content, partly or in full, always provide an active hyperlink to the original material.