Many Russian dancers, composers, artists, choreographers and entrepreneurs worked for the Ballets Russes, the Russian enterprise that conquered Europe in the early 20th century. These immensely talented people spread the fame of the Russian ballet around the world, making Russian culture fashionable.
Sergei Diaghilev, ballet impresario and founder of Ballets Russes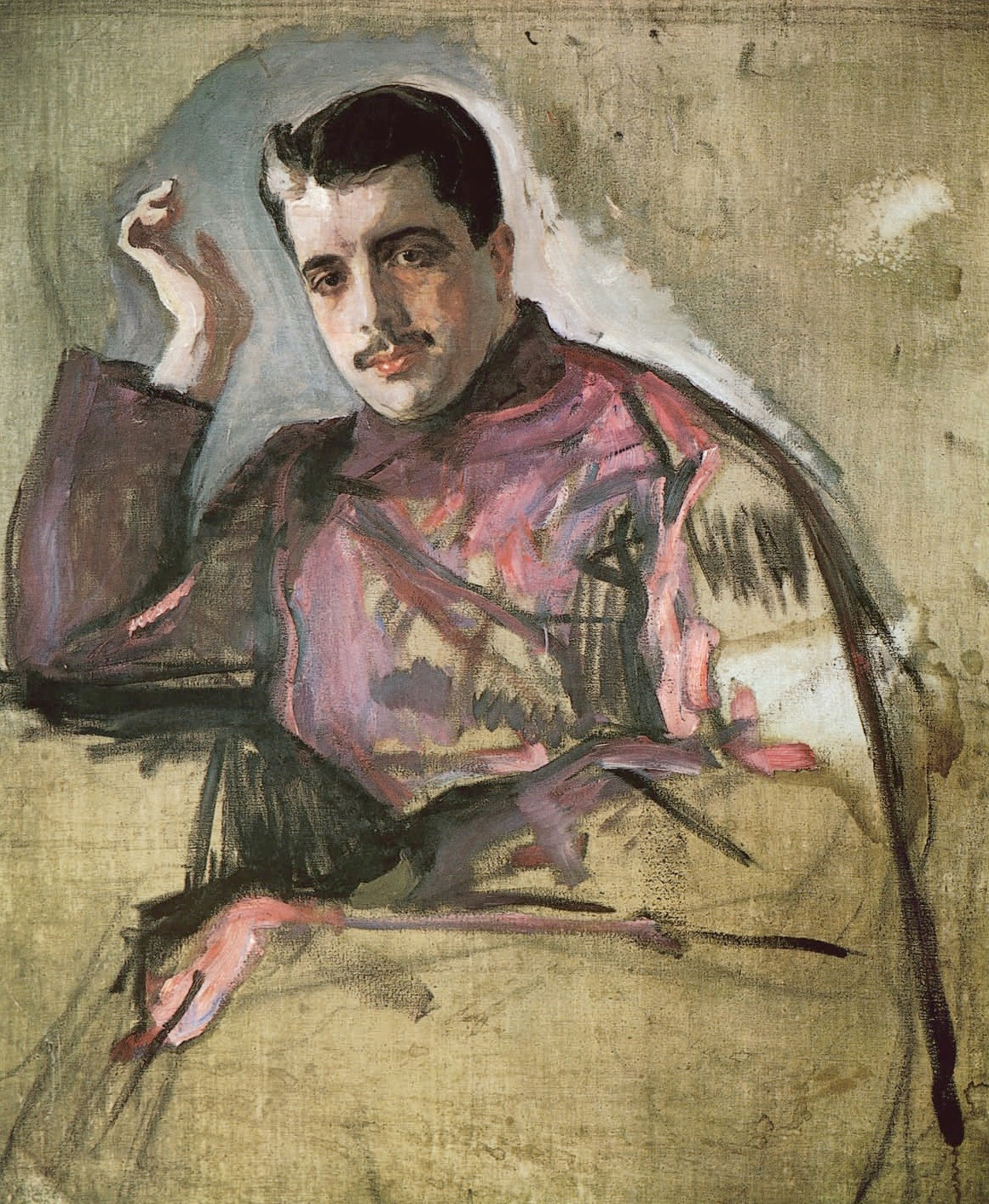 Extremely talented as a ballet impresario, Sergei Diaghilev played the greatest role popularizing Russian culture internationally. He founded The Russian Seasons (Les Saisons Russes), the project that later gave birth to the Ballets Russes, and spread the fame of this quintessential Russian art form across international audiences, and in doing so he had a major influence on the future of world culture. Starting from 1906, the finest showcases of Russian art, classical music, opera and later on, ballet, toured Europe to critical acclaim, earning the adoration of audiences everywhere.
In fact, Diaghilev changed the very nature of classical Russian ballet, making it more innovative, brief and beautifully decorated in order to dazzle international audiences.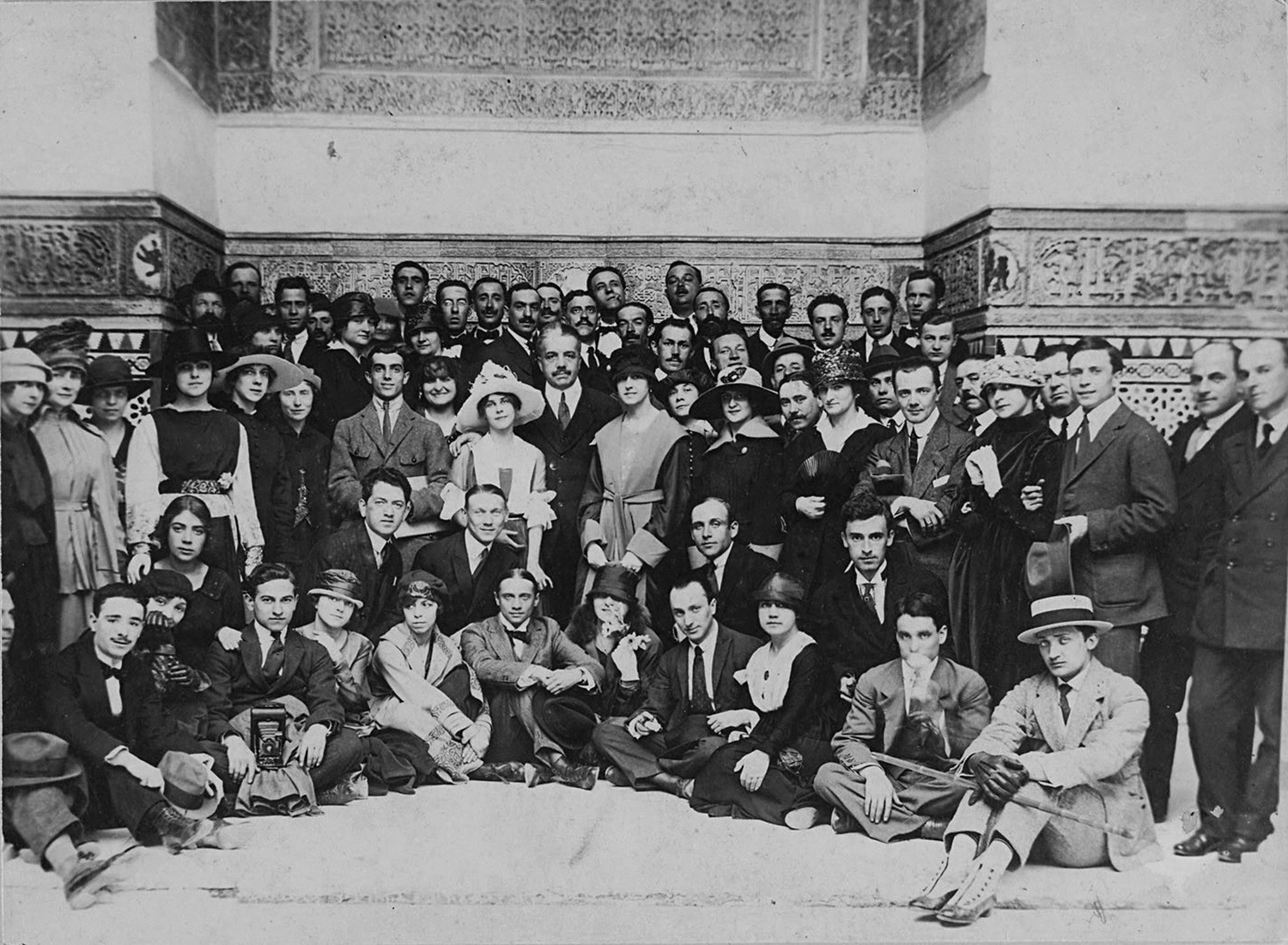 Ballets Russes in Seville, 1916. Sergei Diaghilev (center)
Legion Media
"I thought about creating a new, more concise kind of ballet, which would be a self-sufficient phenomenon of art, and would include the three important factors of ballet - music, drawing and choreography. These aspects would be merged much closer together than they have in the past," Diaghilev later wrote in his memoirs in 1928.
Leading Europeans artists also worked on decorations and costumes for the Ballets Russes, such as Pablo Picasso, Coco Chanel and Henri Matisse. But composer Igor Stravinsky was one of Diaghilev's 'greatest discoveries.'
Vaslav Nijinsky, ballet dancer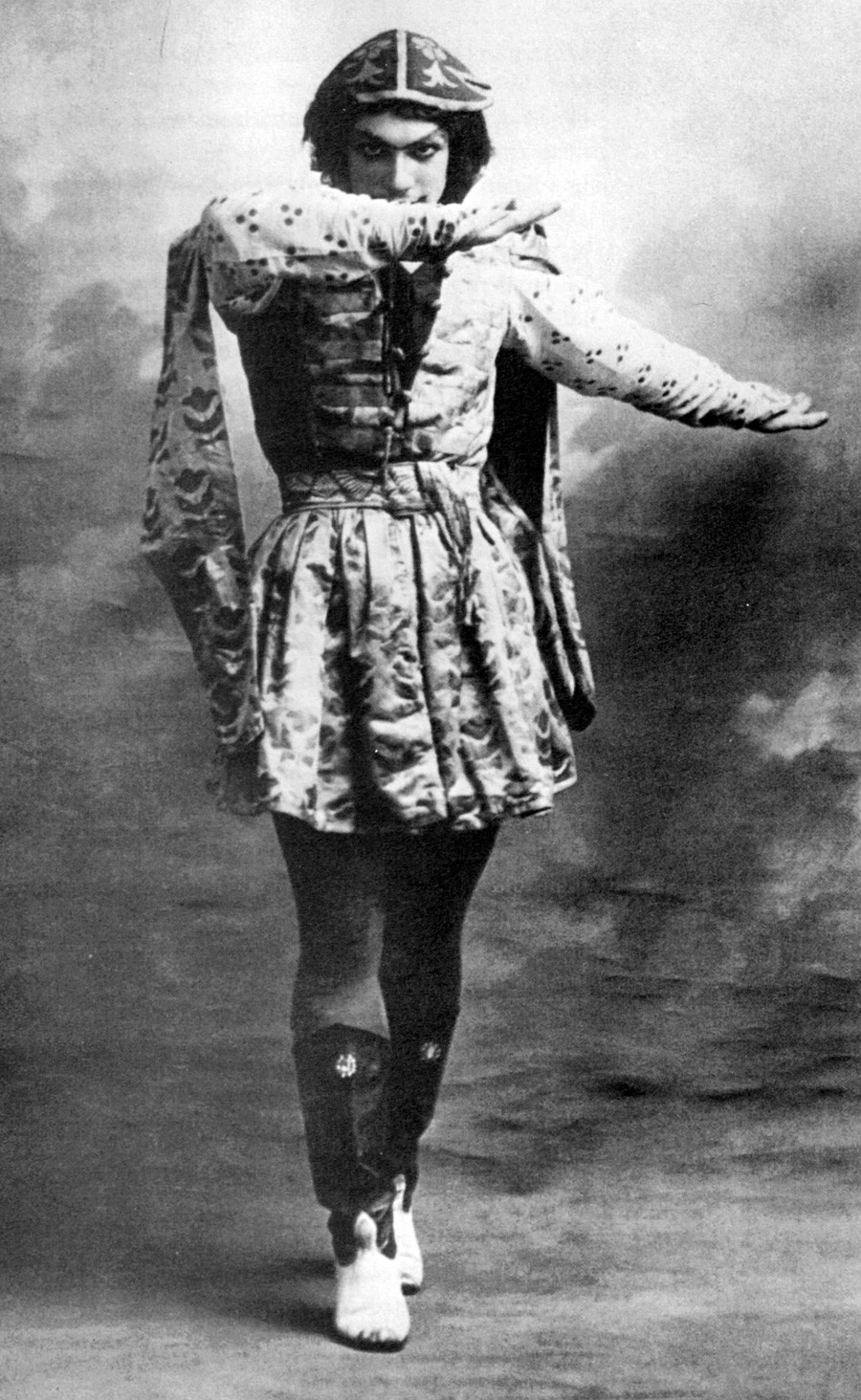 Vaslav Nijinsky (1889-1950) was a Russian ballet dancer who is often cited as the greatest male dancer of the early 20th century. Here he is wearing high boots and a long tunic, peering above his right arm, left arm extended to the side in the Grand pas classique hongrois from Le festin.
Global Look Press
One of the Ballets Russes' brightest stars, Vaslav Nijinsky, had an impressive but short and tragic career. His style of dance was simultaneously strong and light. He astounded audiences with his breathtaking jumps, creating the effect of flying in the air.
Everything about him was surprising and strange, even the arithmetic of his life: 10 years of childhood, 10 years of ballet school, 10 extraordinary years on stage – all together, 30 years. And then, after a personal and professional break with Diaghilev, he spent another 30 years in a madhouse in Switzerland, as well as in various European clinics, diagnosed with schizophrenia, and nearly forgotten.
Repetition of Nijinsky as The Faun, Ballets Russes,1916.
He was the absolute and acclaimed idol of his era, stunning audiences with his dancing style and modern ballet innovations. After seeing him on stage, actress Sarah Bernhardt said that she had seen the greatest actor. Auguste Rodin admired the dancer's perfect plasticity, and Charlie Chaplin tried to secretly make a video of him, which was absolutely forbidden by Diaghilev.
In addition to Nijinsky, the Ballets Russes was famous for the work of many acknowledged ballet dancers: Anna Pavlova, Leonide Massine, Mikhail Fokine, Serge Lifar and many others.
Anna Pavlova, prima ballerina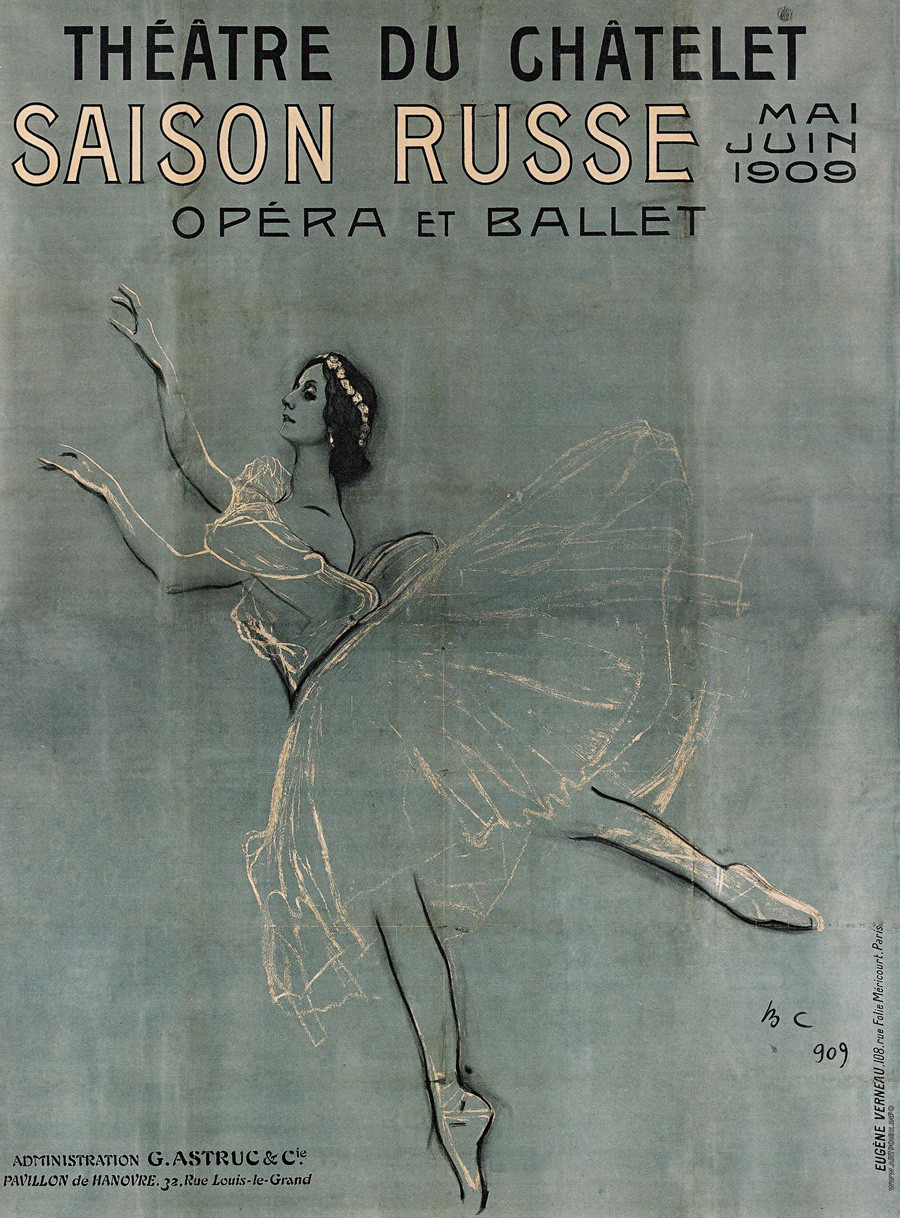 Poster depicting Anna Pavlova advertising the Ballets Russes in Paris in 1909. Designed by Velentine Serov.
Russian State Library
Anna Pavlova was a dancing genius and became the symbol of the Ballets Russes. Painted for official posters by the acclaimed Russian portraitist, Valentin Serov, Pavlova was a truly international star.
Pavlova even persuaded Diaghilev to include the national ballet in the program of the Ballets Russes, a decision that made the project even more popular. "Pavlova is a cloud hovering above the Earth," the press wrote at that time. Her artistic embodiment of a dying swan set to the music of Saint-Saens specially made for the Ballets Russes earned Pavlova immortality.
With her magnificent legacy, Pavlova still remains dear to many ballet lovers across the globe. In Australia a famous cake is named in her honor; Holland has a tulip called 'Anna Pavlova'.
Leon Bakst, painter and theater artist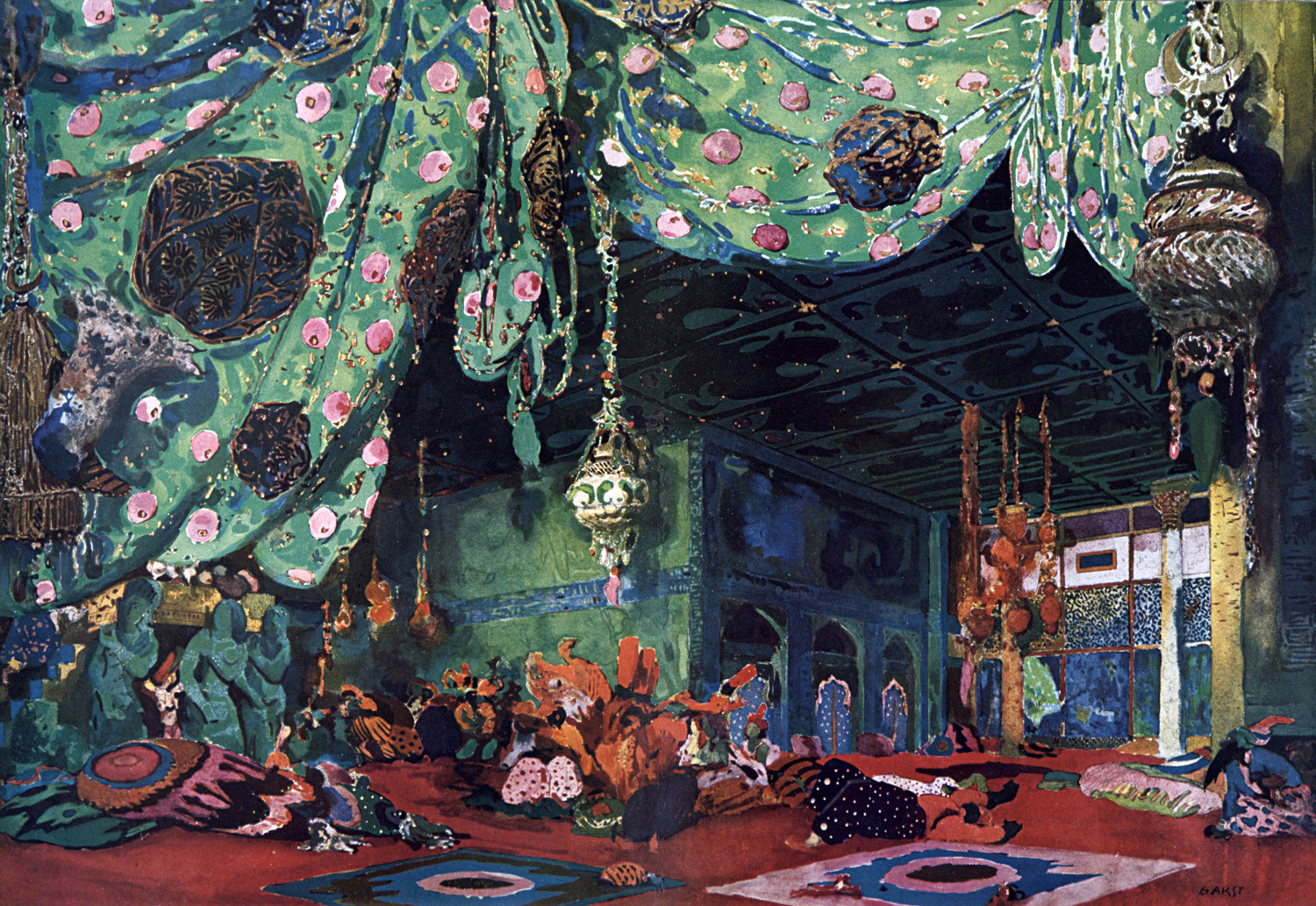 Scenery design by Leon Bakst (1866-1924) 'Scheherazade' produced in 1910 by Sergei Diaghilev's Ballets Russes. Music by Nikolai Rimsky-Korsakov, choreography by Michel Fokine.
Global Look Press
This revolutionary artist intoxicated Paris, driving the French mad about Russian culture. Fashion a la russe became all the rage in large part thanks to Bakst's stage decorations and costumes.
The artist earned great fame with his extraordinary fairy tale scenery for Ballets Russes' leading productions: "Cleopatra," "Scheherazade," "Carnival," and "Narcissus." According to Bakst, even the smallest details of the costumes, their color and design aimed to emphasize the plasticity and flexibility of the ballet dancers.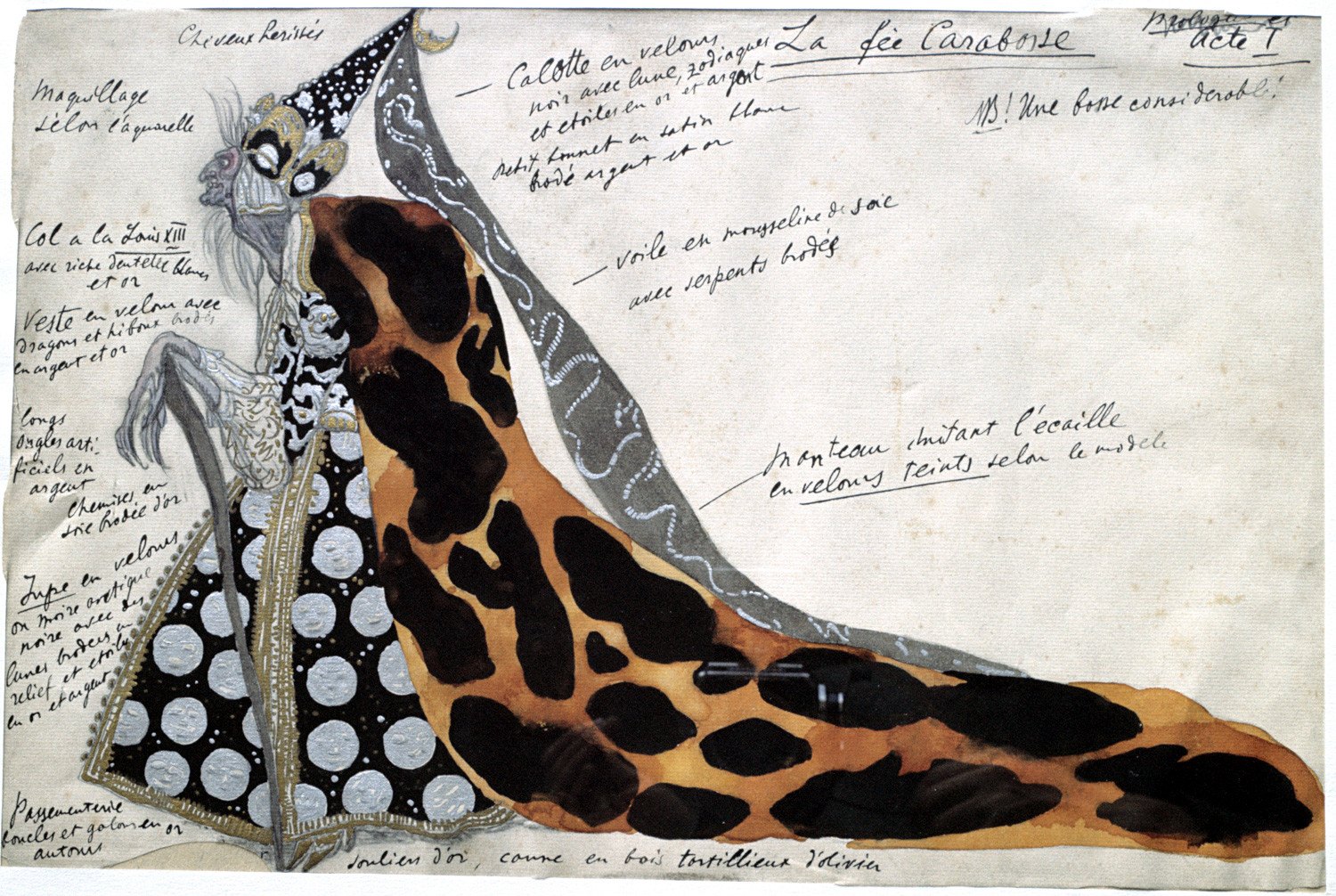 Costume design by Leon Bakst (1866-1924) for Carabosse, the wicked fairy godmother in 'The Sleeping Beauty'. Music by Tchaikovsky. Choreography by Marius Petipa. Produced in 1921 by Sergei Diaghilev's Ballets Russes.
Global Look Press
He became one of Paris' most popular artists, working on interior design and furniture, accessories and utensils, as well as jewelry and even cars.
"Bakst managed to grasp the elusive nerve of Paris, which is in charge of fashion. At the moment his influence affects all of Paris - from ladies' dresses to art exhibitions," Russian poet Maximilian Voloshin wrote about the artist.
Igor Stravinsky, composer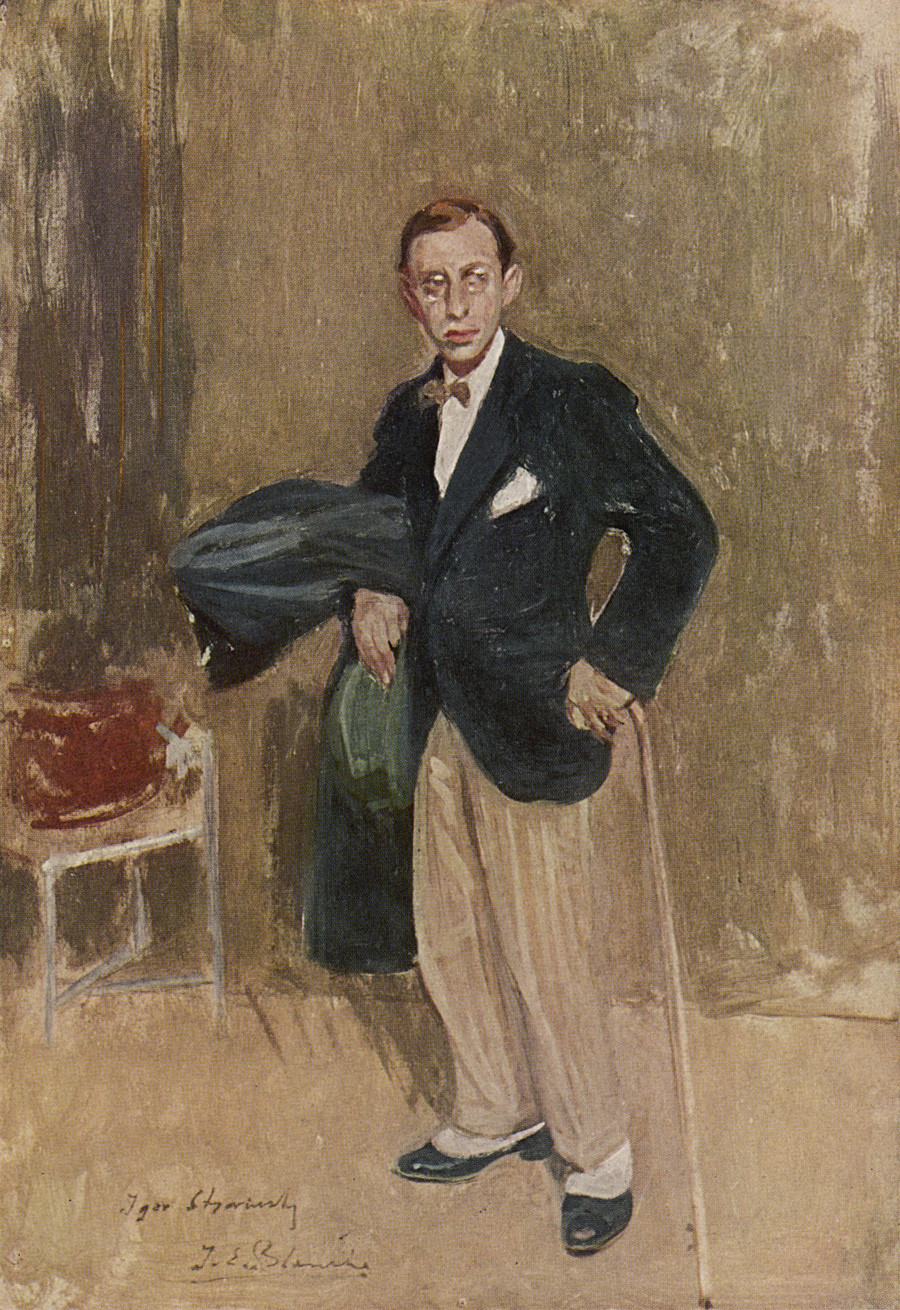 The portrait of Igor Stravinsky by Jacques-Emile Blanche.
Mary Evans Picture Library/Global Look Press
Discovered by Sergey Diaghilev, the young law student and musical genius, Igor Stravinsky, became one of the most famous 20th century composers with his masterpieces for the Ballets Russes: "Firebird," "Petrushka," and "The Rite of Spring." They are all written with influence from Russian folk music, and designed for a large orchestra.
Stravinsky's music, however, proved too modern for his contemporaries. The premiere of "The Rite of Spring" caused an uproar, leading to fistfights among supporters and detractors, and the second act had to be performed in the presence of the police.
For decades, Stravinsky lived in France, and then the U.S., composing ballets and operas. His legacy is extraordinary and diverse, but the music composed for the Ballets Russes remains the composer's most famous.
George Balanchine, choreographer
Portrait of choreographer and dancer George Balanchine, New York, 1962
Getty Images
After getting his professional dance education at the Mariinsky Theater School, George Balanchine worked as a choreographer with the Ballets Russes, staging 10 ballets, including "Apollo," to the music of Stravinsky. This ballet is considered to be one of the best examples of neoclassical ballet choreography.
While working with the Ballets Russes, Balanchine and Stravinsky began their long-standing professional cooperation, and Balanchine coined his creative credo: "To see music, to hear the dance."
After Diaghilev's death, Balanchine moved to the U.S., and became the reformer and father of the modern American ballet (he is a founder of the New York City Ballet), as well as founder of the modern neoclassical ballet.
If using any of Russia Beyond's content, partly or in full, always provide an active hyperlink to the original material.