– Mr. Tolstoy, how are you feeling right now?
– I'm at Yasnaya Polyana. My health is better. The guests are done gone. My soul is joyful.
– Do you often have guests? Pleaders and poor people must be continually coming to your house...
– A multitude of pleaders. Widows who lost their land, beggars, all sorts. How hard it is for me – because it's all fake. I can't give them anything. I don't know them. And there are too many of them. There seems to be a wall between me and them. I feel that people – most of them – already treat me not as a person, but as a celebrity. They come to a man who has earned his fame with the meaningfulness and clarity of his thoughts expressed, they come to him and they don't let this man say a word, while they speak, speak either about what they only know or about things he had long proved to be ridiculous...
Just today in the afternoon, a worker from the "Union of the Russian People," drunk, pleaded with me to return to the Orthodox church, a good-natured man, but totally mad. Then, a woman with two huge envelopes demanding that I read the "shout out from her heart". Vanity, the mania of authorship, and greed. I was disappointed. I should have been calmer.
– It's no wonder people pay so much attention to you, considering your credibility and experience. What can you say about your age?
– When you're old, the abilities, the external feelings that help you communicate with the world, fade away: eyesight, hearing, taste… Instead, new, internal feelings are born, to communicate with the spiritual world – and this is a tenfold reward. I'm experiencing this now. And I'm glad, grateful, and glad.
– You're a famous writer and a wealthy landlord. Are there troubles in your life?
– One of the most significant troubles is that I live in luxury. Everybody spends on my luxury, giving me useless objects, and they're offended if I return these things. And people beg from me from either side, and I have to refuse them, bringing up bad feelings.
– What are your other regrets?
– I'm thinking about how I shot birds, animals, finished birds with a spear, finished hares with a knife hit to the heart, without any mercy, I did things I can't think about without terror...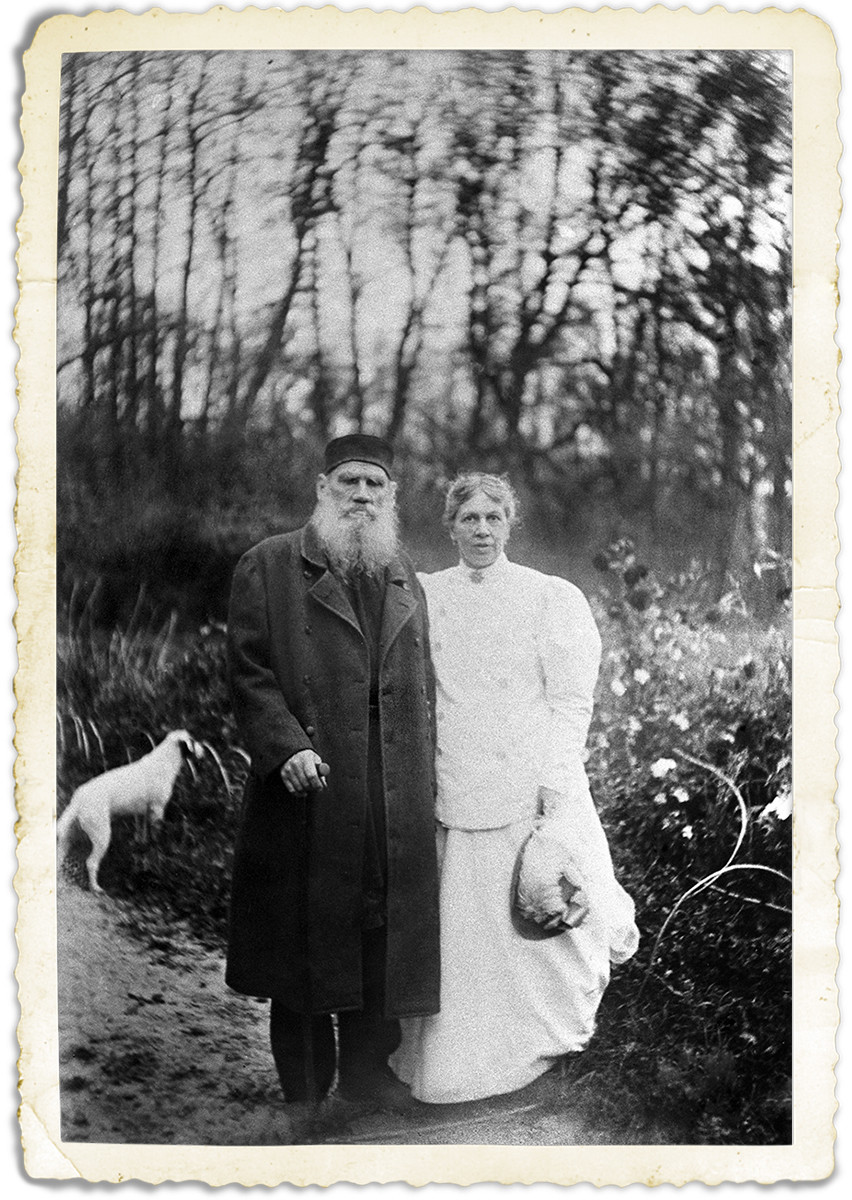 – It seems that the feeling of your own imperfection doesn't leave you...
– I'm appalling. Two extremities – a rush of the spirit and the power of the flesh. A torturous struggle. I'm not in control of myself. I'm looking for the reasons: tobacco, intemperance, lack of the imagination's labor. But they're peanuts. There is one reason, the absence of a loved and loving wife.
– But from outside, your family seems quite happy. Could it be that you and Sofia Andreevna have problems?
– She stopped being a wife. A helper to her husband? It's been a long time since she stopped helping and started hindering. Mother to our children? She doesn't want to be. The one who feeds them? She doesn't want to either. A night's friend? She managed to make a bait and a toy even out of this. I'm desperately sorry for the children. I love and pity them more and more.
– Do you manage to find common ground with your children?
– It's tough for me in the family. It's tough that I can't be compassionate. All their delights: the exams, success in society, music, furnishing, shopping, all of this I consider to be misfortune, evil for them, but I can't tell them that. Sure I can, and I do, but my words don't touch anyone. It seems they recognize not the sense of what I'm saying, but the fact that I have a bad habit of saying it.
– What is your present outlook on your work?
– I must have annoyed everybody with my never-ending writings about the same thing (at least that's what the general public must think). It's better to keep silent and live. And only write – and only if the urge is unbearable – only fiction, which attracts me often. And not for success, but to tell what I have to say to a broader audience, and say that with not foisting my work in, but by bringing it at the time it's needed… God help me.
– Your last revelation?
– I was afraid of saying and thinking that 99 people out of 100 are mad. But not only that there's nothing to be afraid of – one just can't help saying and thinking about it. If people act insane (life in the city, upbringing, luxury, idleness), they will speak insane things. And you walk among the madmen like this, trying not to annoy them and heal them, if possible.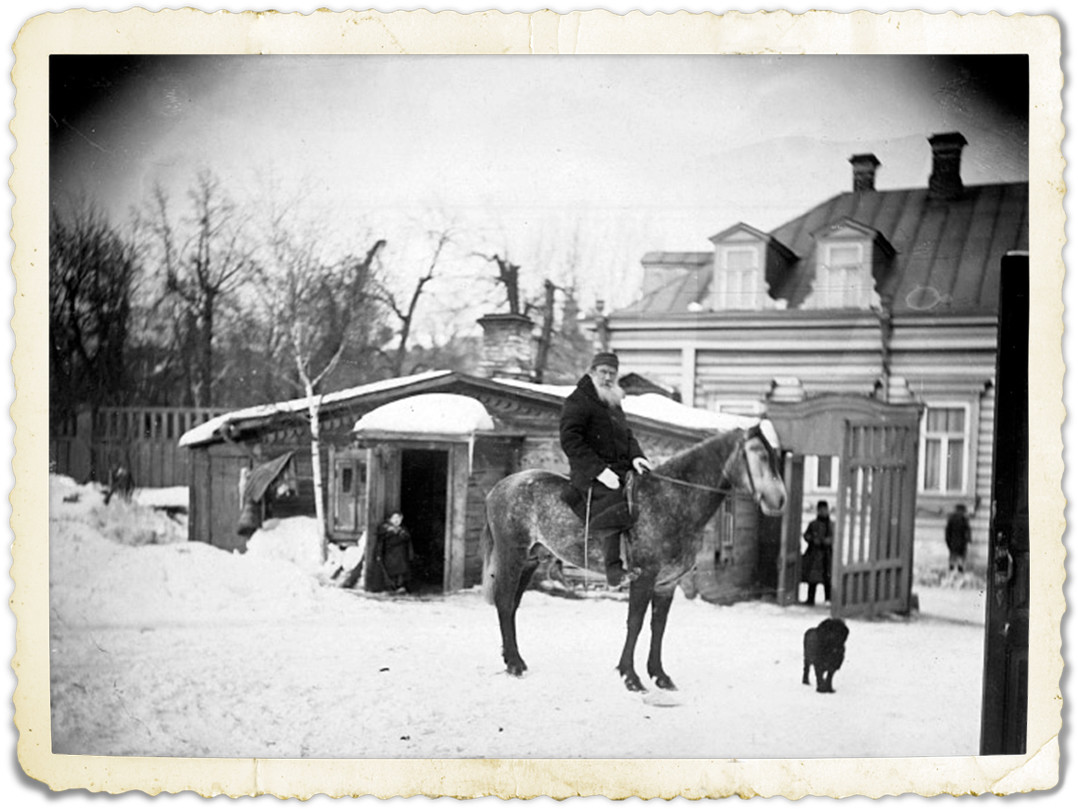 Leo Tolstoy in the yard of his Moscow manor, Khamovniki district. 1898. Photo taken by Sophia Tolstoy.
TASS
– Currently, you're at Yasnaya Polyana, but you usually spend winter in your Moscow manor in Khamovniki. What can you say about contemporary Moscow?
– Stench, stones, luxury, misery. Lust. Villains, who robbed their people, got together, summoned soldiers and judges to guard their orgy, and they're having a feast. People have nothing more to do except to lure back the values these people have stolen by using these people's desires. Men are more cunning in that than women. Women are at home, men are rubbing floors and bodies in the bathhouses, work as coachmen.
– What would you recommend doing right now to start a change in ourselves?
– To live until the night falls and until the century ends. To live like it's your last hour on Earth and you only have time to do the most important things. And at the same time, as if you would endlessly continue doing the thing you're doing.
– What is God, in your opinion?
– However strange that may seem, only love can help to know what God is. Love is the only organ that can comprehend God.
– And what do you love?
– Often and with terror, I ask myself: what do I love? Nothing. Positively nothing. This is a sorry situation. There is no possibility for a happy life. But it's easier this way to be a "man-spirit," a dweller of the Earth, but deprived of physical necessities.
Disclaimer: All Leo Tolstoy's "answers" are actual excerpts from his diary, taken from different years.
If using any of Russia Beyond's content, partly or in full, always provide an active hyperlink to the original material.