Pictured L-R: Joseph Brodsky, Fyodor Dostoyevsky, Sergei Yesenin, Ivan Bunin, Vladimir Mayakovsky, Ivan Turgenev, Yevgeny Yevtushenko, Vladimir Nabokov.
Grigory Avoyan
1. Dostoyevsky vs Turgenev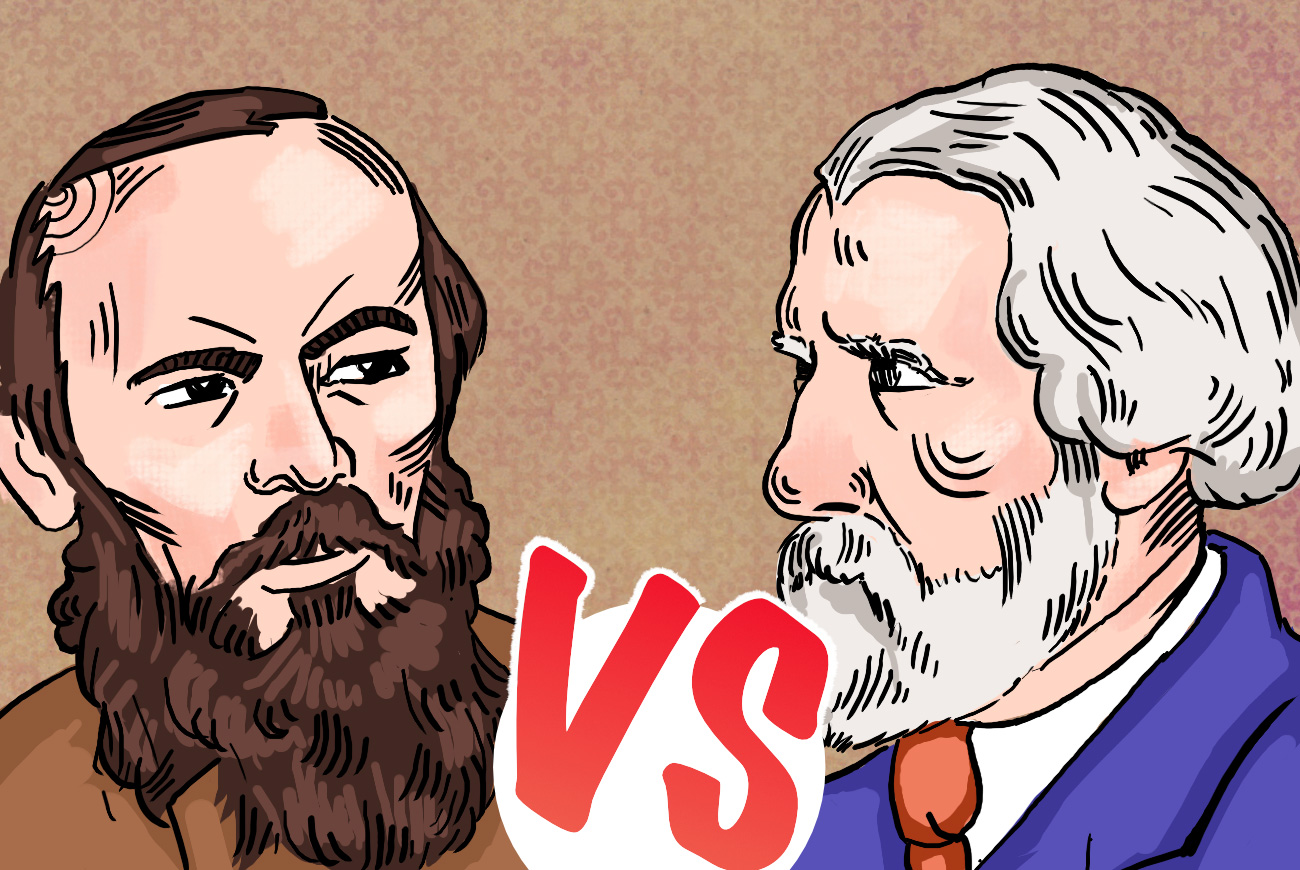 Drawing by Grigory Avoyan
The two great writers of the 19th century had completely different ideologies. Ivan Turgenev, author of the novel Fathers and Sons, was a convinced Westernizer and a liberal. Fyodor Dostoyevsky was a conservative nationalist. In his novels The Idiot and The Possessed he preached that liberals had corrupted Russia, leading it to ruin, and that Russia should preserve its own way and Orthodox Christianity.
It's not surprising that the two authors did not like each other. From his youth Turgenev, a wealthy nobleman, made fun of his lugubrious colleague. In a mocking poem he described Dostoyevsky as a "pimple on the nose of literature." Dostoyevsky didn't conceal his reciprocal hostility and was indignant that, with all his wealth, Turgenev's royalties for his publications were four times as high as he was paid.
But the main reason for the quarrels was ideology. "All these wretched liberals find their principal pleasure in abusing Russia," Dostoyevsky wrote in a letter to a friend in 1867, referring to Turgenev's new novel Smoke. Turgenev by that time was living in France and Dostoyevsky, sarcastically, advised him to buy a telescope as, "otherwise, you can't really see [Russia] at all". Turgenev was offended.
Turgenev, in turn, was annoyed by Dostoyevsky's psychological preoccupations and his manner going deep into the dark depths of the human soul. "What a sour smell and hospital stench" and "psychological nitpicking" were some of the phrases he used to describe Dostoyevsky's novels.
Read more about Dostoevsky and Turgenev
2. Yesenin vs Mayakovsky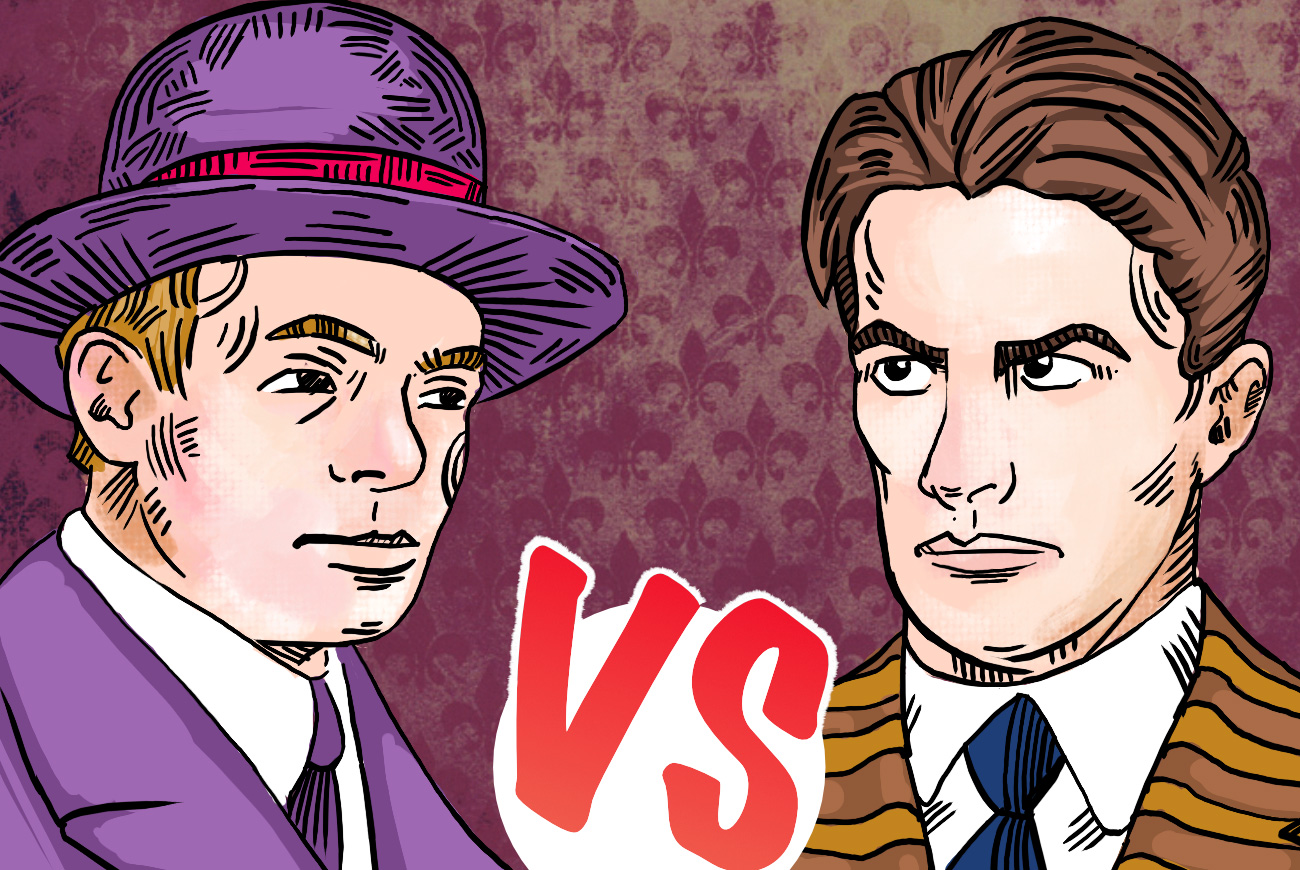 Drawing by Grigory Avoyan
"Do you know why I am a poet and Mayakovsky is no big deal and has an unfathomable profession? I have a homeland!" Sergei Yesenin declared, heatedly, discussing his rival in a competition for the title of most popular poet of the Silver Age. To Yesenin, who was born in a village 200 km from Moscow and earned fame as a "peasant poet," the lyrical perception of Russia, its nature and life were the main references in his poetry.
To Vladimir Mayakovsky, "the poet of the Russian Revolution," these topics were alien - he glorified the triumph of the coming world, ruled by proletarians and machines. Both poets lived in the USSR, but that didn't prevent Mayakovsky from dismissing Yesenin as being backward and from an alien social class. "This is from a [village] choir… he is a balalaika player," Mayakovsky contemptuously wrote in his poem For the Jubilee. During recitals a passionate Yesenin would sometimes shout "Mayakovsky is a mediocrity!"
Despite their squabbles, the rivals recognized each other's talent. Poet Matvey Roizman recalled how Mayakovsky had loudly praised Yesenin's poems, warning Roizman, however: "Not a word to Yesenin." Yesenin, in turn, noted that "Mayakovsky can't be thrown out of literature" and he even wanted to make up but ran out of time. In 1925 he hanged himself.
Read more about Yesenin and Mayakovsky
3. Bunin vs Nabokov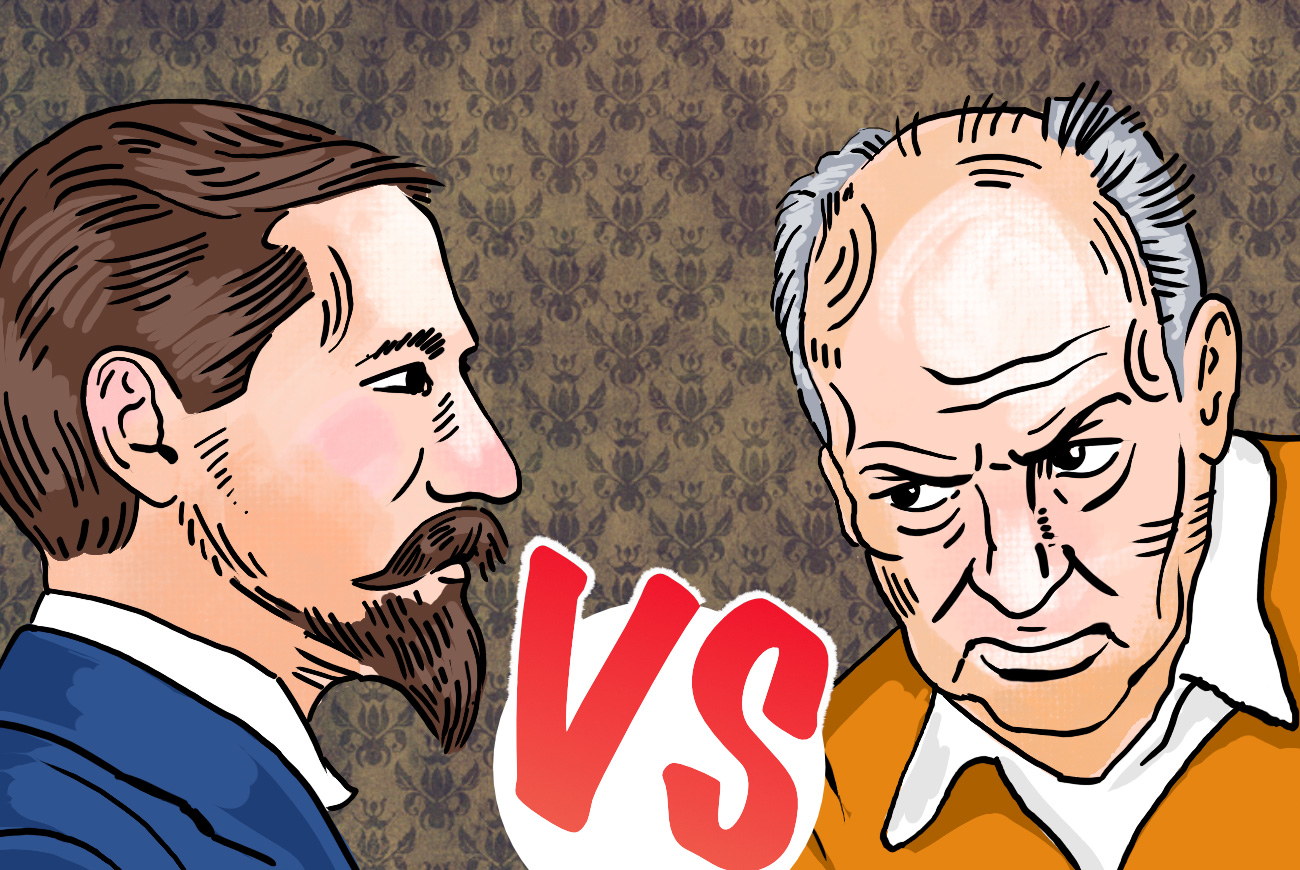 Drawing by Grigory Avoyan
Nobel prizewinner for literature Ivan Bunin never stinted in his insults against fellow writers, particular those who had supported the 1917 Russian Revolution. The aristocrat regarded it as the greatest of evils and left Russia in 1920. For Bunin, all Soviet writers were "servants of cannibalism." But as is shown by his attitude to Vladimir Nabokov, the author of Lolita, Bunin had testy relations with fellow emigrés too.
Nabokov was 30 years younger than Bunin and initially treated the older writer with reverence. When in the early 1920s Nabokov sent Bunin, who was already famous, letters with samples of his writings, he compared it to a declaration of love and signed himself with the phrase, "To a great Master from a diligent pupil." Bunin was benevolent, but as the younger writer's fame grew he became envious and their relations soured.
The rivalry between Bunin and Nabokov did not generate big bust-ups - the writers preferred to behave coldly towards each other and to deliver their barbs behind each other's backs. In conversation with a friend in 1951 Bunin called Nabokov a "laughing stock" who could be no rival to him. Nabokov used to call the master a "scraggy old tortoise" and refused to speak at a soirée to mark his 80th birthday.
Read more about Bunin and Nabokov
4. Brodsky vs Yevtushenko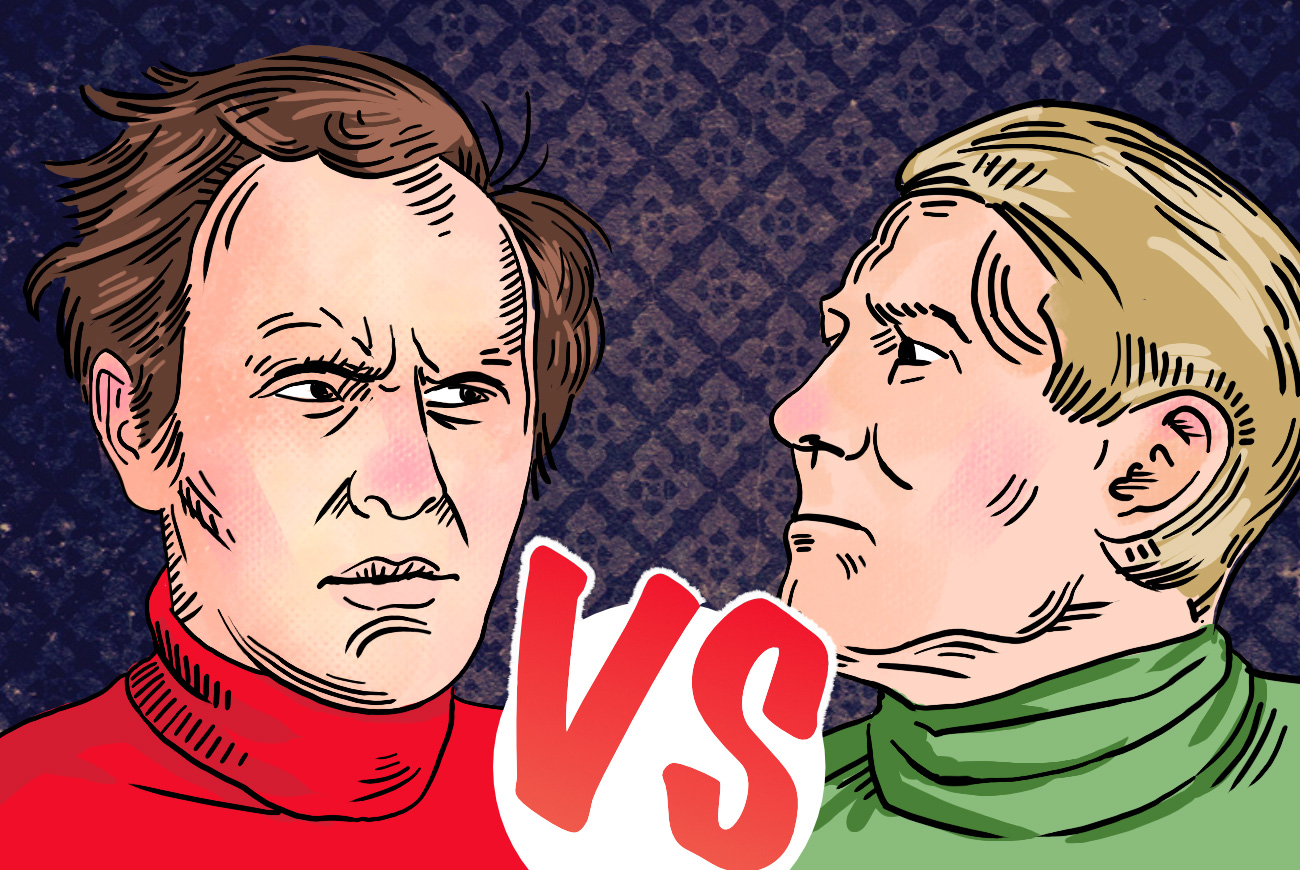 Drawing by Grigory Avoyan
Relations between poets Joseph Brodsky and Yevgeny Yevtushenko started quite well. In 1965 Yevtushenko, the USSR's acknowledged poetic master, successfully interceded on behalf of young rebel poet Brodsky to enable him to return from exile in the north of the country. They got acquainted and struck up a friendship - but a few years later it fell apart.
In 1972 officials of the State Security Committee (KGB) announced to Brodsky that he had to leave the USSR. In the KGB building the young poet bumped into Yevtushenko and decided that the latter had spied on him for the special services and was the cause of his forced emigration. Yevtushenko himself always insisted that on that day he had been in the KGB offices on another matter - he himself had been taken in for the import of banned literature. But relations between the two were ruined.
"Yevtushenko is of course a very bad poet. And as a person he is even worse," Brodsky said in one of his first interviews in exile. The feeling only grew with the passing years. In Solo on the Underwood, writer Sergei Dovlatov recalled that when he told Brodsky that Yevtushenko was against collective farms (collective agriculture was one of the symbols of Soviet power), Brodsky replied: "If he's against them, then I'm for." Brodsky did not like anything Soviet - but he disliked Yevtushenko more.
Read more about Brodsky and Yevtushenko
If using any of Russia Beyond's content, partly or in full, always provide an active hyperlink to the original material.