Russian hockey players stick with their NHL clubs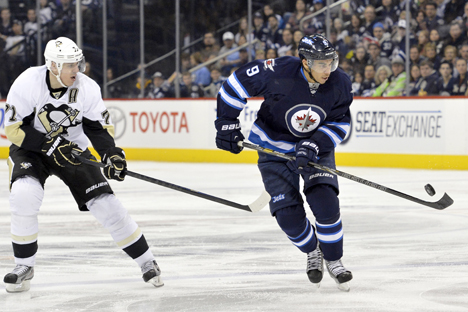 Winnipeg Jets' Evander Kane (R) tries to control a bouncing puck as he skates past Pittsburgh Penguins' Evgeni Malkin during the second period of their NHL hockey game in Winnipeg, on February 15. Source: Reuters / Fred Greenslade
Russian NHL players Vyacheslav Voynov, Evgeni Malkin and Pavel Datsyuk have extended their contracts with their clubs.
The attention of NHL fans is riveted on the final series of the Stanley Cup, in which Boston is up against Chicago. Yet the hockey fan does not live by the game alone. The news from the transfer market is just as interesting to the public, and things are developing quickly.
News came on June 19 that 23-year-old defenseman Vyacheslav Voynov, who plays in the NHL for Los Angeles, had extended his contract with the club for six years.
According to some reports, the player will earn $25 million over the life of the contract. Last season, the player appeared in all 48 matches in the regular season, scoring 25 points.
Pittsburgh forward Evgeni Malkin, 26, also recently signed a long contract. The contract runs for eight years and is worth $76 million, which will make the Russian the highest-paid player on the team. His average pay per year will be $9.5 million. The Penguins' leading forward had a previous contract that was set to expire in 2014.
Malkin had received a good offer from Metallurg Magnitogorsk, and there was a risk that the North American public would be losing one of their stars – but Evgeni opted for Pittsburgh.
Curiously, Malkin will receive $800,000 per year – more than the team's star captain, Sidney Crosby, who only last year signed a 12-year contract with Pittsburgh worth $104 million.
Another Russian star forward, Pavel Datsyuk, has also extended his agreement with Detroit. His new contract will run until 2017.
The player noted that prolonging the contract will help his professional career. North American sources quoting the player's agent report that Pavel will earn $23 million over three years.
Russian goaltender Sergei Bobrovsky plans to decide his future in the next few days. His agreement with Columbus expires on July 5, after which he will be a restricted free agent. The current NHL season was one of the most successful in Bobrovsky's career.
The goaltender was judged the most valuable goaltender in the regular season and won the coveted Vezina Trophy. Bobrovsky admits that he is currently in talks with Columbus and SKA St. Petersburg; he played 24 matches for the latter during the NHL lockout.
Meanwhile, the fate of another Russian goaltender, Anton Khudobin, still remains unclear. His current team, Boston, has made its way into the final of the Stanley Cup. Khudobin's contract with the club expires this summer, and the goaltender will soon have to decide his future.
It may prove extremely difficult to win out in competition with the Bruins' Tuukka Rask, who is playing brilliantly. Khudobin has already stated that he would like to sign a long contract, and, if no NHL team makes him an offer, a return to the KHL by Khudobin cannot be ruled out.
First published in Russian in Gazeta.ru.
All rights reserved by Rossiyskaya Gazeta.