Public editor: School shooting, McFaul resigns, Pussy Riot goes west, and more Olympic fun
Even if nothing newsworthy had happened in Russia this week, the country would have been in the news as the Olympic fever reached its pitch. However, this week, nearly every day brought something notable.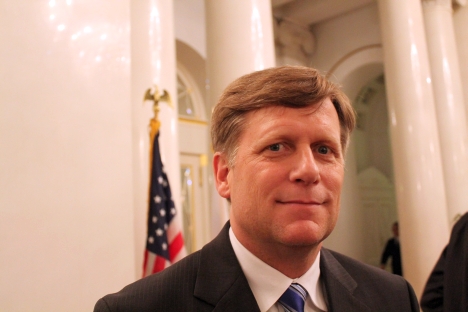 U.S. Ambassador in Russia Michael McFaul. Source: Russia Beyond the Headlines
An ordinary Monday morning in Moscow was disrupted by some far from ordinary breaking news – Russia experienced its first school shooting. Although Americans are unfortunately used to videos of children and teachers fleeing schools amid the roar of police helicopters, the images from Moscow School 263 were shocking here.
We covered the story from the very beginning, with translations of the news from the Russian press as it became available. We followed up the next day with a more extensive story on the reaction from the government and society as a whole.
Comments on Facebook expressed sympathy and concern and also called us out on the discrepancies between our stories on the subject. While the differences were a result of posting news as it unfolded, the reader was right that the earlier text should have been updated, which we subsequently did.
Tuesday was also disrupted by breaking news – the resignation of U.S. Ambassador to Russia Michael McFaul. Although McFaul's departure had been rumored since November, the announcement of his decision to step down, posted on his blog, came as a surprise. While readers had a variety of reactions to the news RBTH has enjoyed a good relationship with McFaul – he has allowed us to republish the English version of his blog and has also spoken several times to our staff member, Pavel Koshkin, who will follow his report on McFaul's resignation with an exclusive interview next week.

Then, on Wednesday, two members (or former members) of Pussy Riot appeared at a concert in New York sponsored by Amnesty International. We posted a combined report about
Pussy Riot's U.S. tour
, but we could have done better covering the event. As usual, the Russian media underestimated the draw of Pussy Riot and we were no different.
But even if none of these events had occurred, Russia would still have been in the news this week as the countdown to the 2014 Winter Olympic Games in Sochi reached its end. The international press was full of reports from journalists on the ground in the Olympic city reporting about the conditions of the hotels and the dangers of the snowboarding slopestyle course. RBTH also followed these themes. In a new blog, to be updated every day during the Olympics, one volunteer started her Olympic dream full of excitement, only to report three days later that her hotel was in a serious state of disrepair. Our sports editor also reported on the modifications made to the slopestyle course and concerns of athletes about it.
We also tried to dispel some of the myths going around about the Games, Sochi and Russia in general as well as provide information you won't find in English anywhere else, such as profiles of top Russian athletes.
Finding a new angle for reporting on an event that is dominating the press is difficult, but over the next two weeks we will try to strike a balance between giving readers the news they want from the Olympic games and stories that go beyond what is available elsewhere.
To comment or suggest topics for this column, please email US@rbth.ru
All rights reserved by Rossiyskaya Gazeta.