This is my last blog as the U.S. Ambassador to the Russian Federation. Soon after the Olympics, I plan to rejoin my family in California. After more than five years working in the Obama administration, it is time to go home.
Last summer, my wife and two sons moved back to California. When we left Stanford for Washington in January 2009, so that I could accept a job at the White House, I told my oldest son that we would be gone only for two years. (Two years is the normal amount of time that professors go on leave to work in the government.) After five years away, first in Washington and then Moscow, he wanted to go home for his last years of high school. We all agreed that it was in his best interest to return, and that decision turned out to be the right one.
We tried to make a 9,000 kilometer commute work for our family. But after seven months of separation, I simply need to be with my family again. Anyone who has followed my blogs over the last two years knows how deeply I value my time with my wife and sons. It's time for us to be reunited.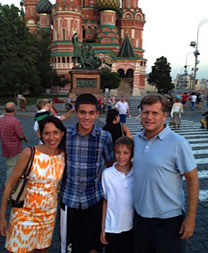 McFaul with his family. Source: Michael McFaul

I will leave Russia reluctantly. I love this job. It is a tremendous honor to represent my country here. I will miss interacting with my partners in the Russian government and with Russians from all sectors of society and business.
And I will deeply miss being a member of a fantastic team at the U.S. Embassy. And my departure will mark the end of more than five years of working for President Obama and his administration (or seven years if you count my work as an unpaid advisor on his campaign). This is hard, really hard.
But I also will leave with a feeling of accomplishment. Since we set out to reset relations with Russia five years ago (yes, I am not afraid to use the word "reset"!), we have achieved a lot.
We signed and now are implementing the New Start Treaty. We worked closely with the Russian government to expand the Northern Distribution Network (NDN), which has developed into a vital transit route for supplying our soldiers and civilians in Afghanistan and will now play an important role in withdrawing our military equipment from there.
We established the Bilateral Presidential Commission (BPC), which now has more than two dozen working groups between our governments to nurture cooperation on everything from agriculture to innovation. We worked closely with our colleagues in Moscow to facilitate Russia's accession into the World Trade Organization, and now continue to cooperate with the Russian government on ways to expand trade and investment between our two countries.
Over the last five years we have seen trade grow from less than $25 billion in 2009 to roughly $40 billion in 2013, still with much more room to grow, but no small achievement. I have found it especially rewarding to work with our business community in Russia, whose work generates jobs and value for Americans and Russians.
We also put in place a new visa regime, which makes it substantially easier for tourists and businesspeople to travel between our two countries and increases visa validity to three years (reducing the number of times Russians have to apply for U.S. visas).
Last year, we issued a quarter of a million non-immigrant visas to Russians - 15 percent more than our previous record-breaking year - and at the same time substantially reduced the wait time to receive a visa to only a few days. We are seeing record numbers of Russians traveling to the United States, and that is great for promoting mutual understanding between our two countries.
Regarding nuclear proliferation threats from North Korea and Iran, we have developed close policy positions with our Russian partners over the last five years. In 2010, we worked together to pass UN Security Council Resolution 1929, which put in place the most comprehensive set of sanctions ever against Iran. We have continued to enforce this resolution successfully, which in turn has helped create the current permissive conditions for serious negotiations with the Iranian government to reach a diplomatic solution to prevent Iran from acquiring nuclear weapons. This year, our two governments have worked closely together on another historic agreement to remove and destroy Syria's chemical weapons.
Over the last five years, we also have nurtured quiet cooperation on a whole range of issues, from counterterrorism to cyber-security, as well as maintained cooperation on dozens of issues of mutual interest between our two countries, from space to environmental protection.
Taken all together, this is a real record of achievement on some of America's most vital national interests. I am proud to have been a member of President Obama's team working with our Russian counterparts to produce these outcomes.
I also am proud of the work we had to do to manage some difficult issues in U.S.-Russia relations over the past few years. The Russian ban on adoptions by American parents, the Russian order to close the U.S. Agency for International Development (USAID) operations in Russia, false claims in the Russian media about American desires to foment revolution in Russia and U.S. foreign policy aims in general, the growing pressures on Russian civil society and independent media, the granting of temporary asylum to Edward Snowden, and our different assessments of the causes and consequences of political change in the Middle East and Ukraine are just some of the challenges that we have been compelled to manage. Yet, I leave Russia with a strong feeling of satisfaction for how our administration handled these issues without compromising our interests or values.
In particular, I think we have demonstrated that we can engage directly with civil society and stand up for universal values while continuing to cooperate with the Russian government on a whole host of issues.
This practice of dual-track engagement was a central principle of our original reset policy and remains a key component of our policy towards Russia today. For instance, we expressed our concerns about respect for human rights and the importance of rule of law and an independent media at the same time that we were deepening our cooperation with Russian intelligence agencies regarding our shared interests in pursuing certain terrorist organizations.
In St. Petersburg last September, President Obama discussed with President Putin the idea of removing chemical weapons from Syria, which ultimately led to the agreement that we are implementing to secure and destroy these weapons of mass destruction. A few hours later, President Obama met with Russian civil society activists to discuss the whole spectrum of their concerns about freedoms of speech and assembly, the environment, discrimination against minorities, and unjust harassment of NGOs as "foreign agents."
I also am proud of some of the diplomatic innovations that our embassy has initiated during my time in Russia, especially regarding public diplomacy. Before I came to Moscow as ambassador, I had never seen a tweet. Yet, I now interact everyday with 60,000 followers on Twitter and more than 13,000 "friends" on Facebook, and our Tweetchats can reach hundreds of thousands in a matter of minutes.
I also engaged with Russian audiences on many of your television and radio programs and in print media, believing that even though we will not always agree on every issue, we must at least try to understand each other's point of view. Conducting lengthy interviews in my flawed Russian on TV Dozhd, Ekho Moskvy, or Vecherniy Urgant was not easy. Yet, I always felt it was best to show my respect for Russia by speaking in your language.
Live interviews also tend to be more direct and open, features I tried to bring to my diplomacy every day. I also enjoyed giving lectures in Russian to thousands of university students, complete with slides (that also may be a diplomatic first here!). And some of my most memorable public interactions were at standing-room-only sessions at American Corners in Yekaterinburg, Vladivostok, Volgograd, St. Petersburg, and Moscow.
Thousands of Russians showed up to engage with me on everything from Syria to my broken finger. These were not gatherings of just officials or elites, but a real cross-section of Russian society. The only qualification for attending these meetings was a curiosity about America. I truly loved the spirit of these gatherings. They made me very optimistic about the future of cooperation between our two societies.
I also will remember the same positive energy at Spaso House at the many concerts, discussion groups, and receptions we did at our grand residence. We had some fantastic, innovative events, including theoretical lectures from American political scientists (a side effect of having a professor living at Spaso House!), terrific concerts of American and Russian performers, Best Buddies holiday parties for young people with disabilities, and even movies complete with popcorn.
I am particularly proud of the Spaso Innovation Series, which connected Russian innovators and entrepreneurs with their American counterparts, including many from the Silicon Valley where I reside, in creative discussions about how to connect research with industry and jumpstart the high-tech industry in Russia.
These peer-to-peer cultural, civic, scientific, and business interactions we convened at Spaso House are some of the most valuable programs we do for promoting an authentic dialogue between Americans and Russians. And, from time to time, we - Americans and Russians together - even danced in the Spaso House ballroom!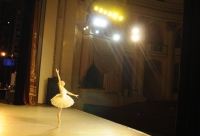 I also will cherish the many opportunities I had as Ambassador to experience Russian culture and learn more about Russian history, attending concerts, ballets, and plays; watching sporting events; and visiting museums.
What a treat to watch maestros Spivakov and Gergiev make their magic with their orchestras or sit front row at the Bolshoi and absorb the magnificent Nutcracker ballet during the New Year's holiday season.
I listened to war stories of heroes from the battles of Stalingrad and Kursk when I participated in the 70th anniversary of the Battle of Stalingrad, and met with veterans in Moscow at the Great Patriotic War museum.
In St. Petersburg, I visited the blockade museum to witness the suffering and bravery of the Russian people in resisting Nazism, at a time when our two nations were wartime allies. These are memories that will stay with me forever.
I also am very pleased with how well our mission performed in the comprehensive assessment of our activities conducted by the State Department's Office of the Inspector General (OIG) during my tenure in Russia, a review that occurs at embassies around the world every five years.
There is no greater honor than to be judged positively on your professionalism as diplomats by some of the most experienced diplomats we have in the State Department. Every day that I walk into the embassy, I feel so lucky to be part of such an excellent team of Americans and Russians. Perhaps more than anything else, I will miss my colleagues at the U.S. Embassy in Moscow.
Forgive my gushing. I had planned this blog to be just a paragraph long, but I truly love this job. I am going to miss it. I love representing my country as a diplomat. I love living in Russia, which has given me a chance to rekindle my deep appreciation for Russian culture and history.
And I am especially going to miss the people with whom I have had the privilege to work during my time in government, be they in Washington, Moscow, or throughout the Russian Federation.

I will continue to work on some specific projects for President Obama and his administration. More on that later. And I also will look for ways to contribute to the strengthening of ties between our business communities and civil societies.
You don't have to be in government to add value in these spheres. And you can always find me on Twitter and Facebook, though soon with a 12-hour time difference. For the immediate future, my base of operations will be Stanford University. But a part of me - an emotional part, an intellectual part, a spiritual part - will always remain in Russia. That was true before I joined the government. It will remain so forever after.
All rights reserved by Rossiyskaya Gazeta.