For years, Russia has been trying to improve its reputation around the world, but progress is regularly set back by international scandals, sanctions and the economic crisis. As a result, Russia's development as a brand appears frozen, and international impressions of the country remain full of a thundering and stereotypical mixture of vodka, bears, Communist heritage, ballet and cold weather. This image does not yet satisfy the government, private businesses and social organizations.
"If you want the West to like you, do like the West," said Peter the Great. It was known that the czar could not reconcile himself to Russia's isolation and its reputation for being a barbaric country (according to Leibnitz) or "a giant on clay legs" (according to Diderot). Peter's educational, cultural and military (the construction of a powerful fleet) reforms were by and large solutions to improve the country's image. Sure, the empire did not stop warring, but it became integrated into Europe for the first time.
In today's world, wars are "dark spots," not indicators of success. And today, imitation of the West is perceived as a weakness in Russia. Yet, the desire to be the "bad boy of Europe" has vanished, and Russia has started to use new methods to enhance its image.
American PR for Russians
For the last ten years, the American public relations (PR) firm Ketchum (a subdivision of the global Omnicorn Corporation) has been working to improve the Russian image. Cooperation with the Russian government and businesses (such as the oil and gas giant, Gazprom) began in 2006, leading up to the G8 summit in St. Petersburg. Afterwards, the firm worked on projects to assist Russia's entry into the World Health Organization (WHO), contributed to President Vladimir Putin's electoral campaign and promoted the 2014 Olympics in subtropical Sochi. It was during a collaboration with Ketchum that Putin was named Time magazine's Person of the Year, headed the list of the most influential individuals on the planet and published a column on Syria and chemical weapons in The New York Times. Russia has never rated among the top ten best country brands of the world, however, but these results were still considered "significant" by the Kremlin.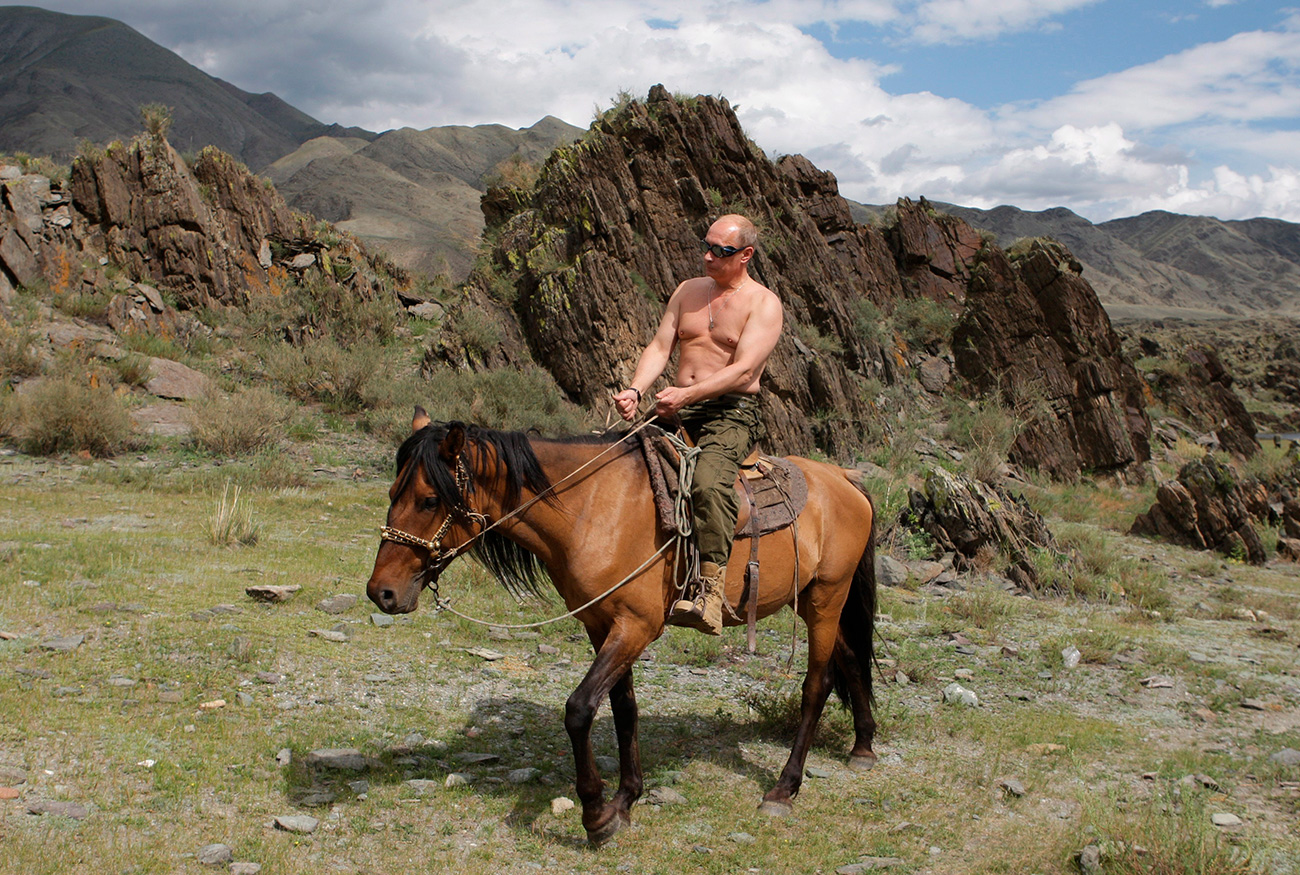 Russian Prime Minister Vladimir Putin rides a horse while on vacation. / ZUMA Press/Global Look Press
However, work with the American PR experts came to a halt in 2015. Because of the conflict in Ukraine and the annexation of Crimea, Russia's ratings began to noticeably deteriorate. The Kremlin stated "in the conditions of a real communications war, which is taking place," the general atmosphere is "not significantly affected" by PR and communications efforts.
Today, people in the American firm's Russian office prefer not to recall the work done with their former big client. "We are not ready to talk about Russia," said Asya Soskova, Director of Development at Ketchum Maslov.
Good PR, bad follow through
Germany is associated with quality, Japan with innovation and the United States with popular culture. Russia, meanwhile, remains rather ambiguous. A very vivid and stereotypical collection of associations with Russia can be seen in Robby Williams' recent video "Party like a Russian" or in the Slovenian parody "Putin, Putout." In the world's perception, images of Putin sitting bare-chested on a horse have joined the Altai landscapes, felt boots and matryoshkas. In fact, Putin souvenirs are in huge demand by tourists.
But lately, Russia has actually carried out some excellent PR projects, believes The Washington Post journalist Andrew Roth, who has lived in Moscow for several years. There is only one problem: the country makes public promises that it does not keep, such as those regarding the Skolkovo Innovation Center.
"I think it was sold as an engine of Russia's economic modernization, a Russian Silicon Valley. I'm not exaggerating, Medvedev [prime minister of Russia Dmitry Medvedev] said there would be 50,000 researchers and technologists by 2020," remarked Roth.
Roth says that the construction is going slower than promised and the start-ups being granted Skolkovo status are largely not housed on site. The project has had to take out lines of credit and is now launching venture funds to raise capital. "It's safe to say that there will not be anywhere near 50,000 by 2020. But the project produced a lot of good press for Medvedev back in 2009, when he was going to modernize the Russian economy. Good PR, bad follow through."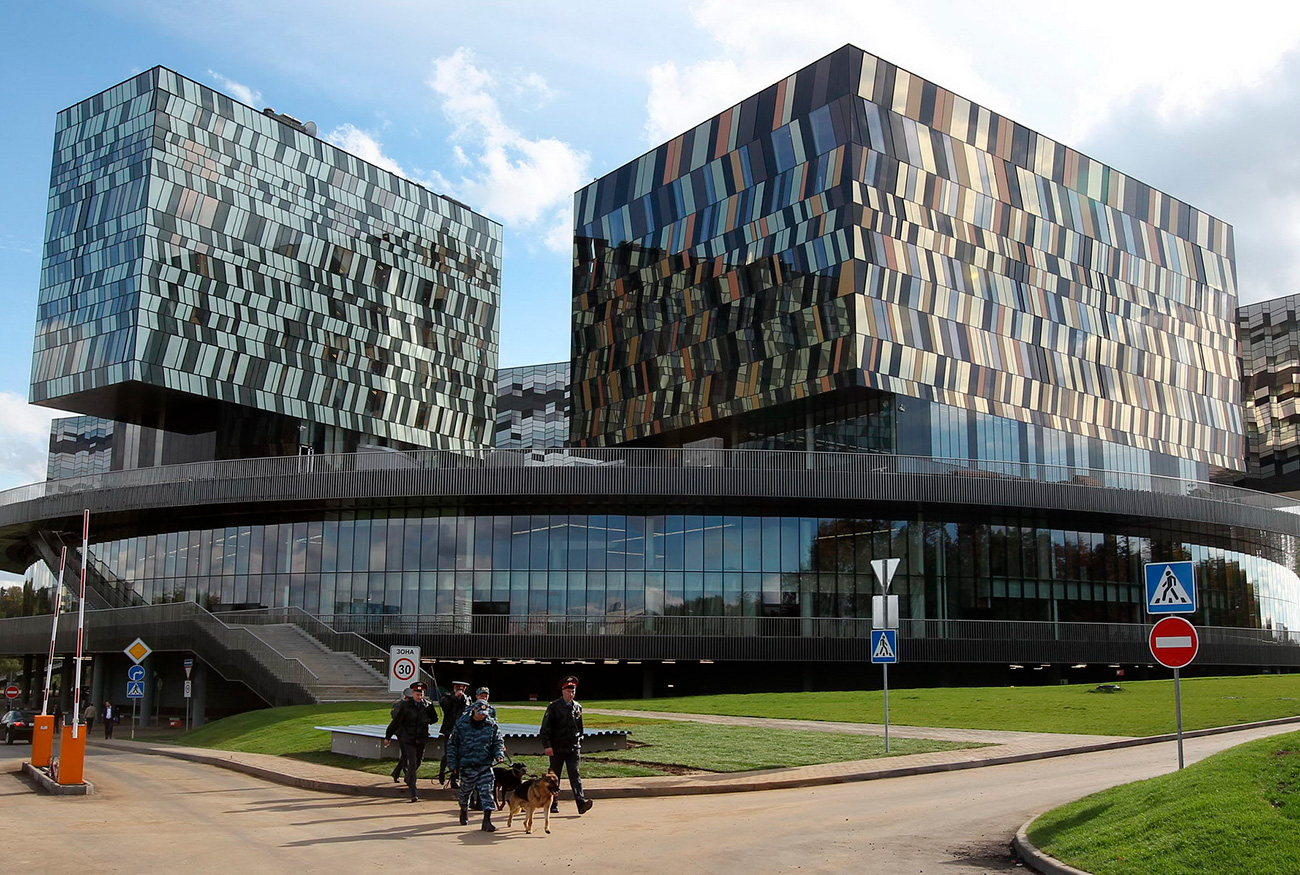 The Moscow School of Management SKOLKOVO in Moscow. / ZUMA Press/Global Look Press
"I'm not trying to say nothing good came out of these. But these grand projects cost way too much for what they produce and regularly fail to live up to expectations," concludes Roth.
People in Skolkovo believe that although 50,000 is an ambitious figure, "it has always been known that the Skolkovo ecosystem (start-ups, key partners, a research and development center and a university) would directly house about 30,000 researchers and businessmen," said Senior Vice President of External Communications of the Skolkovo Foundation, Alexander Chernov. Accounting for the families of those employed (15,000-20,000) the figure comes out to the one promised. According to Chernov, as of the middle of 2017, 5,000 people work in Skolkovo. "And with the introduction of the Sberbank Technopark (5,000 specialists), Skoltech (2,500) and the second Skolkovo Technopark (another 5,000), we can confidently say that we will not be too far away from the promised figure," notes Chernov.
Creating a Disneyland of Russian "smart-craziness"
While some overblown state projects are unwieldy, slow and risk getting "stuck" in the middle of the process, some commercial brands are gaining an advantage from being Russian. There are only a few of them, but they are working to develop the national brand, better and faster.
"This is vodka (hello, Beluga and Russian Standard), the defense industry (hello, Kalashnikov), diamonds (hello, Epldiamond) and the space industry," explains Mikhail Chernyshov, the former marketing director at Russia's most popular social network, VKontakte. "I sincerely believe that for extreme categories (clothes for severe weather, technology for extreme conditions) Russian origin will add value.
For some companies, entering foreign markets at a time when everyone is criticizing Russia has turned out to be an ideal strategy. The image of the "bad boy" came into fashion and Russians capitalized on this. Vsevolod Cherepanov's sweatshirts emblazoned with "Russian Mafia: New World Order" were shown on runways in Paris and became an exclusive export product, priced at $220 a piece.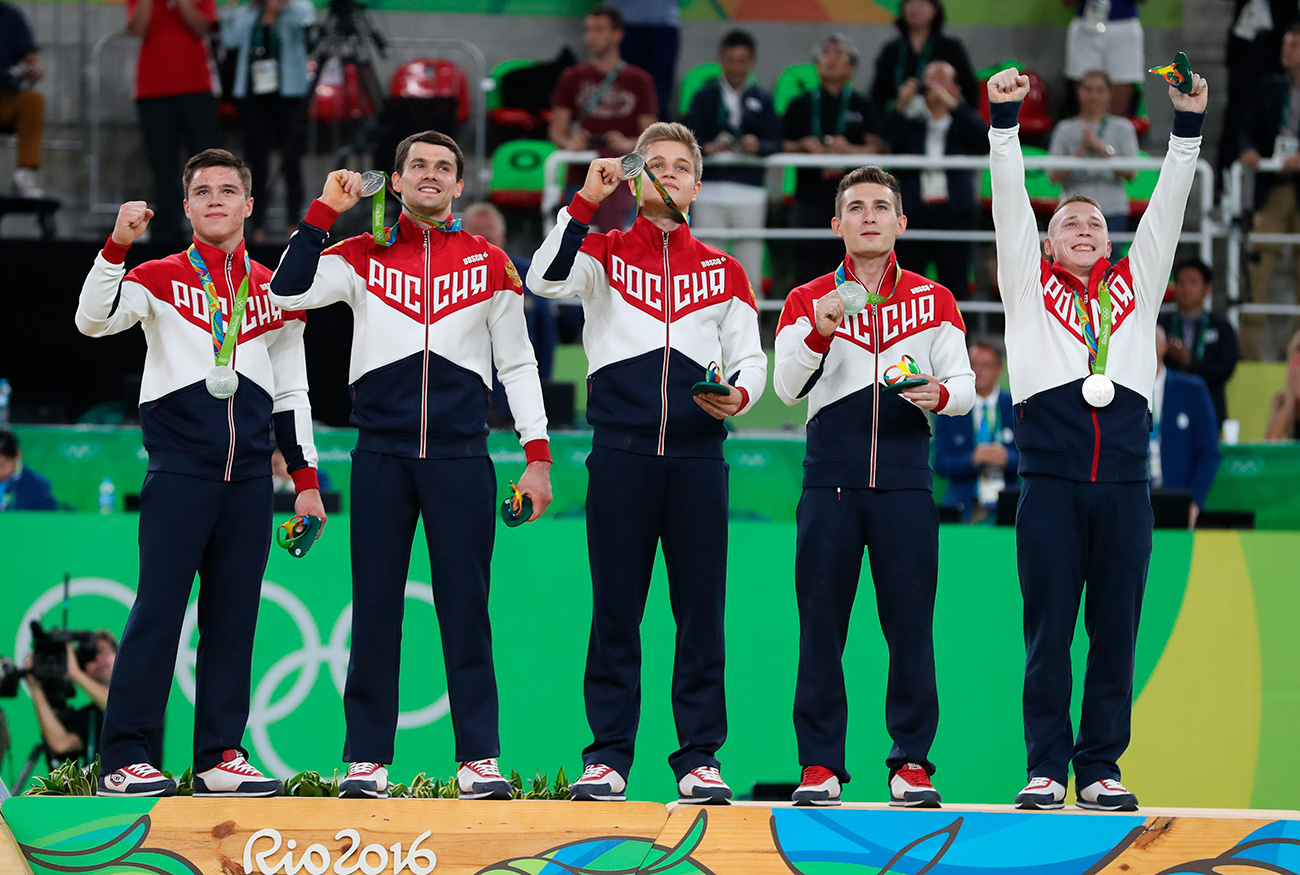 The 2016 Rio Olympic Games in Rio de Janeiro, Brazil, on Aug. 8, 2016. / ZUMA Press/Global Look Press
In 2016, Alexander Rodchenko's famous Cyrillic font made a sensation when it decorated the Russian Olympic uniform. "The real Olympic winner? Russian tracksuits," wrote Dazed magazine in 2016, placing the uniform made by Bosco Sport in an alternative guide to must-have Christmas gifts.
This is also how the designer Gosha Rubchinsky, who reinvented the Cyrillic font, made a name for himself. Rubchinsky's collection integrates elements of Russian clichés and kitsch, which no one is ashamed of anymore. As a result, you can find clothing showcasing the bear and the double-headed eagle — with a machine gun (the Evil Empire collection), Orthodoxy (with "Save and Protect" written on it) and "youth" fashion based on the gopnik (white trash) stereotype. All have all made great exports. Rubchinsky's items can now be found in the wardrobes of such trendsetters as Justin Bieber and Kanye West.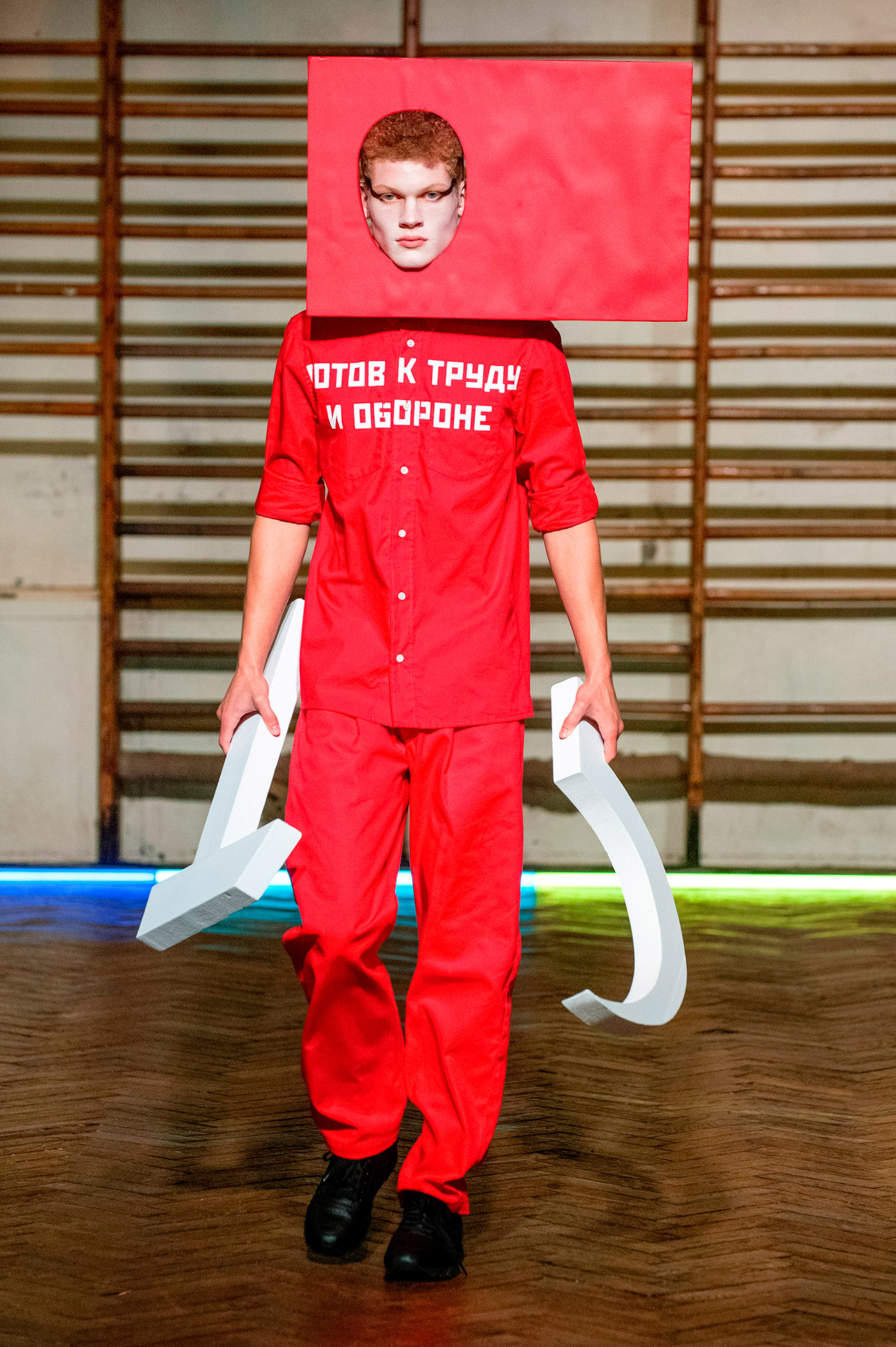 Gosha Rubchinskiy. SPRING SUMMER 2016 COLLECTION ,/ ZUMA Press/Global Look Press
Chernyshev thinks that all this — the "smart-craziness" idea — is essential for business and is an idea that resonates with young rebels all over the world. That is why forming a "lovemark" among them through an idea of Russian "smart-craziness" is an ideal situation. This kind of publicity does not require big budgets and uses strategies of "crazy-PR" and "hooligan marketing" instead. "And we [Russia] can become a sort of Disneyland for 'smart-crazy' people," Chernyshev concludes.
Read more:
If using any of Russia Beyond's content, partly or in full, always provide an active hyperlink to the original material.