Russia is exporting more food than tanks, but not all farmers are happy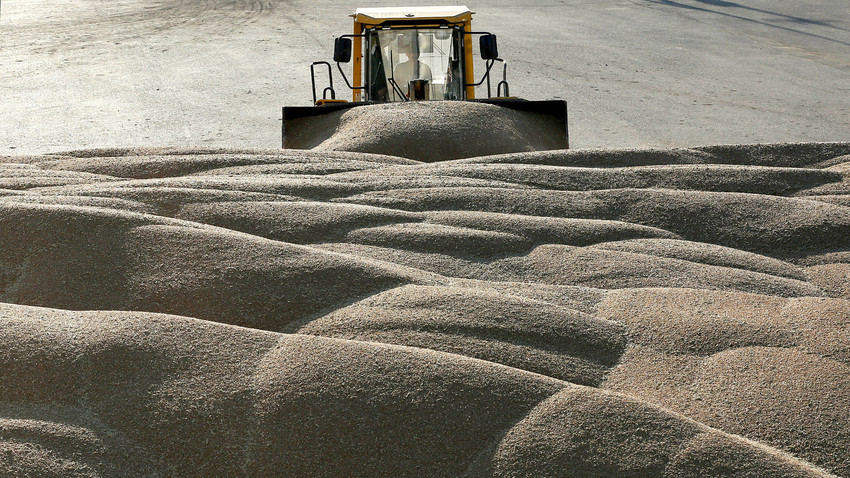 A driver operates a tractor to pile wheat grains at the drying house of the Solgonskoye farming company near the village of Talniki, southwest of the Siberian city of Krasnoyarsk, Russia.
Reuters
For a few years now Russian agricultural products have been surpassing military ones on the global market. While a good portion of this success can be attributed to the country's fundamental advantages (fertile land and low production costs), a significant boost, however, emerged due to the sharp devaluation of the ruble in recent years.
Last week RIA Novosti reported that Russian agricultural production is set to reach a new record of 133 million tons this year, according to forecasts by the SovEcon analytical center. The media pointed out that Russia is increasingly becoming a leader among global agricultural producers.
Indeed, as data from Russia's Federal Customs Service shows, as of January 2017, the physical volume of agricultural exports grew by 41.9 percent, compared to January last year.
According to Ivan Rubanov, director of the analytical group of the Russian Governmental Agricultural Committee, Russia is now the leading exporter of wheat and rye and is among the top suppliers of barley, oats, and other crops. "Our agricultural exports have been surpassing those of the military for some time now," he notes.
Arkady Zlochevsky, head of Russia's Grain Union, confirms this trend. "Our record level was $19 billion in 2014, though despite exports dropping after the crisis we still see that agricultural exports are higher in terms of overall value compared to military ones," he told RB.
Why production is growing
Agricultural exports are on the increase because the domestic market does not need the extra harvest, Rubanov explained. "This year agricultural exports might reach 40 million tons, a new record," he says.
There are two factors that ensure Russia's competitiveness on the global agricultural market. "These are the nutrient reserves in the soil and the cheap cost of labor that we are not actually happy about," Zlochevsky notes. "Still, these factors were not enough for us to secure international orders. It was only in 2014 when the devaluation of the ruble gave us extra leverage."
Rubanov agrees: "The fall in the ruble increased our competitiveness. It significantly cut costs for domestic logistics which is usually a large part of expenditure in wheat exports."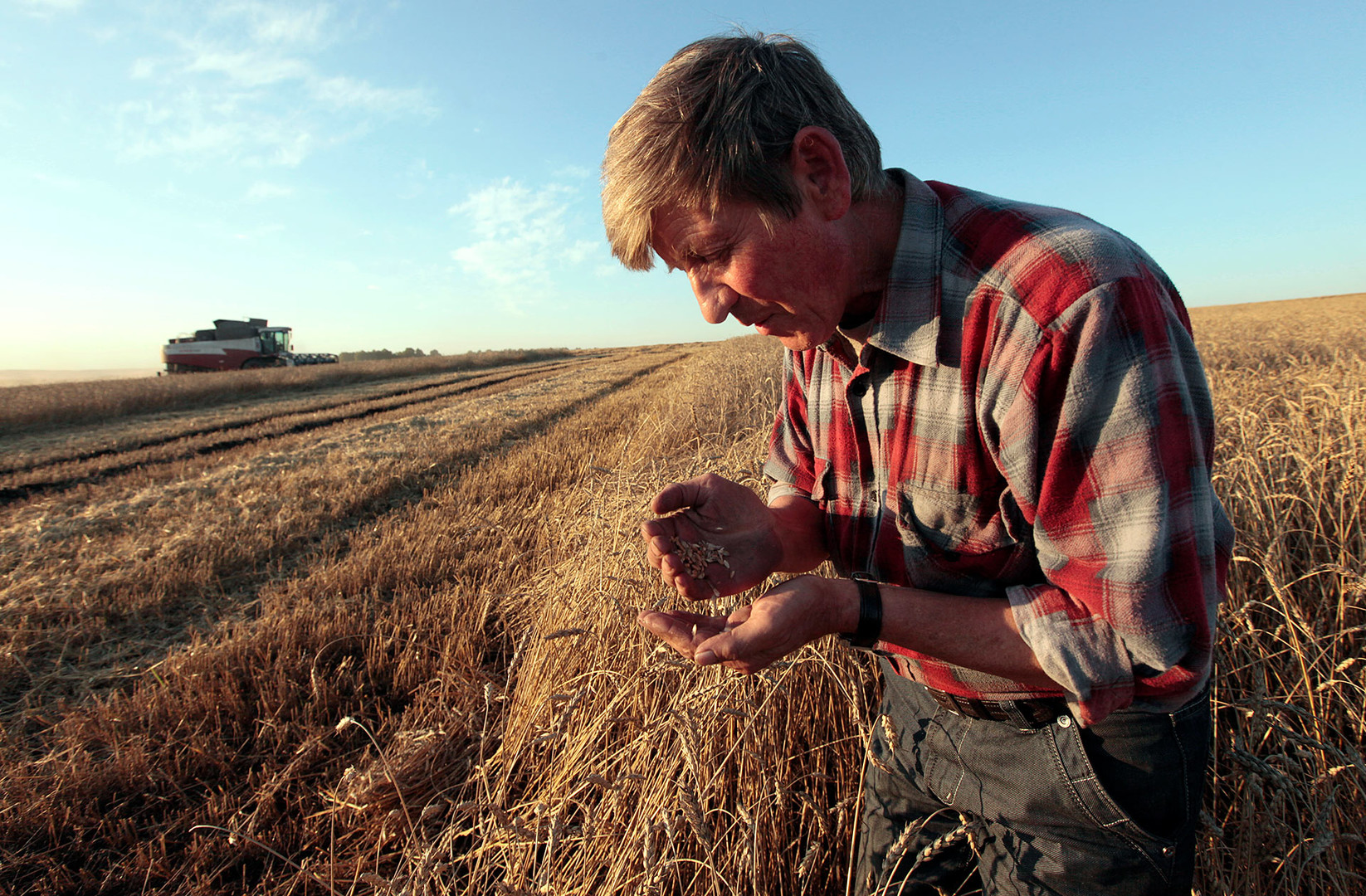 Good or bad?
Despite growing production, agricultural producers are not happy. "What did the authorities do to address the falling ruble and its influence on the grain market? They introduced an export tax to limit the change in prices domestically (in 2015 – RB). But domestic prices were only trying to catch up with international prices," Zlochevsky explains. "Globally they continued to drop."
As World Bank data shows, the price for wheat, for example, dropped from $284.9 per metric ton in 2014 to $166.6 per metric ton in 2016. This year the price increased and reached $202.5 per metric ton in August.
"The huge level of exports made grain prices drop and this only made Russian export revenues smaller," Rubanov says.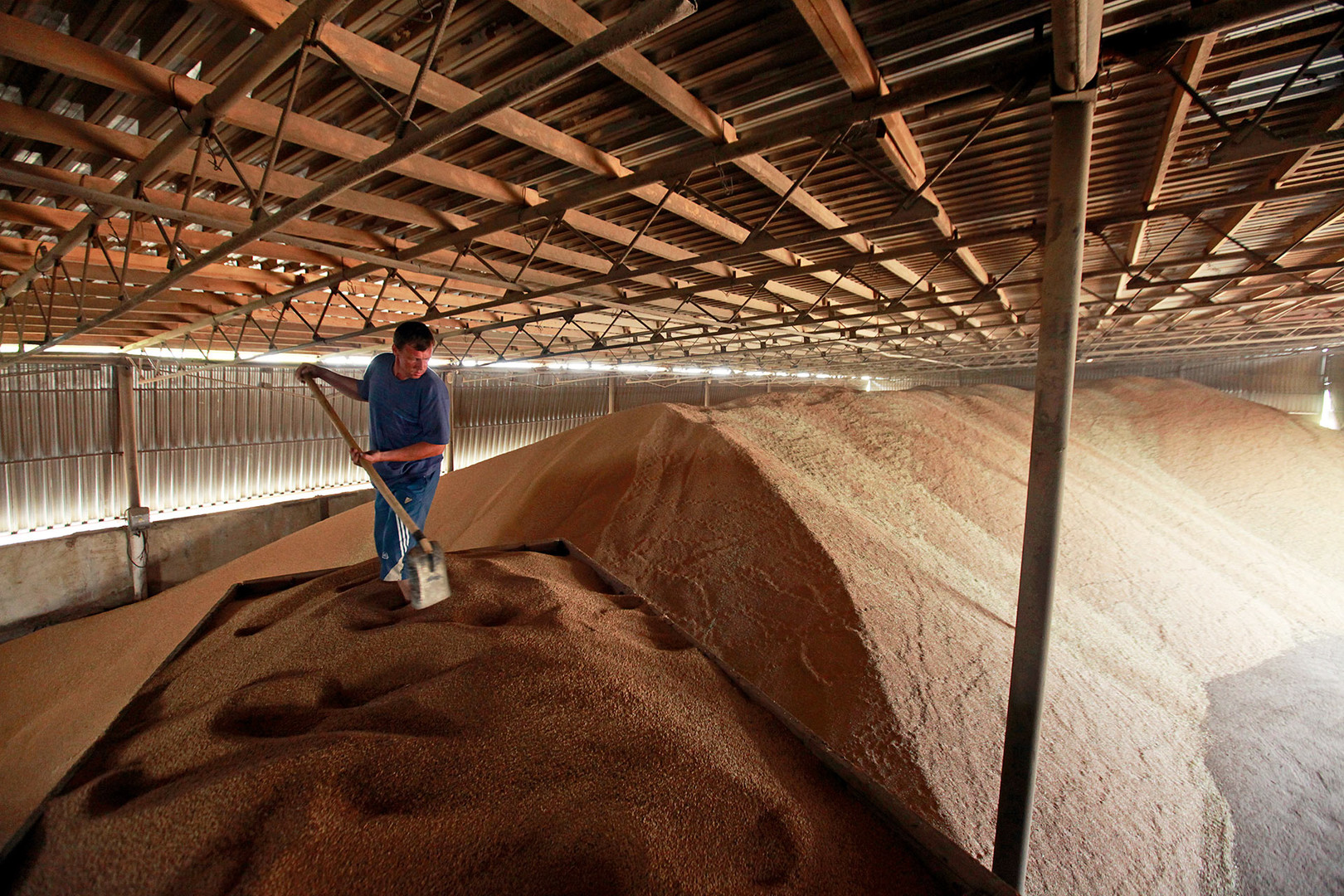 A worker shovels grain in a warehouse in the the village of Konstantinovo, some 60 km (37 miles) from the Southern Russian city of Stavropol.
Reuters
How the situation develops further depends on government policy, Zlochevsky believes. "If we have a good economic policy, we will grow. If not, we will not fulfill our export projections, like what happened last year," he argues.
Last year Russian producers planned to export 42.5 million tons of harvest, but only managed to export 37 million. It was a historical record, but still 5 million tons remained on the market putting pressure on domestic prices, Zlochevsky explains.
Rubanov believes that dealing with this extra grain harvest should become a priority for the Russian government. "They should aim to create new markets or replace existing ones," the experts says. "They should stimulate research in finding cheaper ways to feed cattle, in grain processing (to meet the needs of food and chemical industry, as well as biofuel production), and use the surplus to provide humanitarian aid to other countries."
If using any of Russia Beyond's content, partly or in full, always provide an active hyperlink to the original material.