"We had a very beautiful uniform, like that of doctors: white robes, hats, clothes made personally for each worker. We were all proud of our work, and it was very prestigious to work here," recalled Valentina Merezhko, a resident of the southern city of Novorossiysk (link in Russian). She was one of the lucky ones who worked in the USSR's first Pepsi plant, which opened its doors in 1974, making up to 160,000 bottles of Pepsi per shift.
The head of the company at that time, Donald M. Kendall, named it "the best and most modern PepsiCo plant in the world." He must have been surprised that the plant was completed in just 11 months – something never achieved before with any other Pepsi plant.
Kendall had been dreaming of it for years, but it was in the summer of 1959 that good fortune came his way at the U.S. National Exhibition in Moscow's Sokolniki Park. At that time, he was in charge of Pepsi's international operations, and asked Richard Nixon, then U.S. Vice President, to help him "get a Pepsi in [Nikita] Khrushchev's hand." Nixon agreed, and the rest is history. The company was eager to enter the Russian market, especially since Pepsi's key competitor, Coca-Cola, was not active there.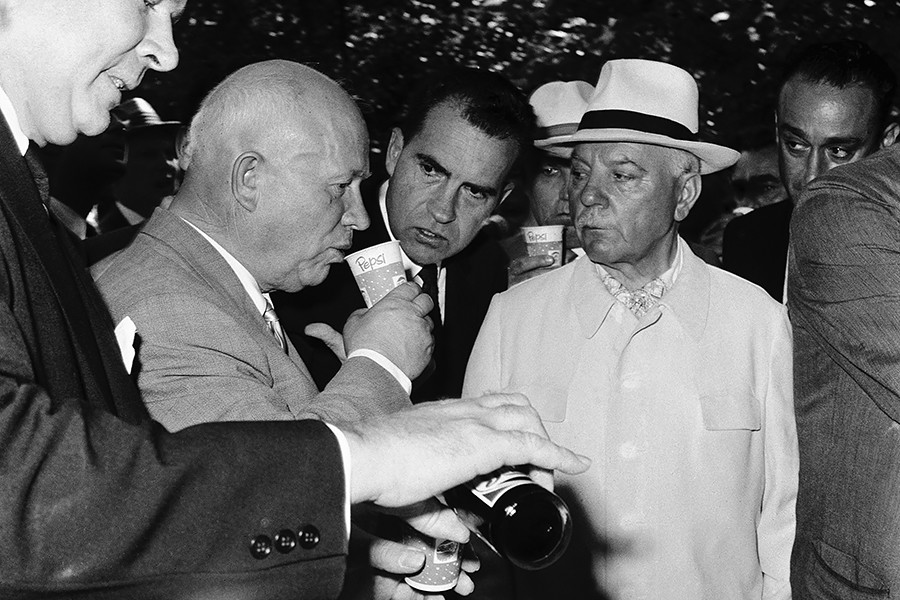 In between talks with the Soviet leader on their countries' rivalry in the production of consumer goods, Nixon fulfilled his promise to Kendall and the above picture was taken. This was the best advertisement that a company could possibly want in the Soviet Union at that time!
Nixon actually tricked Khrushev, asking to taste two types of Pepsi: one made in the U.S., and one made in Moscow (our guess is that the Americans brought concentrate to Moscow and added local water). Of course, the Soviet leader preferred the latter and then promoted it to everyone at the exhibition. The press went crazy and published photos of Khrushchev holding a Pepsi with the caption, "Khrushchev wants to be sociable," which was a reference to Pepsi's slogan in the U.S. at that time: "Be sociable, have a Pepsi."
Barter for Vodka
It wasn't until 1972, however, when Pepsi became the first capitalistic brand produced in the Soviet Union. According to the agreement, PepsiCo started to supply concentrate and equipment for 10 future production plants where concentrate was to be diluted, bottled and distributed across the country.
One issue to solve, however, was payment. Soviet rubles could not be internationally exchanged because of Kremlin currency controls, which made it illegal not only to trade them internationally but also to take the currency abroad. Therefore, a barter deal was made whereby Pepsi concentrate was swapped for Stolichnaya vodka and the right for its distribution in the U.S. – liter per liter.
Originally, it was expected that the first plant would appear in Sochi, but due to the lack of fresh water sources nearby it was decided to build it in Novorossiysk. When the plant opened, Soviet people often would visit Novorossiysk with two goals: a holiday on the Black Sea, and to try Pepsi.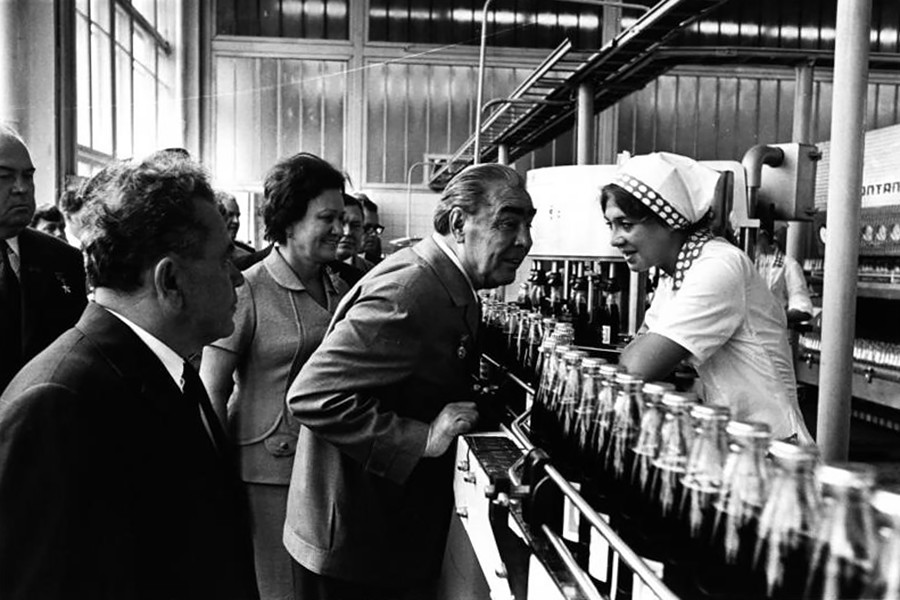 By the end of 1982 seven more plants appeared: in Moscow, Leningrad, Kyiv, Tashkent, Tallinn, Alma-Ata and Sukhumi.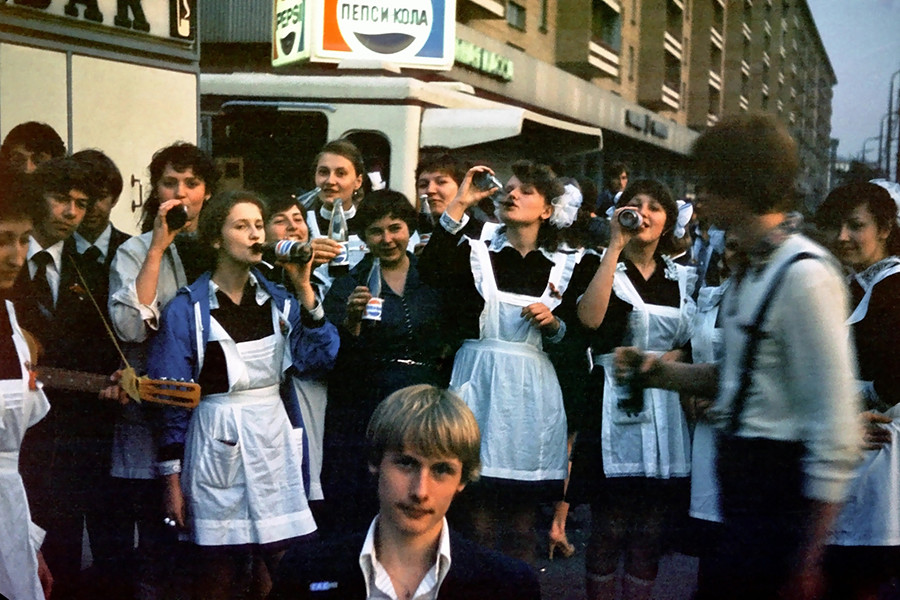 Teenagers celebrate the end of school, Moscow, 1981.
Ivan Vtorov
In 1973-1981, as many as 1.9 million decaliters of Stolichnaya vodka worth $25 million was shipped to the U.S., and 32.3 million decaliters of Pepsi was produced, earning the Kremlin 303.3 million rubles. The barter deal with the USSR only allowed the company to profit from vodka sales in the U.S. – it didn't benefit from Pepsi sales in the Soviet Union.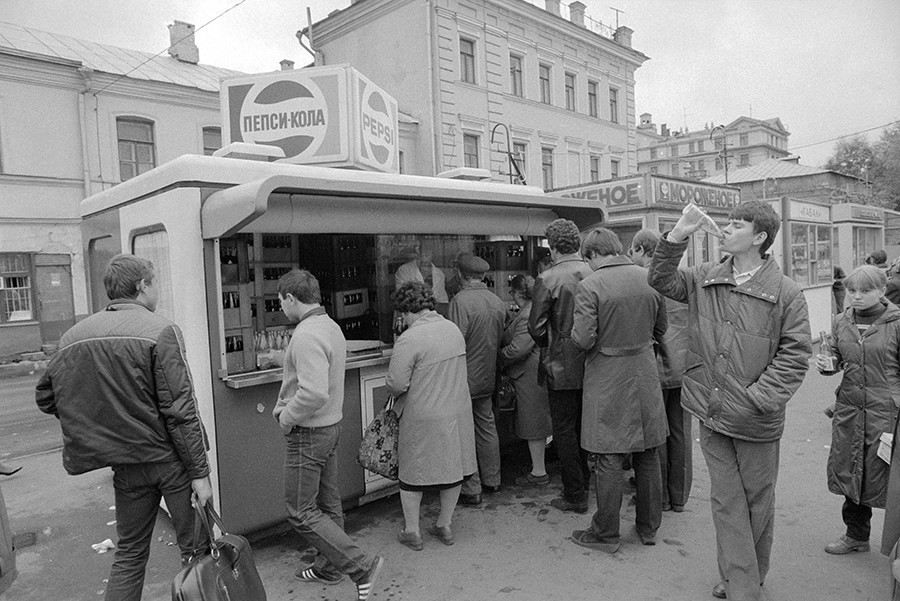 A Pepsi stand in Moscow, 1983.
Getty Images
The price for a bottle of the American soft drink was twice the cost of Soviet drinks (lemonad was 10 kopecks), and one could buy a 0.33 liter bottle for 45 kopecks, and then return the glass bottle to get 10 kopecks back.
In 1988, Pepsi was the first Western brand to place a paid commercial on Soviet TV. The ad featured none other than Michael Jackson.
Pepsi's warships
Following the American reaction to Soviet intervention in Afghanistan in 1979, the sales of vodka plummeted and PepsiCo started to look for something else to barter. The company founded a peculiar way to continue its business – Soviet warships.
In May 1989, Pepsi bought 17 submarines (for $150,000 each), a cruiser, a frigate and a destroyer, which all were later resold for scrap. Plus, the company bought new Soviet oil tankers and later leased them or sold them in partnership with a Norwegian company. It was then that Kendall famously remarked, addressing U.S. national security adviser Brent Scowcroft, "We're disarming the Soviet Union faster than you are."
A 1990 Pepsi commercial in the USSR: "New generation choses Pepsi."
A year later, the company signed a historical $3 billion deal with the Kremlin to swap 10 Soviet tankers and freighters worth more than $300 million for Pepsi concentrate.
Despite Kendall's hopes that this would foster PepsiCo's further expansion in the country, the collapse of the Soviet Union ruined his plans and the company never claimed the ships. They were located in a newly independent Ukraine that wanted to bargain something for itself. Suddenly, PepsiCo had to deal with 15 states instead of one. The worst part – its key competitor, Coca-Cola, now entered the market, and PepsiCo struggled to hold on to its market share in Russia.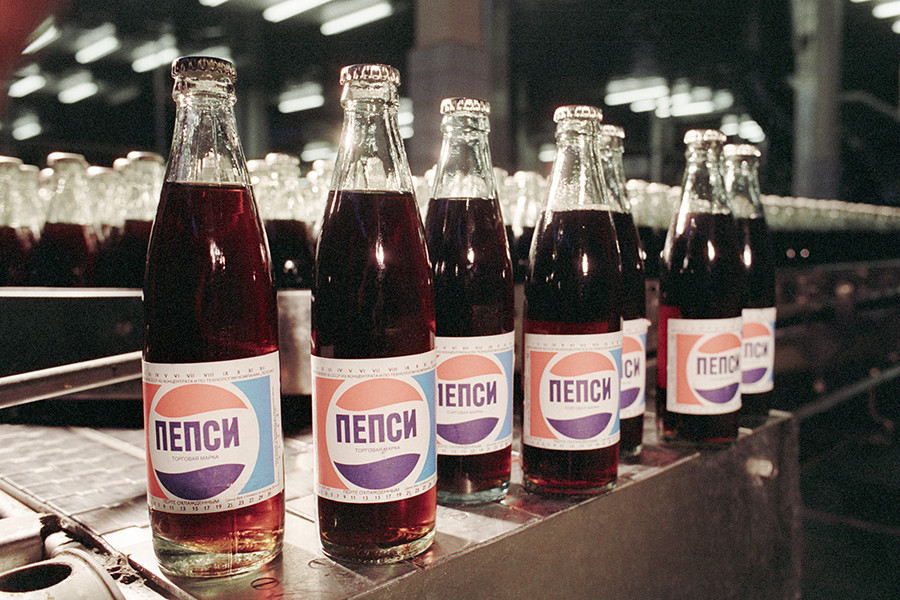 Pepsi from a Moscow-based plant, 1991.
Vladimir Akimov/Sputnik
Today, Pepsi enjoys a strong position on the Russian market producing a wide range of items. Yet, from time to time, Russians nostalgically recall the unique taste of Pepsi in a glass bottle saying that it tasted better than today because plastic ruins the taste.
Here's something that shows the extent of this nostalgia: One lucky owner of an original Soviet-era Pepsi bottle offered to sell it for 6,400 rubles ($110) – an already expired product, of course, but still a nice find for lovers of vintage items!
Want to know more about life in the Soviet Union and daily habits in those times? Check out 10 things you can only understand if you lived in the USSR.
If using any of Russia Beyond's content, partly or in full, always provide an active hyperlink to the original material.