Is it possible to learn Russian efficiently? Polytech can help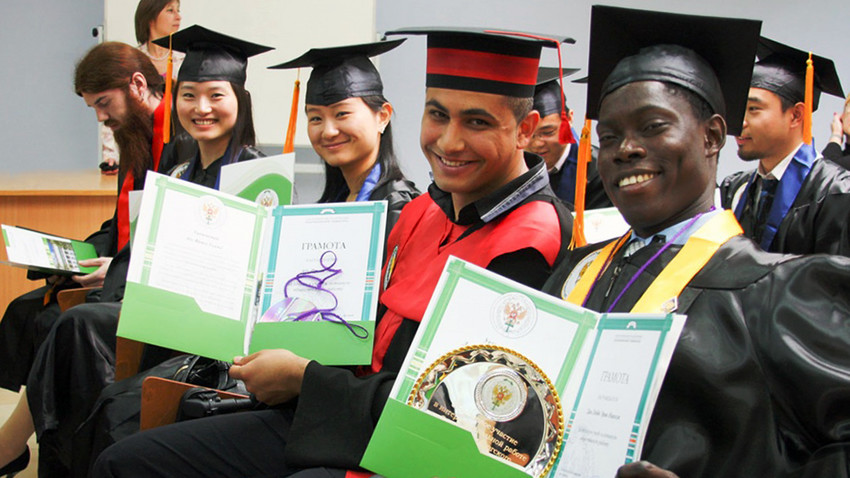 Why learn Russian, how to select a language program and what to expect from it? We answer these and other questions together with Peter the Great St. Petersburg Polytechnic University
Why should I learn Russian?
Russian is the world's fifth most popular language, the Internet's second most used language, and it's growing more popular every year. Also, it's an official language at the United Nations and for the international space program. Many scientific fields - engineering, space, nuclear physics, mechanics, and energy – are connected with the Russian language. That's why knowledge of Russian for specialists in these fields is an important advantage. It can help you secure a good job in leading Russian companies. In the modern world knowing your native language and just one foreign language is not enough for a successful career.
Russia has great literature and culture. To truly understand and appreciate the country and its people, you need to master the language in which Russian authors and other artists thought and worked. Peter the Great St. Petersburg Polytechnic University (SPbPU) offers a variety of programs and opportunities for those who want to learn Russian
Sounds interesting. What are the options?
For starters, have a goal. This will help you choose a program, and there are many. There is Russian for academics, Russian for business and business communication, courses for Russian-speaking foreign citizens, courses for those who want not only to learn the language but also to learn more about Russia's history, politics and culture. You can do translation studies, or learn how to teach Russian as a foreign language. There are also seasonal schools for learning Russian and about the country's culture, which are very popular with students. A program can be found for students of any level, from beginner to advanced.
Thanks to the flexibility of the programs, students can choose the duration of their studies, which varies from a fortnight to a year. For example, one of the most popular options for foreign students is a semester program, which offers full immersion in the language with accommodation either in a Russian-speaking family or at a university dorm.
How long do I have to study if I don't know the language at all?
It's easier than it seems. Take for example, Megan Ellis, a student from Drake University in Iowa. "I decided to study at St. Petersburg Polytechnic University because it has strong ties with the American Institute of Foreign Languages (AIFS). When I came here, I did not know a word of Russian, and I chose SPbPU precisely because of its serious language program," Ellis said. For a semester she studied Russian and attended courses in "Russian literature of the 19th century," and "Life in modern Russia."
Of no small importance is the fact that your university at home will recognize the courses you take at SPbPU, and you'll get credits.
I don't have much time. Are there short-term programs?
SPbPU has an International Summer School, which offers programs in Russian language and culture, lasting from two to four weeks. If required, programs can be combined, with studies that last several months. This Summer School is one of the largest in Russia, and offers intensive courses delivered by leading international and Russian professors.
My goal is not just Russian, but I'd like to brush up a bit
SPbPU is one of Russia's leading universities, offering more than 80 programs in English, including 20 master's degrees and one bachelor's. These programs already include a Basic Russian program.
A full-fledged program is not the only option. You can come for an internship, as did Stephen Gerasimoff from the Massachusetts Institute of Technology (MIT). He's lived in America all his life, but his parents were born and grew up in the Soviet Union. Stephen came to SPbPU to build a racing car at the Youth Design and Technology Bureau.
"I decided to apply for an internship in Russia. I was interested in the country because I had never been to Russia before and I know Russian. At my university I participated in a program to build a racing car, but in America we don't get credits for such work," said Gerasimoff.
Are there ways to study Russian without going to Russia?
Yes, there are. You don't have to decide immediately and go to Russia. You can attend any of the events that SPbPU holds around the world to promote the Russian language. Recent ones included a Russian Language Week in Shanghai (China), and an Open Your Heart of Russia event in Madrid and Cadiz (Spain). There, you can study with Russian teachers, practice Russian and even try Russian cuisine.
How much does it cost, and how can I get more information?
The price depends on the program and duration of studies. Short-term programs cost about €200 euros a week, while a master's program will cost $3,000-$4,242, and a bachelor's program, $3,186-$4,443. But there is also an opportunity to sign up for an exchange semester free of charge!
Higher School of International Educational Programs processes student applications from more than 100 countries every year. So, don't be shy, get in touch and ask questions. You can email Tatiana Kovalenko, Head of the International Short-Term Programs Department, at tatianakov@spbstu.ru, or call her at +7 (812) 606 6234.
If using any of Russia Beyond's content, partly or in full, always provide an active hyperlink to the original material.