Moscow's Kremlin in the 18th and 19th centuries (PHOTOS)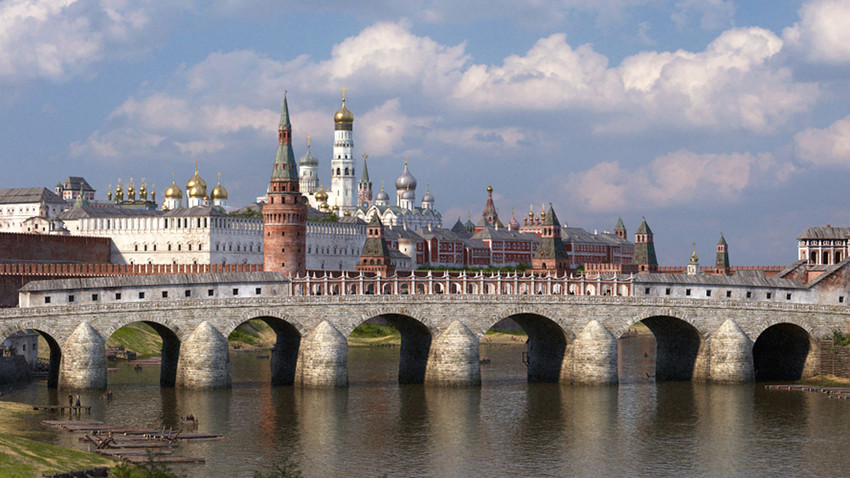 No, that's not a mistake. Russian designers have meticulously recreated the look of the Moscow Kremlin in 1700 and 1800 – and you're about to see what only our ancestors could.
"The Moscow Kremlin. Graphic reconstruction" has been developed by Russian historians, IT engineers and designers. Using descriptions and images of the Moscow Kremlin from the past epochs, they have created detailed photographic images that capture all of the known peculiarities of the Moscow fortress in its past.
1700
1. View from Bolshoi Kamenny Bridge. The white structure is Boris Godunov's Supply (Storage) Palace, deconstructed at the order of Catherine the Great in 1770s.
2. The Spasskaya tower clock. The 'old' clock was constructed in the first half of the 17th century by Scottish engineer Christopher Galloway, who also suggested creating a tented roof over the tower to house the clock mechanism – and that's how the tented roofs appeared on all the towers to match the Kremlin's clocktower. The clock was replaced with a new one in 1701.
3. Spasskaya Tower, the entrance. Near the tower, a small market can be seen – markets and shops occupied the Red Square in times before Peter the Great.
4. The Bolshoi Kamenny Bridge, based on a project of Strasbourg engineer, Jagon Kristler, at the end of the 17th century. It was also called 'The All Saints Bridge' and considered the most expensive construction. Twenty-two meters wide and 170 meters in length, it had state buildings, inns and noblemen's houses upon it. The old bridge was deconstructed in mid-19th century and replaced with a newer one.
1800
1. Cathedral of the Annunciation.
2. Ivanovskaya Square and Chudov monastery (destroyed in 1932)
3. Kremlin from the opposite bank of the river. Beginning late 17th century, walls and towers of the Moscow Kremlin were painted white.
4. The Transfiguration Cathedral in Moscow Kremlin (below), one of the oldest Moscow cathedrals, destroyed in 1933, and Terem palace (still intact).
5. Spasskaya and Nabatnaya Towers
6. Kremlin seen from Tverskaya street. On the right is the Kremlin ravine, filled with water, and part of the old Kitay-Gorod city wall.
7. Panorama of the Kremlin and Red Square, with the wooden building of the Upper Trading Rows (demolished in late 19th century).
If you're deep into history of foreigners in Moscow, be ready to check our own guide to British sights in Moscow. There are also some specific Catholic places and sights. If you're more into Russian history, check out the state-of-the-art train stations of Moscow or 6 things to see on the capital's main street.
If using any of Russia Beyond's content, partly or in full, always provide an active hyperlink to the original material.