1. Andrey Chikatilo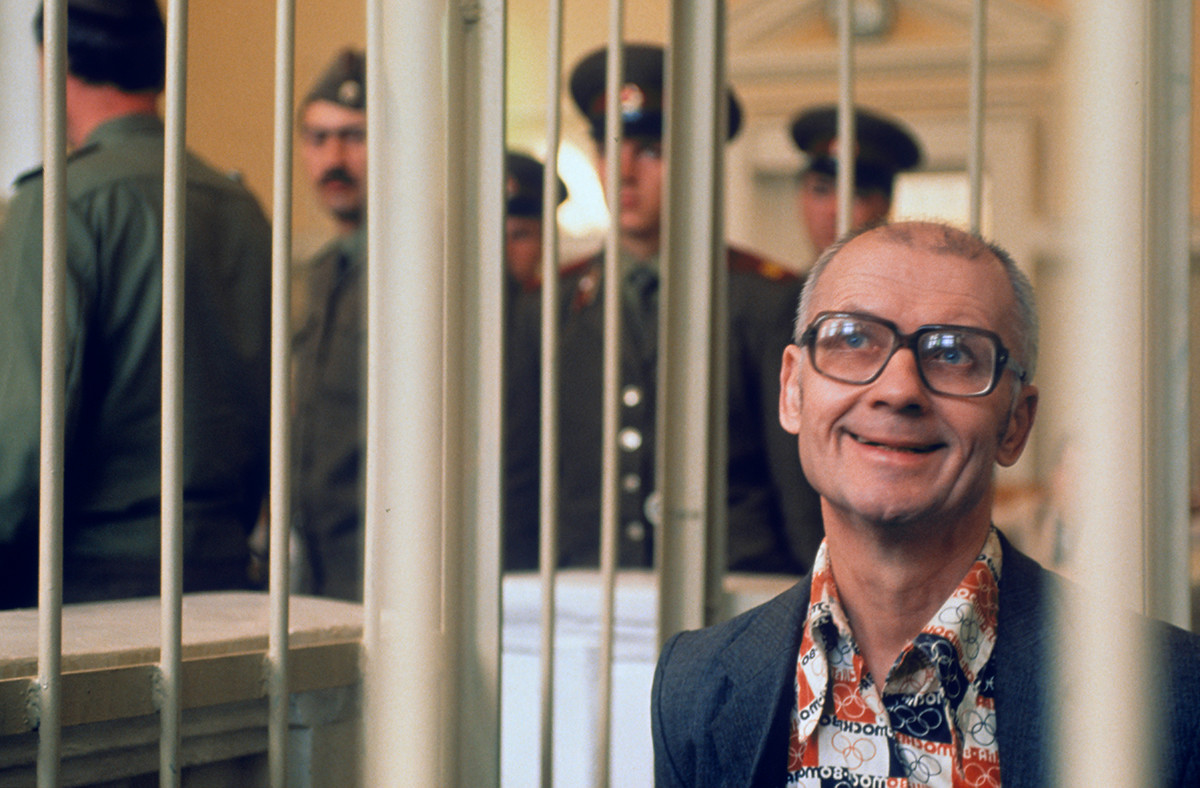 Andrey Chikatilo is considered one of the most terrifying maniacs ever caught. From 1982 to 1990, he brutally murdered and raped over 50 children and young women. As an adult, he studied at university, wrote articles, worked as a teacher and had a seemingly normal family – there were few signs he would become a serial killer.
He murdered his first victims in the late 1970s and laid low for some time. Soon, Chikatilo found work that allowed him to go into long business trips across the USSR. He searched for victims in different cities, making it hard to connect his heinous crimes. He usually lured his child victims into woods by promising them sweets or seeing a movie before raping and killing them. He often cut off parts of their bodies and ate them. Chikatilo also often covered or removed the eyes of his victims. "During the crime, I covered her eyes with a scarf because I was frightened of her stare," he later confessed about his first victim.
Chikatilo was once jailed in 1984 for an alleged theft but soon set free. In 1985, the Russian authorities launched a campaign to find the maniac. By that time he had already killed around 30 people. Chikatilo actively participated in the search for himself as a member of the search squad to throw off the scent. He wasn't arrested until 1990 (the search squad noticed his suspicious look and attempts to make friends with children in the street). Chikatilo denied all the accusations until questioned by psychiatrist Alexander Bukhanovsky. "I explained to him that I was a doctor and my goal was to help him. I can do hypnosis, but I didn't need it then. I was the first man he told everything to. He cried, blamed his fate and the people who surrounded him," Bukhanovsky recalled.
Issa Kostoev, the chief investigator on Chikatilo's case said: "I don't think he was mentally ill. He had some deviations, but was completely sane, he was just impotent and that drove him mad…" Chikatilo was executed in 1994 after a two-year trial.
2. Alexander Pichushkin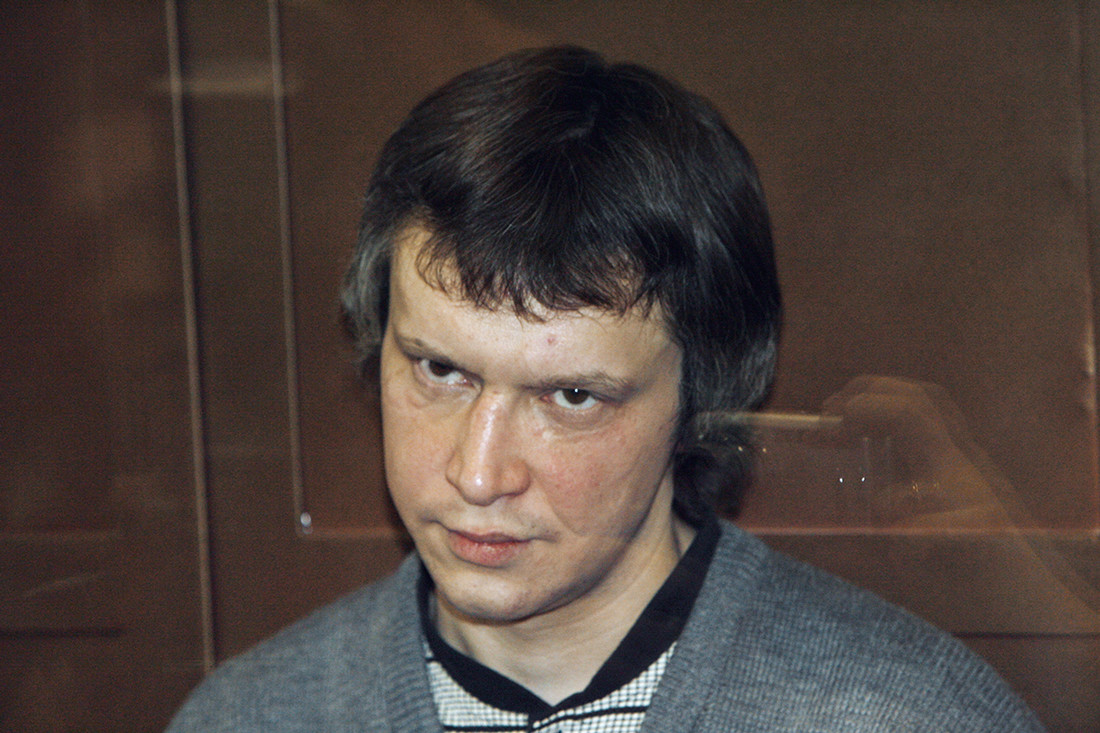 Alexander Pichushkin, 'The Bitsa Maniac',
Alexey Panov/Sputnik
Dubbed the "The Bitsa Park Maniac," Alexander Pichushkin carried out his murders inside and around Moscow's Bitsa Park. "The first murder is like first love, you can never forget it," Pichushkin later said during his interrogation. He first murdered his classmate when he was 18. During that time, the USSR was fixated on the Chikatilo trial. Pichushkin later confessed that Chikatilo's "fame" drove e him to kill more. He began his killing spree in 2001 while working as a loader in a shop and living with his mother.
While answering questions for a TV interview after his arrest, Pichushkin explained the nature of his horrible crimes. "You ask, why did I kill? How to put it right… For me, life without murder is like life without food would be for you. It's a necessity. I was like a father to these people, I opened a door into another world for them. I let them go into a new life," he said.
He offered local people, including some of his acquaintances, to drink in the woods. After they became drunk, Pichusking killed them. His "trademark" was hitting his victims in the head with a heavy object before stuffing branches, broken bottles, or garbage into the wound. Often, Pichushkin dumped the bodies in sewage pipes. Some of those lucky enough to escape him helped the police to create an image of the criminal.
Most of his victims were adult men. During the investigation, Pichushkin said that some of them realized they would be killed before he murdered them. One victim apparently even expressed a wish to be killed. Pichushkin was arrested in 2006. He killed a woman, knowing that she left his name and number with her family before meeting him. He received a life sentence for killing 48 people. One of his cellmates in the detention center said "He doesn't give an impression of an insane or mentally ill person. He's self-conscious and understands that he just has to kill. Apart from that, he's sane." However, after the maniac started his jail time, he frightened his cellmate, a notorious terrorist called Kulaev, to the point that Kulaev pleaded to be transferred to another cell.
3. The 'Akademgorodok' maniacs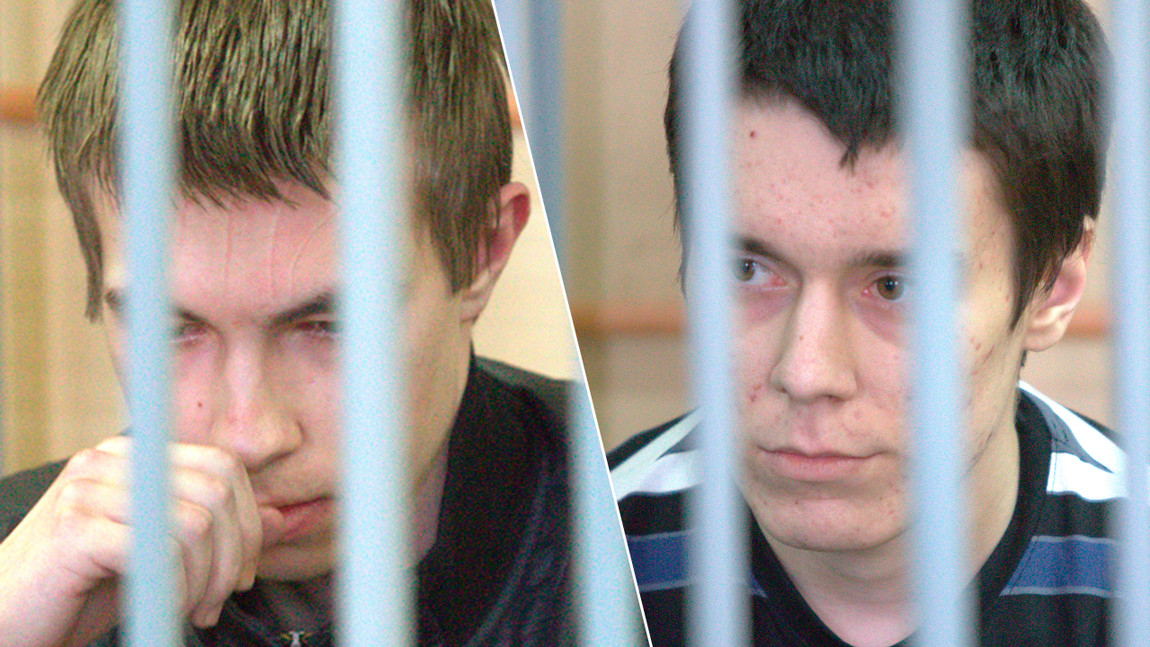 Artyom Anufriyev (L) and Nikita Lytkin (R) listen to their sentences pronounced at Irkutsk Region Court.
Evgeny Kozyrev/Sputnik
Artem Anufriev and Nikita Lytkin grew up in the Akademgorodok district of Irkutsk without their fathers. They met at a friend's birthday party. Lytkin, who was very reserved and introverted, became the only friend of Artem, who wasn't popular due to his arrogance. Together, they formed a music band called "Dismembered Pugachova." In their songs, they openly called for violence and murder, but nobody paid much attention.
They tried to become part of a neo-Nazi organization but were rejected because "they just hated everyone, they didn't care who was killed," a person from the organization said at the trial. Soon, they began cruising their neighborhood on a daily basis and assaulting people with hammers, baseball bats, and knives, always attacking from behind, so even the surviving victims couldn't readily identify them. Anufriev and Lytkin mainly attacked elderly women, children, drunks, and homeless people. They often abused and maimed their victims.
In March 2011, after another victim was found, the police organized a meeting with the locals to explain what measures were being taken to smoke out the murderers. Anufriev and Lytkin were at the meeting and offered ways to help – they even filmed proceedings with their cell phones.
Finally, the murderers were apprehended thanks to the help of Lytkin's uncle, who found a flash drive with a video of one of the killings. During the investigation and trial, Anufriev behaved hysterically and regularly changed and retracted his statements. He maintains his innocence to this day. Anufriev received a life sentence, while Lytkin got 25 years in the slammer.
4. Alexander Spesivtsev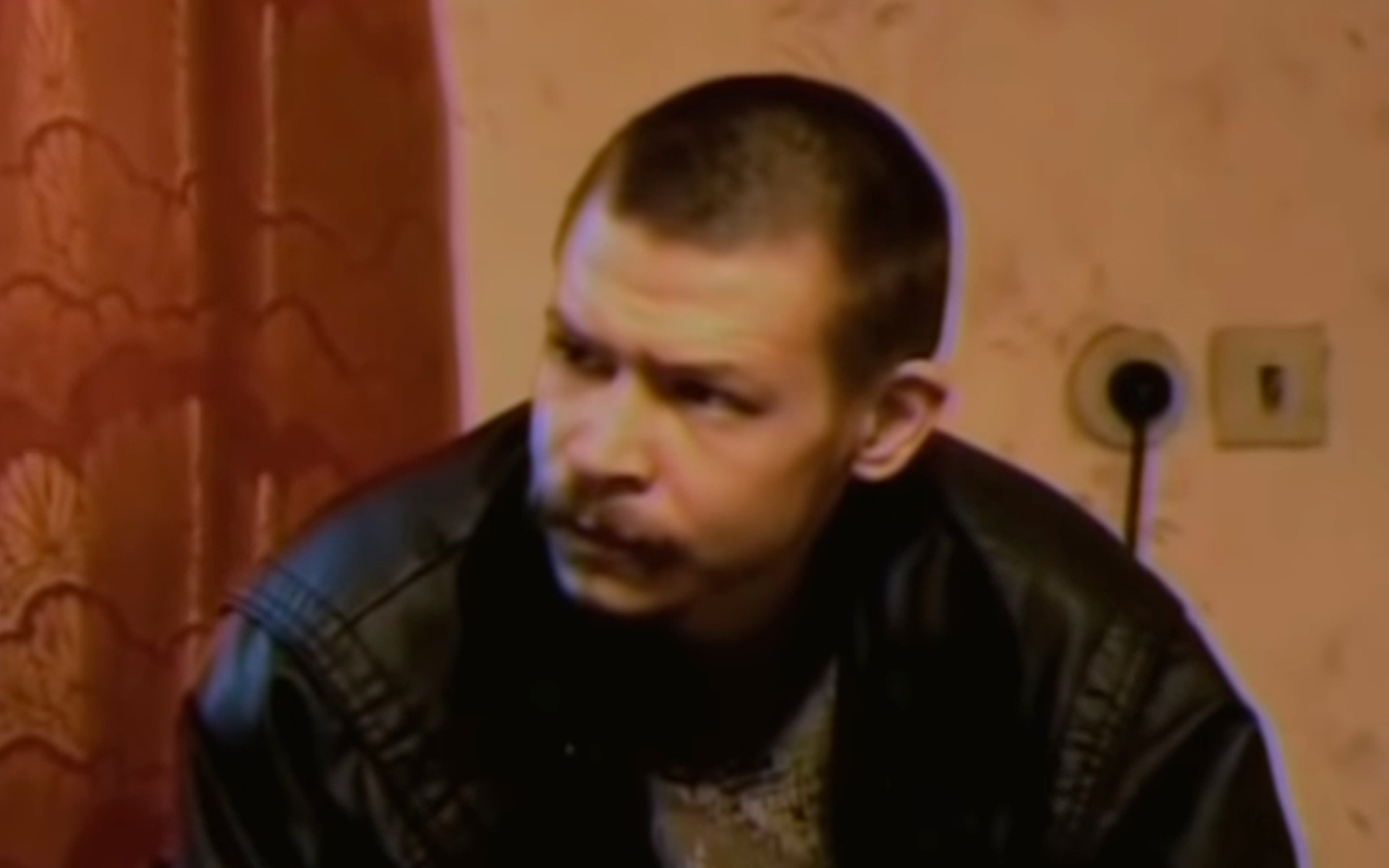 Alexander Spesivtsev.
'Criminal Russia' TV series
When Spesivtsev was a child, his mother, an assistant to an attorney, used to bring home photos of corpses and show them to her son. Until the age of 12, he slept in the same bed with his mother. At 18, he was treated in a mental institution. In 1991, he started a relationship with a girl, but he didn't take it too well when she decided to break up with him. Spesivtsev locked the girl in his flat and tortured her for three weeks. When the police discovered her, she was already severely maimed and later died in hospital. Spesivtsev was declared insane and put into an asylum for three years. After he was declared sane and returned home in 1995, he resumed his murderous activity.
His mother often helped Spesivtsev to get rid of the bodies. In May 1996, he invited six teenage boys home and killed them. "I put the bodies in the bedroom and covered them with a rug. In about a week, my mother came to visit. I went to sleep and in the morning, the bodies weren't there. I don't know what she did with them, I never asked her," Spesivtsev reported later.
Spesivtsev lured people home using different reasons. Sometimes, his mother or sister assisted him, creating an image of a "normal" family. Inside, Spesivtsev handcuffed victims to the radiator, harassed, and tortured them.
"After he killed Nastya, he made us dissect the body to hide it easier," said Olya, one of his victims, before dying in a hospital. "With a handsaw he gave us, we cut up the corpse, separated the flesh from the bone with a knife. He only told us what to do. He fed the meat and bones to his dog. My friend Zhenya and I took the body parts to the bathroom, put them in the bath and the toilet tank. And his mother and sister saw all this, they were present. All the other time, he beat me and Zhenya. He broke her arm and her head, he then sewed her head with a bare thread and sewing needle…"
Neighbors complained to the police about the loud music and rotten smell from Spesivtsev's apartment, but in the provincial town of Novokuznetsk the cops didn't pay much attention. Finally, he was apprehended during a routine inspection by a plumbing service. When the maniac refused to open the door, plumbers called the police, who found body parts in his flat. The exact number of his victims is still unknown, but it's more than 20. Currently, Spesivtsev is under surveillance in a mental ward. His mother served 13 years in prison and has since been released. His sister was declared innocent.
5. Mikhail Popkov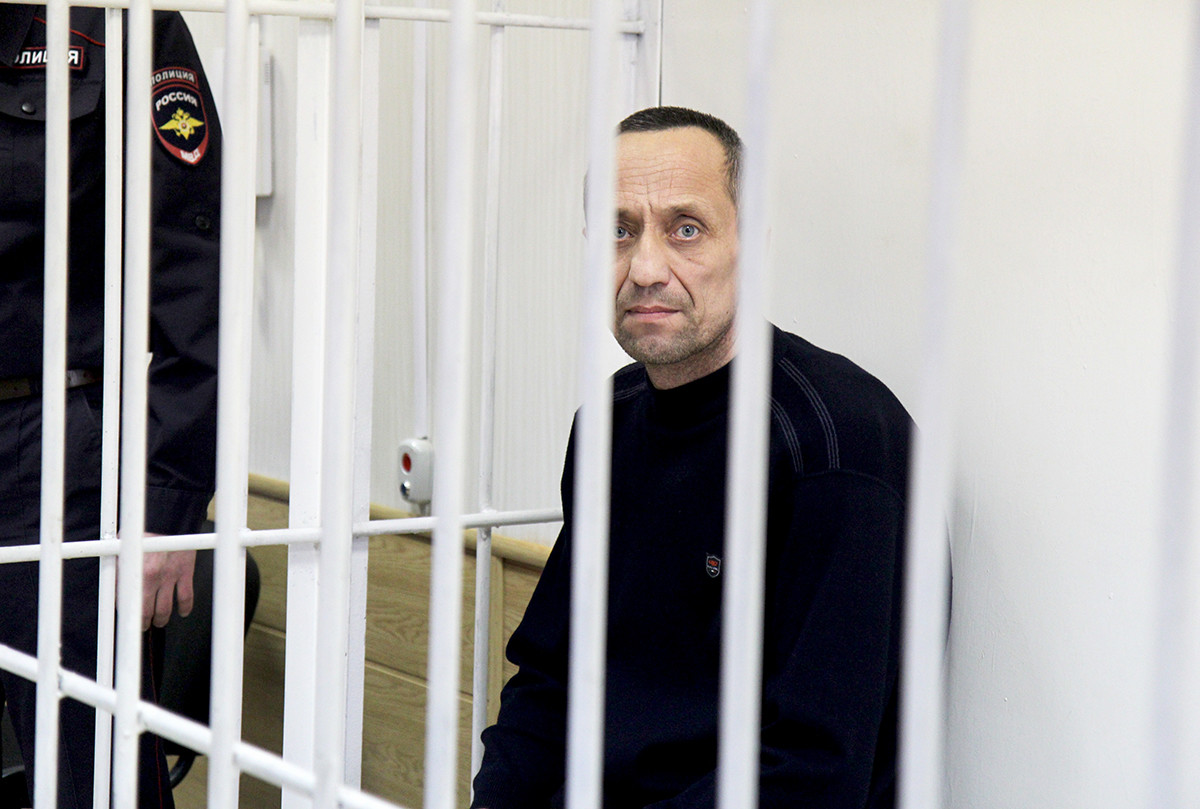 Mikhail Popkov during trial.
Komsomolskaya Pravda/Global Look Press
This serial killer managed to rack up more murders than Chikatilo and Pichushkin. Mikhail Popkov's story is so terrifying because of its resemblance to horror movies. Popkov started killing while he was serving in the Russian police force. At work, he was characterized as a very jolly and good-natured guy. His nickname was "Misha Gwynplaine" – after the protagonist of The Man Who Laughs by Victor Hugo, whose mouth is mutilated into a perpetual grin.
From 1994 to 2000, in the Russian city of Angarsk over 20 beastly murders of young women occurred. All but one of the victims were drunk when they were killed. They were knocked off with screwdrivers, knives, bats, hammers, and so on. They were also raped before being murdered (all but the one who was sober) and posthumously mutilated. The crimes were left unsolved until 2012, when repeated genetic tests showed Popkov, who was earlier brought to the investigation, to be the murderer. Popkov was soon apprehended and surrendered to the police.
Popkov said that early in their relationship his wife cheated on him. He didn't do anything because he pitied their kids. But starting from that time, he decided to "punish" young women who "misbehaved." As a police officer, when he traveled home in his car after a shift, he picked up young women who were drunk and offered them a ride, then sexual intercourse. Popkov then proceeded to kill the women who said yes to him. Popkov "investigated" murders that he himself committed to cover up any potential clues that may have given him away.
Even after his life sentence, Popkov continued to confess to murders, probably in the hope of postponing the start of his "real" jail time (he feared that fellow inmates might kill him). Eventually, he confessed to more than 80 murders and said he stopped killing because of impotence he gained with a venereal disease. The psychiatrists haven't declared him insane and he's still on trial for his murders.
If using any of Russia Beyond's content, partly or in full, always provide an active hyperlink to the original material.