Scene 1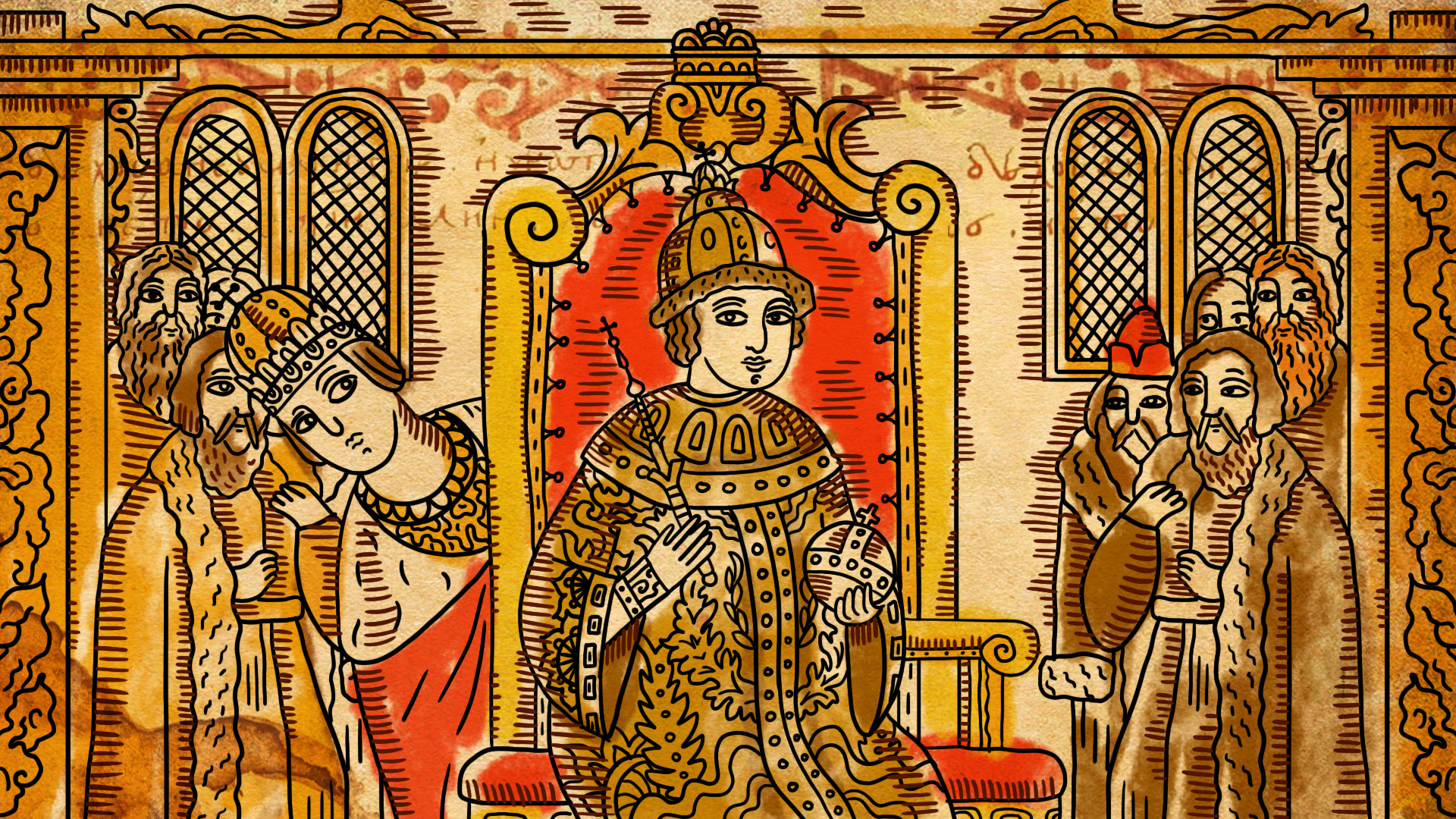 Peter (standing up): I've had enough of this! I'm a Russian tsar, I can do whatever I want! You're all dismissed!
This happens in a ceremonial chamber in the Moscow Kremlin. Peter and Ivan are seated in a double throne, dressed in uncomfortable old Russian costumes. Some boyars and officials are making long dull speeches.
Sofya (appearing from behind the throne): Shhh! Peter, sit down! It's not acceptable even for a Tsar to interrupt the speech of a respected, influential boyar. This is our tradition! This could have been very bad...
Peter: Consequences? Well, look at what your tradition already did to the country! After our father Alexis died, our international trade plummeted. We can't win the war with the Ottoman Empire because we have no fleet and our military is appalling! Our technology is obsolete, our fashion is stuck in the 15th century! Compared to Europeans, we're all barbarians! I'm going to change this!
Sofya: Peter, you can't just have your own way and tear down our centuries-old traditions!
Peter: Ha! Watch me. (leaves for Preobrazhenskoe)
Scene 2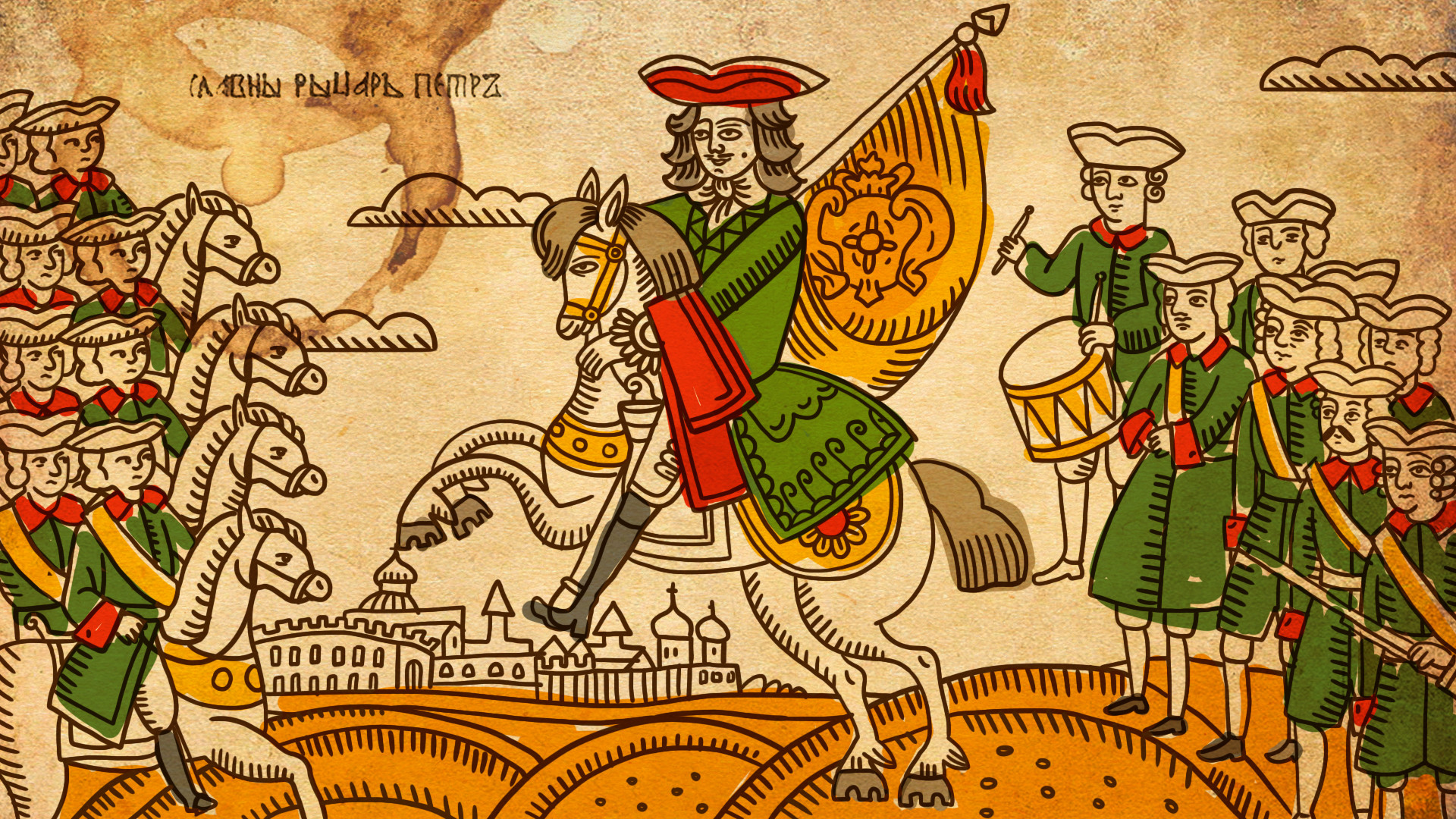 Irina Baranova
A meadow near Preobrazhenskoe. Peter in front of a pack of Russian soldiers.
Peter: My infantry! It's time we changed our obsolete Russian arms for new European weapons. To fight the Europeans, we must think like Europeans and fight like Europeans. Who wants to be the first soldier in my new regiment?
A soldier steps forward from the line.
Peter: There, a brave and daring soldier! You're the first in the ranks of the Preobrazhensky Regiment.
Other soldiers follow the example of Bukhvostov. Soon, two regiments are formed: Preobrazhensky and Semenovsky.
Peter: But I need foreign colonels to teach you tactical formations and weaponry! Luckily, I know a place I can find them…
Scene 3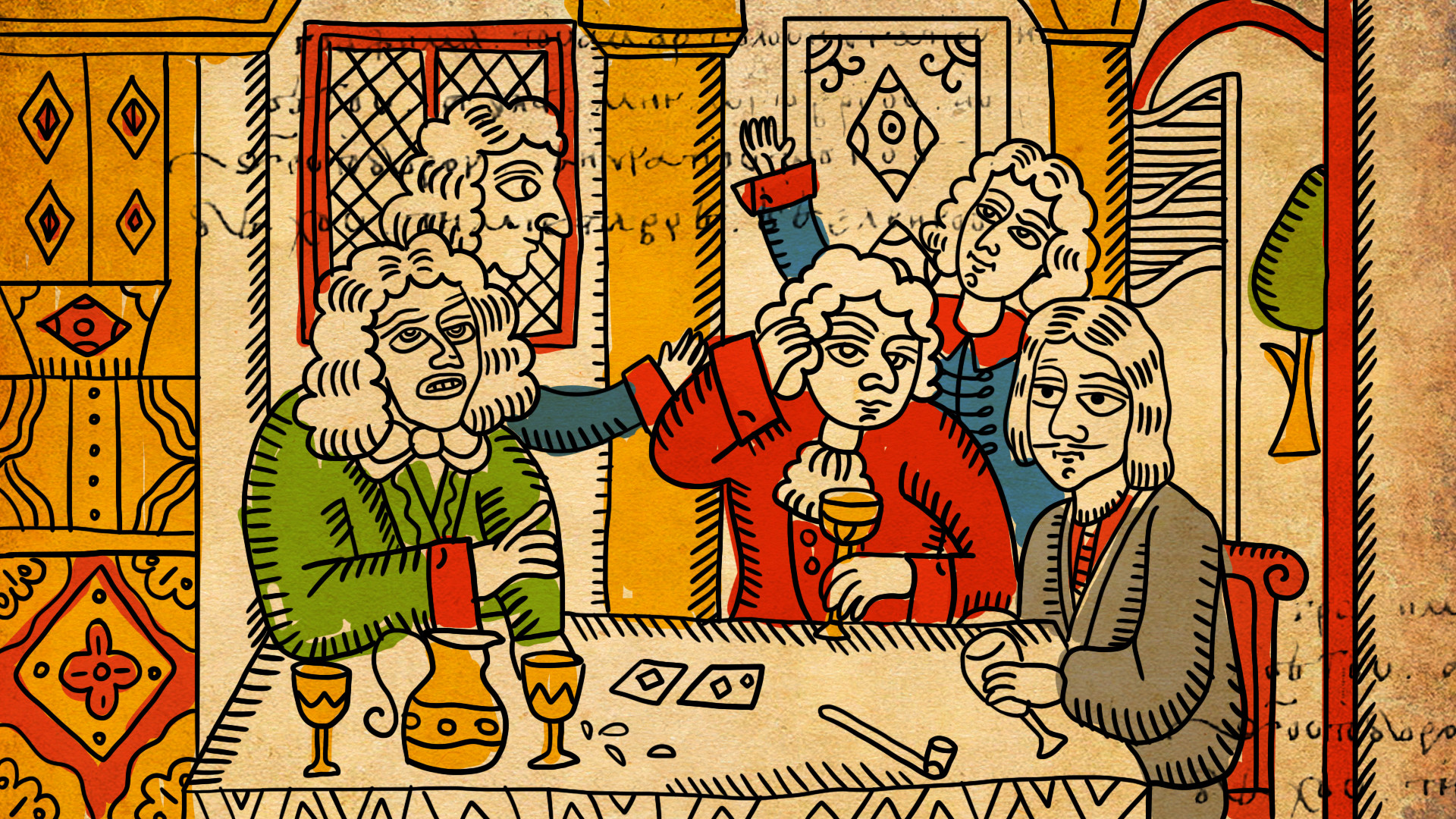 Irina Baranova
The German Quarter in Moscow. Peter is a guest at a German merchant's house, surrounded by his guards and boyars (in funny hats). There are a lot of wealthy English and German people. They all drink beer from big jugs.
Peter: Guys, I need somebody to build an army for me, to teach my brave soldiers tactics, shooting, and marching!
Gordon: Your majesty, my name is General Patrick Gordon, I'm 53 and I've been serving Russia for almost 30 years. I am eager to accept your invitation.
Peter (taking a sip from a jug): You're the Gordon that schooled the Butyrsky Regiment – they're one of the best in our army! Great, bring your colonels with you, I need more people.
Gordon: It would be a great honor for me to train the new Russian army.
Peter's boyars: Your majesty. These German people. They don't bow before you as we do, they talk with you like they're equal, are they so special?
Peter: That's the way they treat their royals in Europe, and you are going to get used to it, too! Ah, to hell with it! Drink up, drink up!
Everybody rises their jugs and glasses: To Peter, our kind and generous sovereign!
Scene 4
Peter sits behind a simple wooden table in his cabinet, dressed as a European. Nobleman (formerly, boyar) enters.
Nobleman: Your majesty… After your victorious southern conquests, we now have access to the Azov Sea… but we have no fleet and no money in the treasury… The country is drained with your elder sister's crazy political decisions…
Peter: Now that I'm the only Tsar, I shall find the money. Introduce a new tax – every 10.000 Russians must gather money to build us new ships!
Nobleman: But… this may cause a big revolt...
Peter: You dare repeat this word, I'll feed you to the dogs. I heard what you said about our funds, though. I'm going away to Europe to try and attract some.
Peter leaves for the Great Embassy.
Scene 5
Peter comes back from the Great Embassy after learning that the royal guard (streltsy) have started an uprising.
Peter (rushing in the room in a stained overcoat and dirty boots): Quickly, brief me on what's going on!
Nobleman: The streltsy started a riot in the summer, they removed their commanding officers and threatened to reinstall your sister Sophia as the head of state. But your foreign generals, most notably Patrick Gordon, have routed the streltsy. Later, we executed 57 of the worst evildoers…
Peter (outraged): Fifty-seven?! Are you kidding me? There are over 2,000 of those scoundrels, the dirty fools! Dare to revolt against their Tsar! I'm launching a new investigation. There will be no streltsy anymore in this country! The old order must be done with!
Nobleman: Yes, your majesty, justice shall be served. Have you had any success with your trip?
Peter: Yes, most definitely! I dined and drank with the European kings. I studied artillery and learned to build ships, I met Isaac Newton, I've been to the British parliament and I hired a great lot of foreign scientists and generals to serve Russia. Soon Russia will become so powerful we'll rule Europe and the world! All hail Russia! I'll see you tomorrow at Preobrazhenskoe, we'll have quite a reception there!
Scene 6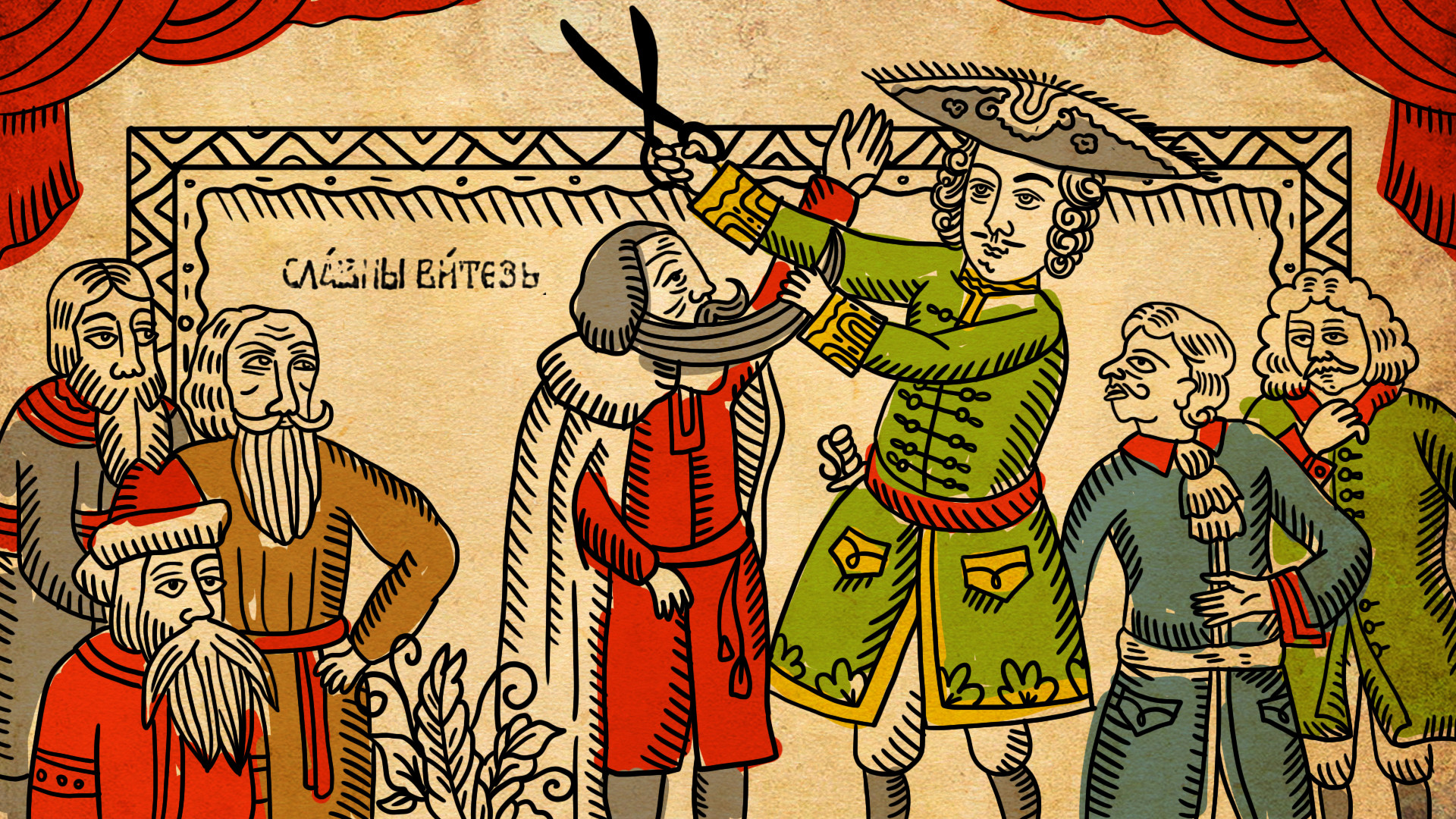 Irina Baranova
A ceremonial chamber in Preobrazhenskoe. Peter is seated on a throne. Present are boyars (in old-fashioned clothes, with beards) and noblemen, dressed in the European fashion.
Peter: Dear people of Moscow's Tsardom! Today, I have introduced a law about beards and outfits – now, in court, everybody must have a shaven face and wear European clothes.
Some boyars: Dear Tsar! But our beards are a sign of our nobility! We can't get rid of them!
Peter: How dare you object! Come closer, my boyars… (pulls out a giant pair of scissors)
The boyars come closer to the Tsar, who then proceeds to cut their beards and long overcoats short with his scissors, laughing joyfully. The boyars are devastated.
Peter: And now, I command you to have fun! To drink! Long live Russia! All hail the Tsar!
Some boyars: The final days are coming… Either our Tsar has gone mad, or this shall be the most excellent period Russia has ever seen...
If using any of Russia Beyond's content, partly or in full, always provide an active hyperlink to the original material.