How the British royal family is related to the Romanovs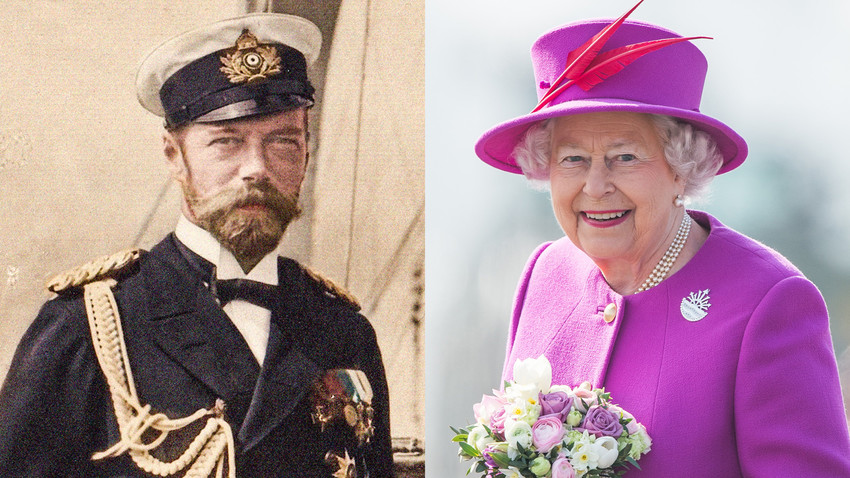 Tsar Nicholas II in Björkö, 1905 (L) / Queen Elizabeth II visits HMS Ocean on March 20, 2015 in Plymouth, England (R)
Getty Images
Nicholas II was married to Alexandra Fedorovna, Queen Victoria's granddaughter, but not only that. We take a closer look at the Windsor-Romanov relations.
In 1917, the British king George V (1865-1936) decided to break relations with his two cousins, German Emperor Wilhelm II (1859-1941) and Russian Emperor Nicholas II (1868-1918). After Nicholas II, George V's first cousin, was overthrown from the Russian throne during the Revolution of 1917, the British Government offered Nicholas II and his family political asylum – but George V opposed this decision, seeing the Romanovs' presence in his country inappropriate.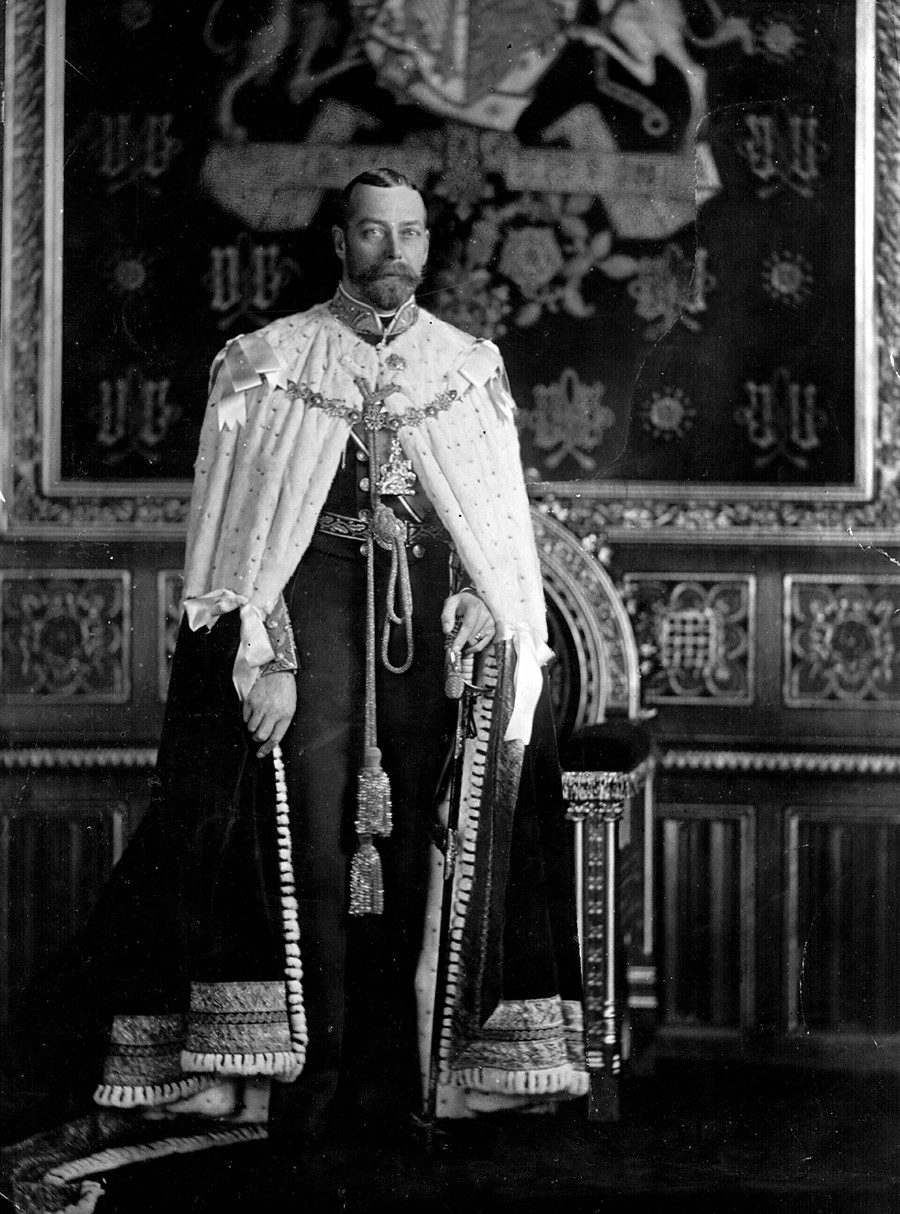 After Nicholas and his family were killed by the Bolsheviks, George V wrote in his diary: "It was a foul murder. I was devoted to Nicky, who was the kindest of men and thorough gentleman: loved his country and people."
However, only two years later, a British battleship was sent to Crimea to rescue the 72-year-old Maria Feodorovna (1847-1928), Nicholas II's mother and, at the same time, George V's aunt.
The House of Saxe-Coburg and Gotha and the Romanovs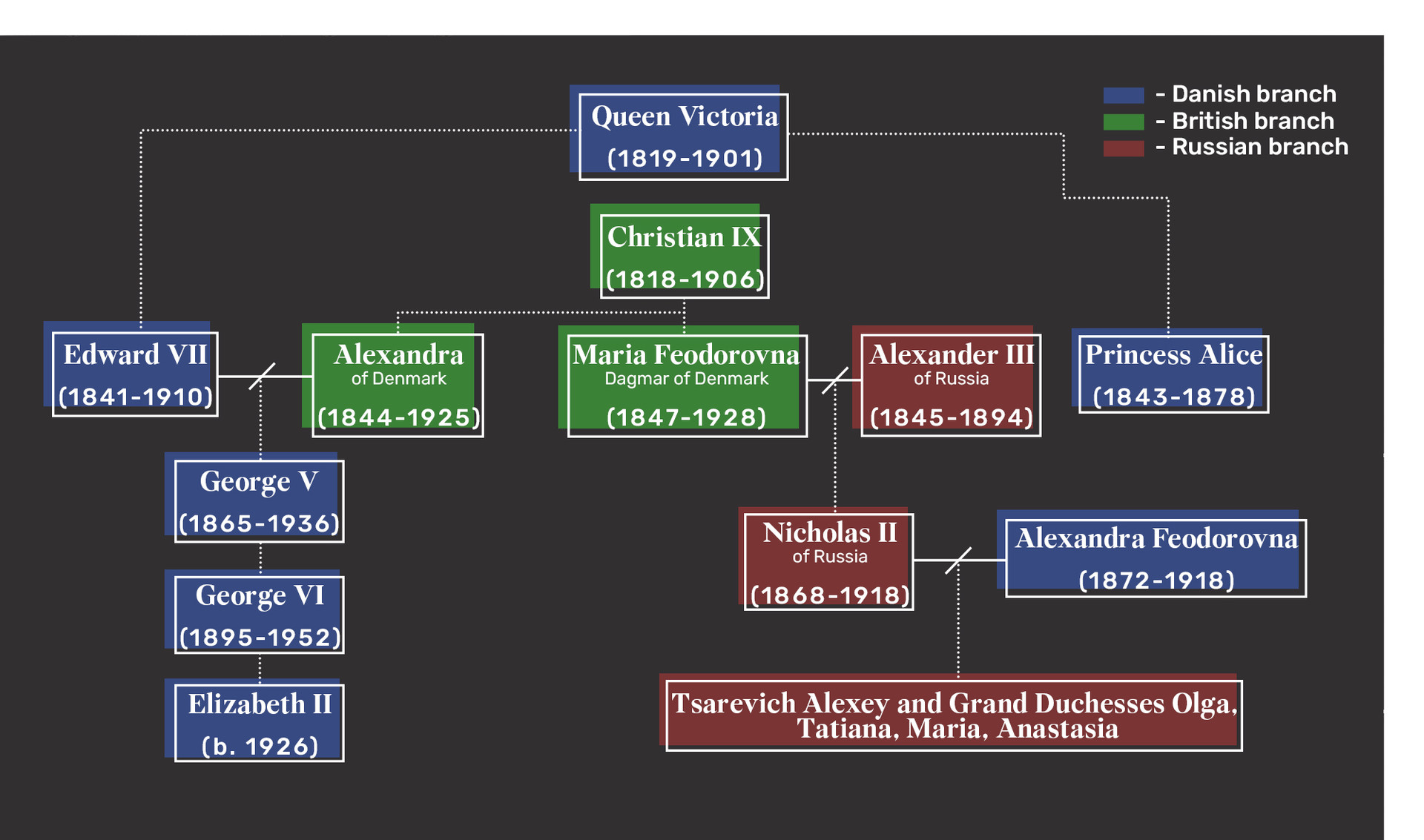 Alena Repkina
George V belonged to the House of Saxe-Coburg and Gotha, which ascended the British throne in 1901 with his father Edward VII (1841-1910), the son of Queen Victoria (1819-1901) and Prince Albert of Saxe-Coburg and Gotha (1819-1861).
But on July 17, 1917, during the days of World War I, George V changed the name of the British royal house from the German-sounding House of Saxe-Coburg and Gotha to the House of Windsor. This was inspired by the whole anti-German sentiment in the United Kingdom during World War I. Accordingly, the German titles of all king's relatives were relinquished – instead, George V created his male relatives British equivalents.
House of Saxe-Coburg and Gotha and the last Romanovs are related through 2 people.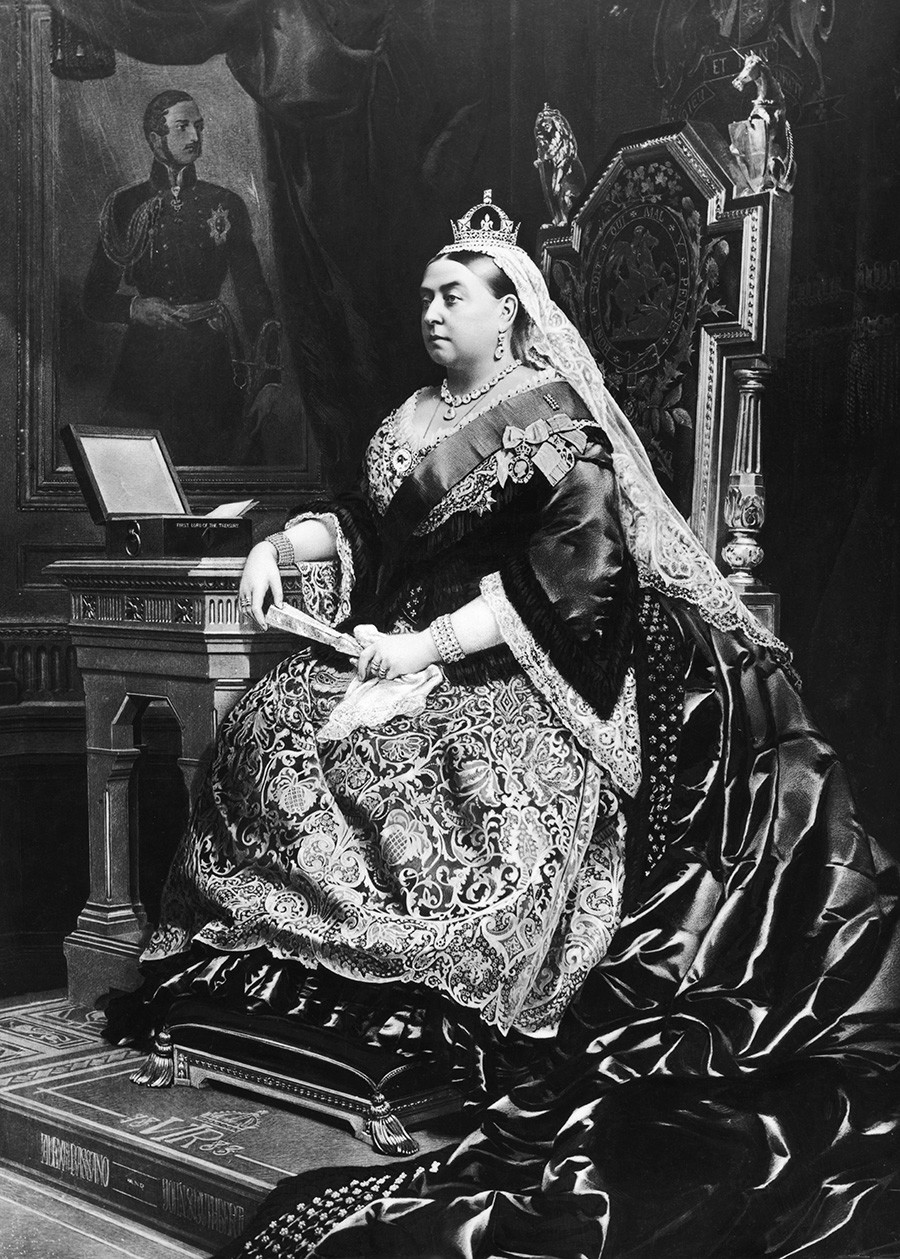 An 1883 painting of Queen Victoria (1819 - 1901), taken from an 1882 photograph by Alexander Bassano. Behind the queen is a portrait of her deceased consort, Prince Albert, by German artist Franz Xaver Winterhalter
Getty Images
The first is Queen Victoria, "Grandmother of Europe": Alexandra Feodorovna (1872-1918), Nicholas's wife, was Victoria's granddaughter.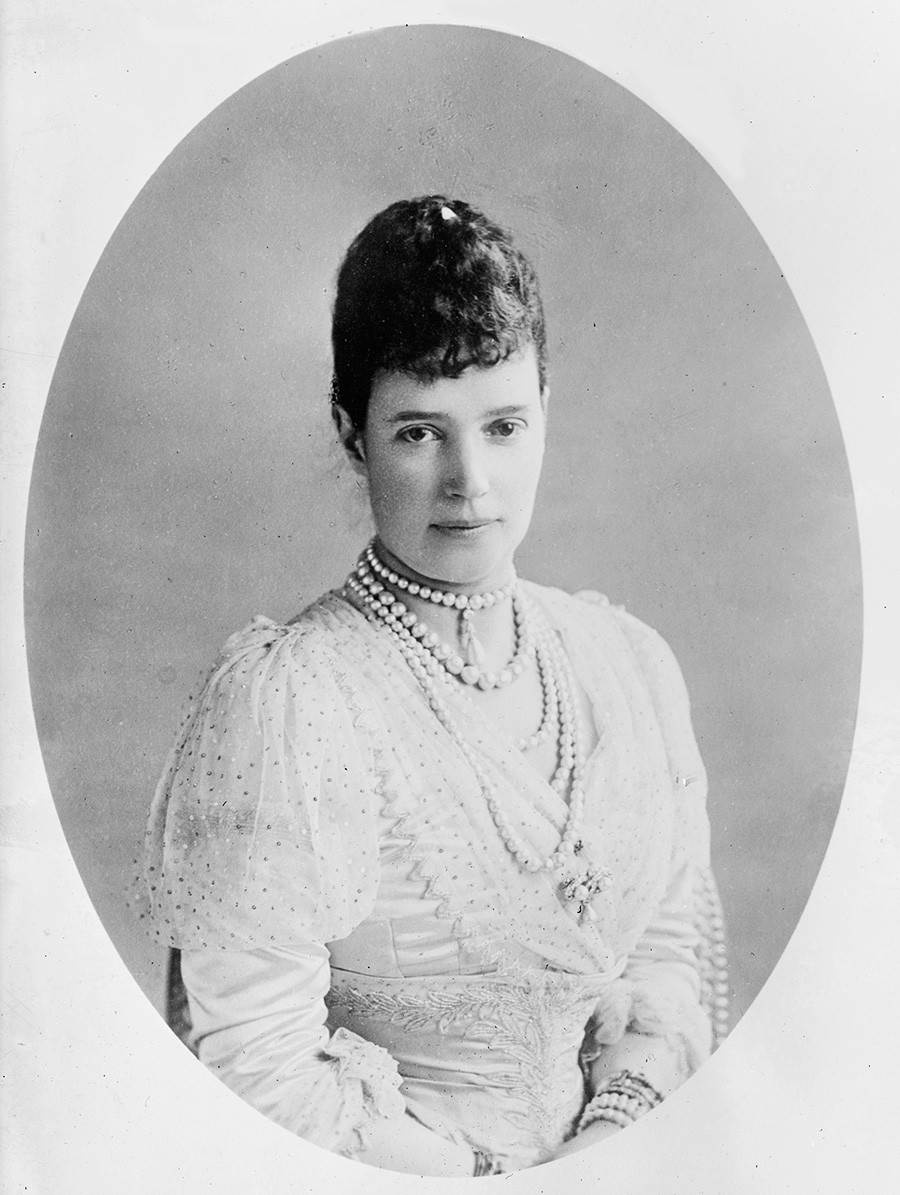 Dowager Empress Maria Feodorovna of Russia, 1911. The younger sister of Alexandra, Queen Consort of King Edward VII of the United Kingdom, Dagmar of Denmark (1847-1928) married the future Tsar Alexander III on 9 November 1866.
Getty Images
The second, the aforementioned Maria Fedorovna, Nicholas's mother and the wife of Alexander III of Russia, was the sister of Alexandra of Denmark (1844-1925), mother of George V. Their father was Christian IX of Denmark (1818-1906) – grandfather of both Nicholas II and George V.
The House of Saxe-Coburg-Saalfeld and the Romanovs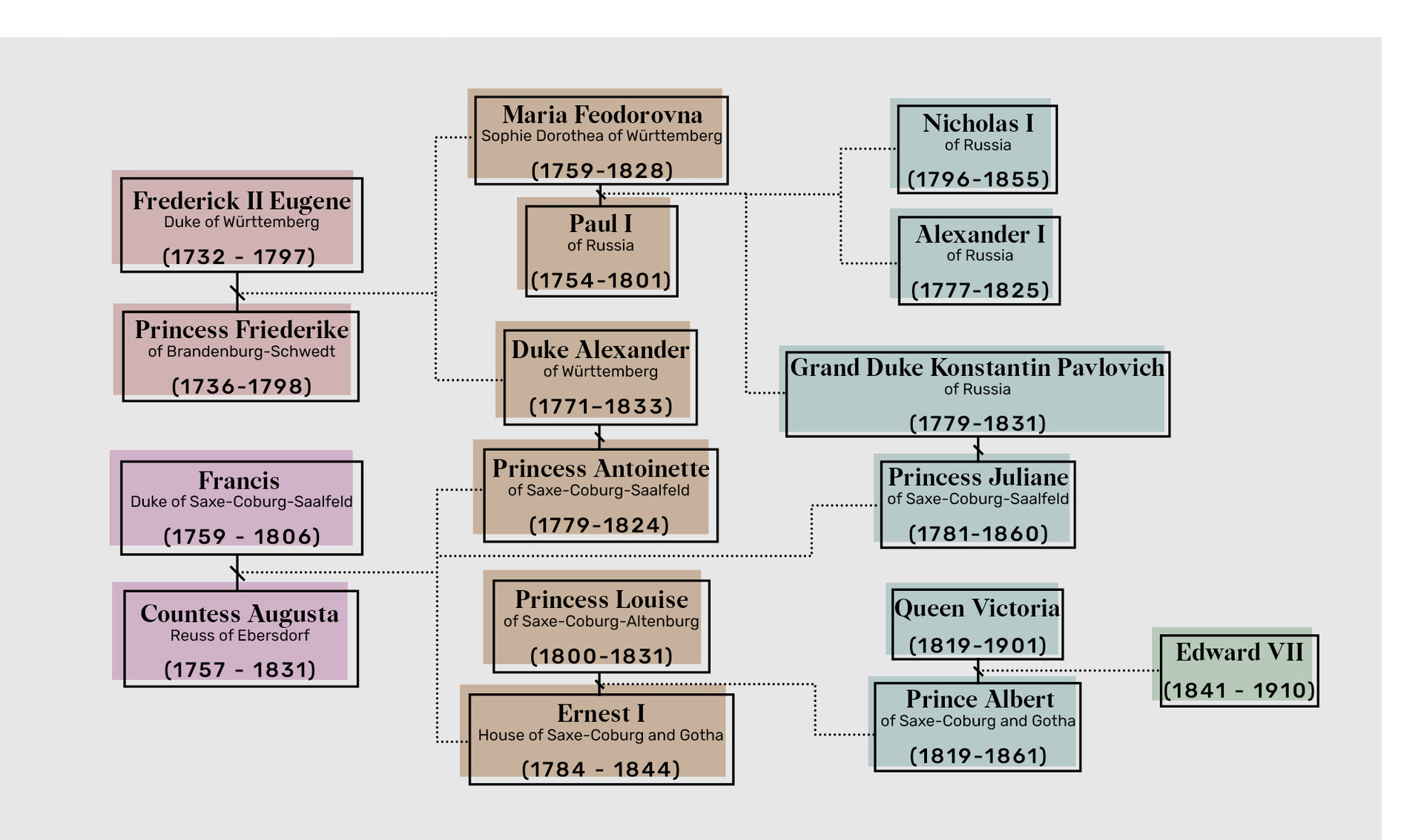 Alena Repkina
The House of Saxe-Coburg and the Romanovs' bloodlines had met even earlier. Princess Juliane of Saxe-Coburg-Saalfeld (1781-1860) was the wife of Grand Duke Konstantin Pavlovich of Russia (1779-1831), brother of Emperor Alexander I of Russia (1777-1825). In Russia, Princess Juliane became Grand Duchess Anna Feodorovna.
The marriage of Anna Feodorovna and Konstantin Pavlovich was short-lived and bore no children. Through this marriage, however, Leopold (1790-1865), Anna Feodorovna's brother and the future King of Belgium, had the chance to serve in the Russian army.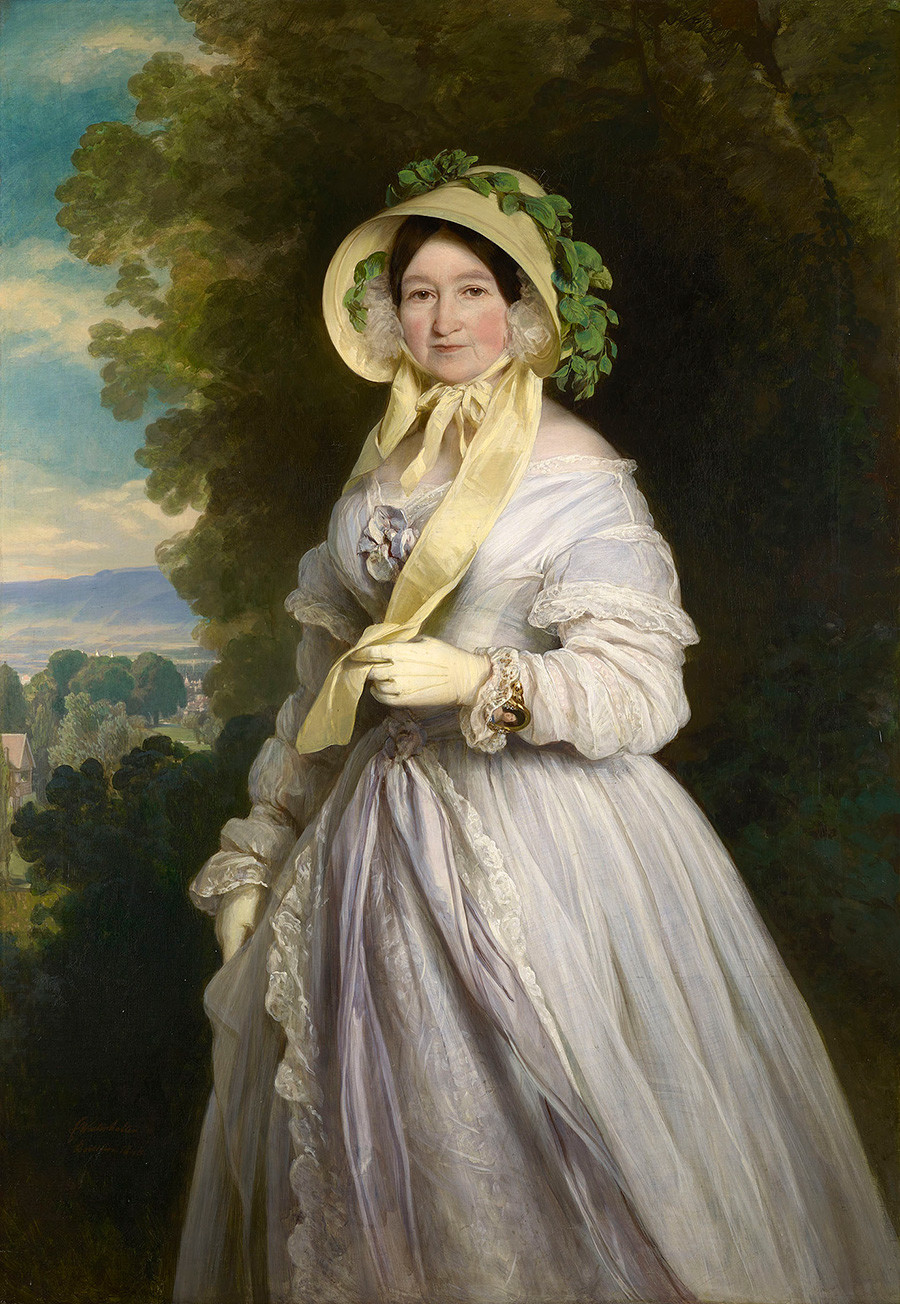 Grand Duchess Anna Fyodorovna of Russia (1781–1860), née Princess Julianne of Saxe-Coburg-Saalfeld. by Franz Xaver Winterhalter
The Royal Collection of the United Kingdom
It is also remarkable that Anna Feodorovna's sister, Princess Antoinette (1779-1824), was the aunt of the Russian Emperors Alexander I and Nicholas I (1796-1855), because she married Duke Alexander of Württemberg (1771–1833), brother of Maria Feodorovna (Sophie Dorothea of Württemberg) (1759-1828), who became wife of Paul I of Russia (1754-1801) and the mother of Nicholas I and Alexander I.
If using any of Russia Beyond's content, partly or in full, always provide an active hyperlink to the original material.