The Russian Empire's FINAL days in PHOTOS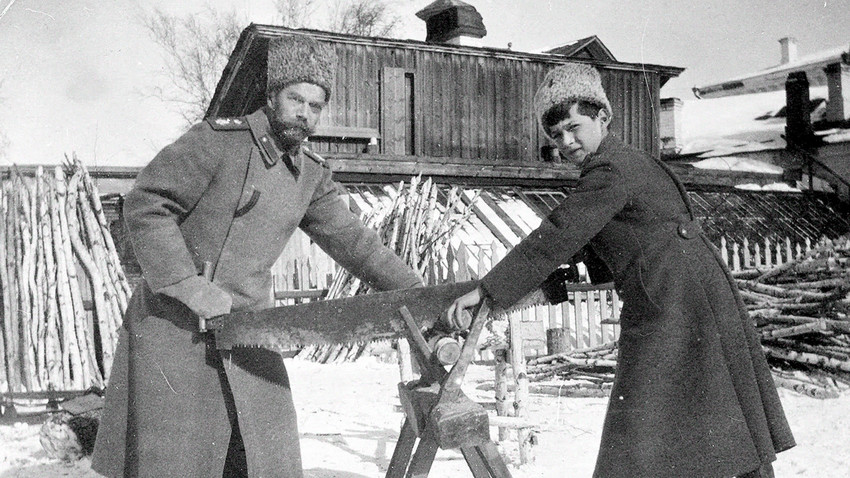 Romanov Collection/Beinecke Rare Book and Manuscript Library/ Yale University
Hordes of people in front of a dilapidated Kremlin, Rasputin surrounded by followers, the syphilis epidemic, tea at the dacha and the storming of the Winter Palace - life of the empire in the final moments of its existence.
1. St. Petersburg's inhabitants witnessing a solar eclipse
2. Grigoriy Rasputin surrounded by his followers
3. An Imperial School employee receiving 'compound 606' shot to fight syphilis
4. Tea-drinking at the dacha
5. Bringing the catch home after a hunt with the tsar
6. Leo Tolstoy playing chess
7. A car on the streets of Moscow
8. A hot air balloon
9. Burlak women hauling a barge on the Sura River
10. Teenage builders on Pokrovka Street in Moscow
11. A Moscow market
12. The Romanovs a year before the Revolution
13. The French Wrestling World Championship
14. Sailors who switched sides in support of the rebellion in the Catherine Hall of the Tauride Palace
15. Soldiers on their way to quell a rebellion
16. Maria Bochkareva, commander of the Women's Battalion
17. The forces of the Provisional Government firing at a peaceful demonstration in St. Petersburg
18. The Romanov Sisters contract measles and have to have their heads shaved
19. The Winter Palace after the storming
20. A protest rally
21. A wedding
22. Celebrating 300 years of the House of Romanov
23. Crowds gathering at the Nikolsky Gate of the Kremlin after the October Revolution
24. The last class of the Smolny Institute for Noble Girls
25. Ballerina Matilda Kshesinskaya posing in her home
26. Members of the City Duma at a recruitment point
27. Nicholas II posing at the Tsarskoe Selo estate while under house arrest
28. In the room of a commercial bank's safety deposit facility

29. A priest at his house in the village
30. A teacher with her students in Ryazan Province
31. Vladimir Lenin speaking at a public meeting
32. The removal of Aleksandr III's monument
If using any of Russia Beyond's content, partly or in full, always provide an active hyperlink to the original material.
Get the week's best stories straight to your inbox