Traffic jams. It seems Moscow's roads are forever clogged up with cars. From the vehicle's open windows one can hear soundbites of the evening news: The aftermath of hurricanes in the U.S., arrests of Scientologists, elections in Russia, and blockchain technology...
Friday in the capital is stuffy, with clothes clinging to one's body. Moscow opens its windows to let in the evening air, cider and wine are quaffed, jazz blares on the sidewalks, longboards and gyro scooters fly down Krymskaya Embankment - people are making the most of the warm weather. Up until now it's been a terrible summer, with rain, rain, rain.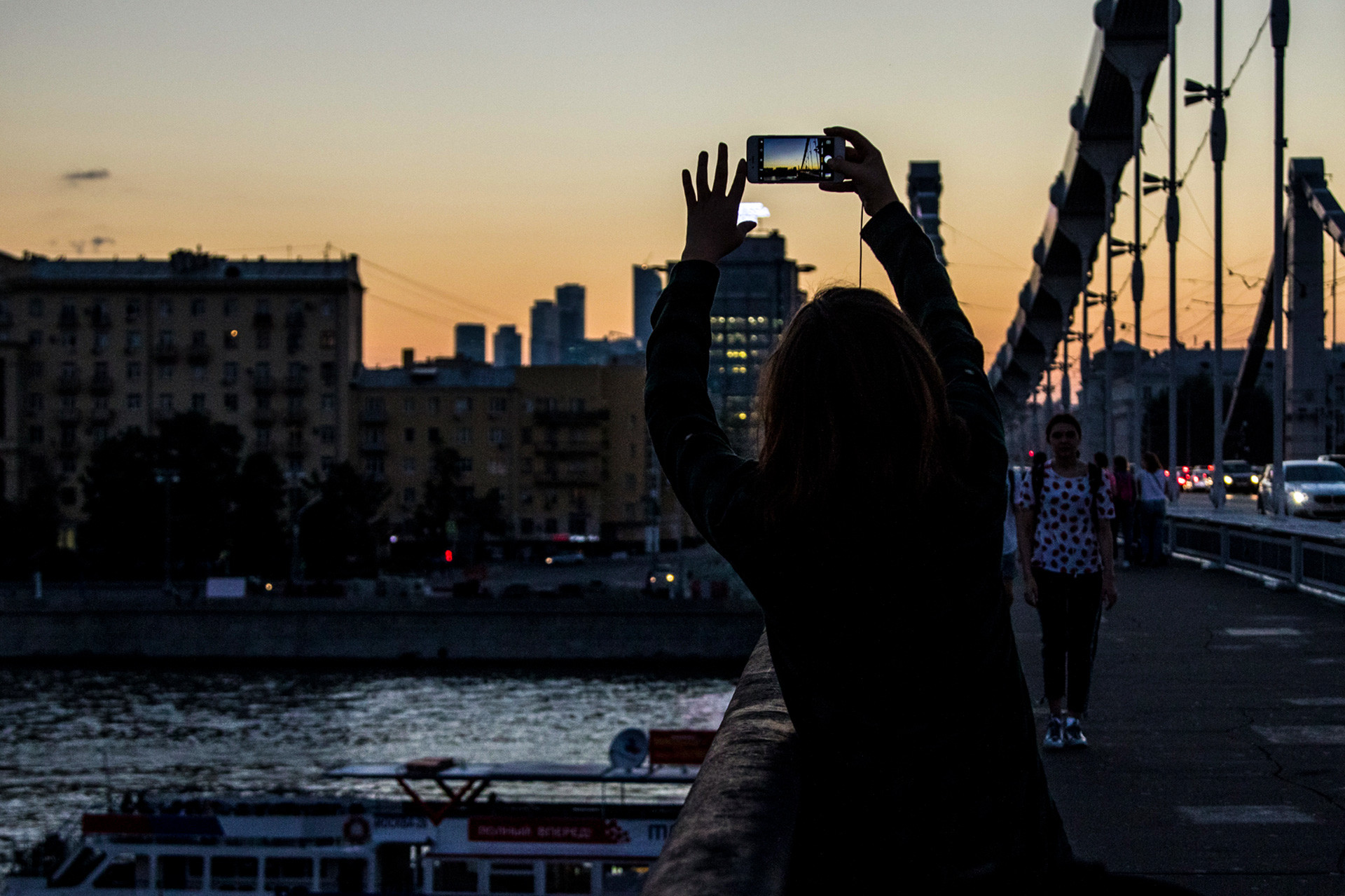 "Come with me to get a refill of water. You don't mind, do you?" Tall, thin Stas squeezes an empty bottle of Acqua Minerale. His voice is trembling and he starts stammering. "I am here every Friday, talking to strangers, and it doesn't matter who they are. I would like to get to know you, but it's not important. There are lots of people in the park even at night. And this way I seem to be getting more confident, I have my own problems as you may have noticed… Sometimes I just have to go out and talk to someone."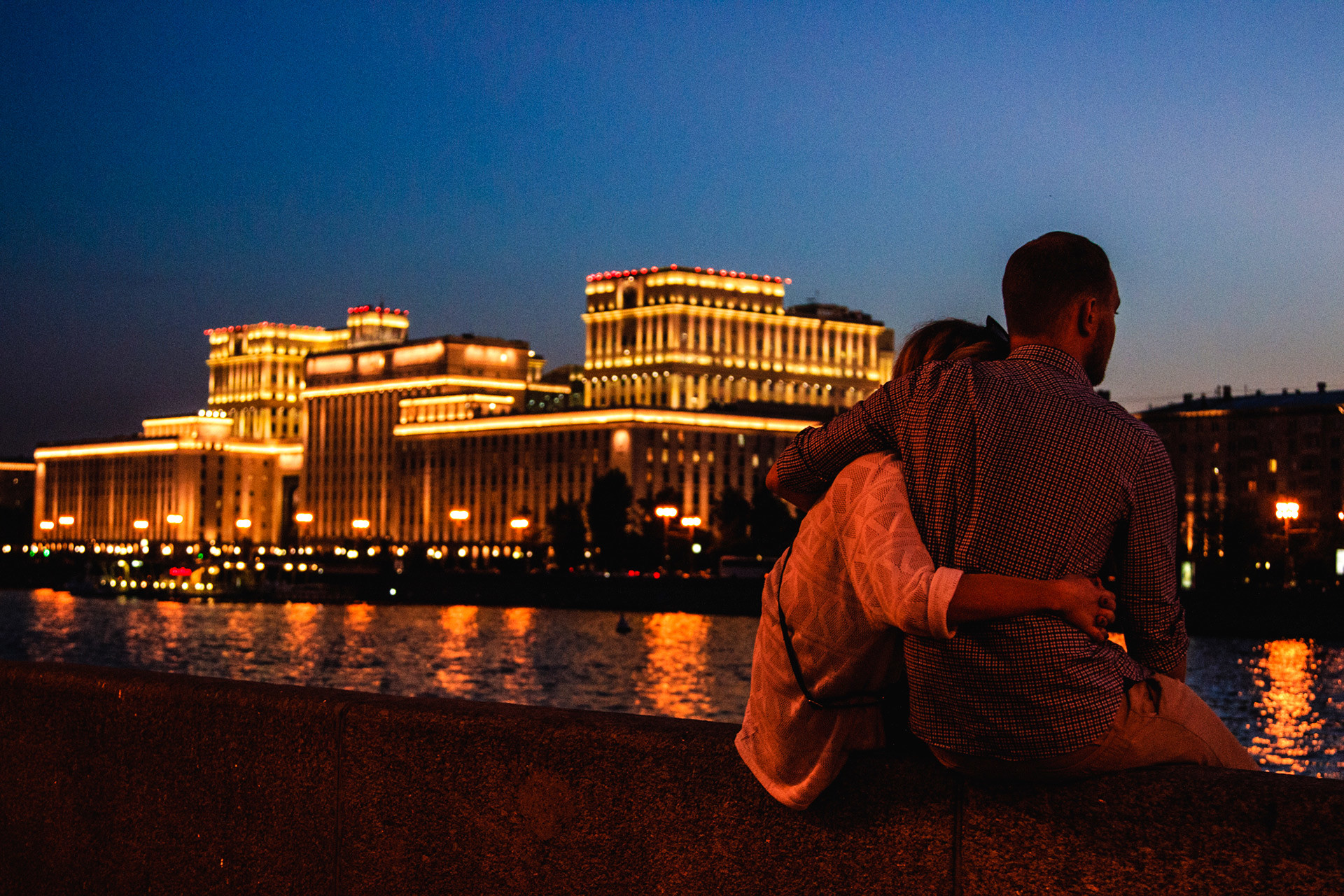 The Krymskaya Embankment in September, Moscow
Ilya Ogarev
He is disappointed that I'm a journalist and ask too many questions. It is "unnatural." His figure disappears into the darkness behind a summer veranda where one can hear laughter ringing out and barely perceptible hip-hop music coming from a mobile phone. The air is filled with the aroma of burnt soy sauce and there is a line of people outside a marquee that sells Pan-Asian food. People are holding plastic cups with tea or juice, gesticulating with teaspoons. But the people on the pier, on the steps by the water, always drink rosé and are oblivious to everything except each other.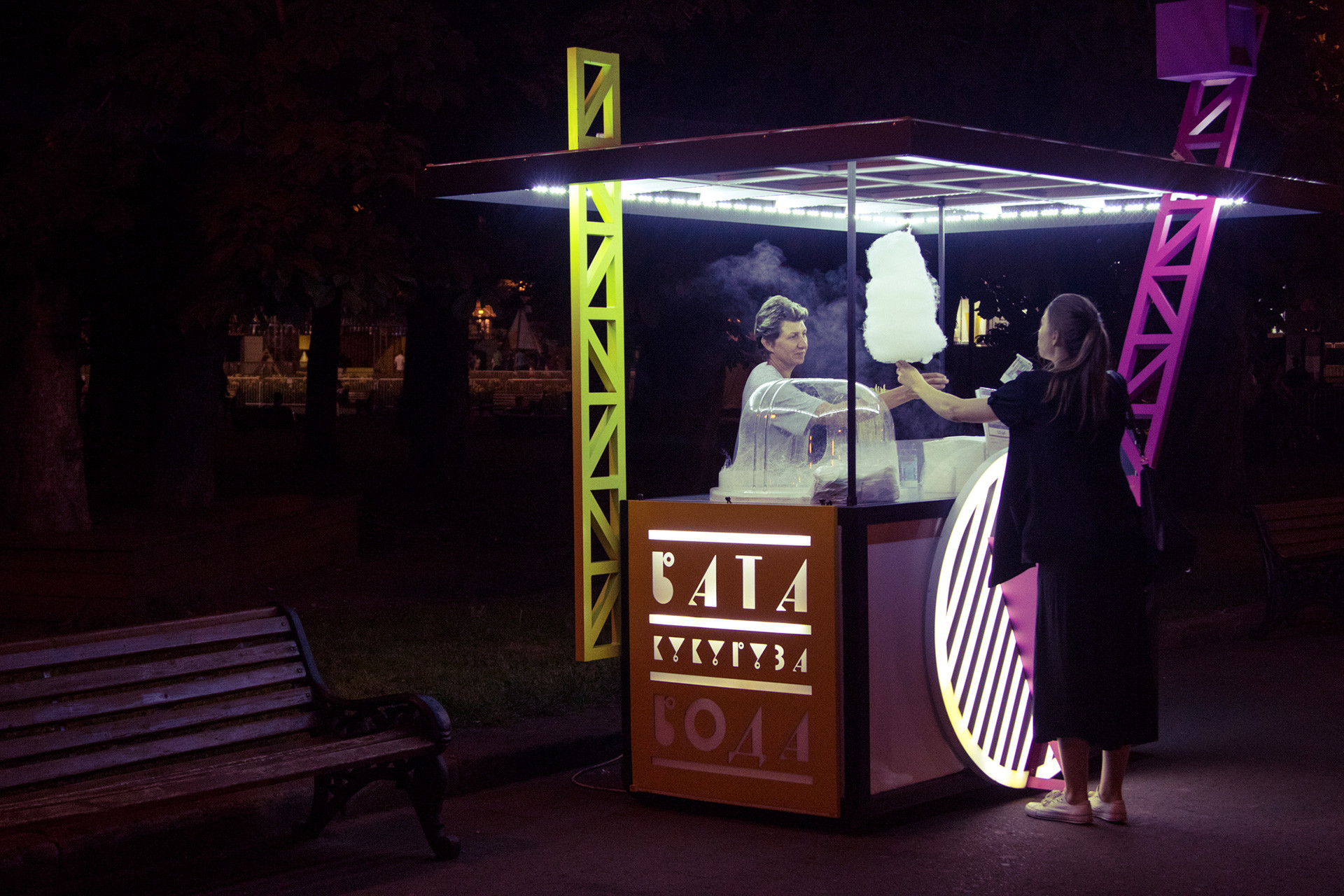 Gorky Central Park of Culture and Leisure in summer night
Ilya Ogarev
On Tverskaya Street the light of a shop windows falls on the anemic, tired face of a courier from Delivery Club. He's working the pedals of his bike and listening to music on his headphones. Girls are taking selfies in the reflection of a bank window, smoking thin cigarettes and singing Russian pop tunes. One has a ladder on her tights down to her ankle. The lyrics are about the night and "until morning," and interspersed with the sounds of street jazz. Lately Moscow has developed a special love for jazz.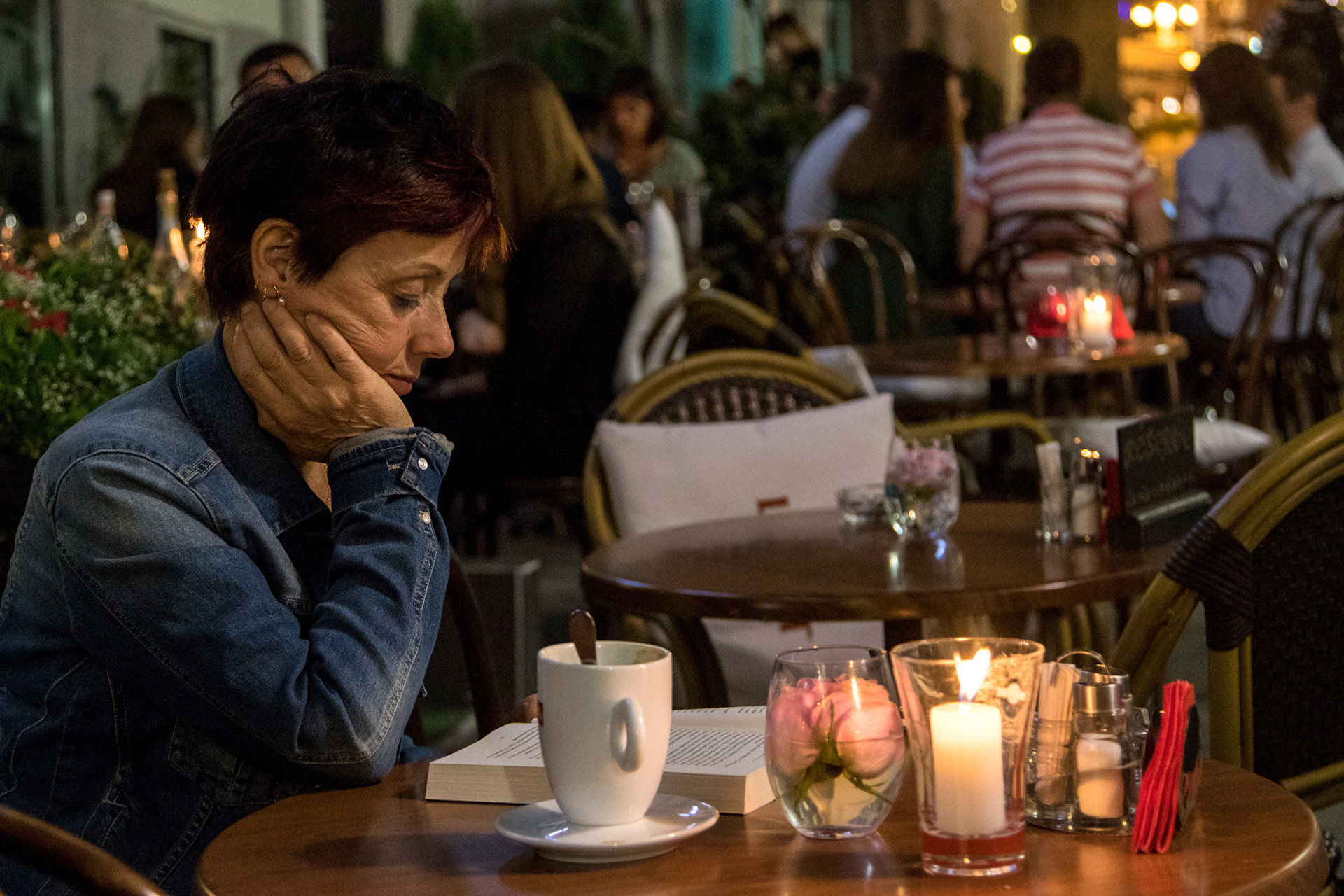 Zhan-Zhak café on Stoleshnikov Lane
Ilya Ogarev
"I wouldn't have gone, I wouldn't have done it"... "Stop Sveta, it's all rubbish. One day he will answer for it"... "And if not?" Scraps of conversations can be heard from people sitting at the small tables outside Zhan-Zhak café on Stoleshnikov Lane. Here you become an involuntary witness of other people's dramas.
Pushing past the tables are passers-by and not-so-young waitresses carrying heavy trays with glasses. Pushing their way through are couriers, overweight women with plastic bags, young girls wearing high heels, and a fortune teller. She moves from table to table, scrutinizing the faces with her sharp eyes. She has a velvety, low, chesty voice and black eyes. She says I am a little possessive and will have a common-law marriage. For this she charges at least 200 rubles. This is the price of fortune-telling in the capital.
If you go down the lane, passing the Louis Vuitton and Miu Miu boutiques, you'll meet Sasha. He sings beautiful songs, plays the guitar, and looks straight in front of him. He tells me that he comes every night because this is how he sees himself moving to a new level. "There is nothing shameful in it, I'm standing here and people are smiling there. I've come out of my comfort zone. It has to be cool, doesn't it? Here anything can happen. Maybe one day I will be playing my songs on stage...You know, I will in any case. I have left myself no other choice in life." And with anguish in his voice he starts singing a Russian song with the words "do not be shy" while a drunken young man nearby performs a euphoric dance.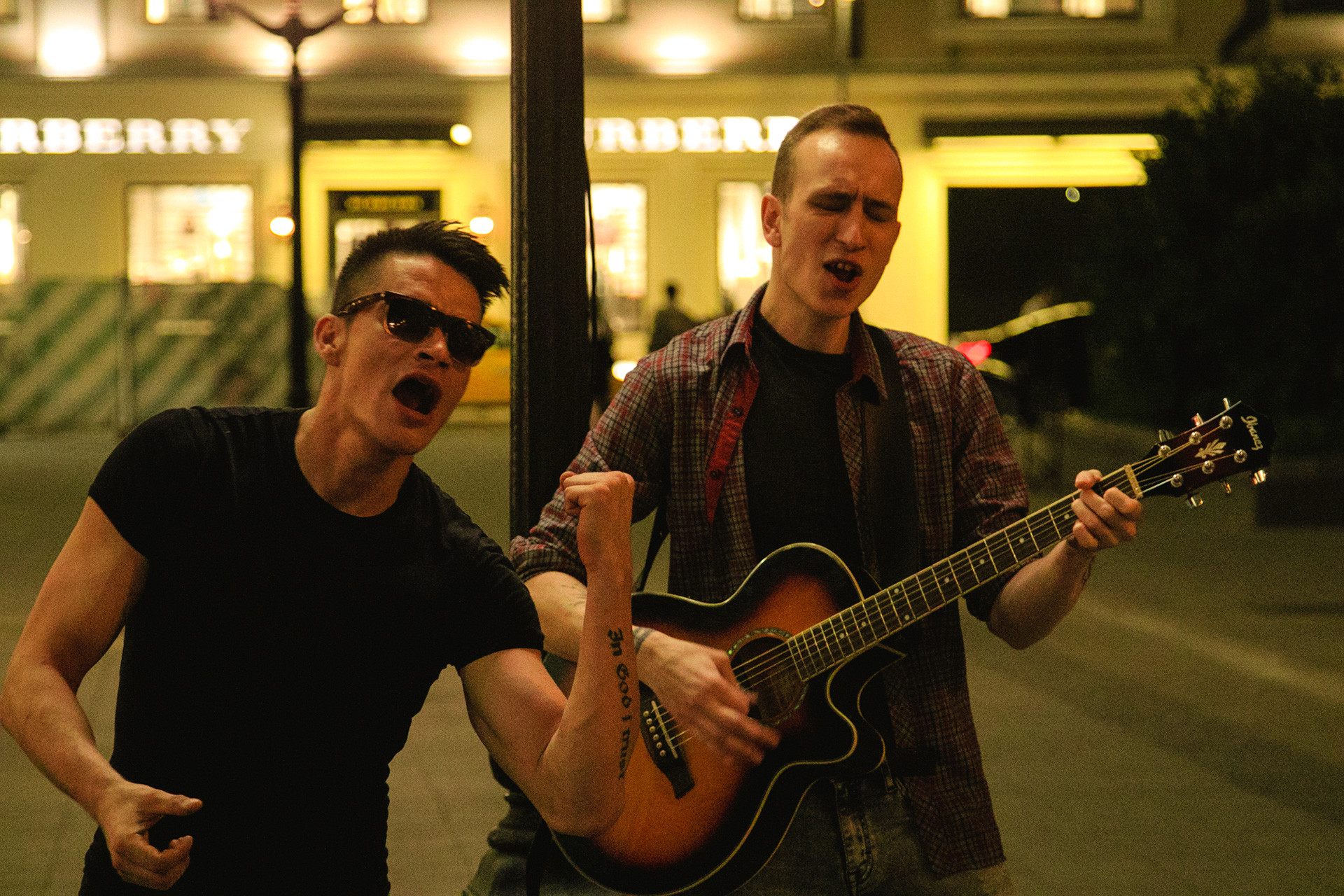 Street musician Sasha, Moscow
Ilya Ogarev
Street sprinkling machines buzz loudly on quiet Petrovka Street. You have to walk over broken asphalt and gravel, on feet already heavy, and through white and green builders' barriers that now clutter the whole city center. At one o'clock in the morning outside the Haggis Pub people are smoking and drinking. A woman in black and red with a bob haircut is sitting silently on sacks of cement left by the workmen who smoke Red Marlboro - the strongest variety - and drinking Bud. Isn't it strange to come to a place with so many people, to come here in order not to sit on Facebook at home on a Friday night, and then to remain in a somnambulistic state? "Come as you are, as you were…" - these lyrics boom from the bar.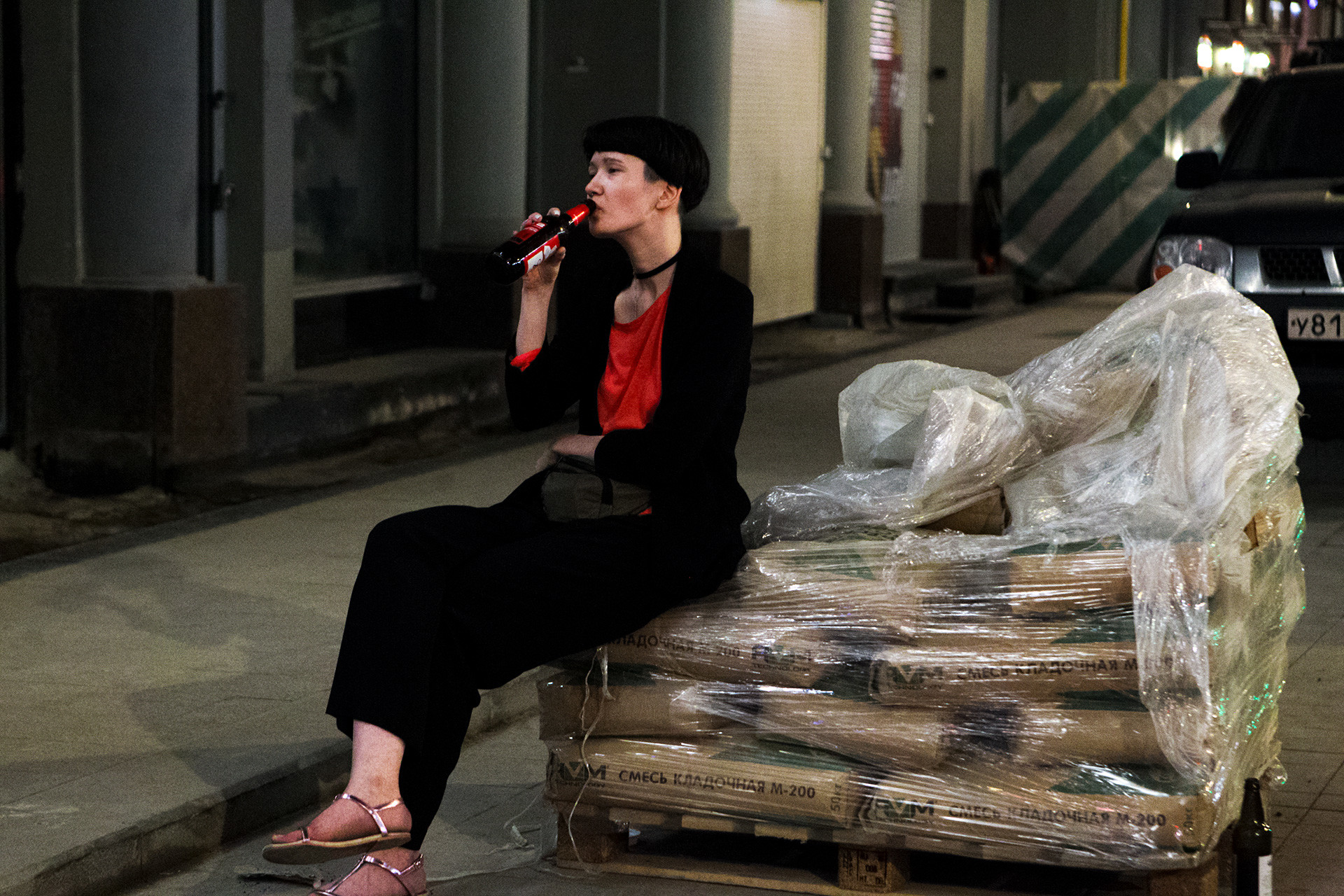 Outside the Haggis Pub, Moscow
Ilya Ogarev
Nearby is a police station. At the entrance is a sleepy policeman by some turnstiles that don't work. "It's going to be busy. Every Friday they bring about 20 people - drunken fights, unpaid bills," he says, twirling a pen in his hands over a logbook half covered in blue ink. "And what do you want? You've come early, come back at two. There is no-one here yet."
The Pod Mukhoi bar is crowded and stuffy, there is a long line of people waiting for the toilet, the bar counter is sticky and covered in alcohol, and it smells of Baileys and Cointreau. A girl smiles at me.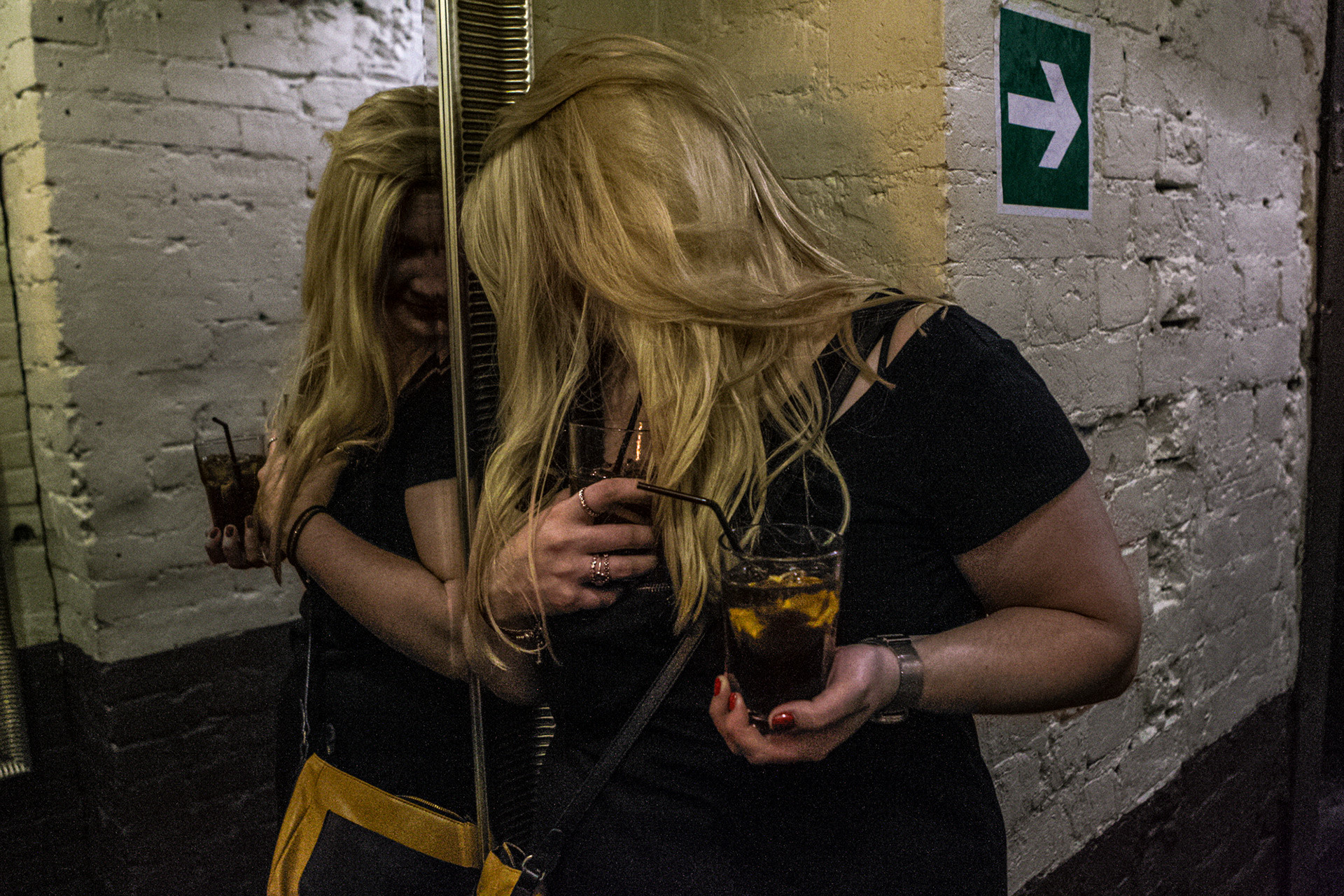 Friday night in the Pod Mukhoi bar
Ilya Ogarev
People are coming out of bars and restaurants, strolling along Tverskaya, having a late dinner at a Georgian restaurant, drinking red wine and eating salmon khinkali with their hands, ordering taxis using mobile apps and going to different clubs.
On Malaya Bronnaya Street (the Patriarshiye Prudy area) it's as light as day thanks to the street lamps and restaurants with summer verandas. Here are high heels, bare backs, the scent of perfume, and wine for $150 in plastic cups. Quick victories, Facebook networks, and posts that came to nothing. The women eye the men, and the men look sidelong at the women. But they are apart and most of them will go home alone, immersed in their smartphones.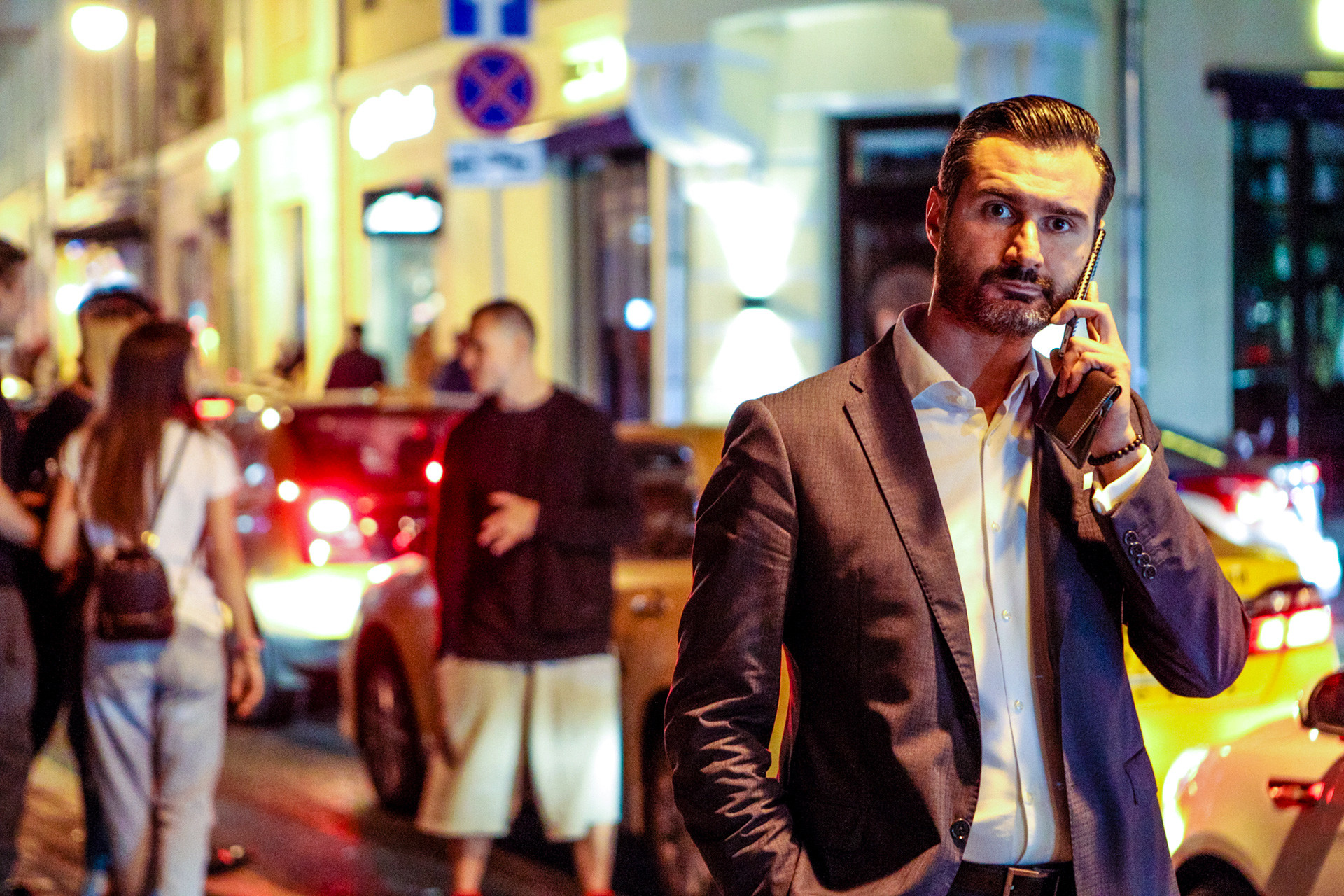 Man on Malaya Bronnaya Street
Ilya Ogarev
At three o'clock in the morning on a corner there is a fight between three men from the Caucasus, a leather jacket is torn and an eyebrow is split. Still, they all leave together. A blonde and a brunette get out of an expensive car, their legs giving way under the weight of long red roses. They are taking selfies while waiting for a taxi to take them home.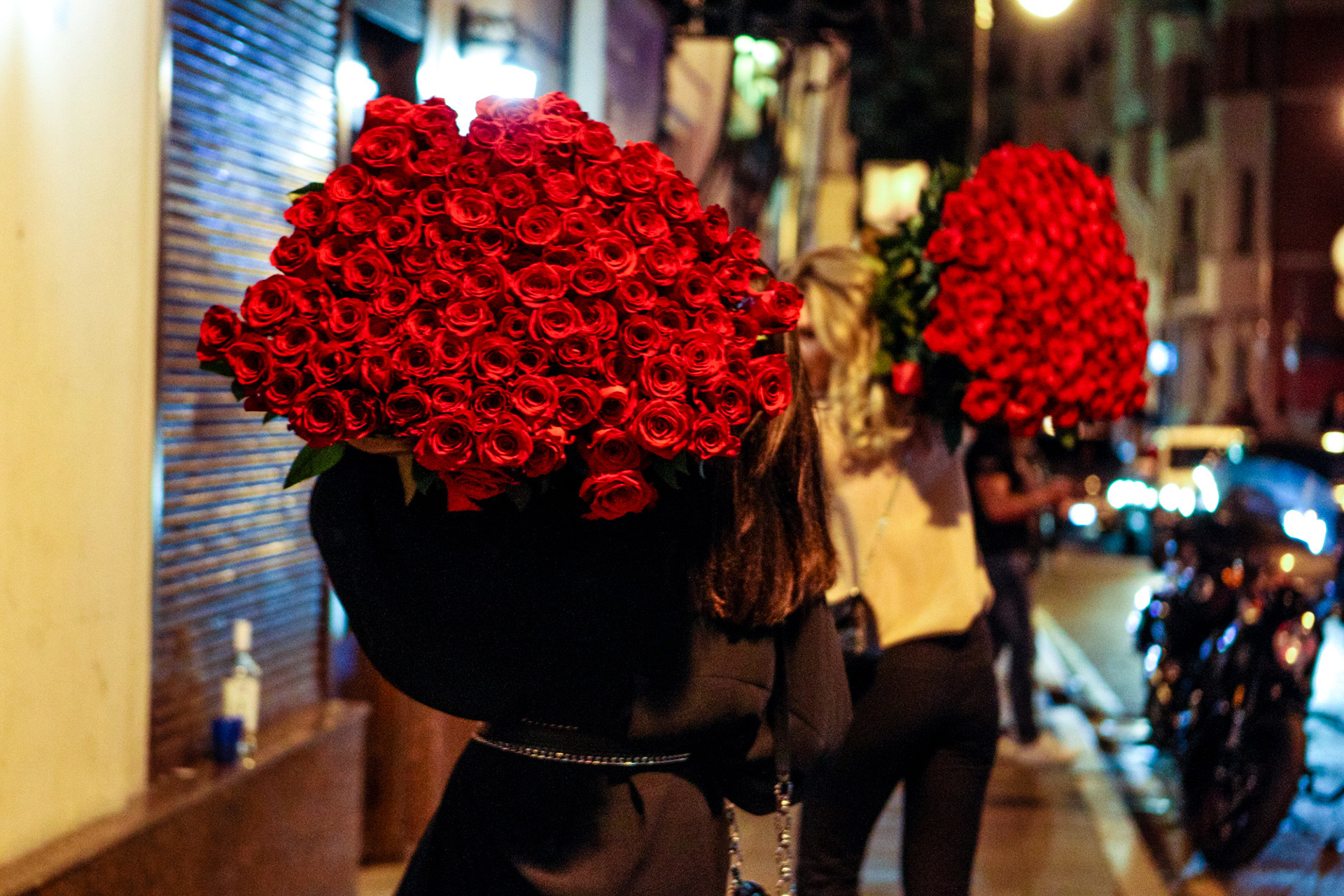 Women on Malaya Bronnaya Street
Ilya Ogarev
Wet roads, fresh air, and an occasional car passing by. A sleepy tomorrow is already here but, as they say, Moscow never sleeps. The city doesn't come to life with sunrise because the city doesn't go to sleep when the sun sets. I like this city and these late-night Muscovites, with their private exchanges, long walks, loneliness, late dinners, and quick glances. As beautiful as ever, the city has not yet turned cold, it is still summery and so warm, so varied and so alive.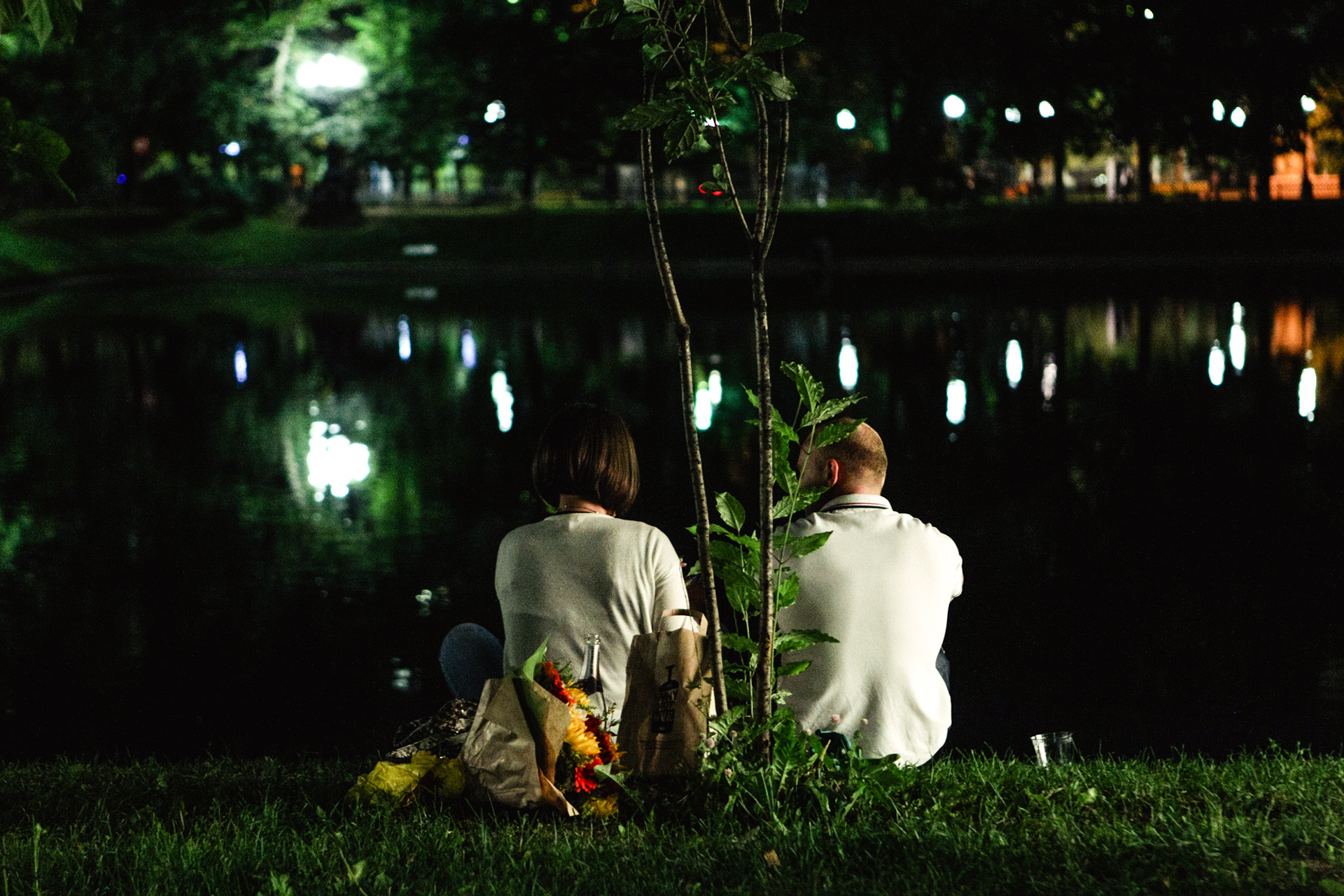 Patriarshiye Prudy on Friday
Ilya Ogarev
If using any of Russia Beyond's content, partly or in full, always provide an active hyperlink to the original material.