Soundtrack to the Russian soul: 11 songs that explain everything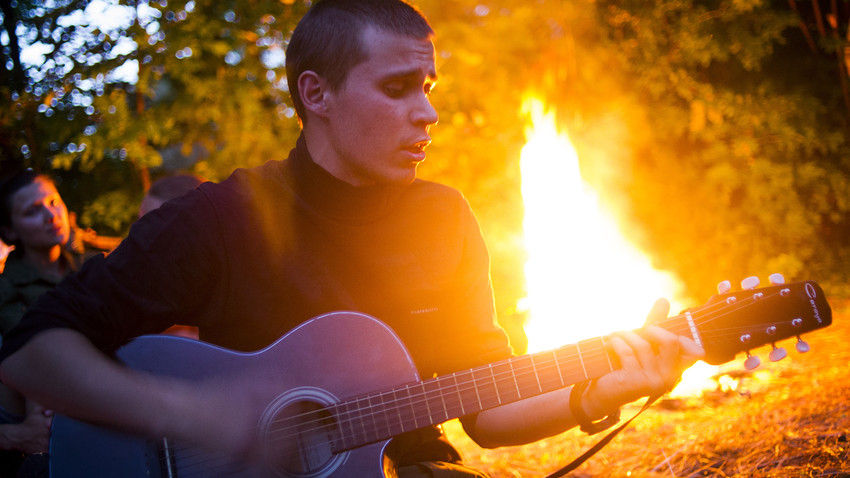 What is the most popular song during a family festive dinner? What song can make Russians cry? Russia Beyond presents a guide to the most popular Russian melodies that afford a glimpse into the mystical Russian soul.
1. Anna German - Hope
Written in 1971 by Soviet composer Alexandra Pakhmutova and poet Nikolai Dobronravov, "Hope" is one of the most beloved songs in Russia. "Hope" became a talisman for Soviet and Russian cosmonauts, who traditionally listen to this song before their flights. According to legend, one Soviet pilot miraculously survived a helicopter crash in Afghanistan. His chances of survival were almost zero, but in hospital, Soviet singer Edita Piekha visited him and sang "Hope." The pilot recovered.
2. Mark Bernes – Dark Is the Night
This is probably the most famous song of World War II. It was originally performed by Mark Bernes in the 1943 war film "Two Soldiers", where he plays a soldier who is writing a letter home. This melody immediately became popular, people were singing: "Waiting for me, You are awake, staying by baby's bed, And I know, forever and now, No wrong will happen to me."
3. Nina Urgant – We Need One Victory
Written in 1971 by Soviet bard Bulat Okudzhava, this song was performed in the movie "Belorussky Station". The song is about the dreadful days of the war, when each soldier knows that he may die, and he hopes that his death will not be in vain and in some way contribute to victory. "The planet burns and turns, Smoke over our Motherland, And this means, now we need victory only, One for all of us - at any price."
The song became the anthem of the Russian airborne troops.
4. Lev Leshchenko – Victory Day
The song refers to May 9, celebrated in Russia as Victory Day in the Great Patriotic War. The war concerned almost every Soviet family. The words "It's joy with tears upon our eyes" are very important to Russians who commemorate the horror of the war.
5. Kino – Changes!
"We are waiting for changes," legendary rock musician Viktor Tsoi sang in 1987 and this song became the main theme of perestroika. Although Tsoi was referring only to personal philosophical changes, millions in the Soviet Union understood the melody in a political context.
6. Aquarium - Golden Town
This 1970s song is about the heavenly city of Jerusalem and its apocalyptic animals - the lion, the ox, and the eagle. This song is about paradise that lives in your heart.
7. Grigory Leps - A Glass Of Vodka On The Table
You don't need to drink vodka to understand the idea of this song. Just imagine: a dark cold evening, you are walking home alone, where nobody is waiting for you. And you feel so lonely that you sing: "There's just a glass of vodka on the table. The wind outside is crying, The shouts of this young moon, Are echoing in me with faint pain." The 2002 song by Grigory Leps became a karaoke hit and won widespread love and respect from Russians.
8. Vladimir Vysotsky - Song About A Friend
How to understand that your friend is real? "Take him along to climb a mountain," sings legendary Soviet bard Vladimir Vysotsky. "Have him use the same support hooks that you do, And then you'll know, who you're dealing with." The song performed in the 1966 film "Vertical" discusses male friendship that can be understood only through shared danger.
9. Grazhdanskaya Oborona - Everything Is Going According to Plan
The end of the Soviet Union and it's hard not to notice what's going on in the country. But what did it mean for a typical Soviet guy who comes home after a long working day and finds his wife has left him? Should he pretend that everything is fine? "The key to our borders has been broken in two, And our father Lenin has withered away - He's decayed into mold and wild honey. And Perestroika is still going and going according to the plan".
10. Dmitry Khvorostovsky - Moscow Nights
A silent summer night, a quiet river, a beloved woman nearby – what could be better? And a person keeps these memories throughout life. "Stillness in the grove, not a rustling sound, Softly shines the moon clear and bright. Dear, if you could know How I treasure so this most beautiful Moscow Night." The song became the anthem of the 1957 World Festival of Youth and Students in Moscow. Now it's one of the most performed songs in the world.
11. Leningrad – WWW
This song promotes the native city of the band – St. Petersburg (Leningrad before 1991). "I don't remember when I moved here - I think I was drunk. My address isn't (a number of) a building or (a name of) a street. Today my address is www.leningrad spb dot ru." Even if you are drunk and don't know where to go, remember, that your home in St. Petersburg. And you will always be welcomed home.
If using any of Russia Beyond's content, partly or in full, always provide an active hyperlink to the original material.