Socks and shaving foam for everyone – how Russian men are laughing at their rubbish presents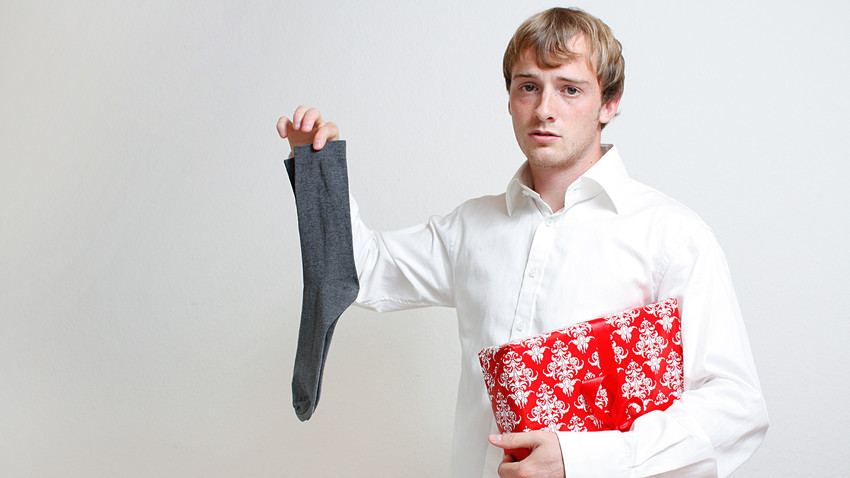 A viral video featuring underwhelmed men was considered offensive by many women.
The Russian national holiday of Feb. 23, the Defender of the Fatherland Day, used to be for congratulating men partaking in military service. However, the occasion has recently turned into a kind of 'men's day' (as opposed to Woman's Day on March 8). There are lots of jokes to suggest that if a woman is stingy to the men in her life on Feb 23, she can't expect too much on March 8.
The most popular joke says that women only give their men socks and shaving gel, the cheapest and most affordable things for housewives. In return, women expect lots of flowers, jewelry and attention on March 8 – hardly a fair trade!
The Russian Digital Network System (DNS), which sells house appliances and electronics, has made an advert mocking this stereotype.
In this viral clip, a man brings his wife into a forest and makes her dig, as though it were a 1990s criminal movie and she were digging herself a grave!
After a while it becomes apparent that he's only making her bury the rubbish socks she gave him. The man then salutes another man in the same forest, who is making his woman bury a can of shaving gel.
The girl then wakes up, and we realize that this was the nightmare of a girl who had just bought socks as a present. It is at this moment that the advertising message pops up, with the DNS store comes to the woman's rescue. Wisely, she goes inside and buys "a present for a man, with no risk to life."
The video went viral on the Russian internet, though many users admitted that it was slightly sexist. The company's SEO Dmitry Alexeyev has since apologized to those who may have been offended, stating that the video was an initiative of a regional department, and high management had not been made aware of their plans.
How do you like that? 10 Soviet advertising posters that will make you laugh and cry at the same time.
If using any of Russia Beyond's content, partly or in full, always provide an active hyperlink to the original material.