Everyone who has travelled in Russia by train knows this sound: the rattling of the glass in a metallic holder that allows you to drink hot tea without burning your hands. While apparently a trifling matter, the holder is in fact an essential romantic feature of Russian rail travel.
Since 1892 metallic holders for tea glasses on Russian trains have been supplied by a manufacturer located in Kolchugino, a small town 130 km east of Moscow. At the end of the 19th century the town was better known for making copper plates for locomotive fireboxes. However, as railways in Russia began developing and moving eastward, the company received its first large order for "crockery" from the Ministry of Rail Communication.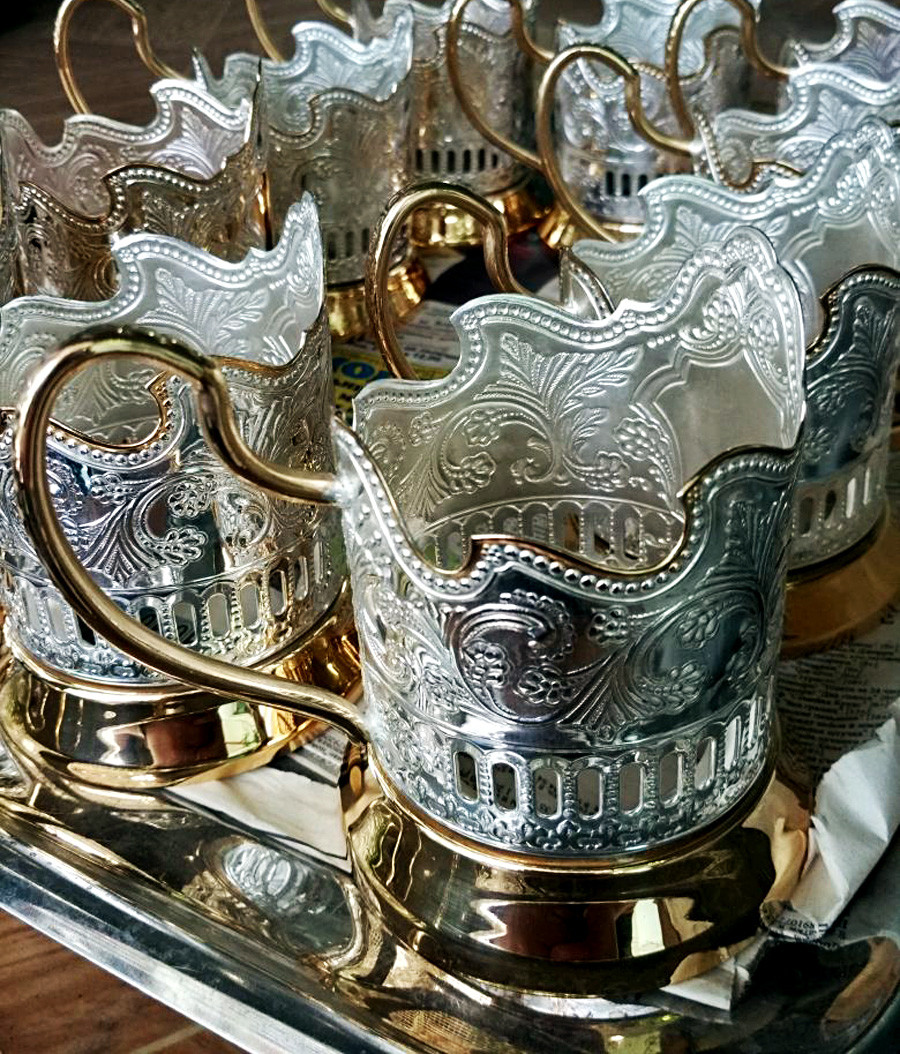 The metallic holders, which originally appeared as a household item together with the samovar, were standardized and made from brass, copper and silver. Their wide coasters and relatively heavy weight made them sturdy. The handle was crafted so that all of a person's fingers could fit around it. The factory symbol – a capercaille – was engraved on the bottom of the holder, which was used to distinguish an original from a fake.
Teatime with Stalin
Making a metallic holder has 15 stages, beginning with a 20-cm- thick metal ribbon that is rolled. A special press cuts it into plates, and then the contour of the bottom is cut and a design engraved on it. The frames are left empty, which is where the picture appears later. "The professional term used for these frames, as if for a photo, is 'windows.' For them the designs are also engraved with a press, and there are more than 100 versions," said Victor Goryachev, director of the factory's shop.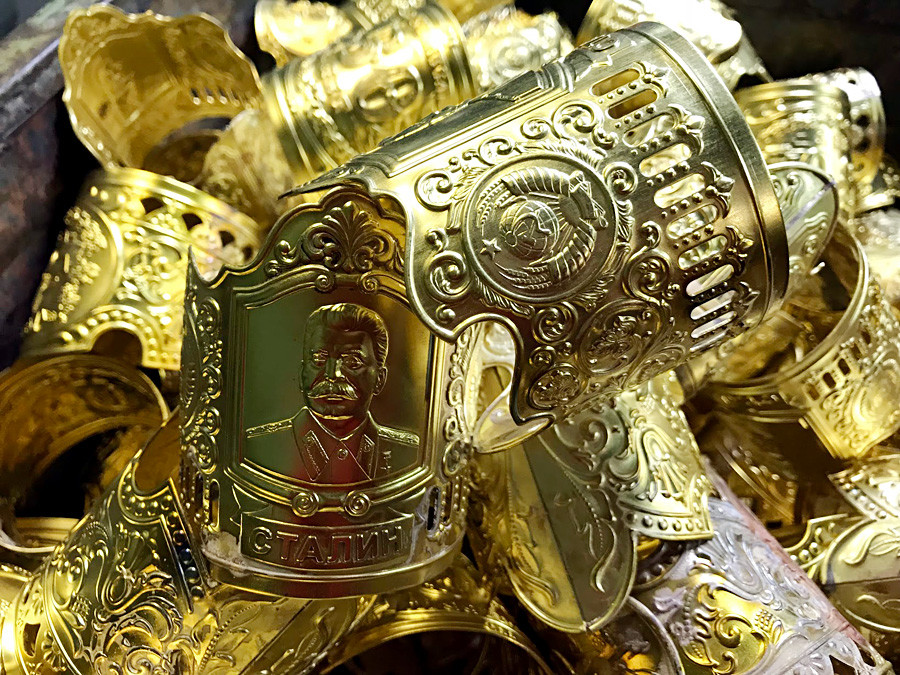 Julia Shevelkina
Customers prefer holders with images of shrines, churches and landmarks, such as St. Basil's Cathedral and the Kremlin's Spasskaya Tower, as well as the national emblems of Russia and the Soviet Union. Stalin is also one of the most popular themes, and almost 400 are produced monthly.
"For the most part, the holder is associated with the Soviet era, and that's why there's much interest in the Soviet leader's image," say workers in the factory.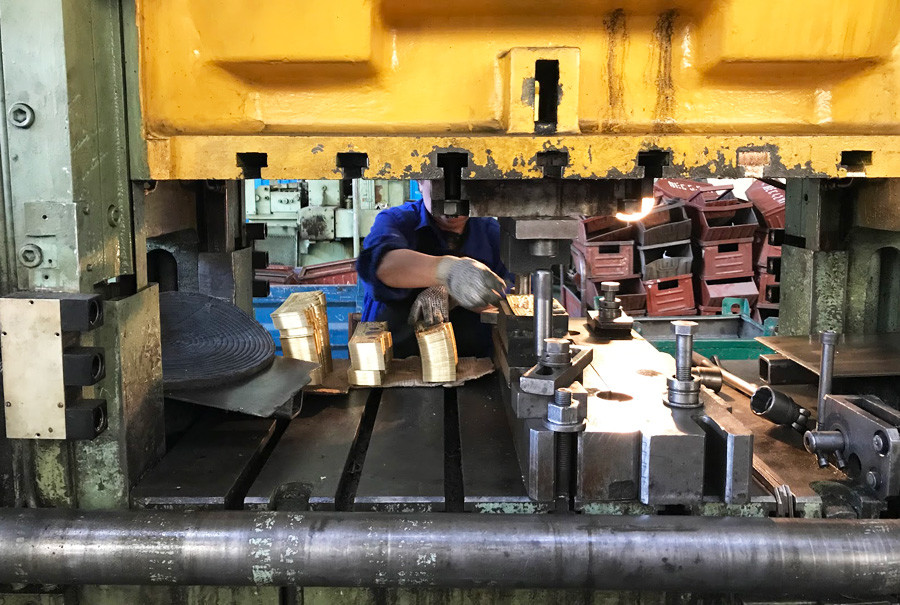 Julia Shevelkina
The Kolchugino manufacturer, however, does not produce holders with images of Putin. "In order to use the current head of state's portrait we need to go through many formalities. These are not souvenir jerseys made by a private individual, but rather items made by the official supplier. That's why there are so many complications," said Goryachev.
Manual labor
Images on the metallic holder are engraved. They are first highlighted with chalk so that the setter can quickly find the necessary motif. In one eight-hour shift workers can make more than 3,000 plates, but it takes an entire month to make one engraved drawing. Engraver Anatoly Alyoshin has been doing this difficult and meticulous work for almost 40 years.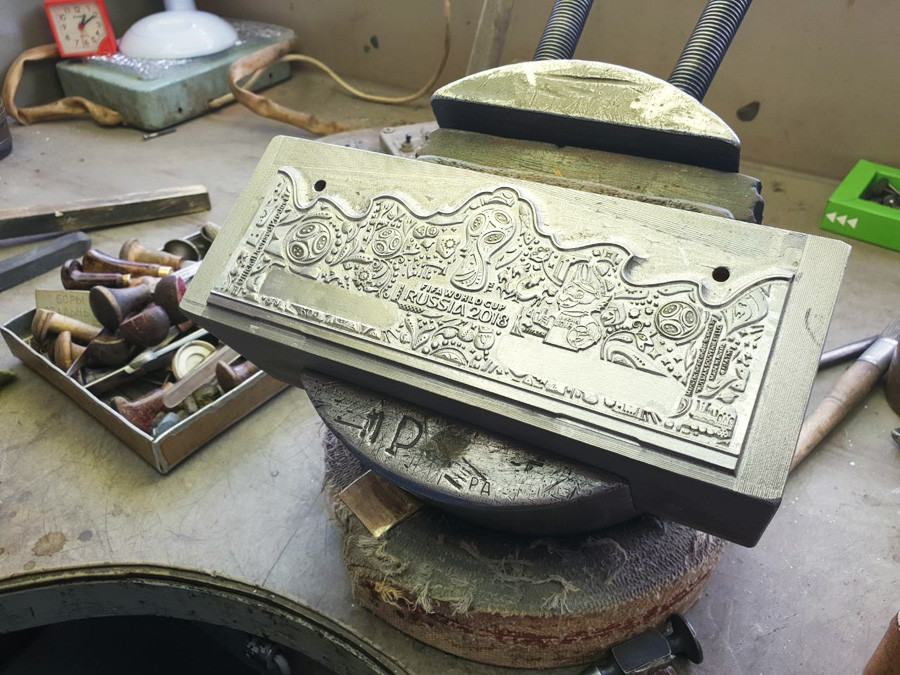 Julia Shevelkina
"Previously, everything was done manually. We would make a layout on the metallic disc, then transfer a drawing onto it using tracing paper and finally engrave it on the metal, selecting the background and adding the flowers. Today, computer technologies have replaced the tracing paper, but we still finish the stamping manually so that the impression is clearer," he said.
Anatoly makes working instruments and creates motifs for the holders. Often for images he uses paintings made by famous Russian painters: for example, Viktor Vasnetsov's Bogatyrs; and Vasily Perov's The Hunters at Rest. In order to make them, however, reworking is needed.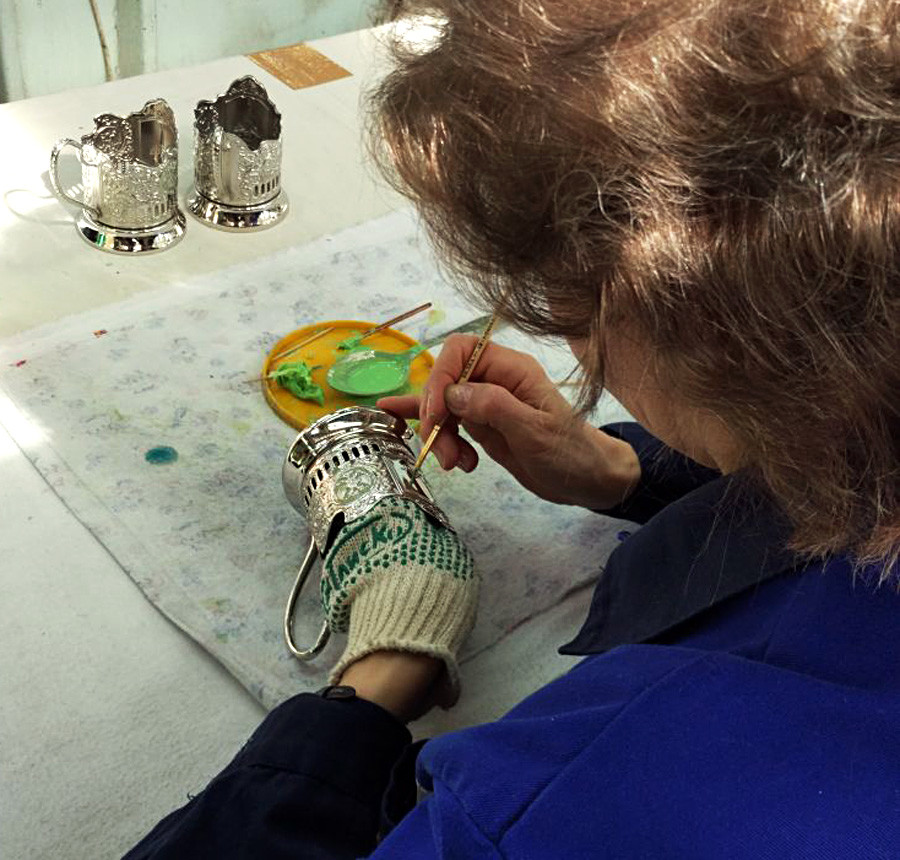 Julia Shevelkina
"Metal is metal. We leave the subject so that it is recognized, but the details are changed. For example, we enlarge a tiny ornament, or make the people's faces larger so that they're visible and the drawing is more readily perceived," said Alyoshin.
Sometimes, the manufacturer receives readymade designs, which still must be perfected. "Without some manual work everything appears unreal. It's not interesting," said the engraver.
A tub with gold
After the pattern is engraved, the holder pieces are rolled into a cylinder and soldered, and then the tray is added. The handle is cut from a bar, and a pattern placed on it. Next, it's bent, etched and soldered onto the base.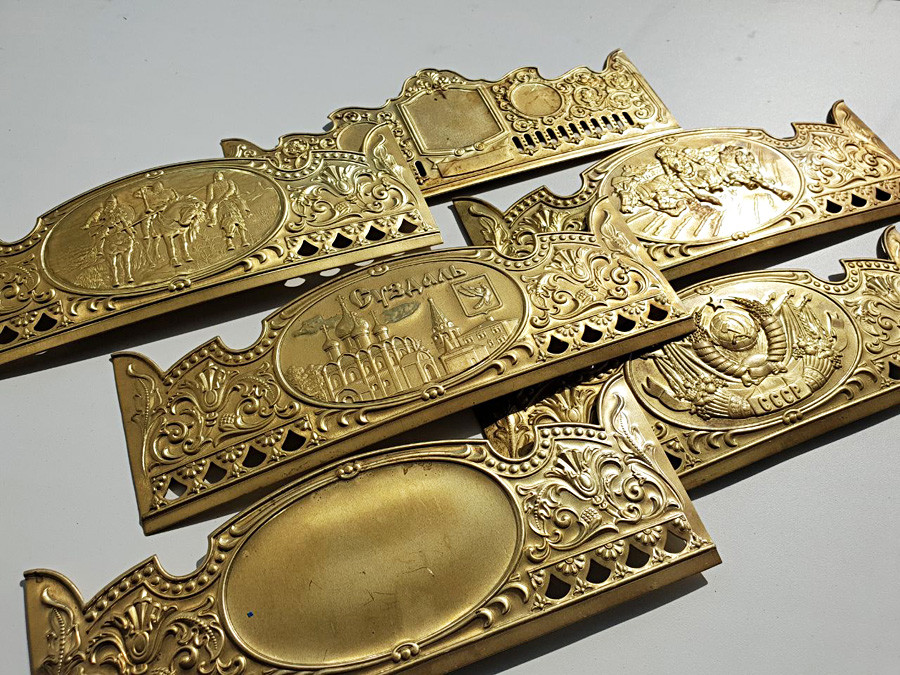 Julia Shevelkina
Think the holder is ready? Well, think again. It still needs to be polished and glazed. One of the possibilities is silvering in special tubs, into which the holders are lowered with the help of a "hanger" that has many hooks. After this, the holders can also be gold-plated. Masters use brushes of various thicknesses to varnish those parts that remain untouched, and then the holders are lowered into a small tub of gold. Dip it a few times and one of the most beautiful and expensive holders is ready.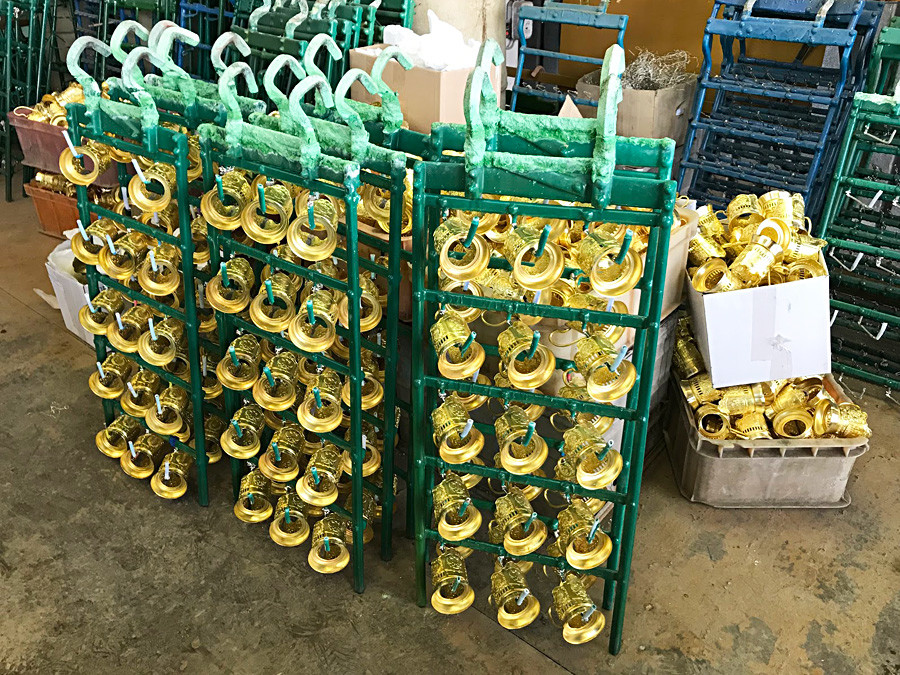 Julia Shevelkina
Holders sell for between 700 and 7,000 rubles, depending on the material used. They're sold without the glass and spoon in brand stores in the cities of Vladimir and Yekaterinburg, as well as in souvenir shops, and come with the factory's trademark, "Kolchyginsky melkhior." "Each Russian region has something that makes holders famous," said Goryachev. "When there wasn't any cheap porcelain my parents used to drink tea from Kolchugino holders. For me this is a part of history, a family tradition; for others it is a symbol of Russia just like matryoshka and red caviar. I think this is why people buy them."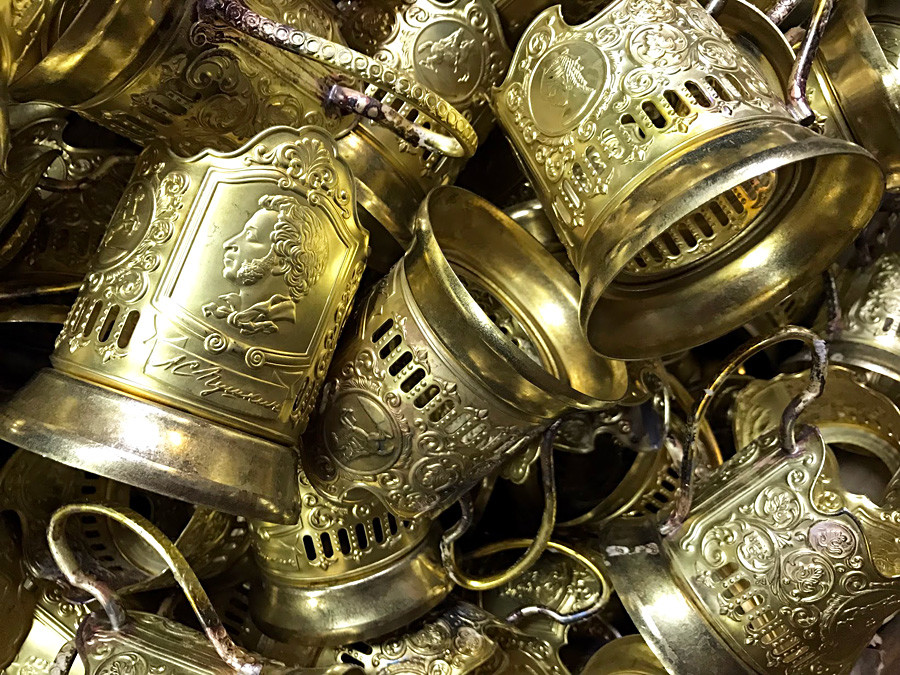 Julia Shevelkina
If using any of Russia Beyond's content, partly or in full, always provide an active hyperlink to the original material.