Day 1: Move into new home
It's late in the evening. My train starts at 0.39 a.m. from Yaroslavsky train station in Moscow. My new home is standing on platform 2. The first wagon is green, in Chinese signs there is written "Moscow - Beijing." The others are grey, Cyrillic letters proof that one of them is mine: "Moscow - Vladivostok" - 9,300 km, six days, nine time zones.

These double-decker trains go from the Kazansky train station in Moscow to the Russian south: In less then one day you'll arrive in Sochi on the Black Sea. / Peggy Lohse
My platzkart wagon is crowded. All of my new 53 neighbors - in every platzkart wagon there are 54 places - sit quietly. The train starts moving, the city lights of Moscow slowly disappear.
After the conductor checked the tickets, everyone begins a special train routine. Some people hide their baggage, a man even helps me hide my big suitcase behind my bed. Other people make their beds, and practise how to climb onto their bunks without kicking other passengers. At the end of the wagon people stands in line. The toilet must be there. Now time to sip a cup of tea - there's always free hot water from the big samovar next to the conductor's room.
And time to sleep, rocked to dreamland by the rhythm of the train's wheels... padam, padam, padam.
Day 2: Wake up somewhere with the sun
My first morning on a Russian train, I don't know where we are. An elderly lady next to me greets me: "Dobroye utro!" Outside the sun is shining and as we pass by a small village of colorful wooden houses.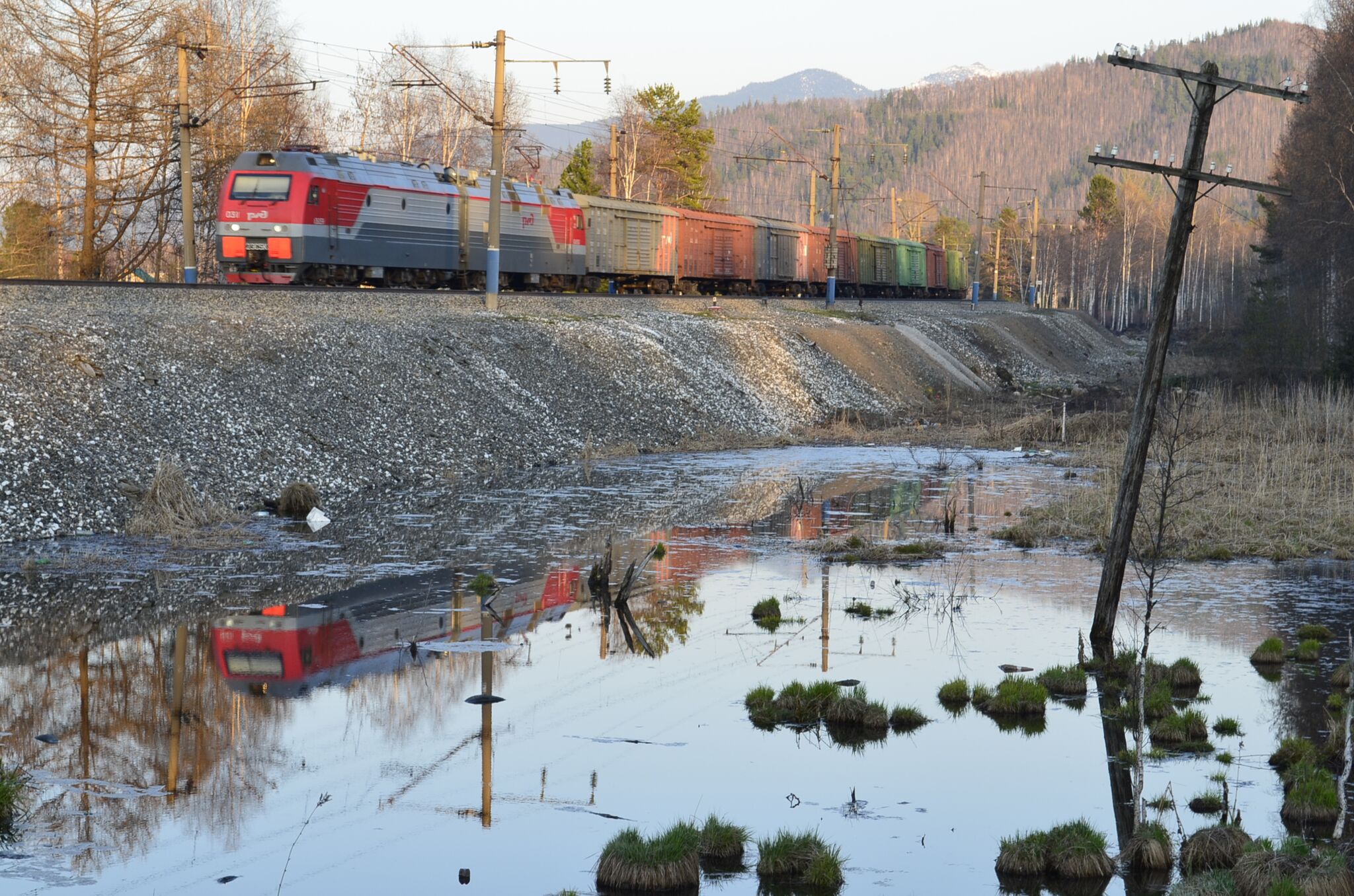 Between big cities the timetable is hectic. Apart from regular passenger trains there's also a lot of cargo traffic. / Peggy Lohse
We're chatting with a younger woman, sitting in front of us. Maria lives in Moscow. She's on her way to a small town in the Ural mountains to visit her parents. She's works for a furniture company, reads French textbooks, and loves St. Petersburg and Moscow. But she loves France even more. Her boyfriend is from the south of France and she dreams about moving there to be with him.
When I tell her that I'm on way to Siberia for the winter, she asks about my clothes. "You'll need a 'shuba' - a fur coat." Then she starts a lecture me about different fur coats. The best is a sheepskin coat, she says, and apparently they're available for a fair price.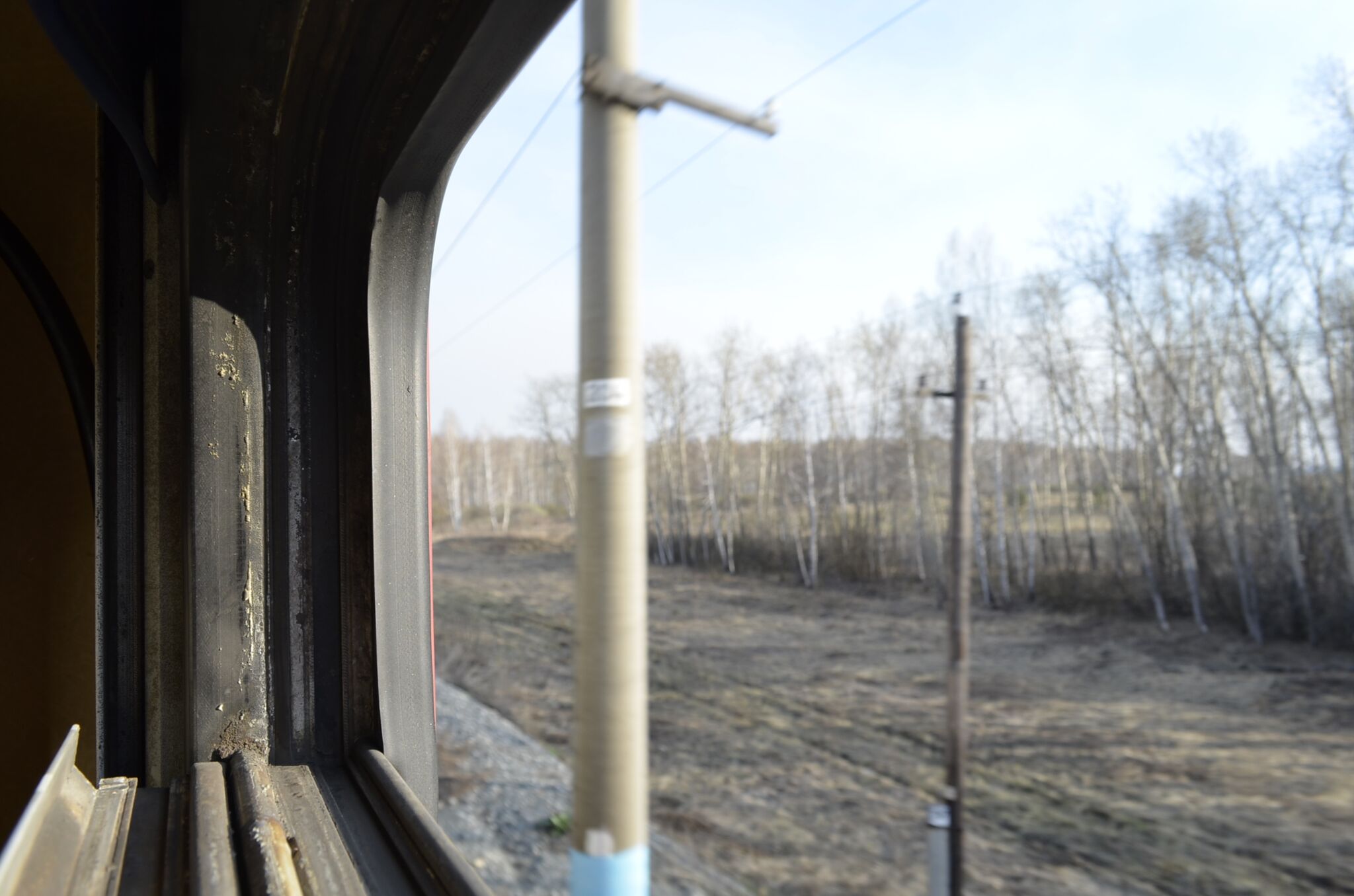 Watching the world go by... Actually, the further east you travel the taller the birches become, blocking the view. / Peggy Lohse
Masha leaves the train in Yekaterinburg. Her parents meet her on the platform. Later in the winter in Krasnoyarsk I decided to buy a warm jacket. I survived even in -45 degrees! I kept in touch with Masha and we've Skyped each other a few times. She's already married and moved to France.
Day 3: Something off-beat, breaking the TransSib routine
In every wagon there are two conductors, mostly women. One works while the other sleeps. Now, during the day, there is a woman around 40-years-old with blond short hair. Her name is Olga. She seems really tough and organized. Drinking and smoking in the wagon is prohibited so she has to reprimand a few men somewhere in the back. No big story, she obviously knows what to do. When I go for more hot water for tea, she asks me the typical questions: Where am I from, what I do here in Russia, and why the hell do I prefer trains? "We don't see tourists on our regular trains very often, they normally take the luxurious hotel trains. And those who travel with us don't often speak Russian," she says.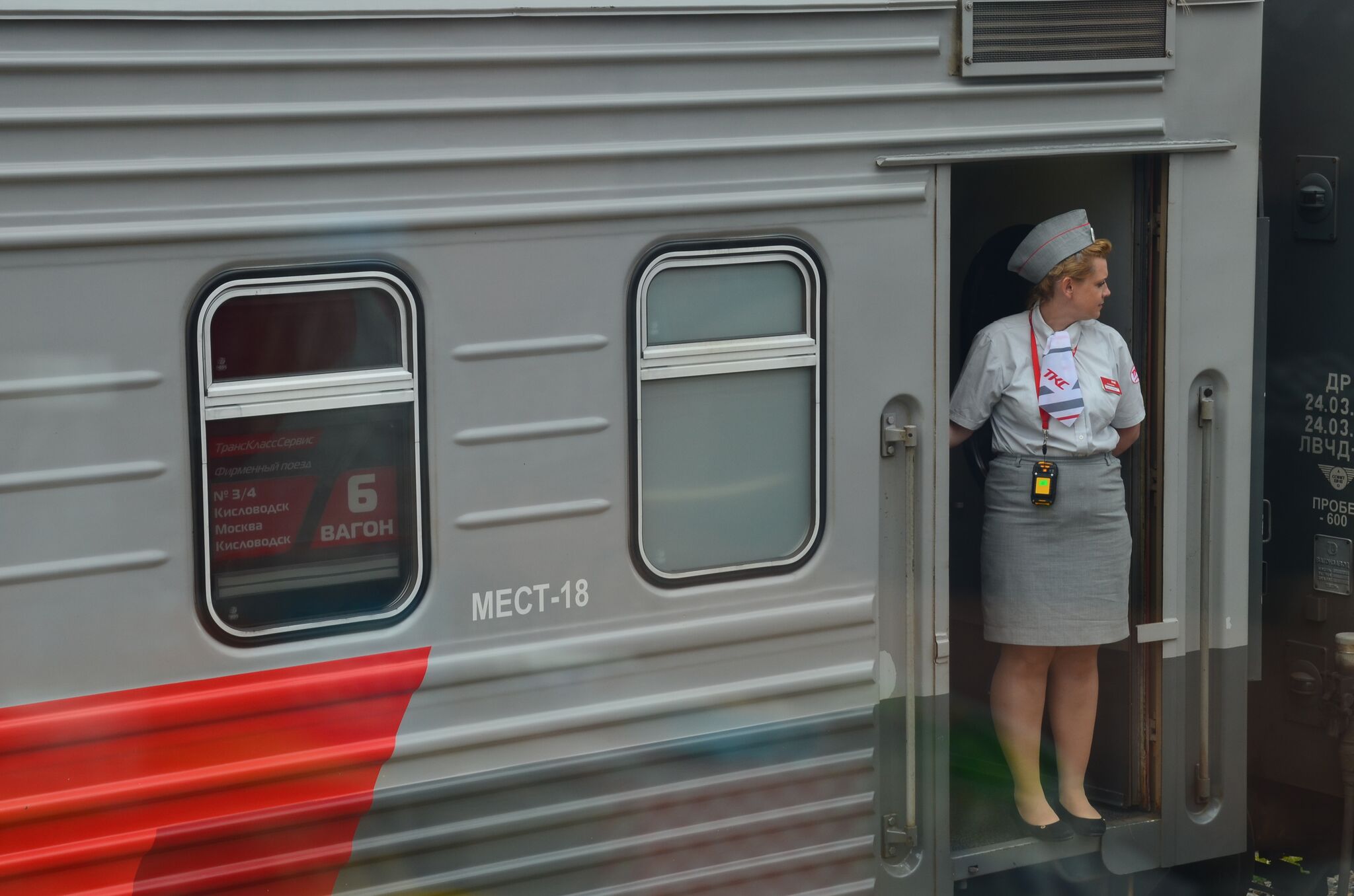 Make friends with the conductor! Your trip will be more interesting and more comfortable. / Peggy Lohse
The next station is Novosibirsk with a 10 minute break. The train leaves on cue but there's still time for a little walk on the platform. Women are selling bread, pancakes, water, fish, berries, scarves - all you need to live in Russia.
Although she has no free time, our "day conductor" Olga leaves the train and invites me to go to the train station for an ice cream. I wonder whether we'll make it back before the train leaves. "Don't worry, without me it won't leave." She informs her colleague, takes me by the arm, and we hop across the railway tracks - although it's not allowed - to the station. We buy two "Plombirs": Traditional vanilla ice cream, famous since Soviet times. As soon as we jump back on the train it starts moving. It was a fun little trip.
Day 4: New faces, new stories
Somewhere in the middle of Siberia - between Novosib, as the locals call the "capital of Siberia," and Irkutsk near Lake Baikal - almost all my neighbors change. In the small town of Yurga a big group of young soon to be soldiers enter our wagon. They are quiet, perhaps they're wondering about what the army is going to be like. Their mums call them on their phones.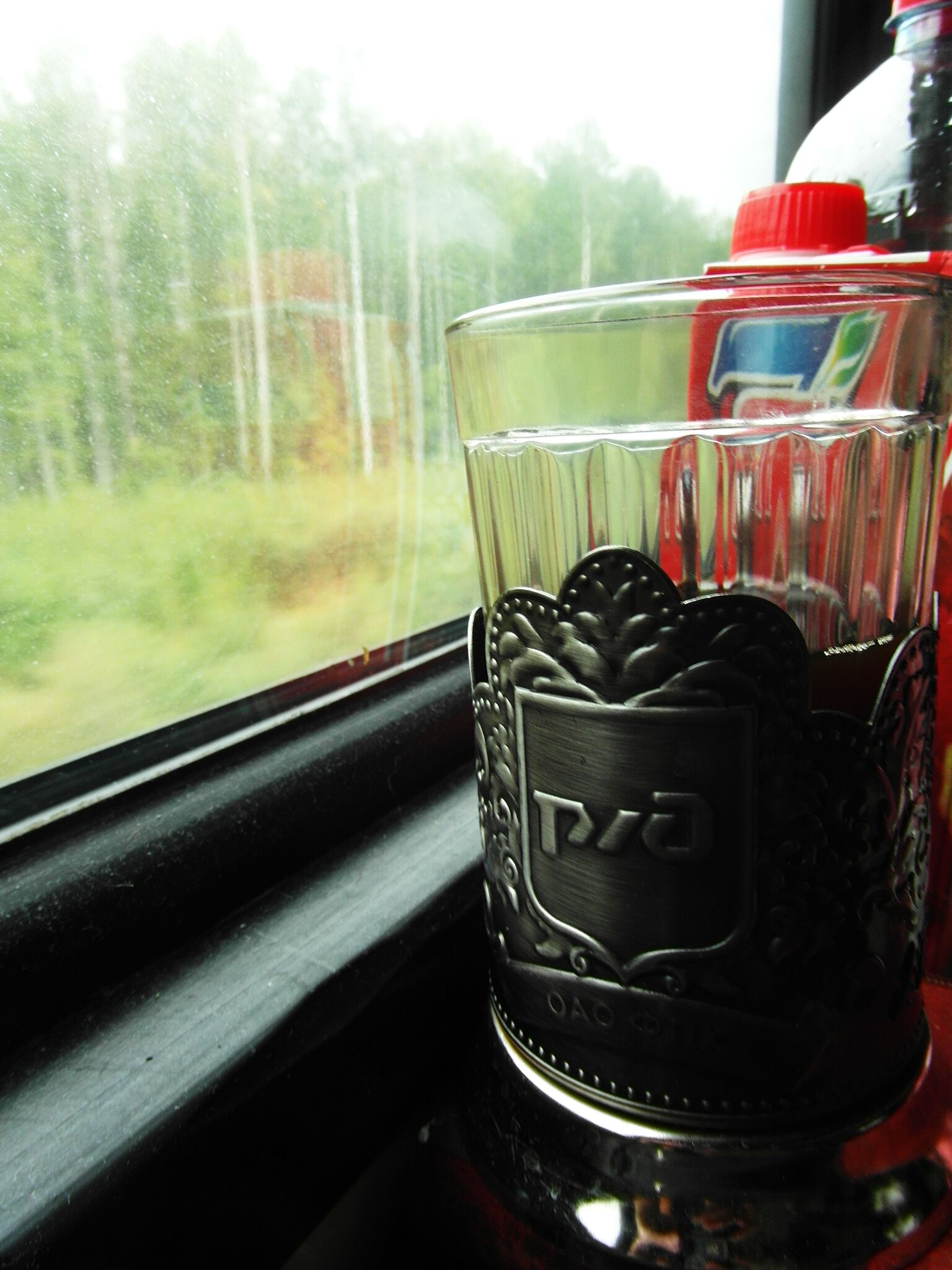 These typical tea cups are great for traveling. You can also buy them as souvenirs. / Peggy Lohse
In another small town a big group of men enter: They are older, their skin is brown but pale. After a while one of them turns around to me and starts flirting. When I tell him that I'm from Germany, he almost gets angry - he just can't believe it. He then muses over my nationality with his pals.
These men are coming from the north, after working somewhere on an oil station in the polar region for about five months. They can now visit their families in the south for two months, they tell me: "You know, we didn't see women for five months, nor other people apart from ourselves." They soon relax like the young soon to be soldiers and unpack smoked fish, garlic, and bread. Not to mention beer and vodka. The conductor won't stop them if they behave well.
Day 5: Time to move, time for 'I want to break free'
In the morning we pass the great Lake Baikal. For just a few minutes the Trans-Sib skirts along its coast. The sun rises over the water. I want to pull emergency break just to enjoy the view a bit longer.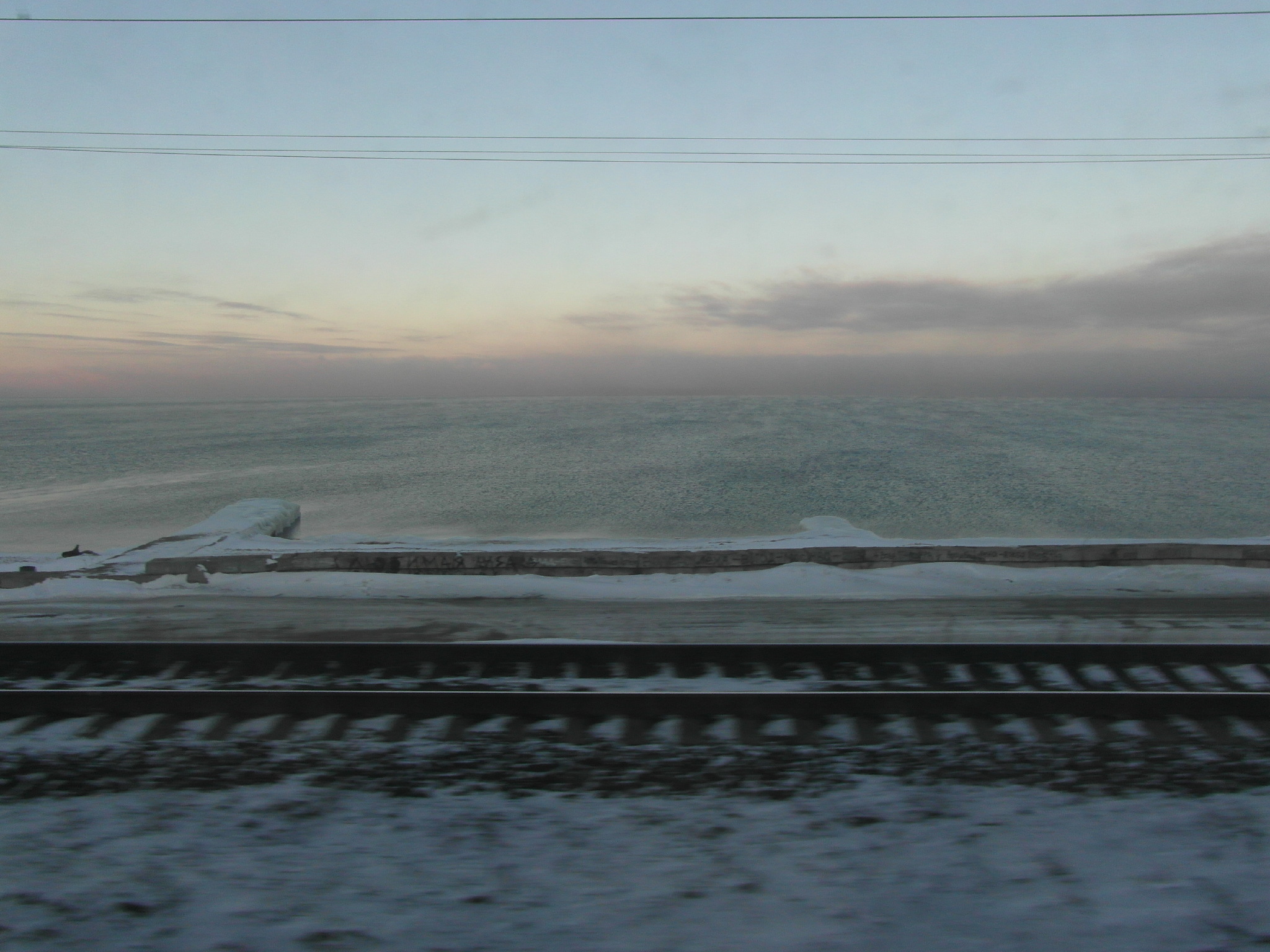 Morning at Lake Baikal. Enjoy the best 30 minutes out of the six-day Trans-Siberian journey. / Peggy Lohse
One by one the workers from the north leave and the soldiers all get off together in Chita. More and more free space - which you really crave by this point. Although you can leave the train for small walks every day, I really hunger already for space, and also my legs and arms and bones and muscles.
Near me sits a new woman, her name is also Olga. Once she played volleyball. Then she had an operation and now she can't play anymore. She's going for a vacation with her family near Khabarovsk - in the not so Far East. In a wagon for four people she is alone.
Day 6: Farewell, my new-home with birches, sun and wheels
Every day we cross at least one time zone. Every day we see hundreds of thousands of birch trees, and we are now used to the roaring rhythm of the train wheels. And now? We have to move on again.
The really unique thing when traveling by long distance trains in Russia is that you have to live with absolute foreigners and unknown people in the equivalent of one big, long house. For a limited period of time they are like your family. And while they can tell you everything, because it's unlikely you'll meet again, often they will really tell you EVERYTHING. About their family, their views on politics and the world, about love, death and faith. Be prepared and open minded - and enjoy the trip!
Read more:
If using any of Russia Beyond's content, partly or in full, always provide an active hyperlink to the original material.