1. The Invisible Man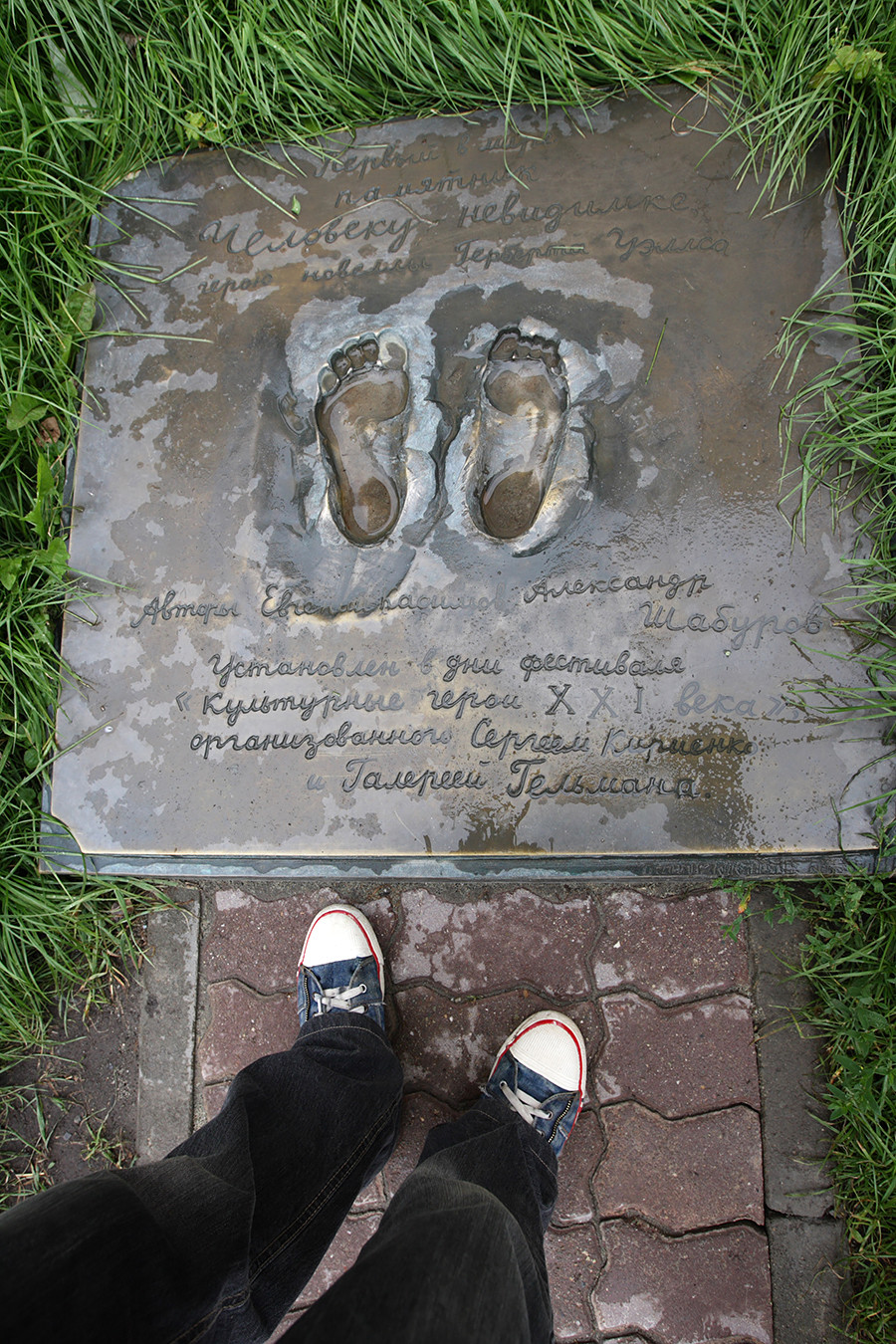 The first monument to the Invisible Man, the character in the eponymous H. G. Wells novel, appeared in Yekaterinburg in 1999. Artists Evgeniy Kasimov and Alexander Shaburov, members of the Blue Nosesgroup, described it as "a monument to the tragedy of loneliness and misunderstanding… in a world where people only communicate on the Web." It's quite amusing that in winter the monument is invisible under the snow.
2. Watermelon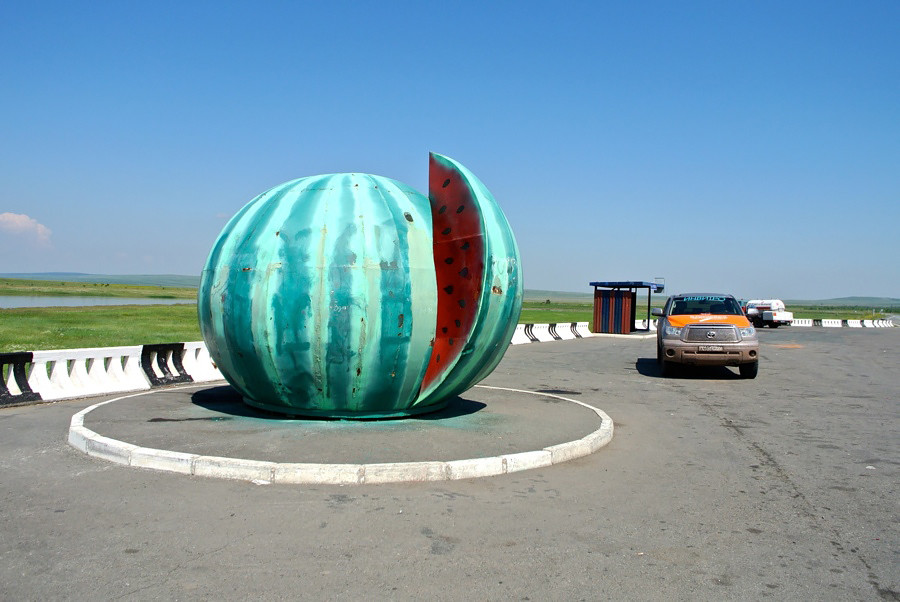 Ivan Kalyuzhnyi
This giant watermelon 'grows' in Siberia, near Abakan (2,100 miles from Moscow), where winter temperatures can drop as low as -50 degrees Celsius. It's truly a wonder that watermelons even grow there: the Minusinsk hollow, dubbed "Siberian Italy," has a peculiar microclimate that allows cherries and even watermelons to grow. The locals say they "are as delicious as the famous Astrakhan watermelons."
3. Football fan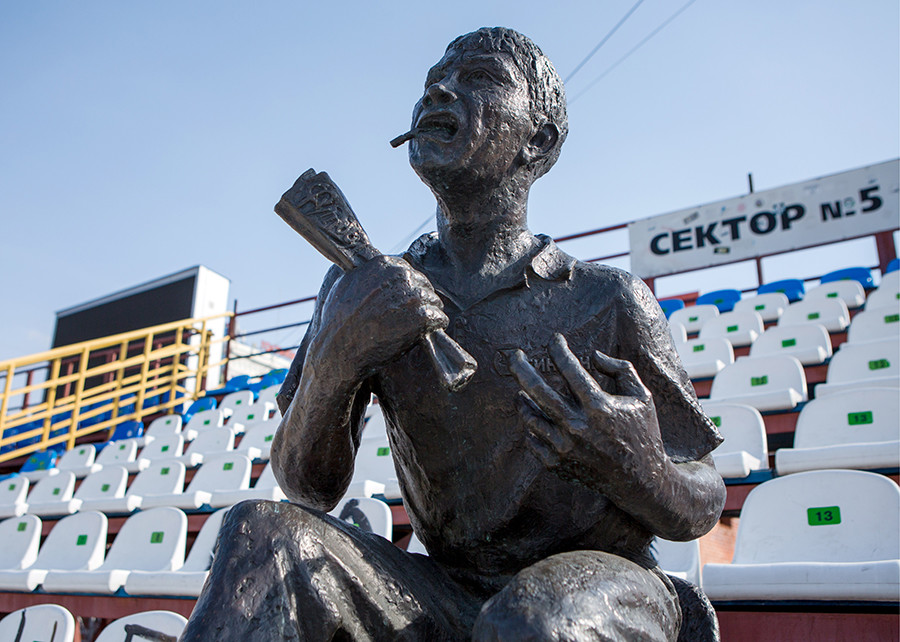 Alyona Kardash/TASS
This monument to a football fan uses a stadium as a pedestal. Really! Located in Tomsk (1,780 miles from Moscow) the figure sits on a bronze seat. The football fan is totally immersed in the game, his shoelaces untied, cigarette almost falling out of his mouth. The sculpture was modeled after a 1950s photo of a fan found in the local football club archive.
4. Water pipeline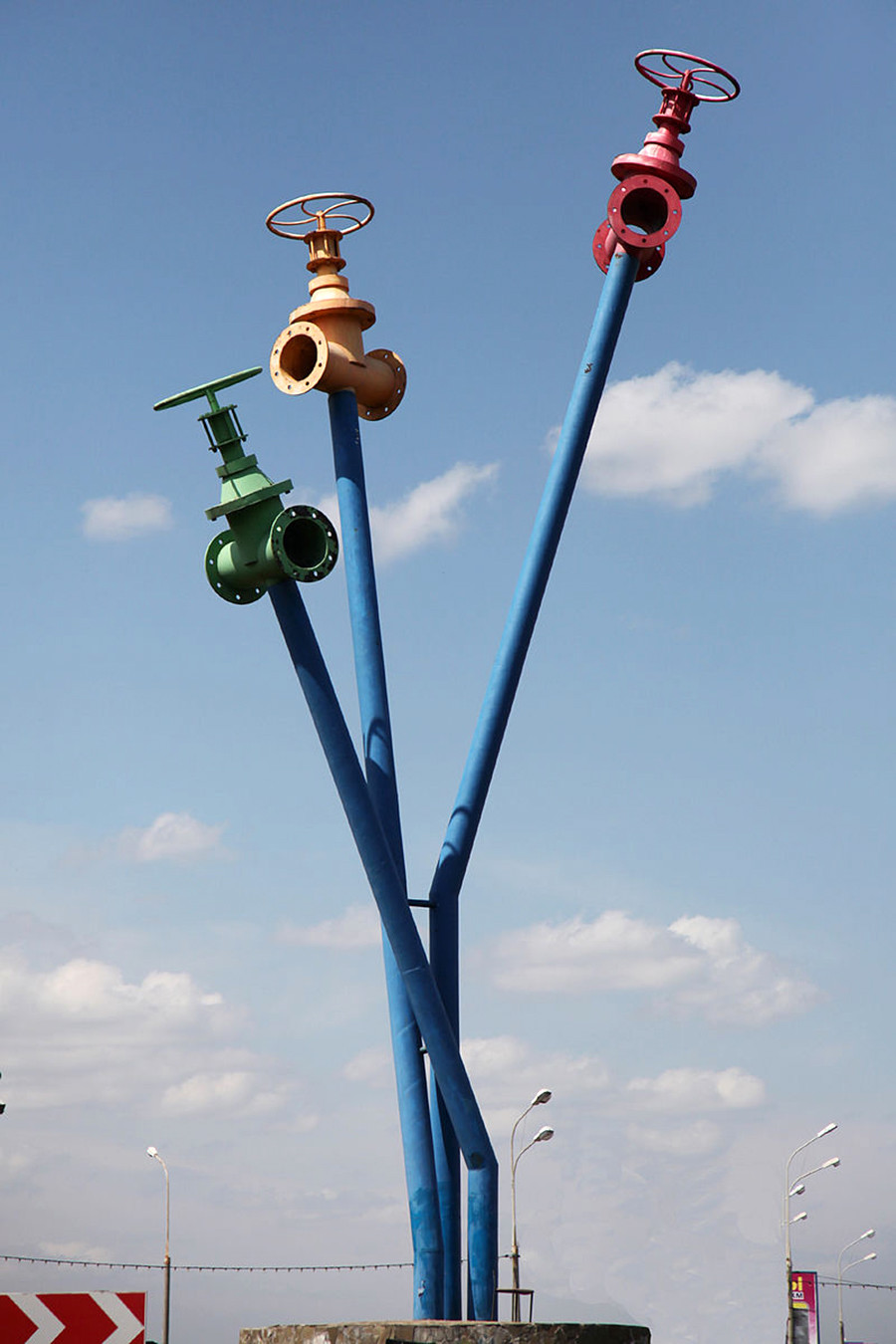 Vladimir Muhin
Rather weird at first sight, this monument, which is located in the Moscow suburb of Mytishchi, commemorates the 200th anniversary of Moscow's water system, which began as a pipeline from Mytishchi to central Moscow.
5. A family of cyclists
This monument was designed by Moscow's weirdest sculptor, Andrey Aseryants, who has authored over 10 steampunk-styled monuments and landmarks in the capital; each has a sturdy design made out of scrap metal. This one is in a Moscow park, and is very popular with local cyclists.
6. Two-faced
This monument is arguably one of the most difficult to find in Moscow. Designed by an unknown sculptor, presumably on the personal order of a wealthy patron, "Two-faced" is located in one of the city's most expensive and posh districts, the "Golden Mile," which runs east from the center. There are three such monuments - two in the garden on the intersection of Molochny and Butikovsky lanes, and another in the yard of Molochny Lane 5.
7. Four-wheeled Lenin
The world's one and only mobile monument to Vladimir Lenin is kept between the railroad tracks near Komsomolskaya Square, where Moscow's three main train stations are located. Created by railroad workers in 1925, the monument was meant to be used for massive Communist meetings in towns and villages that didn't yet have a monument to the Revolution's leader. Lenin can be turned 360 degrees on his pedestal.
8. Cheese spread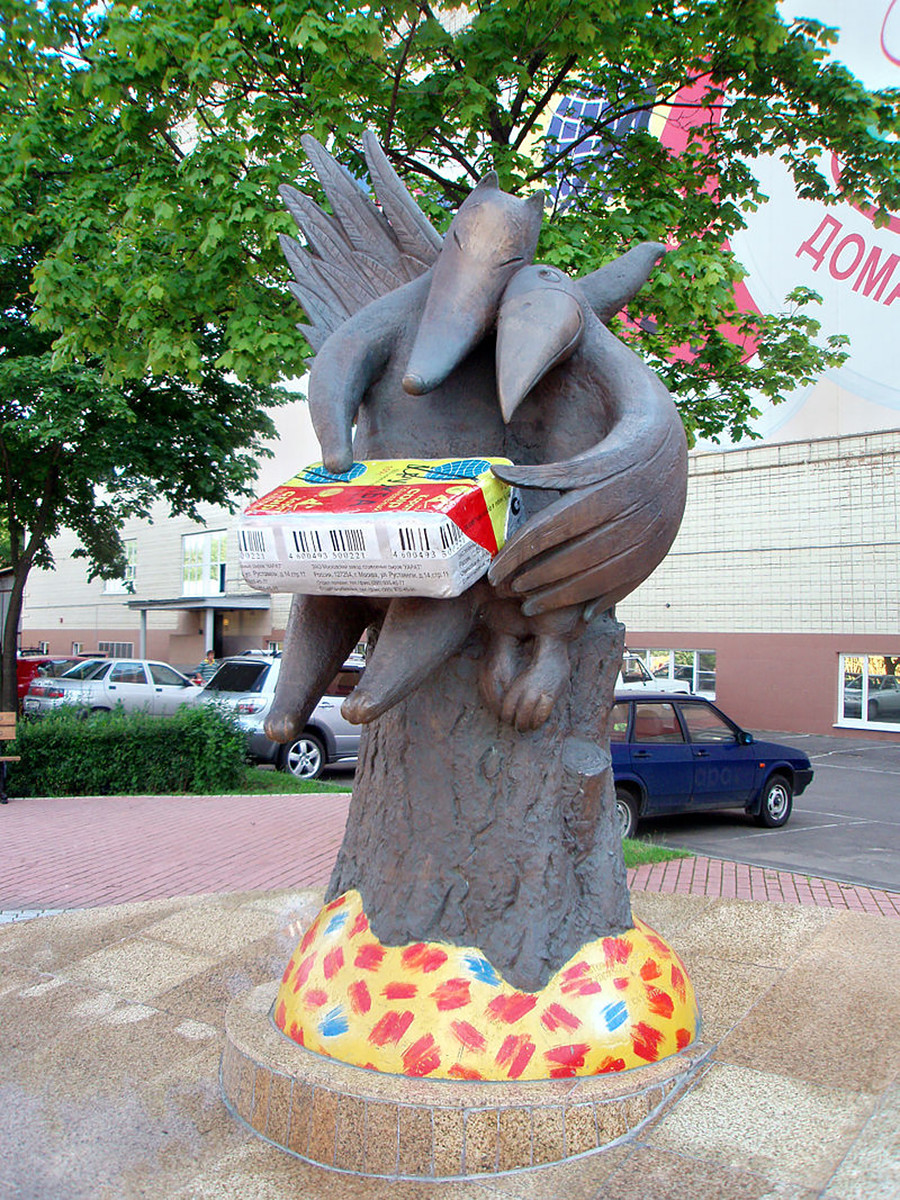 Public domain
"Druzhba" is a legendary Soviet cheese spread known for its low price and huge popularity among the Soviet people. In 2005, it was memorialized with a monument. The crow and fox who hold the cheese are from the famous fable, "The Crow and the Fox," by Russian writer Ivan Krylov, and which is based on Aesop's original tale. In the fable, they argue over a piece of cheese, and the monument shows them rejoicing over its taste.
9. Snails in love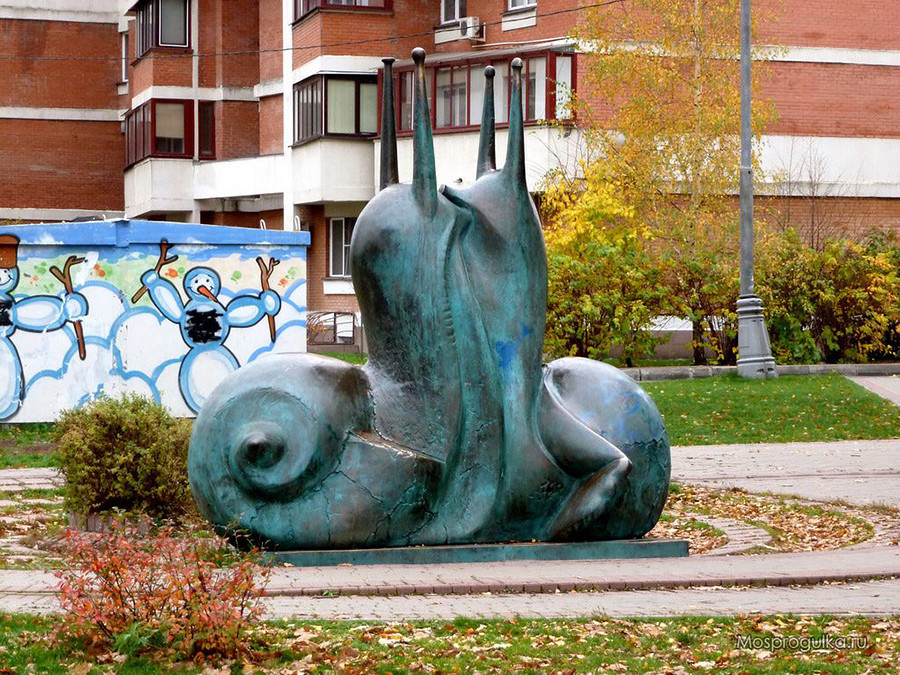 This monument has been standing in Moscow's Kurkino district since 2006, and it's super strange in its own right.
10. 'Forbidden to talk to strangers' sign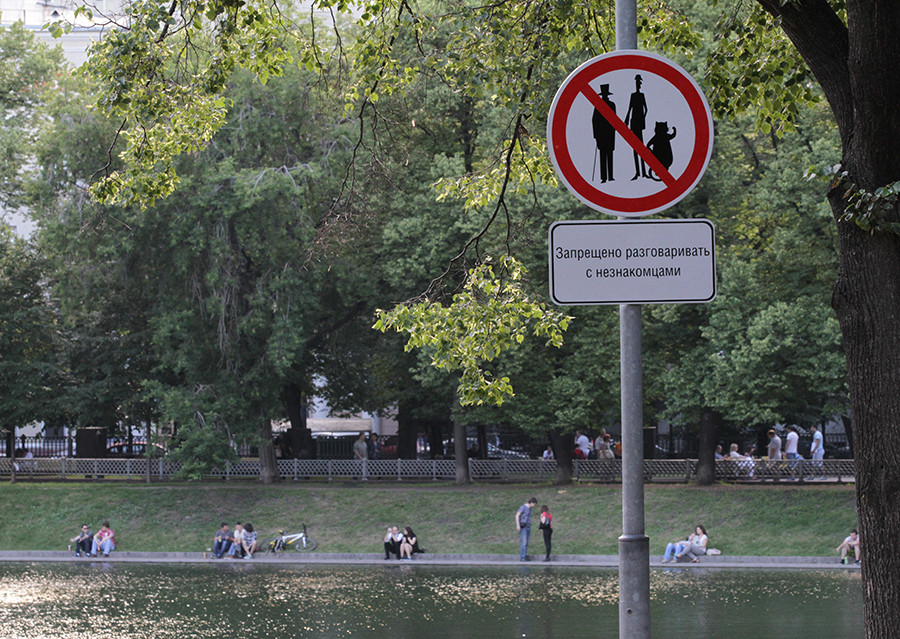 Evgeny Biyatov/Sputnik
This public sign is only disguised as a real one. Actually, it's a humorous decoration. Located on Patriarch Ponds in Moscow, the sign alludes to The Master and Margarita, a novel by Mikhail Bulgakov that begins from a chance encounter with a stranger on Patriarch Ponds. Nearby, there is a famous "no-good flat," a museum dedicated to the novel. You can also check out nine other places connected to the novel with our online guide.
11. The Enema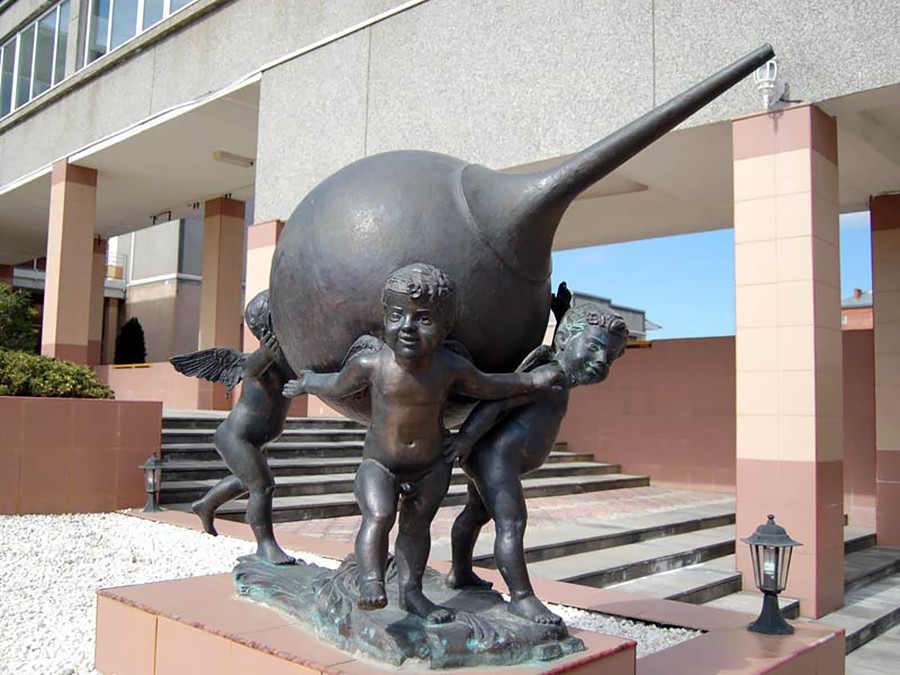 This monument's absurdity might send shivers down your spine, but not for Russians. The only monument to an enema in the world is located near Zheleznovodsk (840 miles from Moscow), a place famous for its health resorts and sanatoriums. As the authors say, the cupids symbolize the sanatorium nurses.
12. The Keyboard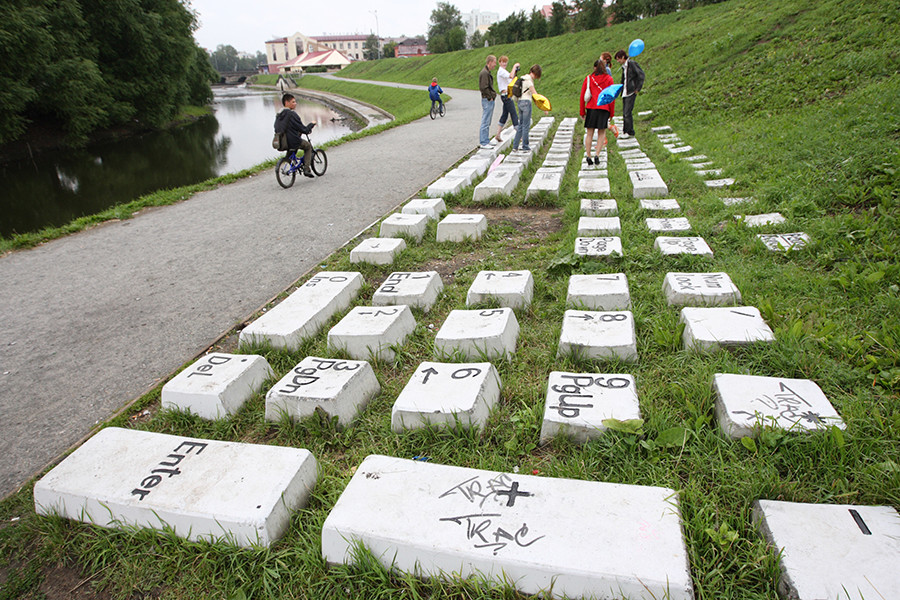 Pavel Lisitsyn/Sputnik
Another Yekaterinburg 'masterpiece,' this huge keyboard was created in 2005. Despite the fact that it lacks official status as a monument, the keyboard is hugely popular among locals, especially as a place where people can sit on each of the 104 keys. There are also plans to build a monument to the computer mouse and the modem.
13. Major Kovalyov's Nose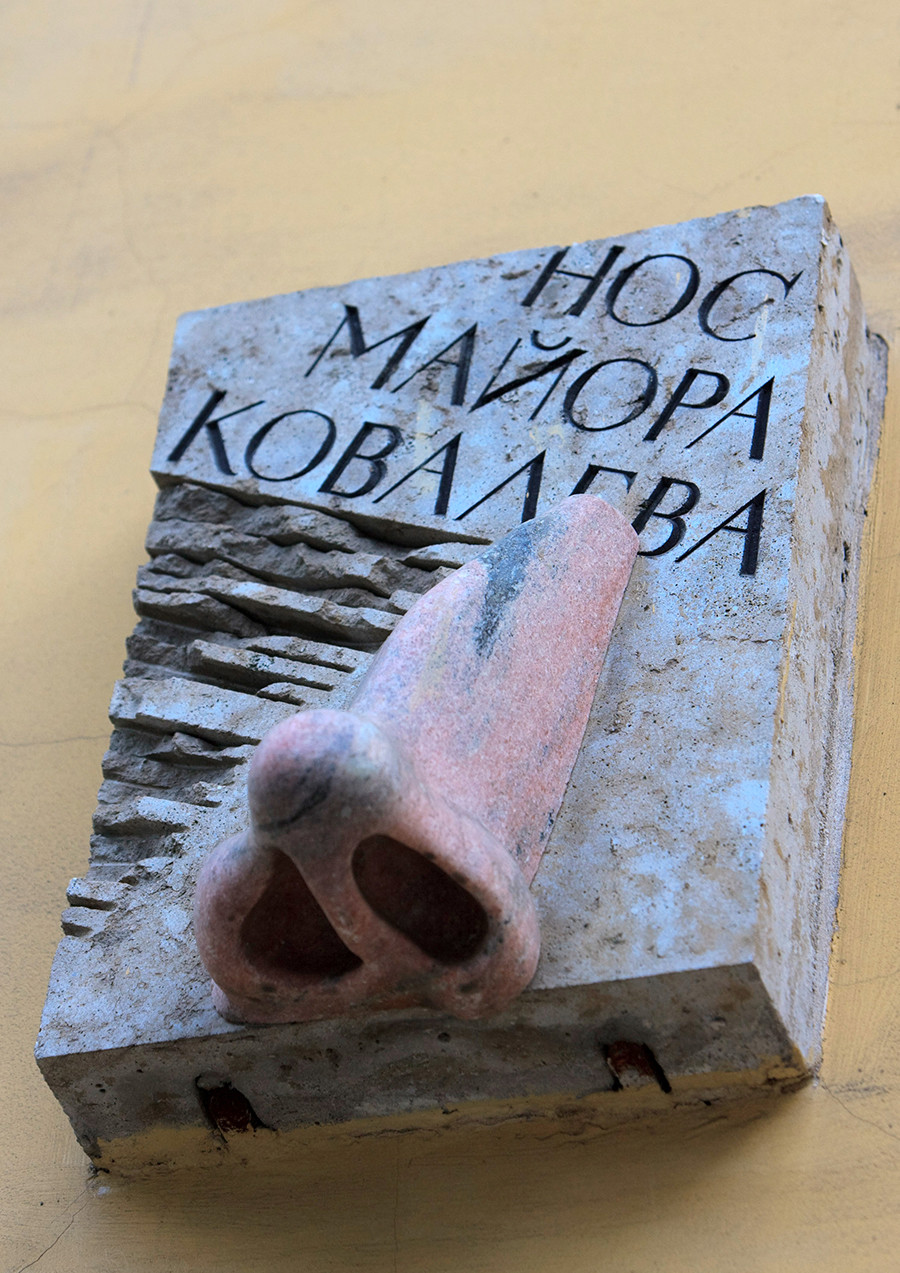 Alexei Danichev/Sputnik
This monument to the nose of Major Kovalyov recalls the hero of Nikolay Gogol's absurd short story about a civil servant who woke up one day without his nose, only to find out later that his nose has developed a life of its own. The nose is made of pink marble brought from Ukraine, Gogol's homeland.
14. The Hanging Lover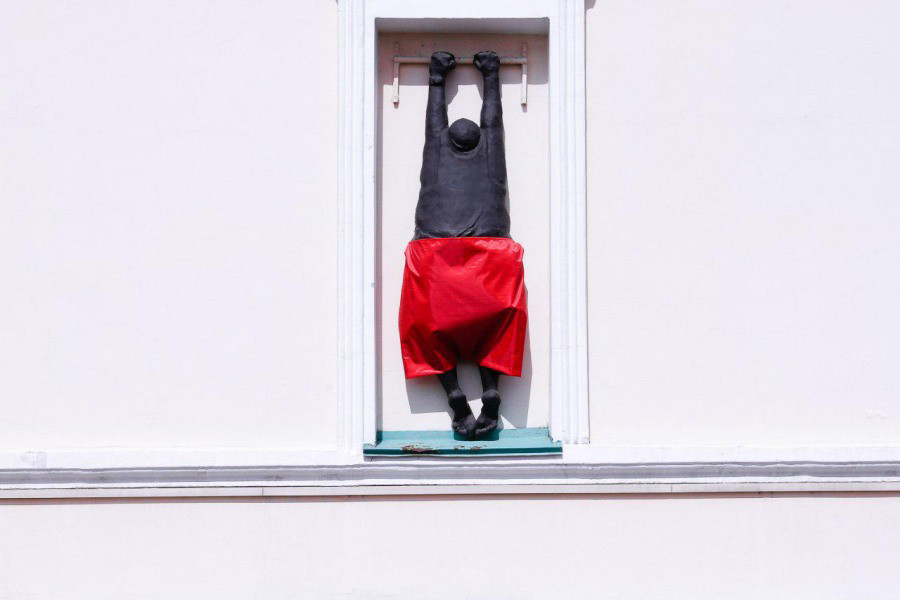 Here's another 'gem' in Tomsk, also a moveable monument, but this time it's more humorous. Created by local sculptor Oleg Kislitsky, the monument is a bronze figure in wide underpants who hangs out his lover's window, while presumably her husband has unexpectedly returned home. Not all Tomsk houses welcomed the peculiar decoration, so the artist decided to hang it from different houses, until it finally reached the local museum. Many people found it quite humorous that during the opening ceremony in 2001, Mendelssohn's "Wedding March" was played.
15. The Grater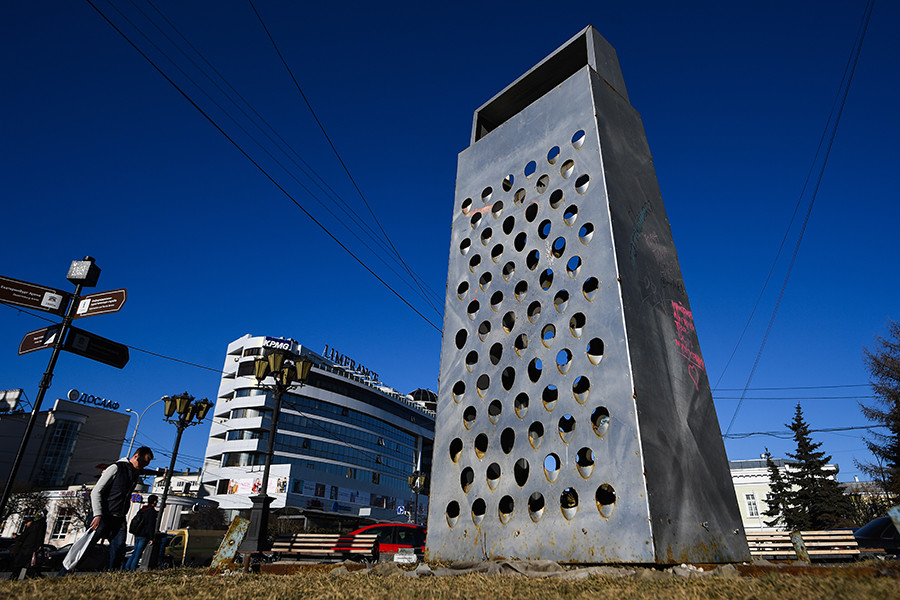 Donat Sorokin/TASS
Yekaterinburg is clearly bubbling with creative minds. This monument to a kitchen grater is not a monument to the kitchen, food or housemaids. Rather, it's "a place for discussion," as the inscription reads, and on the other side, there's a brain being grated. Gross? Perhaps, but Russians get the joke. In contemporary Russian slang, "tyorka" ("grater") also means "a discussion," usually a heated one. So, perhaps the artists are implying that this monument commemorates intense debate.
If using any of Russia Beyond's content, partly or in full, always provide an active hyperlink to the original material.