Two lovers kissing on Nikolskaya Street, the unofficial fan-zone in the center of Moscow.
Ilya Pitalev/Sputnik
The World Cup has brought a lot of talent to Russia, and we're not just talking about the footballers. 'Exotic' foreign fans, with their tans and slick moves, are winning hearts, but not everyone is happy – especially Russian men.
Tinder is so hot right now in Russian World Cup host cities. "It's like a feast," Zima Magazine quotes Kristina (not her real name). "Right now I'm communicating with a handsome Australian, two handsome Argentinians, a handsome Mexican… and it's not all about sex. I communicate with some guys just to have fun and chat."
But many people still use the dating app for classic one-night stands. Gazeta.ru quotes Julian, a 30-year-old Colombian: "Everyone knows what Tinder is for. Of course, no one is against spending time in good company without having sex… but I met five girls and all of them were up for it."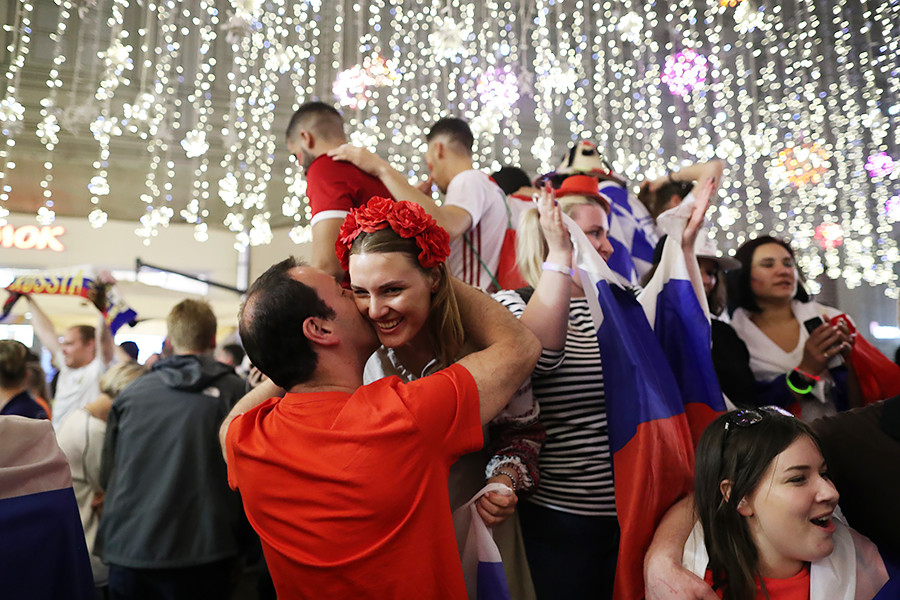 Network provider MTS noted that Tinder's traffic swelled by 11 times in June compared to the previous six months. Love (and/or lust) is in the air during this World Cup – however, not everyone is happy about the amorous vibes.
Russian lawmakers and sex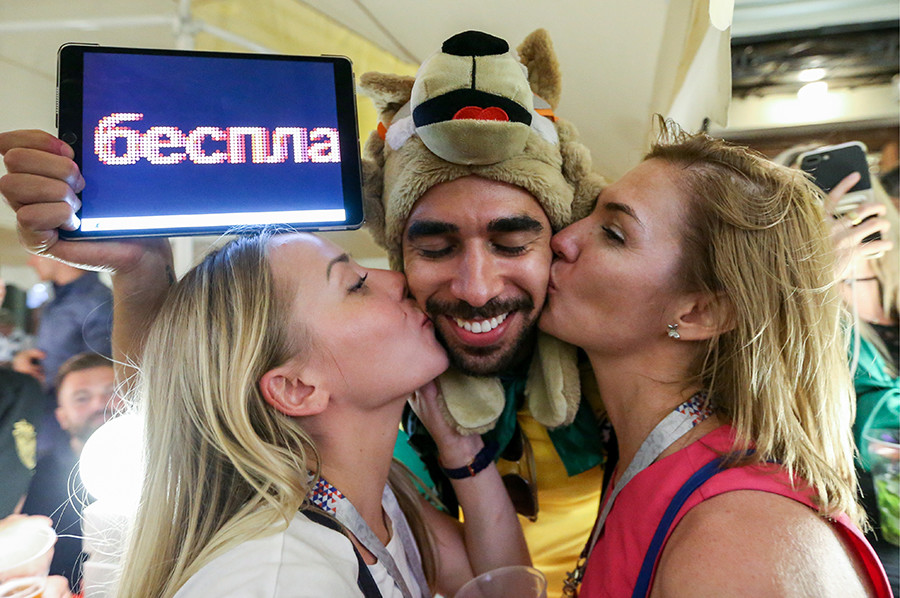 Alexander Ryumin/TASS
Tamara Pletnyova, chairwoman of the Family, Women, and Children Affairs Committee in the State Duma, made the headlines in the days leading up to the World Cup. She urged Russian women to resist the temptation of getting frisky with foreigners. "Will there be girls that will meet [with men] and become pregnant? Maybe yes, maybe no... I hope," she told Govorit Moskva Radio.
"We should give birth to our own children. I'm not a nationalist, but nonetheless," Pletnyova went on, noting that it's better when sexual partners are of the same race, and expressed fear that fans who have sex with Russian women will leave them with fatherless children.
'Nobody's business'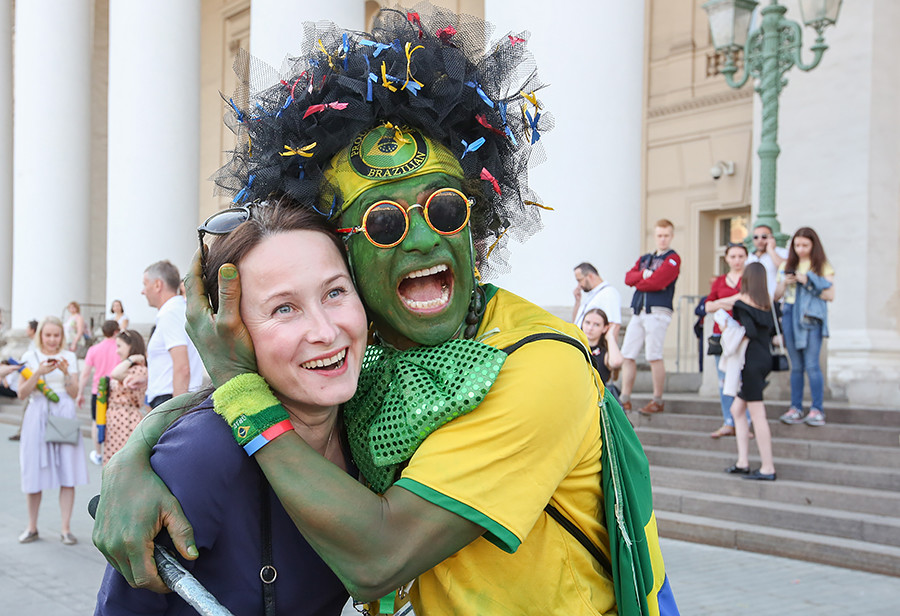 Marina Lystseva/TASS
Nevertheless, some people believe politicians have no right to approve or disapprove of any kind of personal relationships, including sexual. "There is no difference, who they try to forbid us to have sex with: A neighbor or a foreigner, a woman or a man, before, during, or after the World Cup. It's just nobody's business," Yekaterina Tropova, columnist at Gazeta.ru wrote.
Vladimir Putin's spokesman Dmitry Peskov expressed a similar point of view, emphasizing that the Kremlin doesn't care about who is sleeping with whom: "As for our Russian women, they will make their own judgment. They are the best in the world."
Many angry men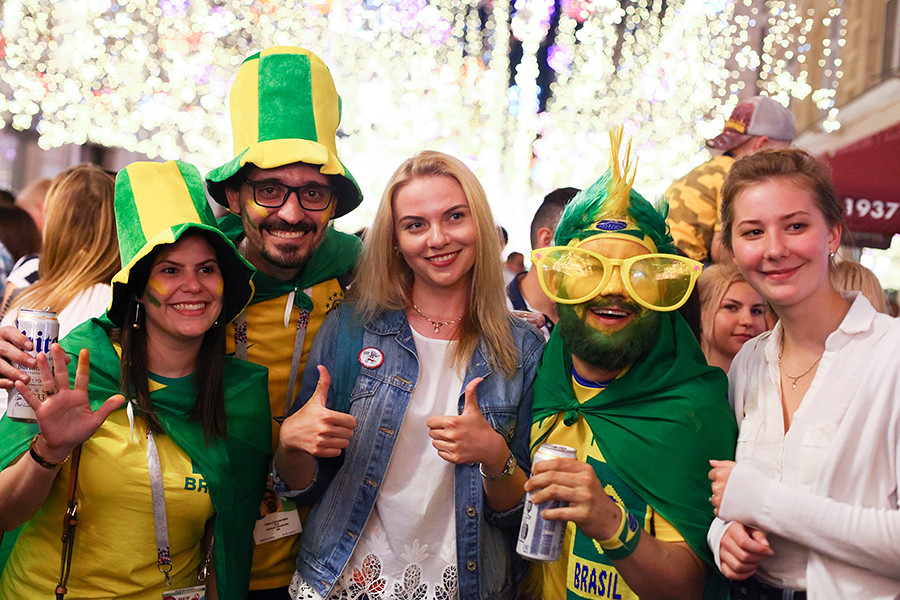 Moskva Agency
Intrusive as they may be, it's not only politicians taking an interest in Russian women's relations with foreigners. There are groups on VKontakte (the most popular Russian social network) where people post photos and videos of girls who, as they suppose, are "disgracing Russia" with their flirtations. The site's administration made the most popular group close comments and warned that "offensive behavior is prohibited."
It's not only ordinary Internet users who complain about so-called "sluts." Moskovsky Komsomolets published a column by Platon Besedin, a Russian writer, who wrote: "We are proud with Russia denouncing stereotypes of itself but there is one that lives on during the World Cup – that Russian women are easily accessible…"
"We bred a generation of whores ready to open their legs as soon as they hear a foreign language," Besedin continues, blaming everything on the "matrix of worshipping the West." His column provoked public outrage.
Women strike back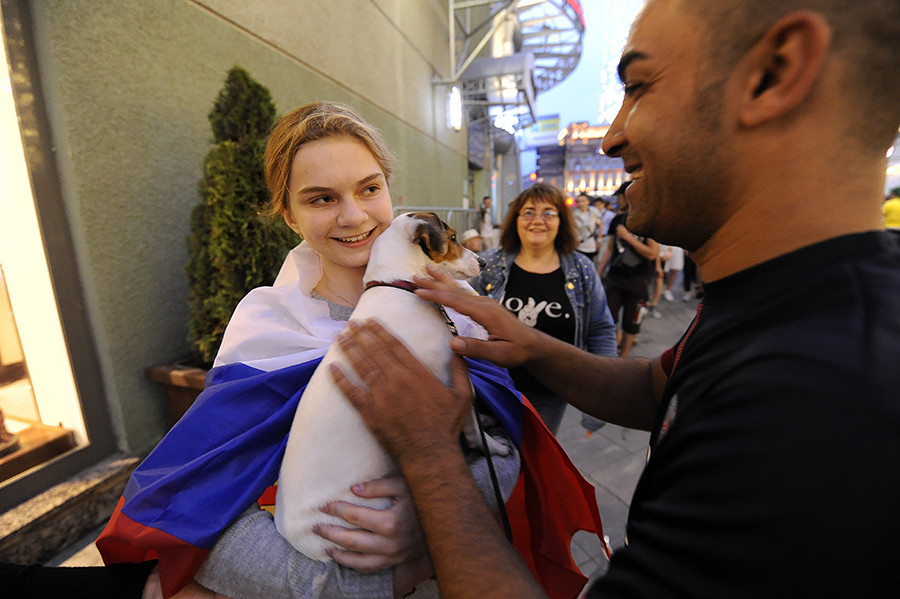 Alexander Avilov / Moskva Agency
There's also no lack of articles written by women criticizing men who choose to openly criticize women. Cosmopolitan Russia published a sarcastic column reflecting Besedin's opinion. "Angry Russian men cannot understand that a woman is also a person who may want to have sex with whoever she wants… Men don't consider a woman a human being, so they see nothing wrong in insulting half of the nation in the federal press," the column goes.
Some suppose that the men who "slut-shame" women are just jealous as many Russian women prefer foreigners to the natives right now. Marina, a woman quoted in a Zima Magazine article, says: "It's easier to communicate with foreigners, they are more outgoing. They like to chat, walk around, flirt – and maybe more, depends on how it goes. With Russians [on a date] I often feel like I'm at a beauty pageant."
"Yes, foreign men are more handsome than Russians! And healthier, cleaner!" Anastasia Mironova wrote on Gazeta.ru, going as far as calling all Russian males "underdeveloped."
Natalya Sobolevskaya, project manager from Moscow, summed it up pretty good by writing this on Twitter: "God, of course there are normal men in Russia, Even great ones! And, attention: They are not pissed off, they are doing well anyway. They don't have to envy anyone or shame anyone."
Tired of all this? Read an article on how Russians mock their national team.
If using any of Russia Beyond's content, partly or in full, always provide an active hyperlink to the original material.