Top 5 trolling tirades about Russian football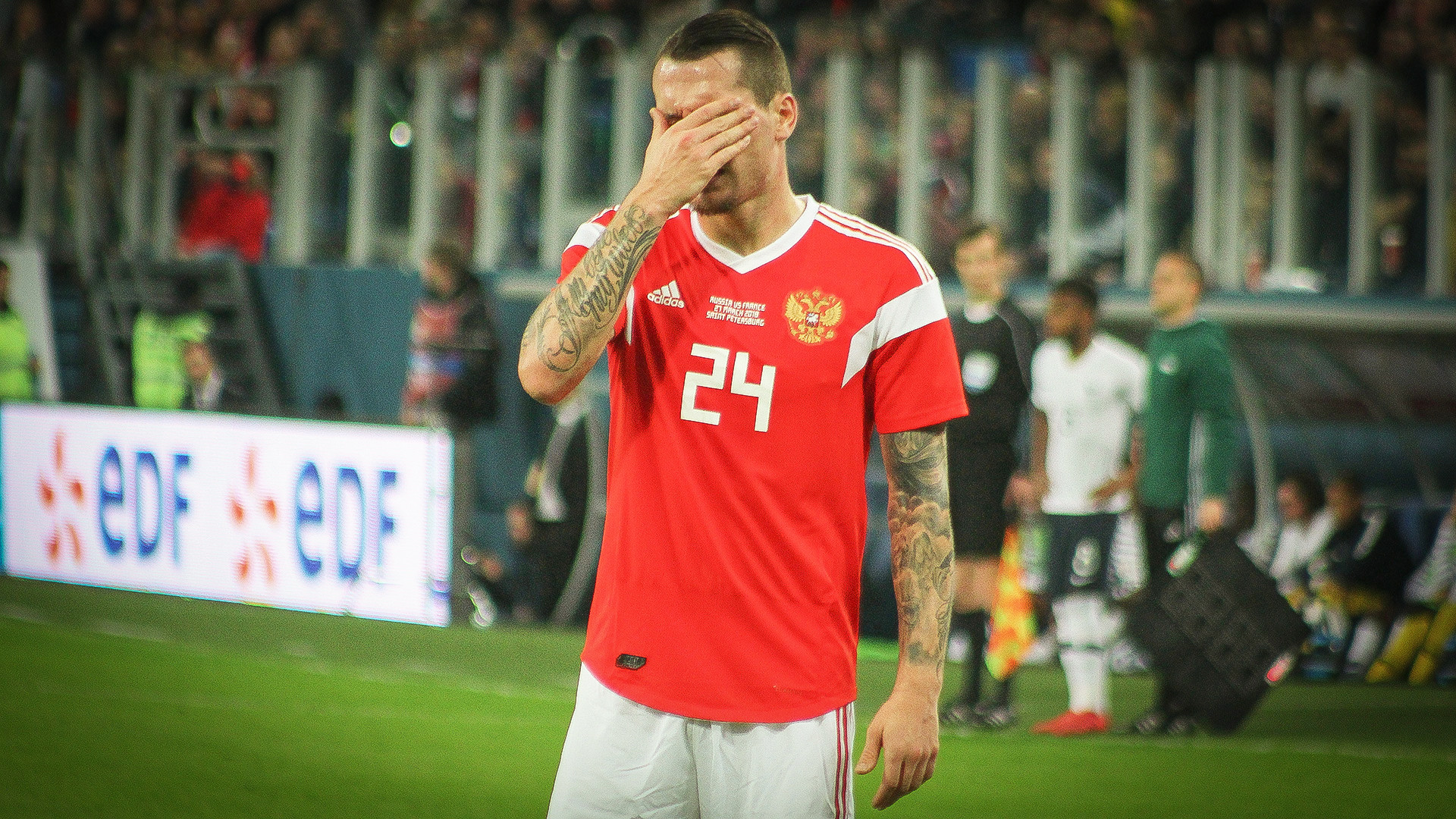 The Russian internet can be a cruel mistress, and the nation's players and fans have learned this the hard way.
Russian football might not be at its peak these days, but there is a plus side to this: The standard for memes and online banter is higher than ever. These brutal trolling trends show why Russian football culture is one of the most vibrant in the world.
1. Kerzhakov misses (again)
On the surface, there's nothing particularly funny about former Russian national team striker Aleksandr Kerzhakov's career. He remains Russia's all-time top scorer with a respectable 30 goals in 91 games and performed extremely well in his early days at Zenit St. Petersburg.
However, Euro 2012 was the beginning of the end for this unlucky forward—Goal.com even named him the worst player of the tournament. While filling in for out-of-favor front man Roman Pavlyuchenko, Kerzhakov failed to score at all in his three group stage games for the sbornaya. What's more, he failed to register even one of his 15 shots on target. Russia was agonizingly squeezed out of the tournament following a 1-0 defeat to Greece, and with that Kerzhakov faced the formidable wrath of the entire Russian internet's trolling capabilities.
It began with a feature in the Russian edition of Esquire in which Kerzhakov's cover shot somehow "missed" the page:
After this, a series of memes took the internet by storm. One cartoon shows Kerzhakov coming out of a toilet cabin, having "missed" the bowl:
A new drinking game also became popular in Russia around Euro 2012: a shot of vodka for every time Kerzhakov misses. Play at your own peril though.
2. Football's 'beliebers'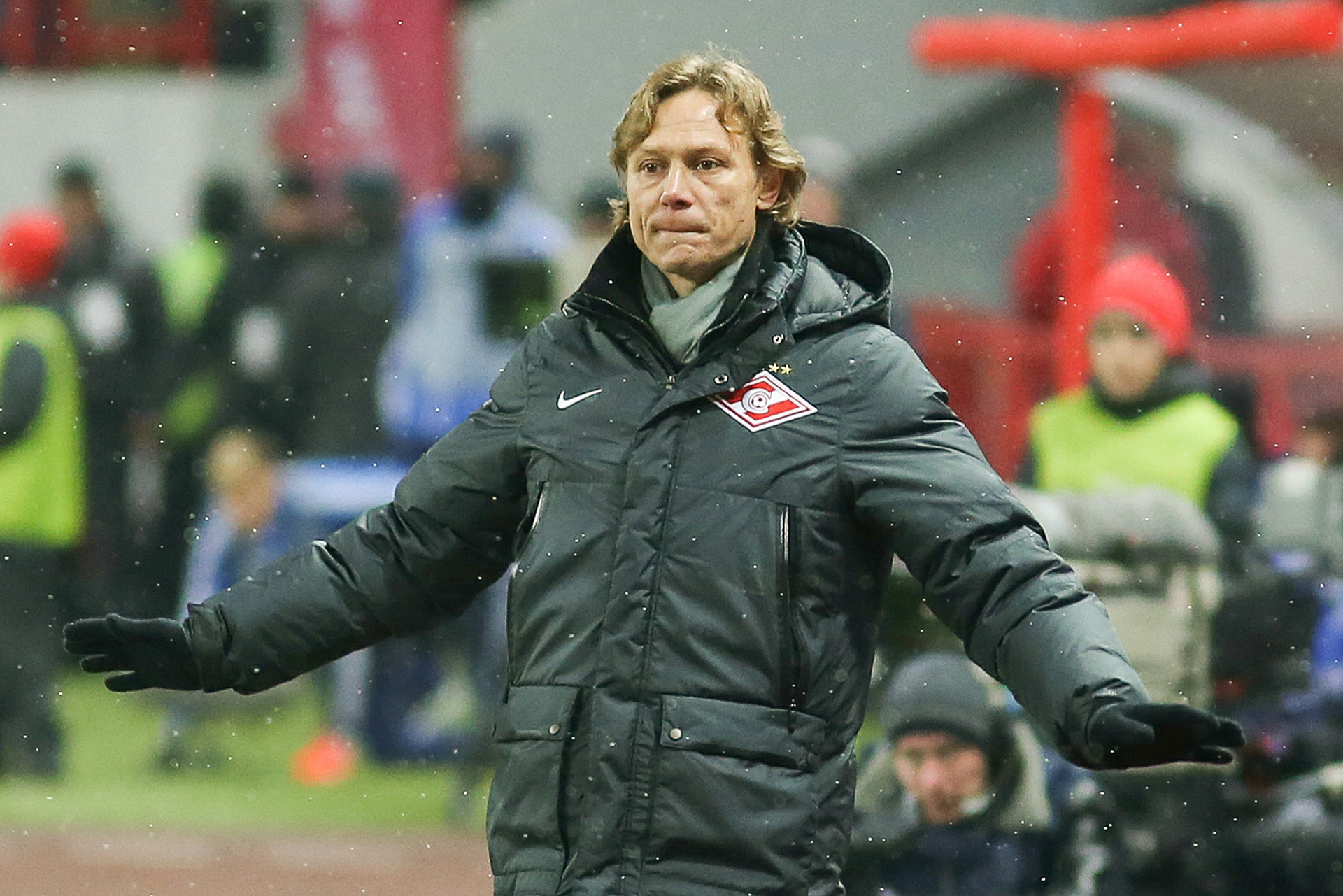 Former Spartak Moscow manager Valeri Karpin enjoyed the kind of fan loyalty that most modern-day managers could only dream of, but the fans' love affair with their gaffer made them sitting ducks for the trolls.
After a series of setbacks that led Spartak to finish fourth in the league in 2010, fans rolled out an "In Valeri We Trust" banner and even coined their own verb: "valerim," meaning "to believe in Valeri." They then went on to sing this slogan to the tune of pop singer Afrodite's extremely cheesy song "Valera." Cute.
Meanwhile, fans of rival teams responded online by trolling the underperforming coach and his deluded fans, first by reworking Fyodor Tyutchev's aphorism about how "Russia cannot be understood with the mind alone" into "Valeri's genius cannot be understood with the mind alone. One must simply believe." Those who dared to "valerit'" were labeled "Valeroveri," which roughly translates to something like "Valiever." I reckon Spartak's ultras and hardmen probably didn't take too kindly to this moniker.
3. Song for Mamaev and Kokorin
After Russia's embarrassing exit from Euro 2016, players Aleksandr Kokorin and Pavel Mamaev disgraced the nation by allegedly going on a $280,000 champagne binge in Monte Carlo. In addition to a dressing-down from Putin and an extremely popular Change.org petition calling for the pair's heads, Kokorin and Mamaev had to face the wrath of the Russian internet. This parody song, which shows the pair riding around Russia picking up girls by throwing money at them, bringing bottles of champagne everywhere and drunkenly failing to hit open goals is arguably the best of the bunch. Watch below:
4. Zenit St. Petersburg: The ultimate 'Twitter finger' club
Once the top team in the country, Zenit St. Petersburg is the club everyone loves to hate in Russia. Zenit's "big club" mentality is reflected in its social media output too, making fun of any and every other club at will. Take this 2016 ribbing of Rostov FC, which had to cancel the release of its new kit and delay their stadium's construction due to budget issues:
"We can't wait for the presentation!"
The thing is that you need to actually produce results if you're going to maintain that level of cockiness online. When Zenit dropped down to fifth place in the 2017-18 league table, it became clear the club's admins aren't used to being on the receiving end of the banter. Take this sarcastic post from a rival fan:
"Hello! I sincerely congratulate you on your first-round exit from the Europa League! It's a great achievement for your club, after all it did take a great effort–namely, 75 million euros and a top Italian specialist [manager Roberto Mancini]. For next season, I wish for you passage to the best league in the world–the RFNL [Russian second division]!"
This particular troll was swiftly blocked from Zenit's page and added to their blacklist. A bit petty, if you ask me.
5. Memes leading up to the World Cup have been brutal
While most Russian fans are looking forward to the World Cup, some are not so optimistic about their team's chances. For example, one unnamed restaurant advertised a "Russian national football team salad" that contains "only vegetables." Harsh.
One meme making the rounds in Russia claims that this is the national team's bus (they're all "logs"—in other words, completely useless):
Another disputes the national team's ability to perform, well, even the most basic of tasks (the final panel reads "the Russian national team")…
If using any of Russia Beyond's content, partly or in full, always provide an active hyperlink to the original material.