Beachside funicular in Svetlogorsk, Kaliningrad Region
Legion Media
The Kaliningrad Region is Russia's tranquil enclave of sunsets, sand dunes, and seaside resorts. These 3 breathtaking excursions will help you unwind between World Cup 2018 matches.
This summer, Kaliningrad will host several of 2018 World Cup's most anticipated group matches: Croatia vs Nigeria on June 16, Serbia vs Switzerland on June 22, Spain vs Morocco on June 25, and England vs Belgium on June 28.
While the city of Kaliningrad itself is a tourist haven, those with a few days' wait between matches will have time to venture beyond the city limits. These day trips will give you a taste of the Kaliningrad Region's most organic and cathartic getaways, and might just take the edge off the pre-match build up.
1. Svetlogorsk (45 km from Kaliningrad)
This postcard-ready, romantic resort of sunsets and promenades is Kaliningradians' favorite place for a nearby getaway.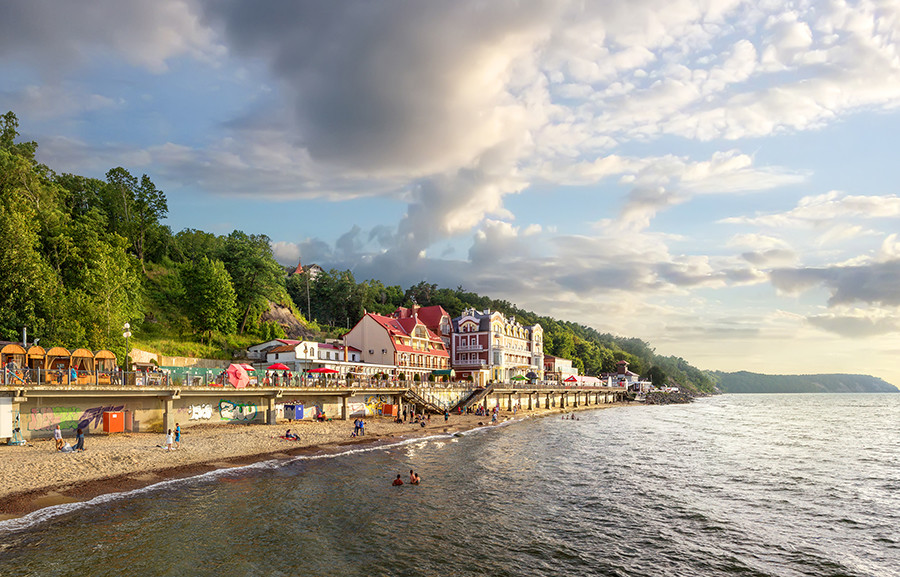 The town of 13,000 first came to life in 19th century Imperial Prussia as a ritzy seaside hideaway and spa named Rauschen, once popular among German elites and artists such as Thomas Mann and Hermann Brachert. Svetlogorsk's Teutonic heritage gives it the feel of an Imperial German exclave-cum-memento, and one could be forgiven for completely forgetting you were in Russia here; Indeed, the small, cozy Alsace-style houses that locals inhabit are a far cry from the Soviet high-rises visible in Kaliningrad, while a stroll through Svetlogorsk's main streets and promenade is more reminiscent of Strasbourg or Nice than Moscow. A case in point is the city's stunning yet unusual art nouveau water tower.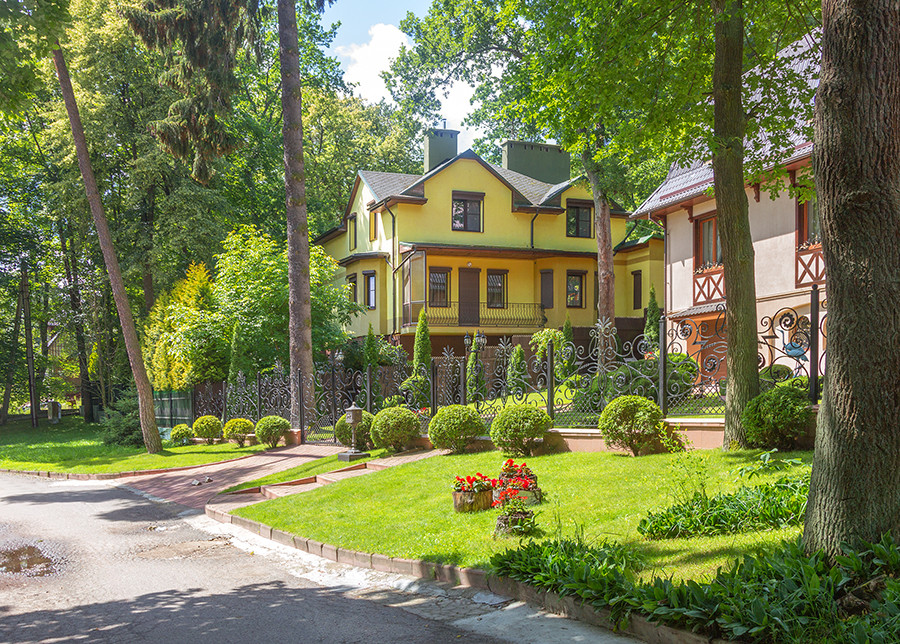 Svetlogorsk: A slice of Germany within Russia
Legion Media
Aside from the architecture, Svetlogorsk is best appreciated for its beaches, first shaped up as a tidy embankment by Friedrich Wilhelm IV of Prussia in 1840. Backing out onto a buzzing promenade that forms the city's main drag, Svetlogork's beaches boast a lively downtown feel from behind and an endless view over the Baltic Sea from the front. For a real treat, it's worth accessing the beach via its steep funicular, giving you views worthy of Instagram royalty.
Svetlogorsk can be reached from Kaliningrad either by bus, taking roughly an hour and a half and costing 87 rubles (€1.20), or by elektrichka (suburban train), which takes an hour and costs 70 rubles (€1).
2. Curonian Spit (50 km from Kaliningrad)
The Curonian Spit offers visitors some of Europe's most stunning views, and not least because it is a complete geographic marvel. This long, thin stretch of land connecting Russia with Lithuania is propped up by glacial moraine, and forms a curious yet breathtaking barrier between the Curonian Lagoon and the Baltic Sea. As a result, what can feel like an island is in fact an isolated, 98 km Baltic walkway, which packs as much natural beauty as possible into its small surface area.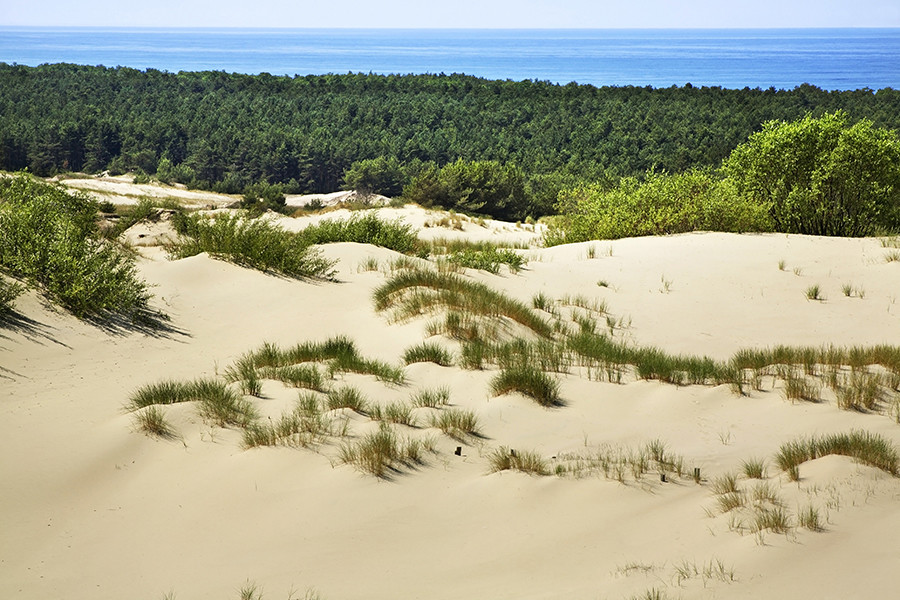 The Curonian Spit, home to Europe's highest sand dunes
Legion Media
Located on the cusp of Europe, this pure nature refuge boasts a widely diverse natural landscape consisting of national parks, beaches, and "dancing" forests that attract sunbathers, recreational fishermen, and bird watchers alike. The strip's tranquility also led to an artists' colony forming in the village of Nida in the late 19th century.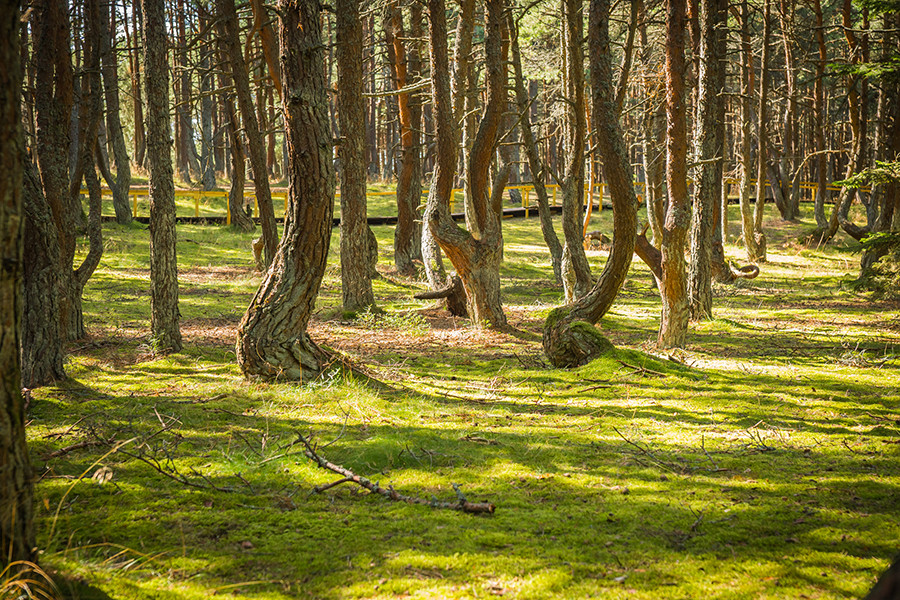 The Curonian Spit's 'dancing' forest
Legion Media
Most spectacular of all, however, are the Curonian Spit's infamous arching dunes: Amongst the dunes, the site becomes an eternal land of boardwalks, sea breezes, infinite Baltic horizons, and setting suns, with the swim of a lifetime never more than a few steps away. Some of these dunes have even remained green as a result of 19th century deforestation; The deer that roam the sands are a fleeting reminder of the forest it once was.
Lesnoy, the Curonian Spit's first town, can be reached by car in about an hour. Alternatively, you can get there directly via bus № 593 from Kaliningrad's Yuzhny station, or by getting a train from any station in Kaliningrad to nearby Zelenogradsk and then taking a bus transfer to the Curonian Spit.
3. Yantarny (55 km from Kaliningrad)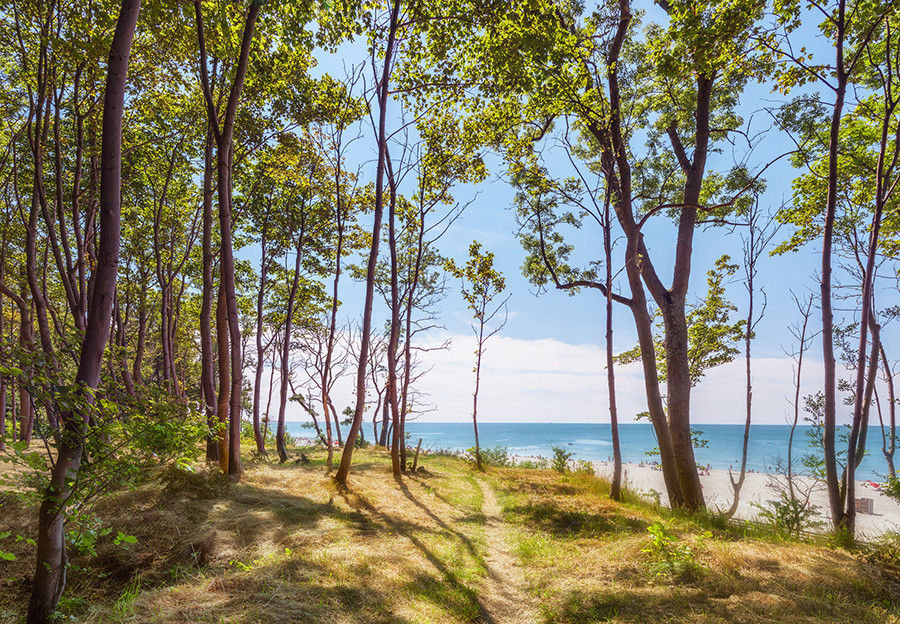 Yantarny, the Kaliningrad Region's hidden gem
Legion Media
For something a little more off the beaten track, look no further than the coastal village of Yantarny. This little-known, sleepy hideout of 5,000 people is a hidden gem, best known for its nearby mines, which churn out 95 percent of the world's amber exports (the name "Yantarny" itself means "amber"). Indeed, the sprawling seaside amber mines are well worth seeing there, offering views at unrivalled heights over the Baltic.
However, the main reason to visit Yantarny is for its placid, abandoned beaches, which offer travelers a complete getaway from Kaliningrad's modern landscape. Complemented by high, sandy cliffs, Yantarny's enormous, amber-lined strands boast the region's most spacious and undisturbed getaways - what's more, these beaches were the first in Russia to be awarded a blue flag for their cleanliness. Yantarny's blissful solitude is broken only by its onlooking German-style mansions, hidden among the green trees that populate its beachside cliffs.
Yantarny can be reached via bus № 120, which departs from Kaliningrad Yuzhny railway station every half hour and costs 140 rubles (€2) per passenger.
If using any of Russia Beyond's content, partly or in full, always provide an active hyperlink to the original material.