Angry Russian: Can you please be less phony?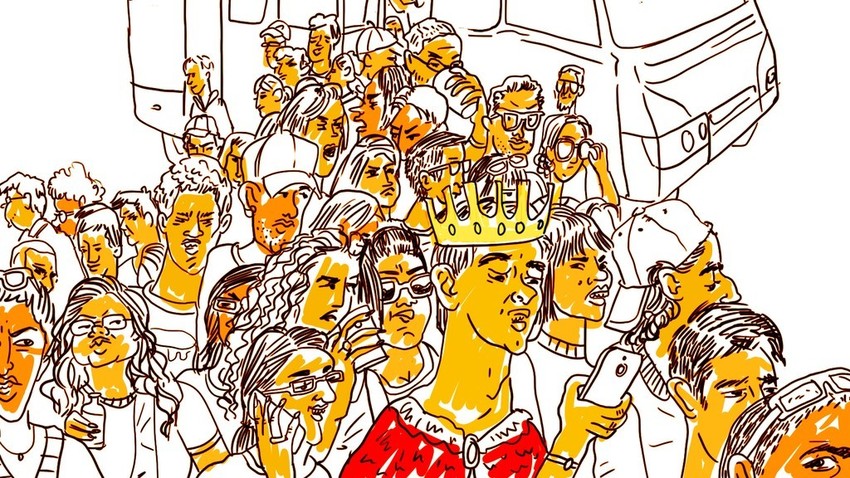 People's gadget ethics are driving me mad – here's what I suggest we can do about it.
There are so many kings and queens walking among us these days. So many VIPs, ministers, opinion leaders – even on public transport. For example, this guy.
Hey, Mr. Important, I'm really sorry to interrupt, but you've just stepped out of the bus door and immediately stopped stiff to check something on your iPhone. Surely, the 15 people who need to get off will wait as long as Your Majesty wishes, joined by the 27 other passengers who can't leave without us all getting off. But we're positive Jesus Christ has sent you a Facebook message, because there's no other imaginable reason for blocking the traffic like this.
The life of a serf is hard in a contemporary megapolis. A year ago, I had somebody, apparently a grand chancellor of some sort, drive her Honda Jazz right into the back of my seasoned Passat B3 while I was stopped at a red light. When I got out I saw she was still texting. "It was a very important message," she said. It must have been! I asked her to say hi to Queen Elizabeth for me when she next sees her.
And no, I don't think joking about these people being kings and queens is unreasonable. Who else could be so careless and inattentive to others, like we're all beneath them?
It's all fun and games until somebody loses an eye. Do you remember the girl who died in a car crash while taking selfies, Pharrell Williams' "Happy" blaring in the background? According to different statistics, each year over 330,000 accidents caused by texting while driving lead to severe injuries. Apparently, some people are just too careless to take measures themselves, so governments and IT tycoons are slowly introducing their own ways to deal with the problem.
Apple has announced new features for its iOS which would help users control how much time they spend on apps. On Tokyo's subway, ads recommend people turn off their ringtones, avoid talking on the phone in public, and actually look where they're going while walking. Finally, road signs reading "Attention! People on smartphones!" have appeared in some countries, including Russia.
As for public meetings, concerts, etc, phones and tablets are still a big distraction. Recently, Russian classical music director Theodor Kurentzis put the brakes on one performance because a phone rang in the audience. There are also more subtle (and more humiliating) ways to make people aware that a philharmonic hall is not a phone booth.
They say "my freedom ends where yours begins." Well, I'm fine with that – at least when it's your freedom that begins, not your tablet screen up my nose when we're all packed into the subway like sardines. And I also wonder, why are you shy about me peeping at your Facebook conversation with your girlfriend, if you have the nerve to discuss last night's explorations right in front of my eyes? Oh, I beg your pardon, Your Majesty. I should close my eyes and erase my memory.
What I suggest is a simple practice – to begin with, may your commute to work be mobile-free? Yes, I know how hard it is. But no pain, no gain. Imagine just thinking your thoughts, not organized in a Facebook thread. Watch the goddamn birds and trees from a bus window. Take pleasure in looking at people on the subway, studying their looks and making up stories about strangers. Remember this line from "America," a Simon and Garfunkel song: "Laughing on the bus, playing games with the faces // She said the man in the gabardine suit was a spy // I said, be careful, his bowtie is really a camera" – this kind of entertainment only goes well without a phone in your hand.
And maybe someday in the future, when someone asks you "why haven't you been replying to my text for three hours straight?" you'll be able to answer "had more important stuff to do, I've been gazing at flowers in the park and writing a poem," then mysteriously shroud yourself in a cloak and dramatically walk away.
Remember, walking away dramatically should be done with your chin pointed towards the clouds, not towards your tablet. And no, no, no taking selfies in a cloak. My god… You've got it all wrong again.
Angry Russian writes his opinion pieces about various things that irritate us all. He doesn't get pissed off easily but if he does… God help us all.
If using any of Russia Beyond's content, partly or in full, always provide an active hyperlink to the original material.