Maradona to McGregor: 8 celebrities who had a blast in Russia during the World Cup (PHOTOS)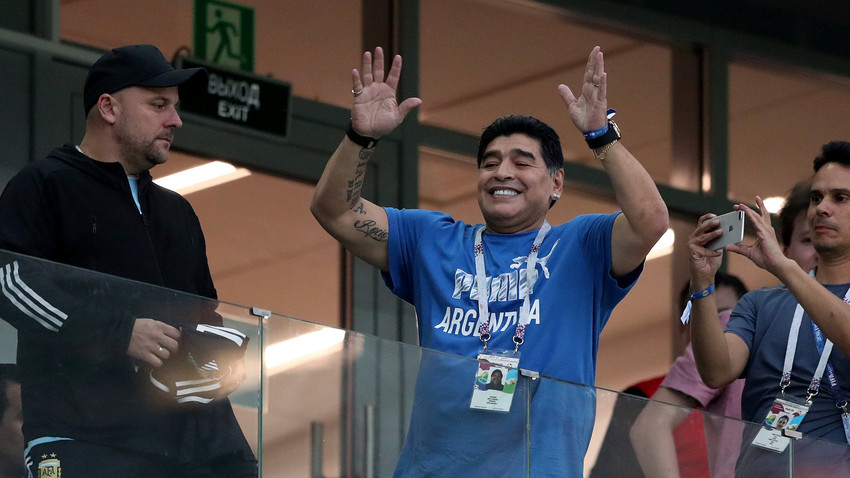 Diego Maradona, who was a bit of a bad boy during Argentina's games.
Reuters
Musicians, politicians and actors – no one missed the greatest soccer show on Earth. Some of them visited as it was their job, others were there cheering on their teams, but everyone seemed to have a really good time – in some cases, a bit too much...
1. Diego Maradona, football legend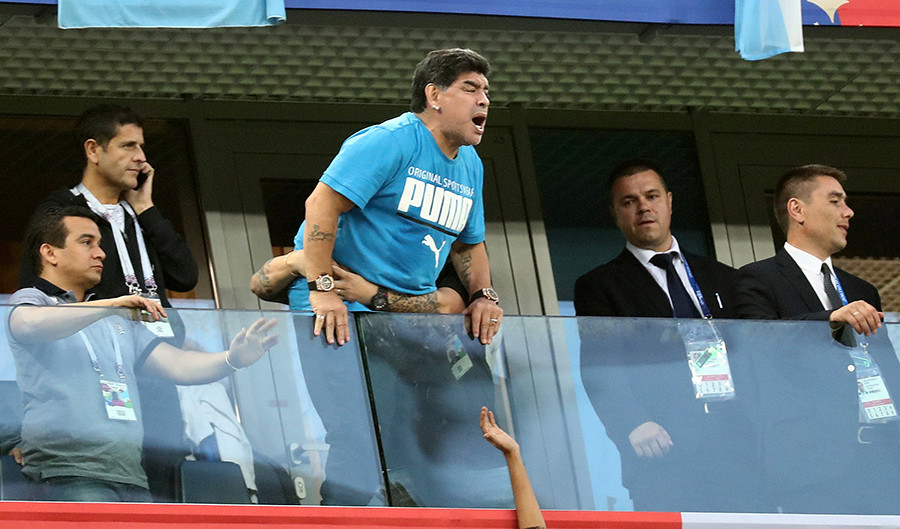 When it comes to scandalous behavior, no one can touch Diego Maradona, the former star of Argentina's national team. Maradona was supporting Argentina in its match with Nigeria, so hard that he was hospitalized after it.
He was waltzing with a Nigerian fan, praying, shouting, fraying the nerves of his security, and, yes, giving the bird to everyone after Argentina won. Fortunately, Argentina didn't make it to the quarter finals – otherwise Maradona probably wouldn't have made it back home
2. Mick Jagger, rock star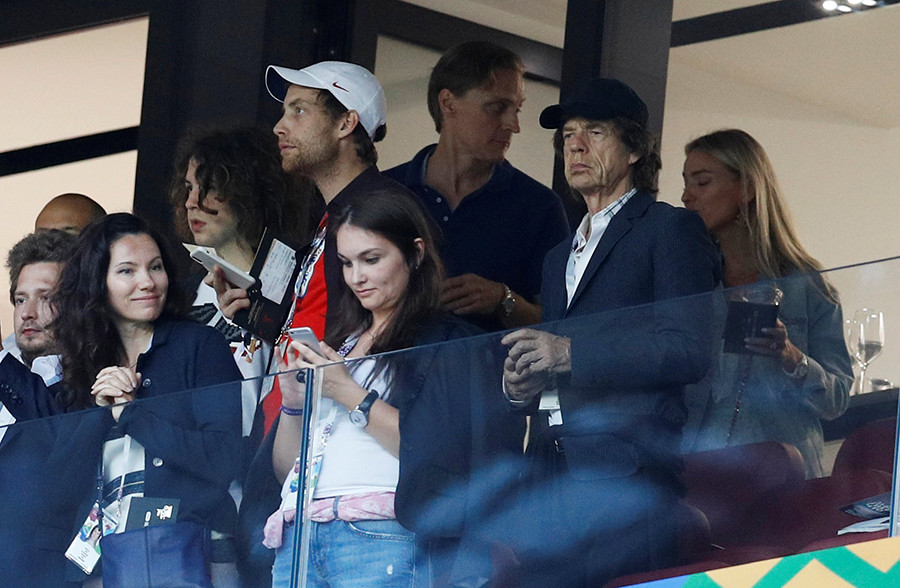 Mick Jagger (right).
Reuters
Unlike Robbie Williams and Maradona, rock's elder statesman Mick Jagger was the epitome of calm, visiting both semi-finals and the final. Jagger was there supporting the English national team, who made it to the semi-finals, with shouts of "C'mon England!"
It didn't help – England lost to Croatia and then to Belgium in the game for bronze. It's even rumored back in England that the rock icon jinxes every single soccer team he supports. You can't always get what you want, as Mick would say.
3. Emmanuel Macron, French president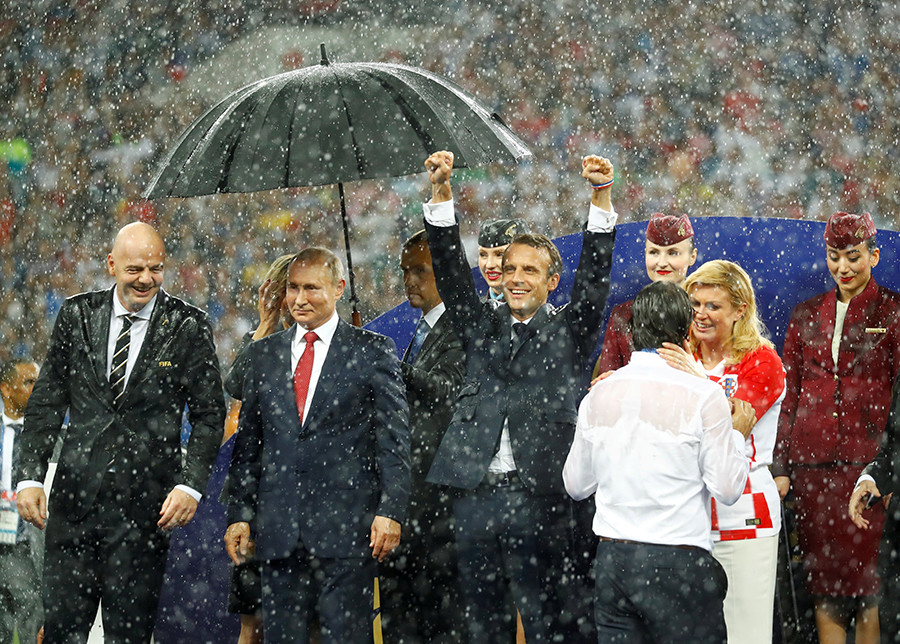 Emmanuel Macron under the pouring rain of June 15, when France won the World Cup.
Reuters
As for Emmanuel Macron, France's other "head coach" since May 2017, he had no reasons to be unhappy during this World Cup – France won the final, lifting the trophy for the second time in its history. And Macron, who came to support his team in both the semi-final and final, celebrated like a true fan.
4. Kolinda Grabar-Kitarović, Croatian president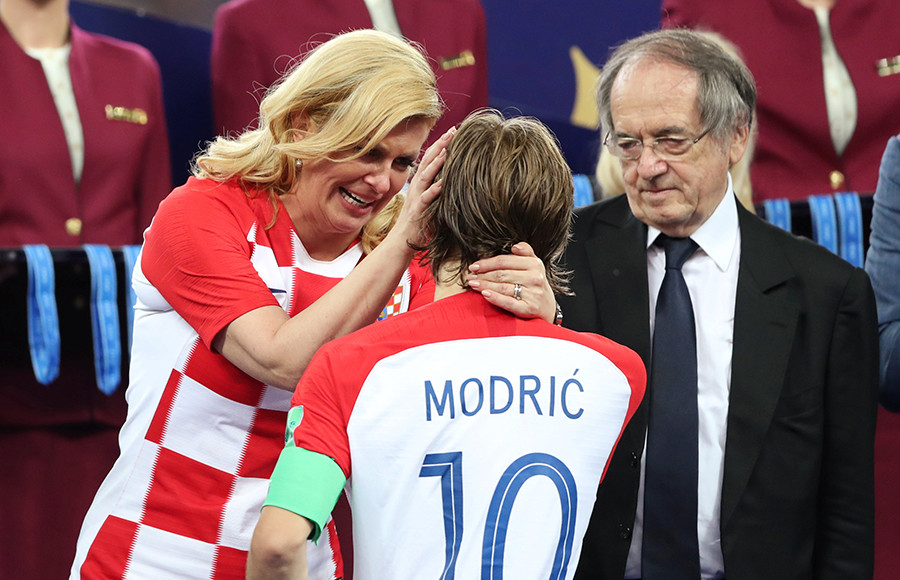 Kolinda Grabar-Kitarović and Luka Modrić, the captain of the Croatian national team.
Reuters
Macron enjoyed good company in his VIP box during the final. Besides Vladimir Putin and Gianni Infantino, the head of FIFA, he had a chance to discuss the game with his Croatian counterpart, who also came to Russia to support her team.
Kolinda Grabar-Kitarović was really close to the Croatian fans, sharing planes with them, and never taking off the national checkered jersey (at least not in public, we're pleased to say). She even thanked the Russian fans in their language, and didn't look sad after her team lost. After all, it was her country's first World Cup final in its history, a tremendous achievement for such a tiny and young nation.
5. Conor McGregor, MMA fighter and boxer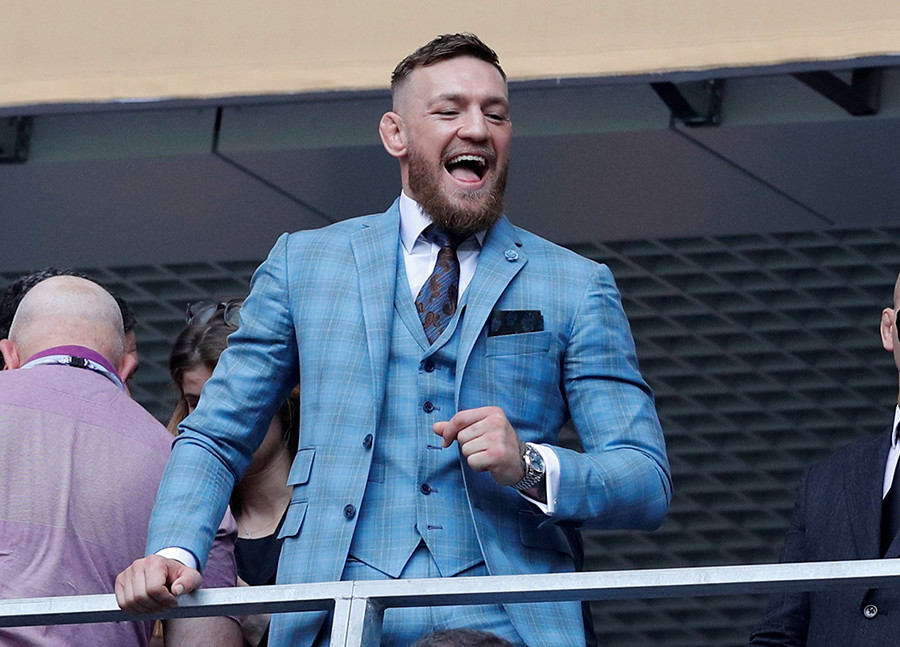 Yet another visitor at the World Cup final, the pugnacious Conor McGregor didn't miss a chance to take a selfie with fellow martial artist Vladimir Putin. He seemed very happy about it, praising Putin on Instagram. He finished the post with the words: "Thank you and congratulations on an amazing World Cup," adding "Go Russia!" – in Russian.
6. Pamela Anderson, actress and model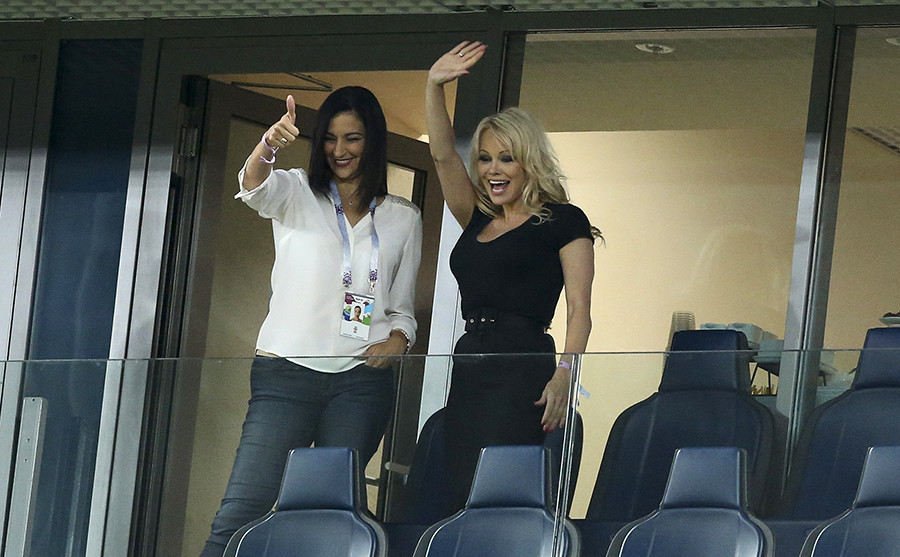 Pamela Anderson (right)
Getty Images
Former Playboy star turned animal rights activist, Pamela Anderson was there to baywatch, sorry watch, the French national team. Unlike Macron, she didn't do it for political reasons – Anderson has been dating French defender Adil Rami. According to the media, the two are now engaged.
Rami must be quite happy – despite not spending a single minute on the field during the tournament, he finishes his career in the victorious national team.
7. Alessandra Ambrosio, model
A Brazilian model well-known for her work with Victoria's Secret (2000-2017), Alessandra Ambrosio had a photo set in the Russian national team several months before the World Cup. Nevertheless, in Russia she supported her homeland Brazil as a fan – and like many Brazilians was probably distraught to see her team crash out to Belgium in the quarter finals.
8. Hugh Grant, actor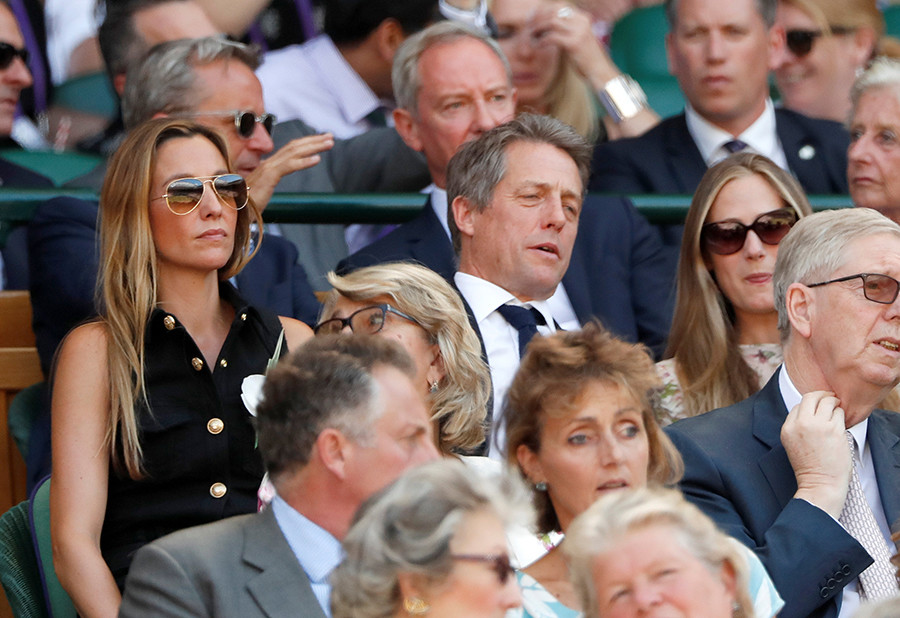 The star of "Love Actually" and many other films, Hugh Grant went to Russia during the World Cup to visit Moscow, St. Petersburg and, all of a sudden, Veliky Novgorod (562 km north-west of Moscow). The media even suggested that he'd confused the city with Nizhny Novgorod (416 km east of Moscow), where England played against Panama. As it turned out, this wasn't the case.
In any case, Hugh Grant was supporting the English national team and even joked he'd taken his Swedish wife hostage during the England – Sweden game in the quarter finals. Fortunately for her, England won.
For sure, not only the rich and famous visited the World Cup in Russia: check out these stories of the Mexican fans falling in love with the World Cup - and the host country.
If using any of Russia Beyond's content, partly or in full, always provide an active hyperlink to the original material.