Russian national team, 2018.
Maksim Konstantinov/Global Look Press
With expectations lower than ever, Team Russia seemed to be doomed. Instead, it showed the best result in its history. Here's how it happened. 
World Cup 2018 goes on without Team Russia after its loss to Croatia in the quarterfinal game. "Now, the World Cup is just like a house party where the host says: 'OK everyone, I'm going to sleep' – and the other guys keep drinking in his kitchen," goes a joke on Twitter.
The Russian national team, however, won't be forgotten. They reached the World Cup quarterfinals for the first time in history. Heck, post-Soviet Russia had never even made it to the kick-out stage. Here's the list of reasons how Russia shocked the entire world.
1. Russia went far beyond expectations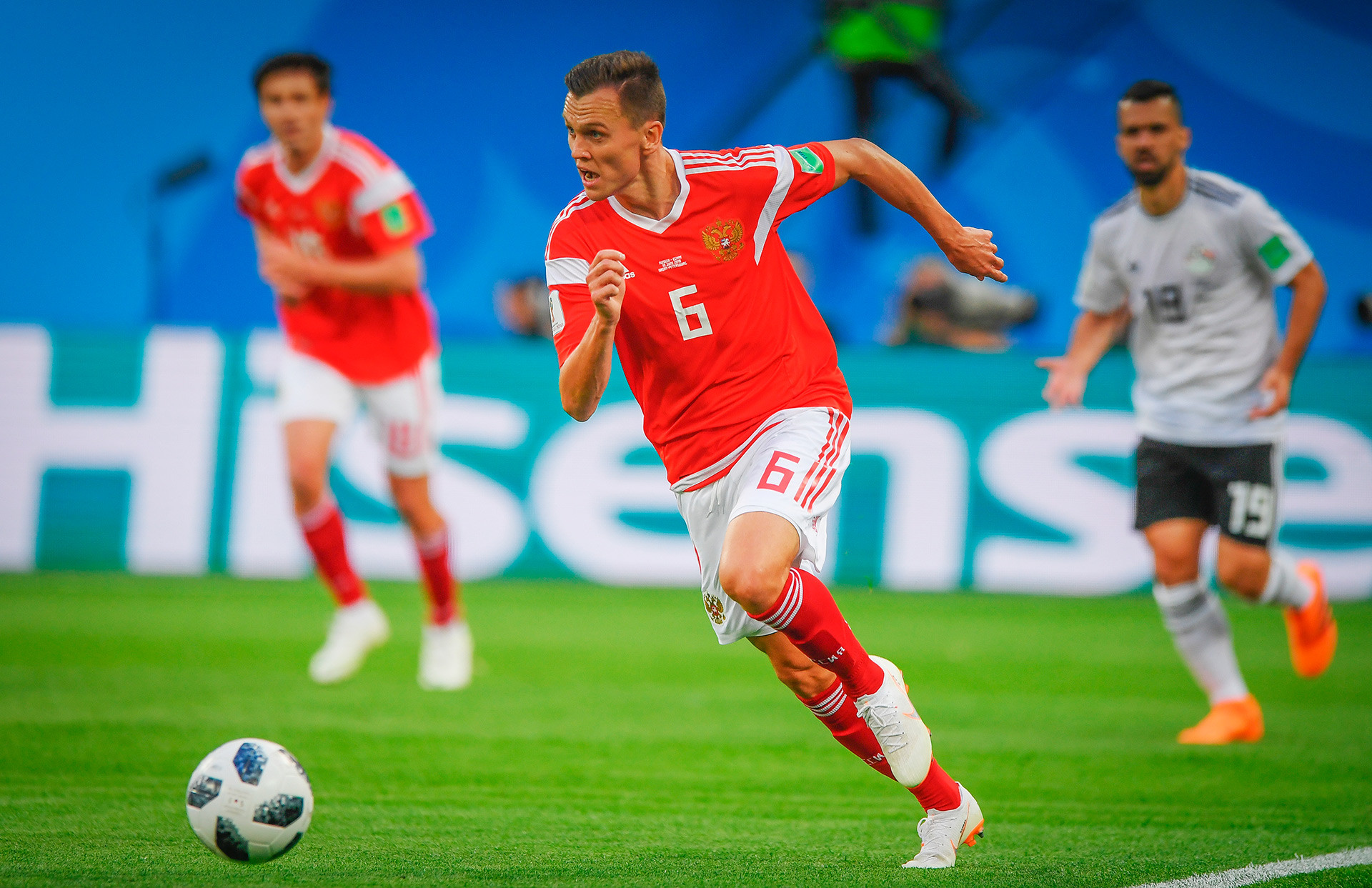 So little was expected from Russia that just before the first game against Saudi Arabia many Russians feared their team would lose to this country, which is not a football powerhouse, to put it mildly. "Saudi Arabia plays football better than Russia," proclaimed a worried headline published by Sports.ru.
Analysts had their reason to mistrust head coach Stanislav Cherchesov and his team: after a chain of weak friendly matches, Russia was 70th in the FIFA national teams rating, the worst of 32 teams playing in the World Cup.
Cherchesov ignored the criticism. "I'm not a psychologist to comfort anyone," he grumbled after yet another unsuccessful game, "You must believe in us."
Almost no one did.
Then Russia annihilated Saudi Arabia – 5:0.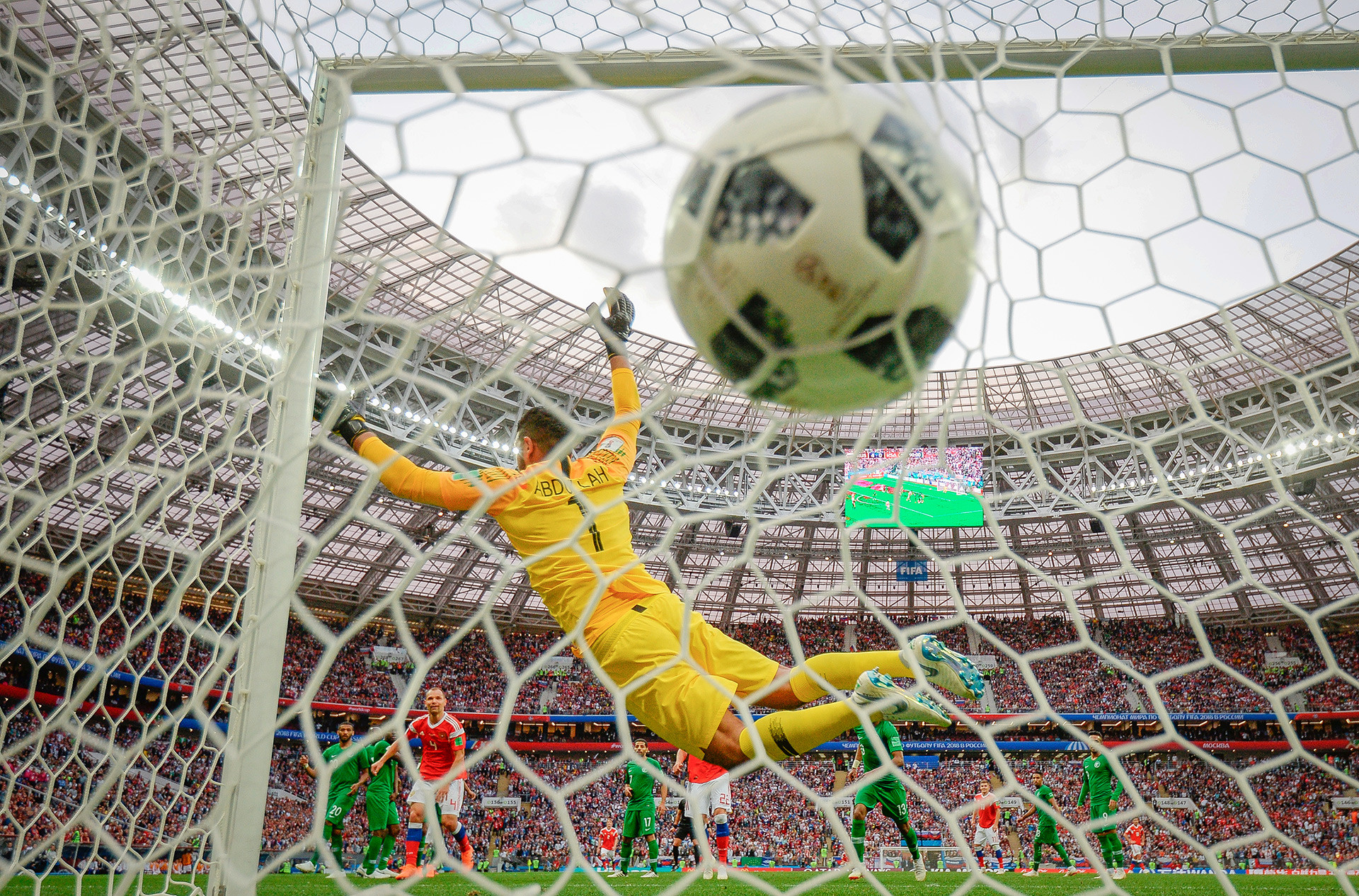 The Saudis were helpless on the football field playing against Russia.
Alexei Filippov/Sputnik
After a dramatic start, Russia beat Egypt (3:1), then lost to Uruguay (0:3), but made it to the play-offs anyway, where it defeated Spain (1:1, penalties), and fought tooth and nail against Croatia (2:2, loss on penalties).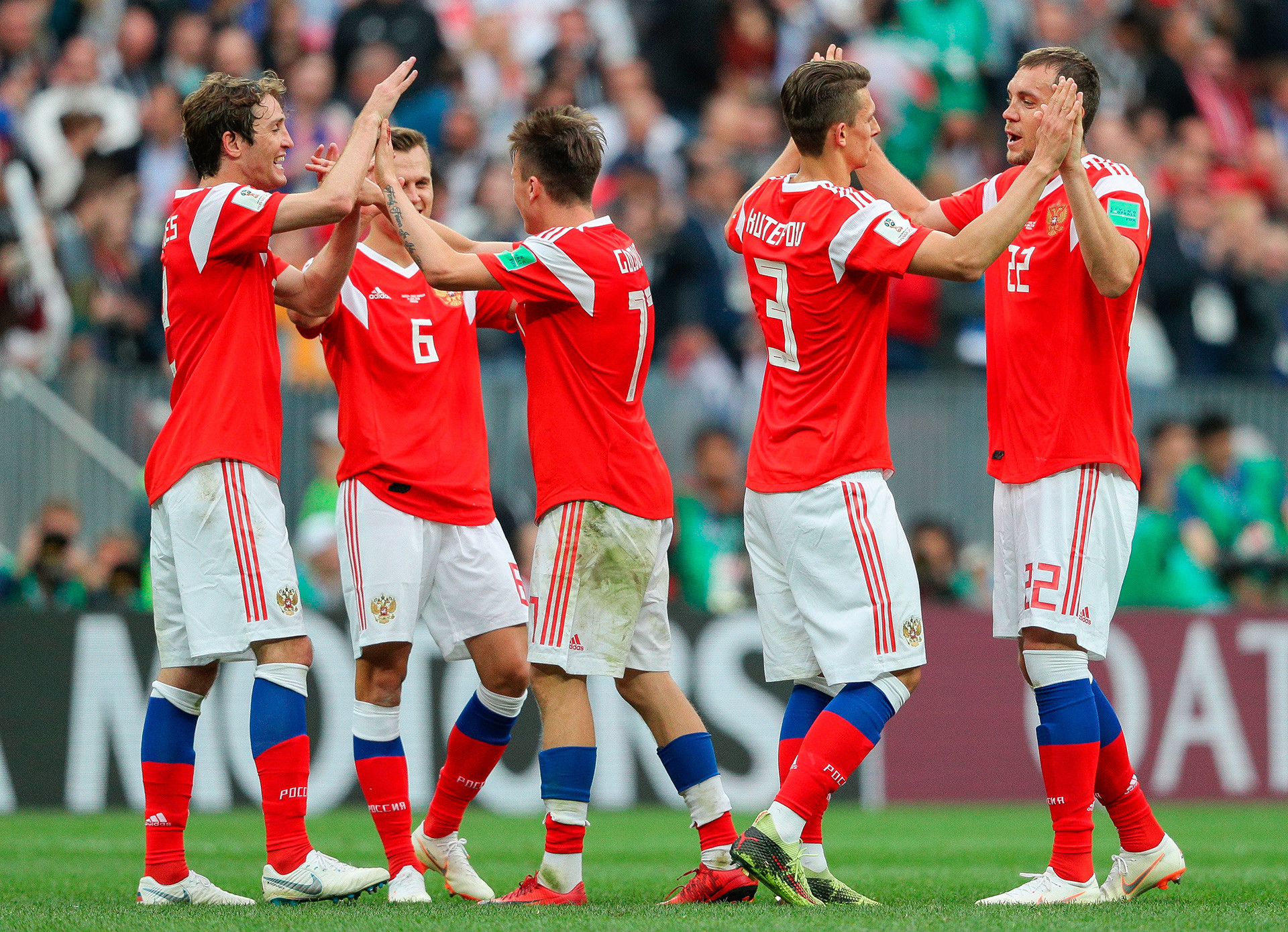 Russian footballers cheering after their match against Saudi Arabia.
Ramil Sitdikov/Sputnik
Seriously – this performance was a bolt from the blue; almost like Germany going home after the group stage.
2. Cherchesov changed tactics and showed real skill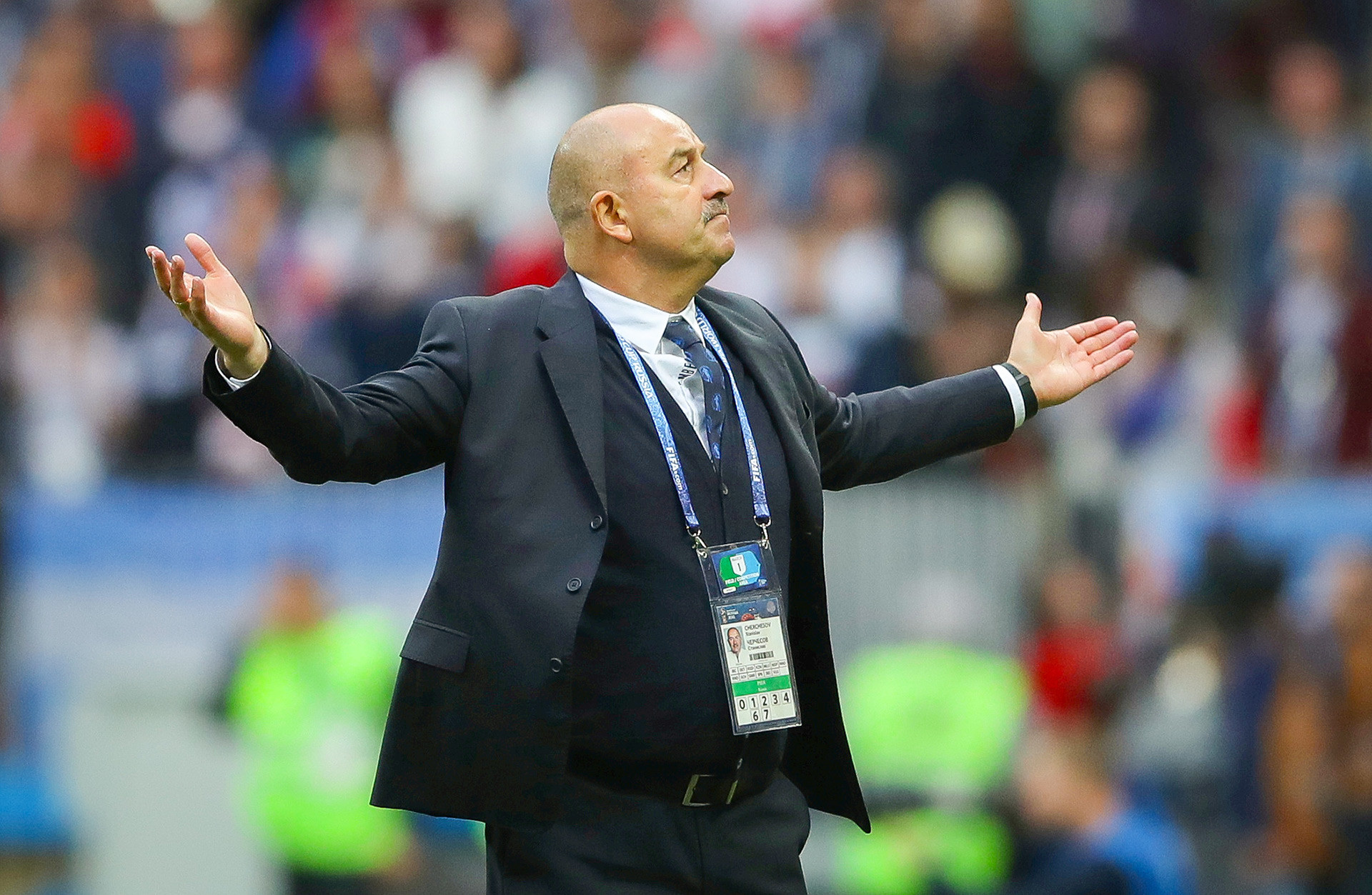 Stanislav Cherchesov cheering up the fans.
Reuters
After beating Egypt and Spain, Cherchesov and his players became national heroes. This was crucial for a coach who had been criticized so harshly that fans had organized a petition calling to fire him just days before the World Cup began.
In the World Cup, Cherchesov adopted tactics tailored to each opponent. "We used both high- and low-pressing with different teams; Cherchesov was very flexible in rotating the team and using different players," wrote Alexander Dorsky, another sports journalist. "His moves during the World Cup were far more sophisticated than ever before; as if it was a completely different Cherchesov."
Some people even suggest now that the poor results before the World Cup were the coach's cunning trick. Of course, it's hard to find out the truth. But one thing is clear – Cherchesov made history in Russian football and promised to do even better in 2022.
3. Team Russia had game, style and guts
Russia's footballers showed more than 100% of their skills on the field. Goalkeeper Igor Akinfeev took penalties from the Spaniards both with his arm and leg. Winger Denis Cheryshev scored 4 times – just as many as Cristiano Ronaldo. 38-year-old center-back Sergei Ignashevich (one of the oldest players of the tournament) spent 510 minutes on the field, making star forwards such as Mohammed Salah or Diego Costa invisible. Naming everyone would be impossible.
Moreover, Russia wasn't just winning – it was doing it with style. Take Artyom Dzyuba's gesture – a military salute with one hand serving as a helmet.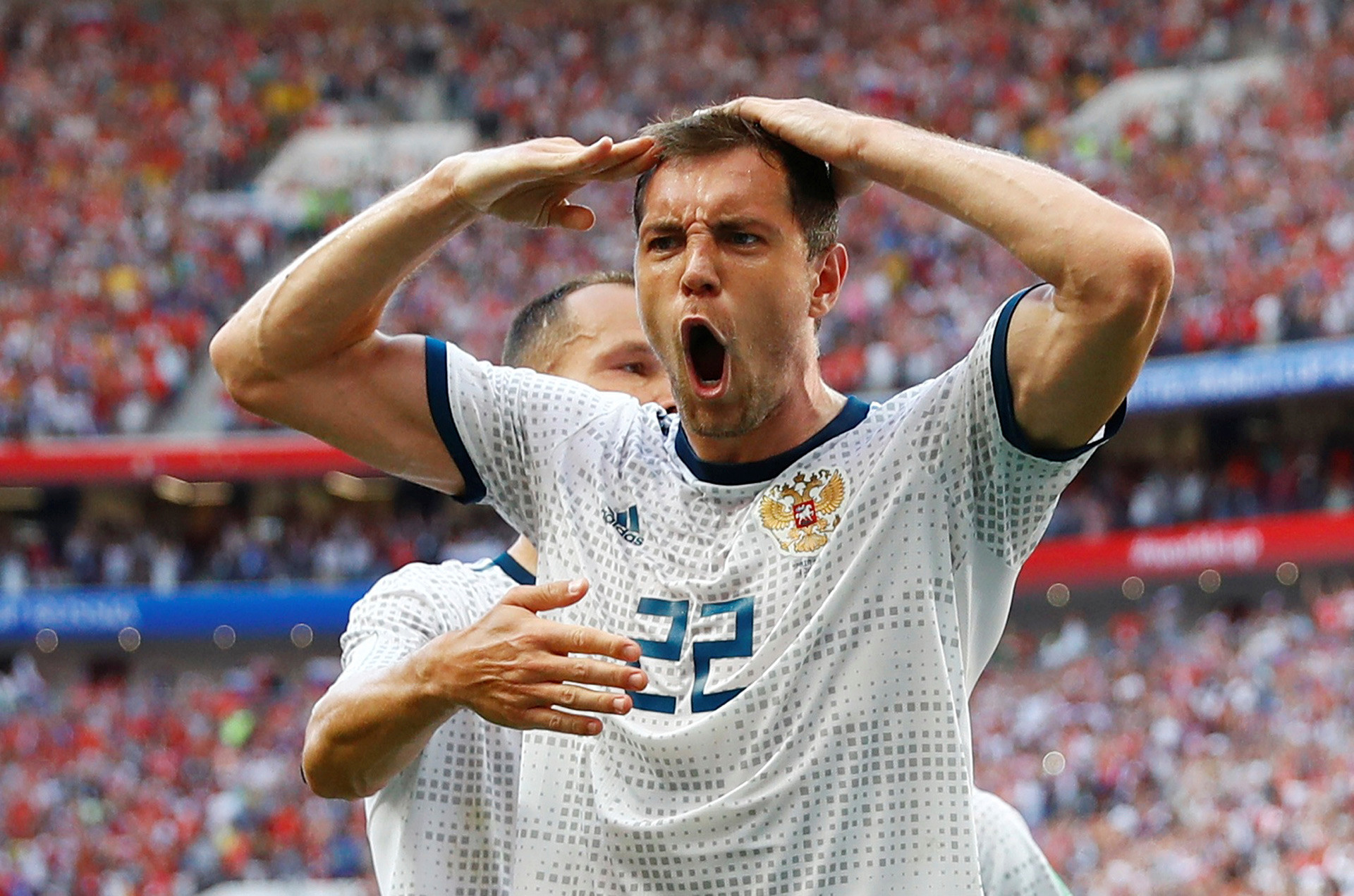 Reuters
(Cherchesov supported Dzyuba, making it kind of their thing.)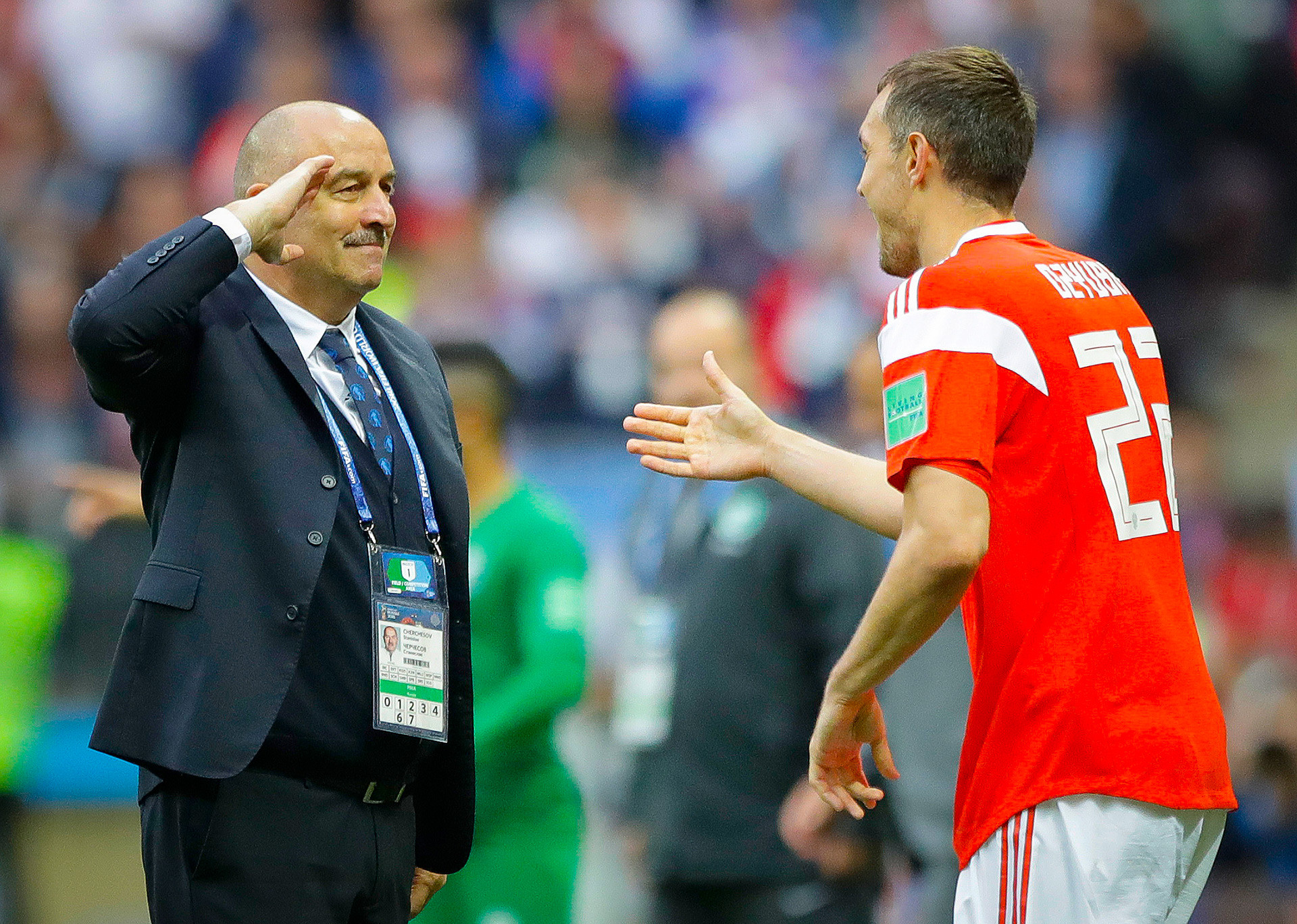 AP
Or this iconic moment with Akinfeev using his "leg of God." Yes, we mentioned it before, but it was so amazing that you must see it again.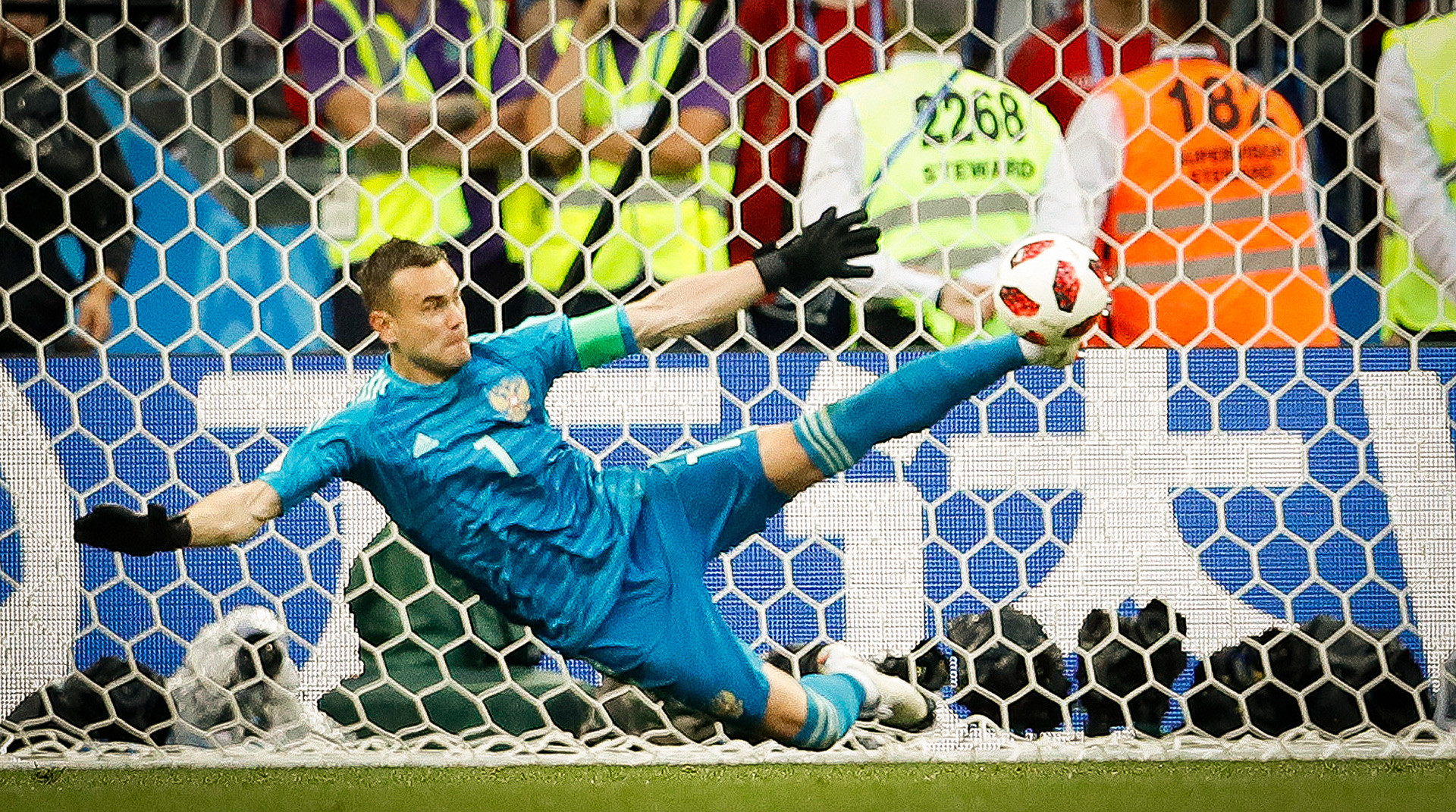 AP
On the other hand, how could they not be winning with such support?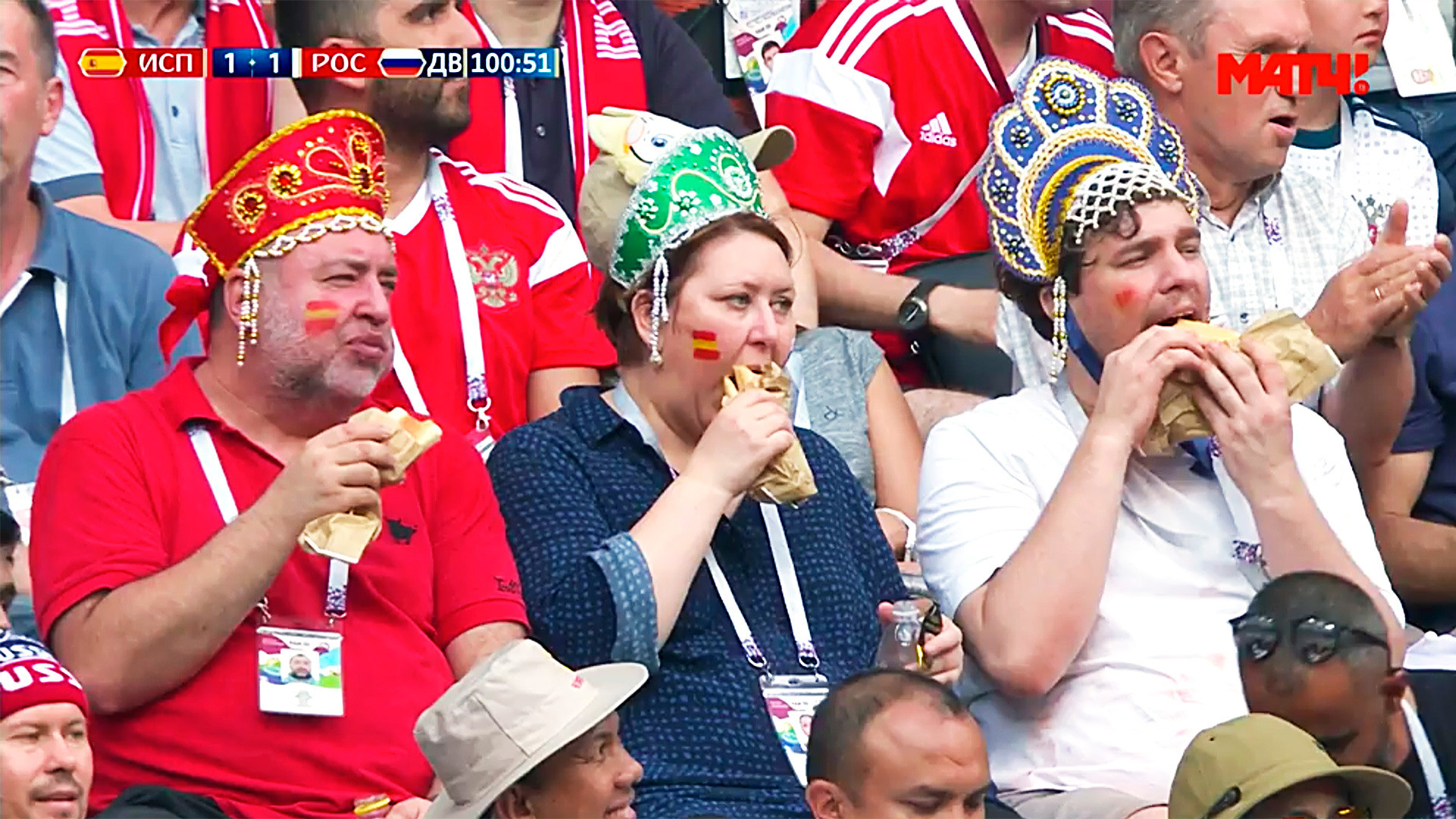 Russian fans in kokoshniks, Russia's national hats (well, sort of).
Match TV
It wasn't easy playing against serious opponents so sometimes Russia had to stay on the defensive for hours; the Spain-Russia match was hardly interesting for neutral spectators. But football isn't always about beauty; it's also about hard work, will and luck. And Russia in 2018 had it all.
4. Footballers and the whole nation became a family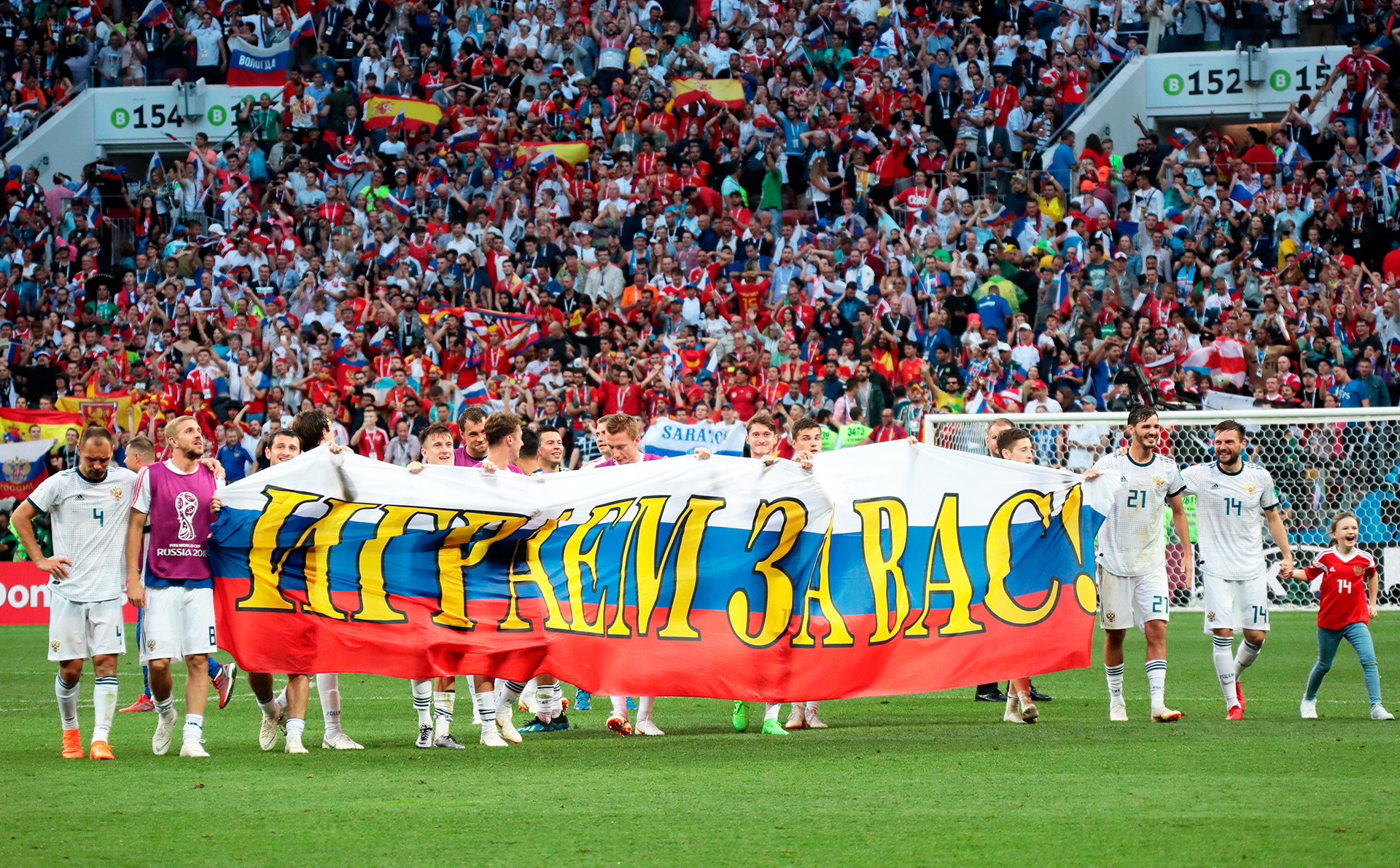 Team Russia's players carrying the banner "Играем за вас" ("We play for you"), addressed to the fans.
Vitaly Belousov/Sputnik
The Russian national team has had its share of scandals: players shouting at fans that they don't care about their expectations; parties with $280,000 champagne just days after a tremendous defeat, and so on. Well, there was nothing of the sort like this in the home World Cup, where players acted as one.
"I've never seen such inner discipline and camaraderie within the team. Everyone was communicating with each other. This may be a lame reason to be happy, but unity is what our team lacked before," Vladislav Voronin wrote on Sports.ru.
The players also felt united with the entire nation. After losing to Croatia, Artyom Dzyuba couldn't help but cry, saying: "All our lives we wanted to make you proud." And now the nation certainly is.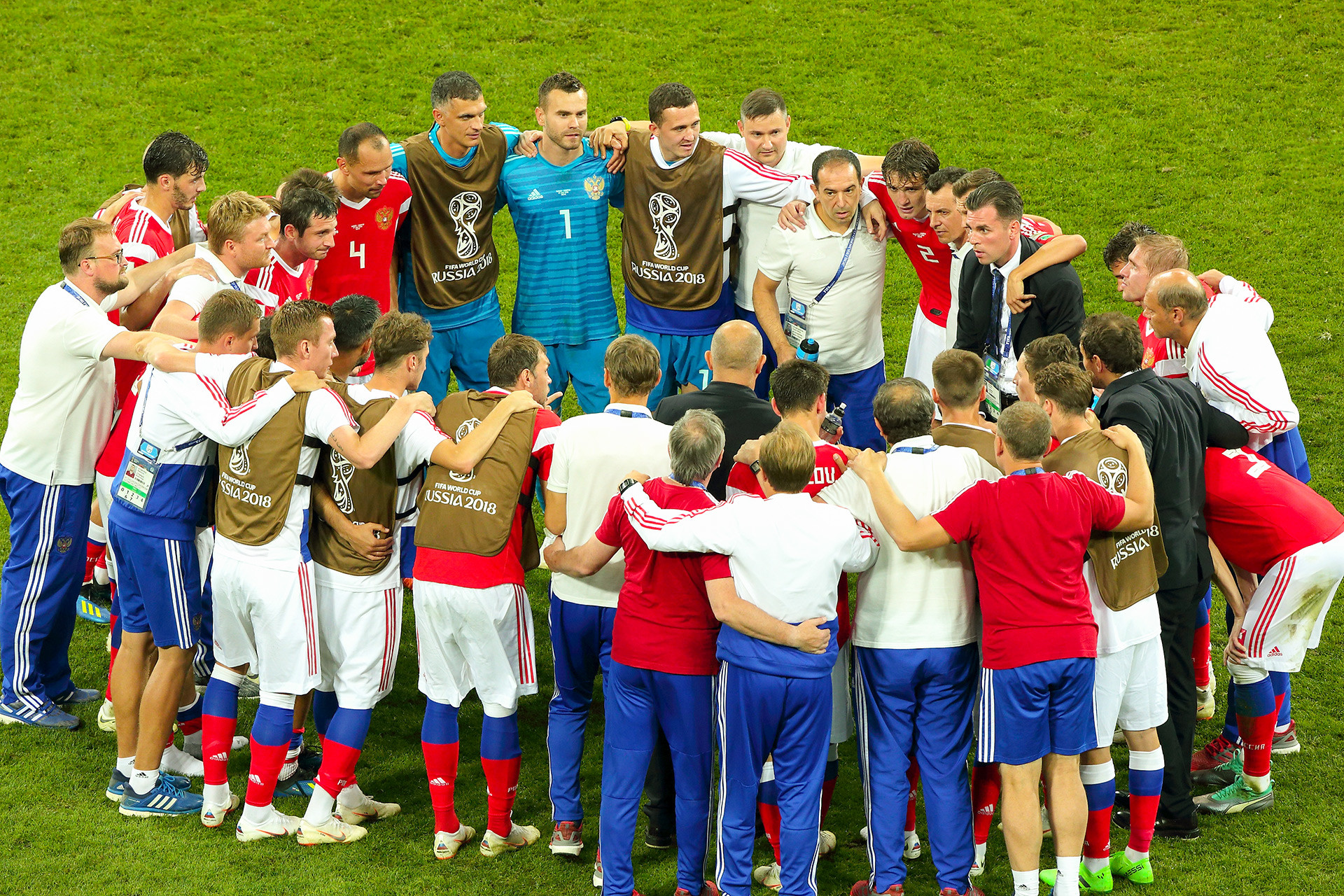 Team Russia before penalty series with Croatia. They lost but remain heroes for all Russian football fans.
Alexander Kulebyakin/Global Look Press
There is only one Russian team that possibly could do better in the World Cup: this one.
If using any of Russia Beyond's content, partly or in full, always provide an active hyperlink to the original material.