The ball Putin gave to Trump is not a listening device, says Russian secret service vet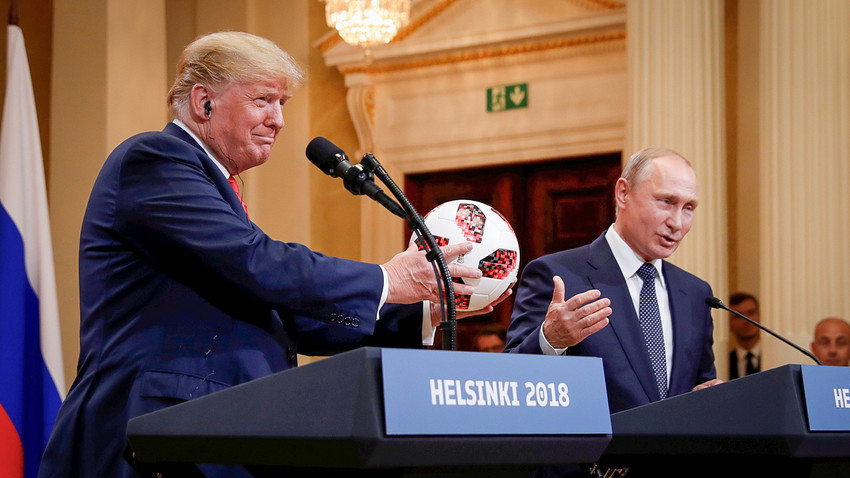 For the last week, American media, politicians and Internet users have been debating whether the soccer ball which Russian President Vladimir Putin has presented to President Trump is a listening device or not.
It may not look like the most trustworthy source to Americans, but a Russian secret service veteran commented on the event, saying "For information gathering, more complex technologies are used around the world. So there's no need to use a ball, moreover, a ball that was not produced in Russia."
So, how did the story unfold before that?
Senator Lindsey Graham tweeted ironically: "If it were me, I'd check the soccer ball for listening devices," while NBC host Jimmy Fallon warned the president there might be an electronic listening device inside, just like the famous Great Seal bug.
The jokes came out to be (partially) true – there actually is a device inside the ball. It's not very well concealed, though, as the Near-field communication (NFC) logo can be clearly seen on the ball. It comes with a transmitter chip embedded under the outer layer of the ball, and, as Adidas have explained on their website, allows players to access special information and games online after connecting and downloading an app. Adidas say the NFC tag cannot be modified and can only send information to an active device nearby, but not receive information.
Meanwhile, Bloomberg suggested the original chip "might have been removed, replaced with actual spy gear, or… the entire ball itself was fabricated for the event, and merely resembled the Adidas model in question."
As Digg.com rightly points out, "Putin's ball could be a vector for a cyber-attack... but so could just about any object."
Apparently, the only country whose journalists seem to approve of the gift is… France, winner of the very World Cup tournament the gift was used to promote. French newspaper Le Parisien called the ball "the symbol of a new wonderful agreement," while Le Point named it "the ball of friendship." Sing when you're winning.
If using any of Russia Beyond's content, partly or in full, always provide an active hyperlink to the original material.