Mikhail Lermontov: The man behind the genius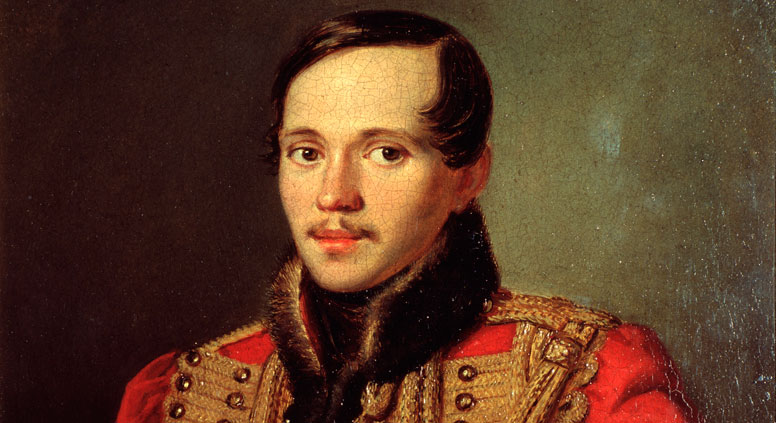 Portrait of the poet Mikhail Lermontov by Petr Zabolotsky. Source: FineArt images
Literature lovers know Mikhail Lermontov's poems and novels, but few are aware that he was actually a rather unattractive man with a terrible temper and a reputation as a troublemaker. On Lermontov's 200th anniversary, RBTH reveals five lesser known facts about the poet.
1. Lermontov came from an ancient but impoverished noble family
Just like Alexander Pushkin, who often complained that his ancestors were "shabby," Lermontov was frustrated by the low status his family name had among the nobility. The young poet was viewed with contempt by his richer, more elite peers in Moscow and St. Petersburg's noble circles, so he looked for at least a glimpse of "greatness" in his own past.
His father, Yuri Lermontov, did not know much about the family's background, but a legend had been handed down the generations that they were descended from the ancient Spanish Duke of Lerma. The legend inspired Mikhail, who chose Spain as the backdrop for early versions of his poem "Demon." But around 1830, Lermontov learned that his family's ancestor was a certain member of the Scottish Learmonth family who had served in the Russian military in the 17th century. Lermontov was delighted, as he could now imagine that he was related to the legendary Scottish laird and poet Thomas Learmonth, known as Thomas the Rhymer. Indeed, from that point on images of the northern Highlands and ancient bards started to dominate his poetry.
2. Lermontov was a notorious troublemaker
Raised as an only child by his grandmother, Lermontov grew up to be very spoiled – a trait that did not mix well with his sharp tongue and high level of education. He was forced to leave Moscow University after an altercation with a professor; during a philology exam, Lermontov answered that he knew more than the professor himself.
Later, in the Nicholas Cavalry School in St. Petersburg, he was held in the guardroom for bending rifle cleaning rods and tying knots on them for fun. In another episode at the same school, it was Lermontov's vanity that got the better of him; he tried to break in a young horse to show off his riding skills to other cadets, but the horse threw him, breaking his leg. As a result, the poet walked with a limp for the rest of his life. Lermontov's harsh jokes that did not spare even his closest friends, his mean caricatures and witty epigrams earned him the reputation as a spiteful and acerbic person.
3. Lermontov was not always a serious poet
Although he had studied philology, when he left Moscow University, Lermontov entered military service, enrolling in the Nicholas Cavalry School in St. Petersburg, a closed institution that trained cavalrymen for the Russian Imperial Guard. In this school, cadets were not allowed to read fiction, so they secretly created a handwritten magazine where everyone could publish their prose or poems.
The content of the magazine was generally frivolous – many cadets wrote erotic and scandalous poems, including Lermontov, who employed his poetic talents to create excellent examples of uncensored verse. Their popularity extended beyond the school to encompass the whole of St. Petersburg. Later, when Lermontov started publishing "serious" poems, many people in the city were scornful of them, remembering the frivolous nature of his "school poetry."
4. Lermontov was unattractive
Many of Lermontov's contemporaries noted that poet was not exactly handsome. He was a weak child and suffered from lymphadenitis (scrofula), which gave him reddish eyes even as a young man. Lermontov was not very tall; he had a big head, an upturned nose, a limp and even had kyphosis – a hunchback – that was often mentioned by his fellow cadets. His features were often mocked by his friends and the young girls he tried to impress. Lermontov himself only made things worse by his haughty demeanor and untidiness – sometimes his friends had to rip apart his shirt to make him change it. Nevertheless, as Lermontov grew older, he learned how to win the hearts of women with his brilliant erudition, imaginative thinking and eloquence. His poetic fame and the rumors of Lermontov's courage on the battlefield added to his romantic image, and he became a womanizer who broke plenty of hearts.
5. Lermontov was raised by his grandmother
Lermontov's parents had a disastrous home life; his father, Yuri, was unfaithful and reportedly physically assaulted his wife, Maria, during one of their many arguments. This led to an illness, and she ultimately died as a result. Maria's mother, Elizaveta Arsenyeva (born Stolypina), a very wealthy and influential woman, cut all ties with Yuri and decided to raise her grandson herself. She made sure that the two only had limited contact, threatening to cut the young Lermontov out of his inheritance if he went to live with his father.
Lermontov chose to stay with Arsenyeva, but, despite never getting to know his father well, fell into a deep depression when he died in poverty in 1831. Despite these tensions, Lermontov loved and obeyed his grandmother, who supported him financially and protected him throughout his life, using her wide connections at the imperial court. For example, it was her intervention before his first exile to the Caucasus that made sure he wasn't put on the front lines. However, in a twist of fate, it was his grandmother who indirectly led Lermontov to his death.
During his last stay in St. Petersburg in the winter of 1841, Lermontov tried to leave military service to devote himself to literature, but his grandmother insisted that he returned to his regiment in the Caucasus. On his way there he stayed in Pyatigorsk, where he died in a duel. Elizaveta Arsenyeva outlived her daughter and grandson. She died four years after Lermontov, aged 72.
All rights reserved by Rossiyskaya Gazeta.