President Emmanuel Macron will never forget (and forgive) President Vladimir Putin for meeting his archrival Marine Le Pen and thus endorsing her claim to power.
However, in his turn, Macron had received an articulate blessing from American ex-president Barack Obama and Vice-President of the European Commission Federica Mogherini.
Still, political preferences were defined by Macron much earlier. The "financial Mozart," as he was named during his tenure at the Rothschild & Cie Banque, made it clear that he was a EU-champion and NATO-advocate, supporting a hard-line policy toward Russia.
Starting from a low base
The initial phase in the relationship between Russian political analysts and media, on the one side, and candidate Macron including his sponsors and counsellors, on the other side - dating back to the turbulent election trail - has already been overloaded with suspicion and mutual blames.
Mounir Mahjoubi, serving as advisor to Macron, has upped the ante by directly accusing RT and Sputnik of collaborating with "all these fascist organizations or extreme right news organizations," which aimed to kill-character and tarnish the image of the "En Marche!" movement leader. The claims were later refuted by the RT press services and its Editor-In-Chief Margarita Simonyan.
Invoking the popular charge of the allegedly Kremlin-orchestrated official propaganda outlets and Russia-linked hackers spreading "fake news" and meddling in the elections in the West, Macron's team studiously followed Hillary Clinton's pattern of mounting a campaign against the anti-globalist alternative politicians.
The only difference between Macron and Clinton is found in the absence of insinuations in American democrat's narrative that media in Russia, a country that sacrificed more than 20 million of its citizens fighting the Nazis and eradicating a totalitarian regime on German soil, has collaborated with "fascist organizations."
What's more, Macron's campaign managers claimed that hackers, in particular the elusive group Fancy Bear - allegedly guided by Russian secret services - breached the "En Marche!" databases. Yet, as pointed out by L'Express journal, "it's next to impossible to prove categorically the link with the state."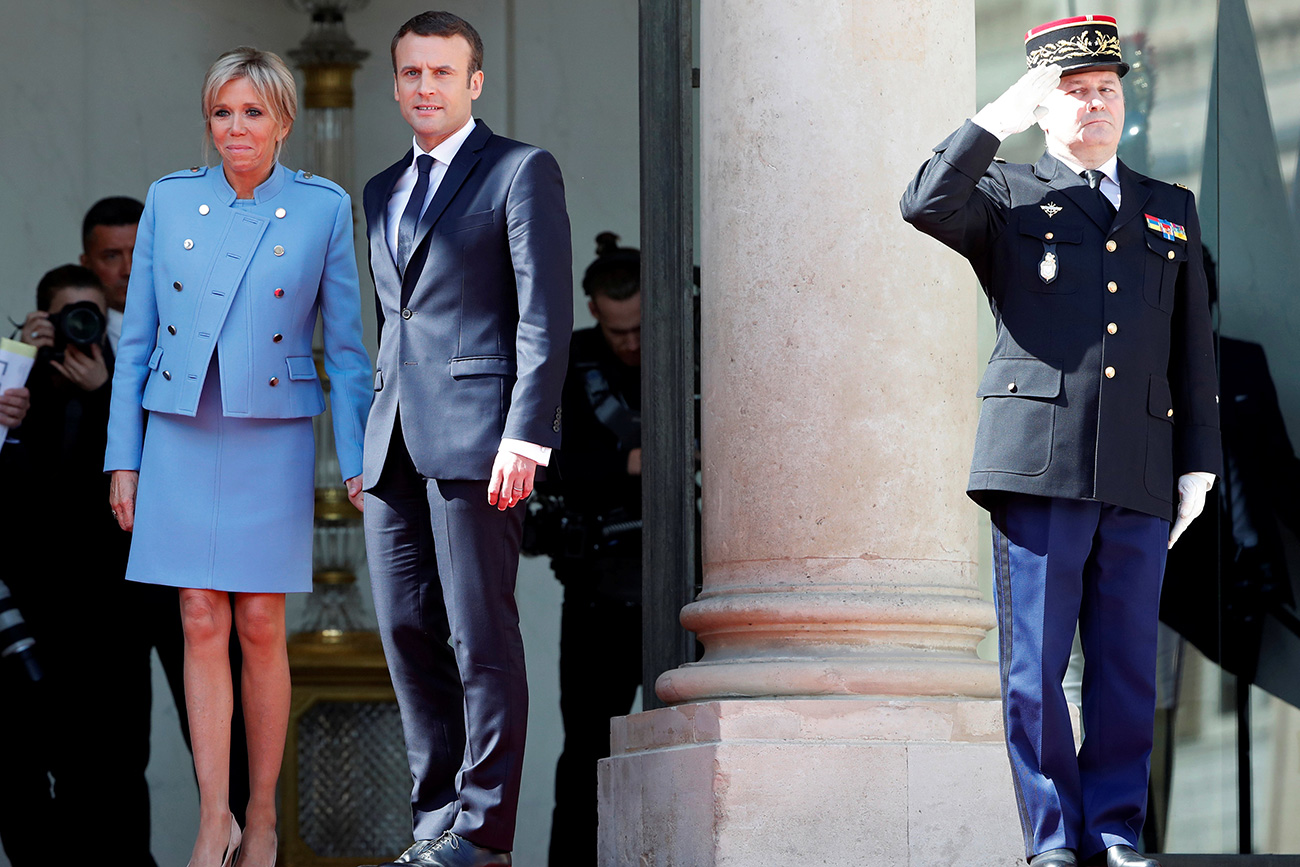 French President Emmanuel Macron and his wife Brigitte Trogneux stand on the steps of the Elysee Palace as former President Francois Hollande (not pictured) leaves after the handover ceremony in Paris, France, May 14, 2017. Source: Reuters
Olive branch neglected
Despite speculations in the French media that the Kremlin was conspicuously slow in congratulating Macron after winning residence in the Élysée Palace, Putin has sent a meaningful, carefully worded message.
The letter called on the 39-year old president of one of the oldest democracies in Europe "to overcome mutual distrust" in view of at least two evils confronting civilised nations with a leverage in foreign affairs. The rise of terrorism and extremism of all brands as well as internal conflicts that destabilize entire regions.
It seems that the Kremlin's sensible albeit opportunistic overture and offer to cooperate on international issues demanding a concerted response has left the new French president unimpressed.
However, it might be too early to pass judgment. Macron is in no rush to respond to Putin's olive branch proposal. He must live up to his image of a strongman ready to talk tough and act tough, which is almost imperative for a neophyte who unexpectedly found himself in Charles de Gaulle's shoes.
After all, Macron has played hardball already by saying: "I will not let my behaviour be dictated by Mr. Putin. We will not submit to Russia or Mr. Putin's values."
True, it's unlikely that Mr. Putin shares Macron's globalist values. As one French citizen who posted a comment in Le Figaro magazine stated: Macron will "bring us directly to chaos as a result of the loss of the social security system, loss of identity and European culture, and our deep attachment to our nation!"
Nevertheless, Macron admitted that he would maintain "an independent" ("independent" from whom?) and "constant" (meaning, no shutting down of the French embassy in Moscow?) dialogue with Russia. A sigh of relief would be appropriate here.
France run by a woman?
It remains essential, Macron also said, to engage with Russia in tackling particular regional conflicts like the one in Ukraine and Syria. These are exactly the hot potato topics discussed by German chancellor Angela Merkel with Putin during her unprecedented visit to Sochi in early May, her first trip to Russia in two years.
First, Merkel would not like the government in Kiev, becoming more fidgety and apprehensive of its survival chances, to launch a military offensive in Donbass. It would destabilize the continent and adversely affect the atmosphere around her election bid.
Second, Merkel who is running for a fourth term in September must have secured a neutrality stance toward Moscow. She might well convert it into votes for her candidacy on the part of the 2.5-million-strong Russian and Russian-speaking community in Germany. Lately, this community has become more aware of its ethnic and cultural roots projected on political leanings.
For the new French president this re-adjustment of the German foreign policy would mean, at least, toning down anti-Russia rhetoric and "following the leader" – but which one?
Faced by multiplying internal problems (slow growth, un-absorbable migrants, rise of crime, and intolerance, etc.) and after Brexit, the triangular shape of the European Union would be most likely replaced – to preserve governance – not by a Berlin-Paris axis or tandem, but by dominant German executive order. New order.
Marine Le Pen's prophecy that "in any case, France will be led by a woman: Either me or Mrs. Merkel" looks like a sound judgement.
'François Holland 2.0'
Given the hypothesis by French analysts that "project Macron" was masterminded by François Holland to ensure continuity, it would be premature to expect radical policy alterations, if any.
The French Left, whatever remains of their credibility with the electors, have long exploited accusations of Russia and its leadership in order to distance themselves from the old-time Communists, as if they were fighting a war of yesteryear.
It does score less and less propaganda points today, as manifested by the rise of the "alternative" counter elites and politicians. Yet, the ex-socialist Macron will find it hard to abandon these mantras. Thus he will prove to be just a "François Holland version 2.0."
Macron will not be a game-changer. Just as Hollande whose pre-election slogan "Change is now" ("Le changement, c'est maintenant") has become a standing joke about, as polls indicate, the worst president of the Fifth Republic.
Along with natural expectations of a better future with a new face in power and politics, a certain segment of French voters are pessimistic. Like Nadia Charief who wrote in Le Figaro: "I do not think that our country will rise with the proposals by E.M. On the contrary, the rich will become richer while the middle class and the most destitute will become even poorer."
* * *
As France comes to realise the true choice in politics capable of ensuring sustainable growth, thoughtful adjustment of the reputed social security, and preservation cultural identity, the nation will undergo another round of soul-searching and re-invention.
It will be invariably reflected in the balance of power and electoral appeal of both the old political class and the rising counter elites.
Ergo: For the moment, the Kremlin would better cultivate restraint and patience. Restraint and patience… (repeat it once again).
The article has been updated to reflect that the accusations of Mr. Mahjoubi were later refuted by the RT press services and its Editor-In-Chief Margarita Simonyan.
If using any of Russia Beyond's content, partly or in full, always provide an active hyperlink to the original material.