6 survival tips for foreigners at Russian food markets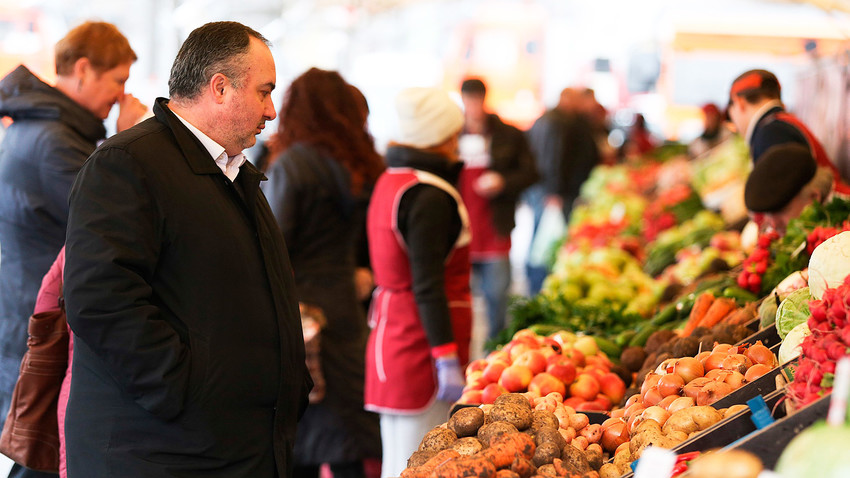 Have you ever been to Moscow food markets?
Moskva Agency
These places can be daunting and confusing, so Russia Beyond is on hand with some advice to make sure you get what you came for.
Russia - and Moscow - has many great food markets where you can buy a wide range of local and foreign food, and also meet friends. Below are a few tips to help you out, and some useful phrases. Enjoy.
1. Become friends with a seller
If you visit a particular market more than once then you'll be able to get pally with the sellers and you might even get discounts. "It's better to buy from one seller all the time and establish contact with him," advises Muscovite Darya Sokolova.
Friendly sellers can give you tips about where to buy the finest goods and may even keep some of their finest goods just for you. Many buyers and sellers have known each other for years.
You can also ask locals about the best places to buy different products. In Moscow, for example, it's recommended to buy meat at Dorogomilovsky market (Kievskaya Metro), there are great fruits and vegetables at Moskovoretsky market (Nakhimovsky Prospekt Metro), and the freshest seafood at Cheryomushinskiy market (Akademicheskaya Metro).
Helpful phrases: "Vy mogli by posovetovat, gde luchshe kupit myaso/ovoschi/frukty?" ("Could you advise where is better to buy meat/vegetables/fruits?"); "Po kakim dnyam u was zavoz?"("When do you receive fresh food products?").
2. Always check the price
"Trust, but check," goes one famous Russian proverb. Low prices can be tempting but always ask yourself why they are low. There may be a catch.
Don't be shy about taking your own scales to the market. In some Russian shops and supermarkets you'll need to find the so-called "checkweigher" ("Kontrolnye vesy" in Russian) who will measure things out for you.
Helpful phrases: "Skolko eto stoit?" ("How much does it cost?"); "Eto za odin kilogram?" ("Is it for one kilogram?").
3. Try to choose and pack food yourself
Food markets are good because food is sold by weight so you can buy small amounts of rare spices that usually come in large packs. Things like nuts, herbs, fresh fruit and veg can all be selected by the buyer, so you can choose the freshest apples etc.
Helpful phrases: "Mogu ya vybratj yabloki sam?" ("Can I choose the apples myself?")
4. Discuss the best price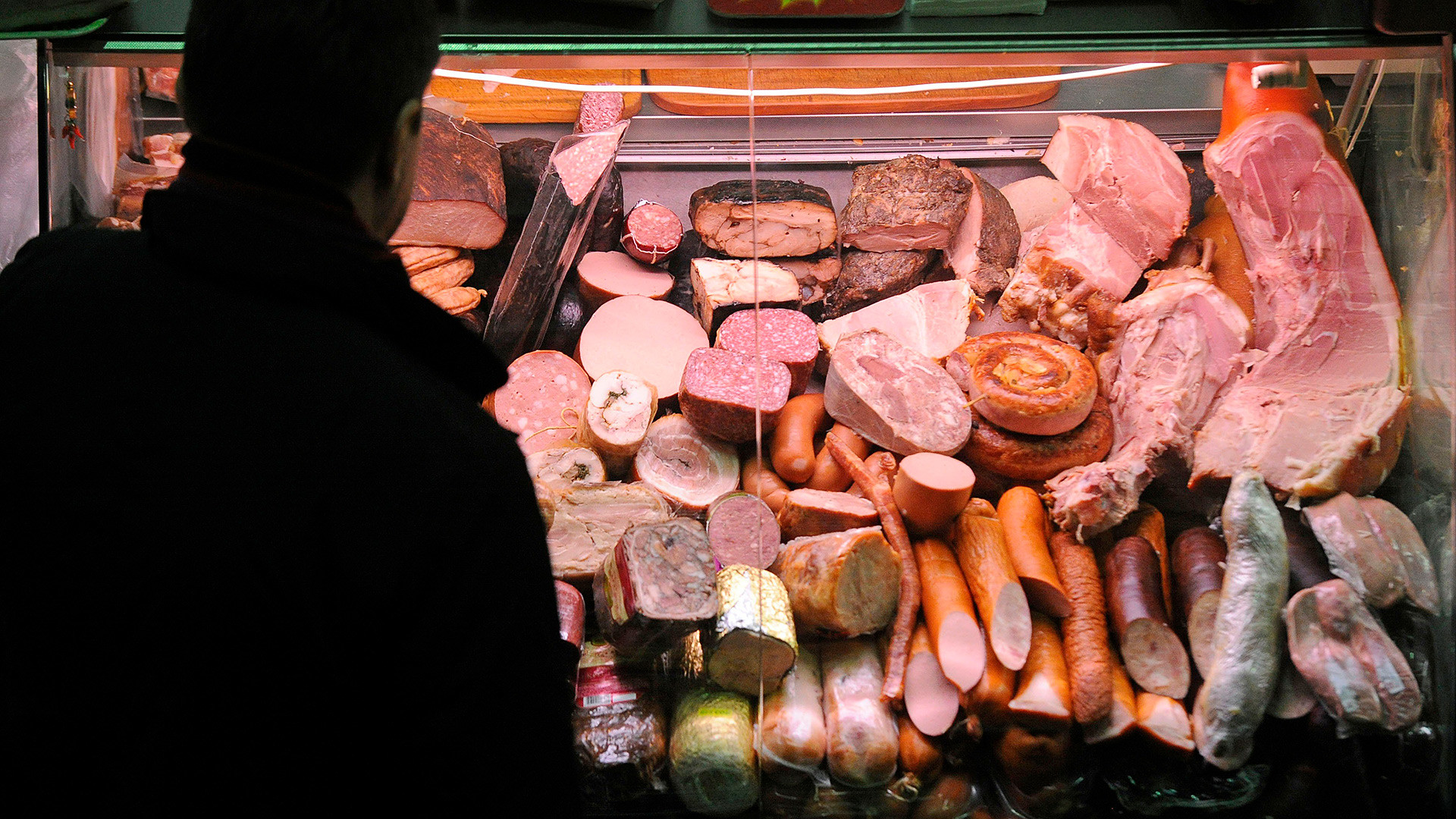 Always check the price.
Moskva Agency
Aside from regular markets, many cities organize weekend and festive markets where local farmers or growers from neighboring regions sell their food. In Moscow, there are weekend markets in almost all areas of the city, but the largest is organized on Prospekt Mira (Prospekt Mira Metro). You'll be able to find incredibly fresh produce at these places straight from the fields. You can also barter with each seller. The tradition of bargaining in Russia is not as developed as in the eastern countries, but the seller can make a good discount if you buy goods wholesale, or arrive late and grab the leftovers. The main thing is to be polite and smile.
Helpful phrases: "Mozhno li podeschevle?" ("Might you sell it cheaper?"); "Eto ochen dorogo dlya menya" ("This is very expensive for me"); "U menya net stolko deneg s soboi" ("I don't have enough money").
5. Don't forget cash
Many private sellers do not accept credit cards and Apple Pay. Make sure you have enough Russian rubles. And of course, keep eye on your wallet. A market is a market, so petty thieves may be on the lookout.
Helpful phrases: "Ya mogu zaplatitj kartoy/nalichnymi?" ("Can I pay by card/cash?"); "Sdachi ne nado, spasibo" ("No change, thank you").
6. Try new cuisine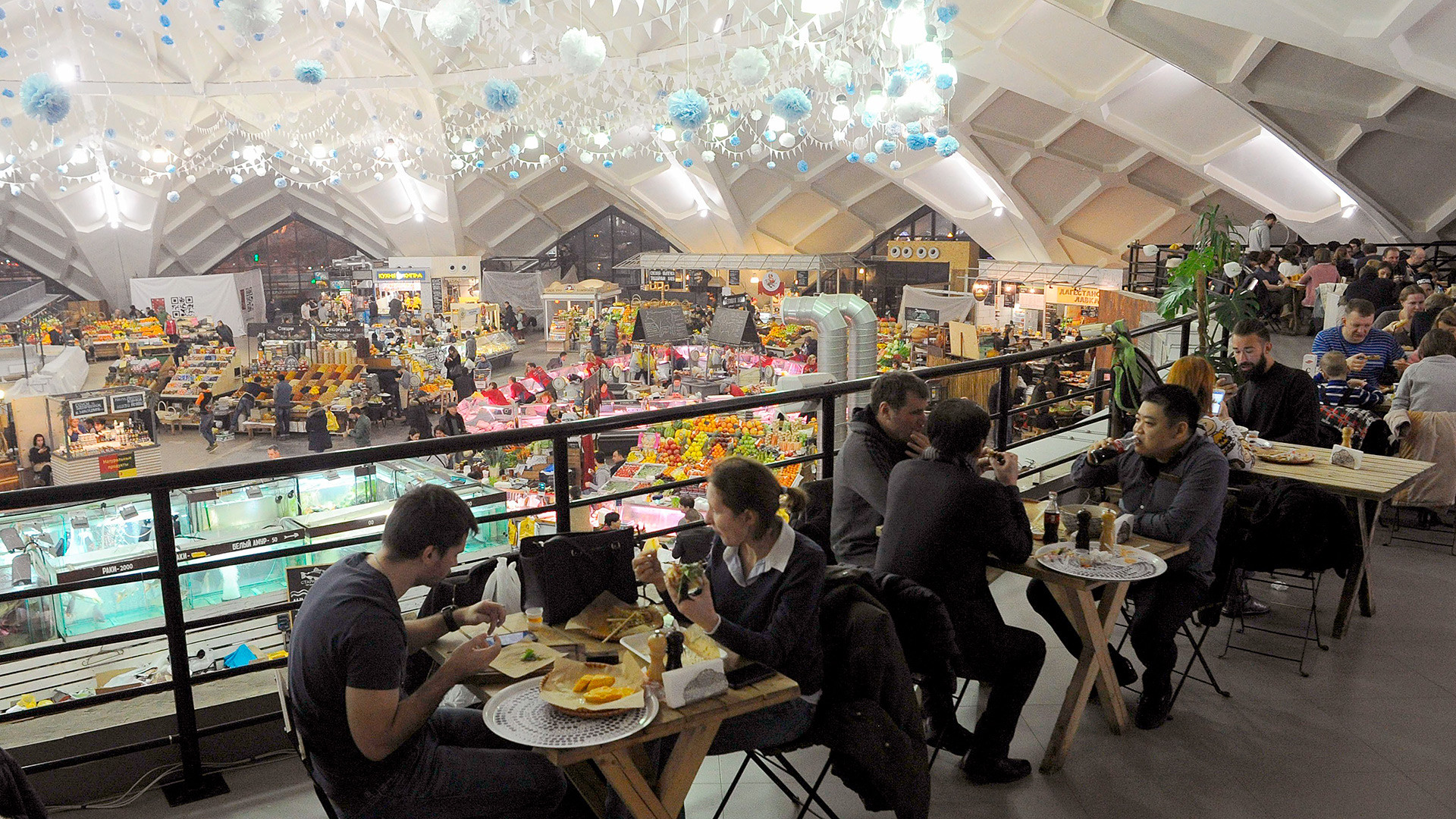 Markets become new places for brunches!
Moskva Agency
Some old markets in Russia have now become really trendy places so don't be afraid to visit the market's food court. Take, for example, Danilovsky market (Tulskaya Metro). Muscovites often complain about high prices but it's undoubtedly one of the best places to buy Vietnamese Pho soup, Moroccan hummus and peanut butter.
"This place evokes a sense of pleasure - esthetics, energy, taste," wrote Internet user Yanina Volkova on Facebook. "The food court impresses with its variety - hamburgers, oysters, soup with crabs' claws, khinkali, pelmeni, noodles, steaks, Armenian food, Cypriot food, my favorite Vietnamese food! A kind of oasis!"
Helpful phrases: "Mozhno mne sup pho?" ("Can I have the Pho soup?"); "Chtou vas samoe vkusnoe?" ("What do you have that's tasty?"); "Spasibo, bylo ochen vkusno!" ("Thank you, it was awesome!").
If using any of Russia Beyond's content, partly or in full, always provide an active hyperlink to the original material.