Local fish, homemade liqueurs and historical recipes from Imperial times - St. Petersburg offers an extravaganza for foodies.
1. Russian Vodka Room #1
Russian Vodka Room #1, which celebrates its 10th anniversary next year, recreates the atmosphere of a 19th century aristocratic restaurant. "Discreet and genteel, this restaurant is a venue straight out of one of Chekhov's stories," said Roque Hernandez, a San Francisco-based independent filmmaker, who dined there in August.
"It's the perfect place to try various vodkas and home-brewed liqueurs. Their starter platter featured four types of smoked fish — omul from Lake Baikal, and sig, a whitefish from Russia's Far East. A memorable main course is fried pike-perch from Lake Ladoga, served with mashed potatoes."
Foodies will be pleased with the variety of starters and salads (if you're still new to Russian cuisine, just take two traditional vodka snack sets); and culinary history lovers can visit the Vodka Museum next door.
2. Dom
Dom is strategically located near several five-star hotels and just three minutes walk from St. Isaac's Cathedral. Offering "new Russian gastronomy," this restaurant is situated in a historical building, the former headquarters of the Russian-American Company, which played a key role in Russia's exploration of Alaska.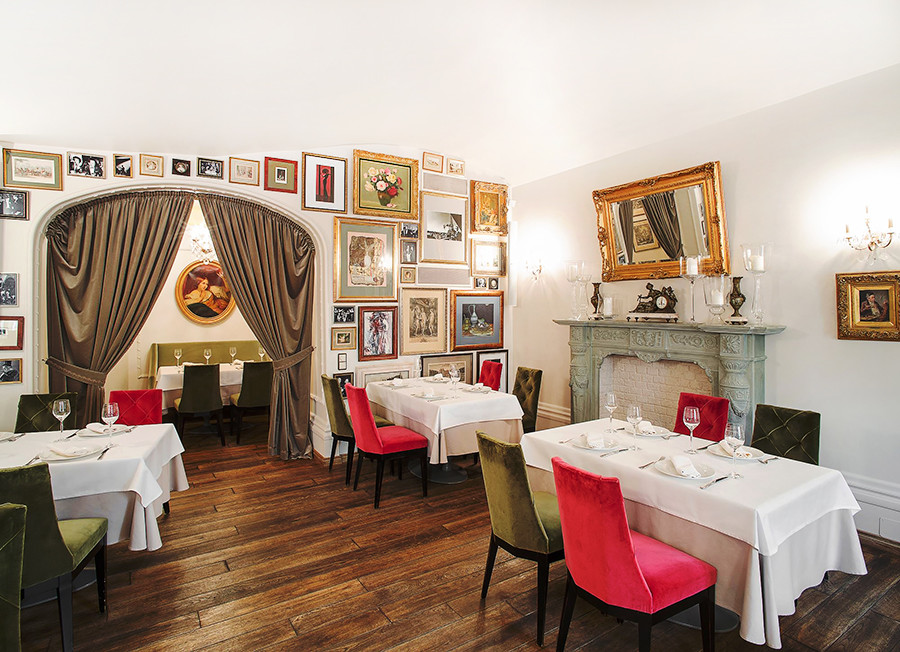 "Decembrist Kondraty Ryleyev lived here when he was head of the Russian-American Company," said food critic Natalia Kapiturova.
"Today, the kitchen is located where his bedroom was. The new owners tried to preserve the aristocratic spirit. I recommend the pelmeni, cherry vareniky and ukha (fish soup) served with a shot of vodka. This is a rare place where you can find the original recipe of Olivier salad with crayfish tails."
This year Dom won the Traveller's Choice award on Tripadvisor, where users constantly compliment the desserts "Anna Pavlova" and "Napoleon".
3. Koryushka
Koryushka is named after the Russian word for smelt, which locals consider the queen fish of the Baltic Sea. When the season starts in late April koryushka is sold everywhere, even on the streets, and everyone recognizes it by the smell of fresh cucumber. In addition to fish, the restaurant offers a wide choice of Georgian dishes.
Sven Backhaus from Germany paid a visit with his Russian girlfriend because he knew it had a beautiful view on the Neva River and the Hermitage Museum.
"This restaurant serves smelt all year, not only in the spring. We ordered a few dishes - khachapuri, kharcho soup, smelt and aubergines; and all were delicious!" he said.
You can't miss Koruyshka if you visit the Peter and Paul Fortress, which is located on the island where the city was founded in 1703. Sven also liked the atmosphere inside, and "the friendliness of the staff, including the driver of the little car that belongs to the restaurant, and who brought us from the wooden bridge right to the doors."
He recommends visiting other places that belong to the same restaurant chain – "Tsar," "Moskva" and "Katyusha."
4. Yat
Yat is an archaic letter in the old Cyrillic alphabet that the Bolsheviks modernized in 1918. The founders of this restuarant strive to find the best recipes from the Imperial era. "This place totally avoids any kitsch, which is common for many centrally-located restaurants offering Russian food," said Anastasia Shevchenkova, who works as a tour guide.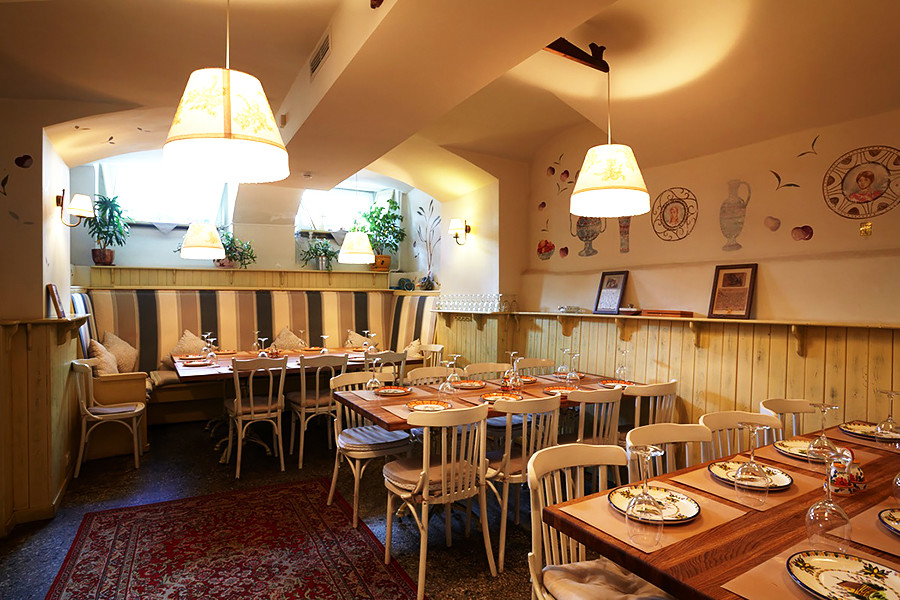 "Traditional dishes are made from high quality local ingredients, but I recommend the a la carte menu, and not the touristic one. Try at least one of the numerous homemade liqueurs! Horseradish or ginger-honey; they are all authentic," continued Anastasia. "As a vegetarian, I always order pancakes with mushrooms."
There is also a special tea room with cozy pillows, toys for kids and real rabbits.
5. Stolle
Stolle is a chain of cafes famous for a wide range of dinner pies. It opened 15 years ago on the Vasilievsky Island, which historically was home to the city's German community. That's why the name harks to the Saxon Christmas cake, "Stollen." Today, they have 21 locations in the city, as well as cafes in London and New York.
Lisa Mealoy from California recommends Stolle as a place for a quick lunch: "Despite the daunting task of choosing from the wide variety of pies, check the menu for soups and starters. The borscht is outstanding, but so were all the other choices. We came with a big group. When the pies arrived – gorgeous, handcrafted, hot and golden - they were unlike anything we had ever tried before, and so tasty! The green onion was my favorite."
If using any of Russia Beyond's content, partly or in full, always provide an active hyperlink to the original material.