"Have you already tried Ussuriysk solyanka?" Katya asks as we drive to eat raw scallops on a remote farm in Vladivostok.
"Nope, what's that?" I asked. "That is a must!" she said and we run to the nearest food store. Here are some of the most authentic dishes that you should try in Vladivostok.
1. Kamchatka crab - local delicacy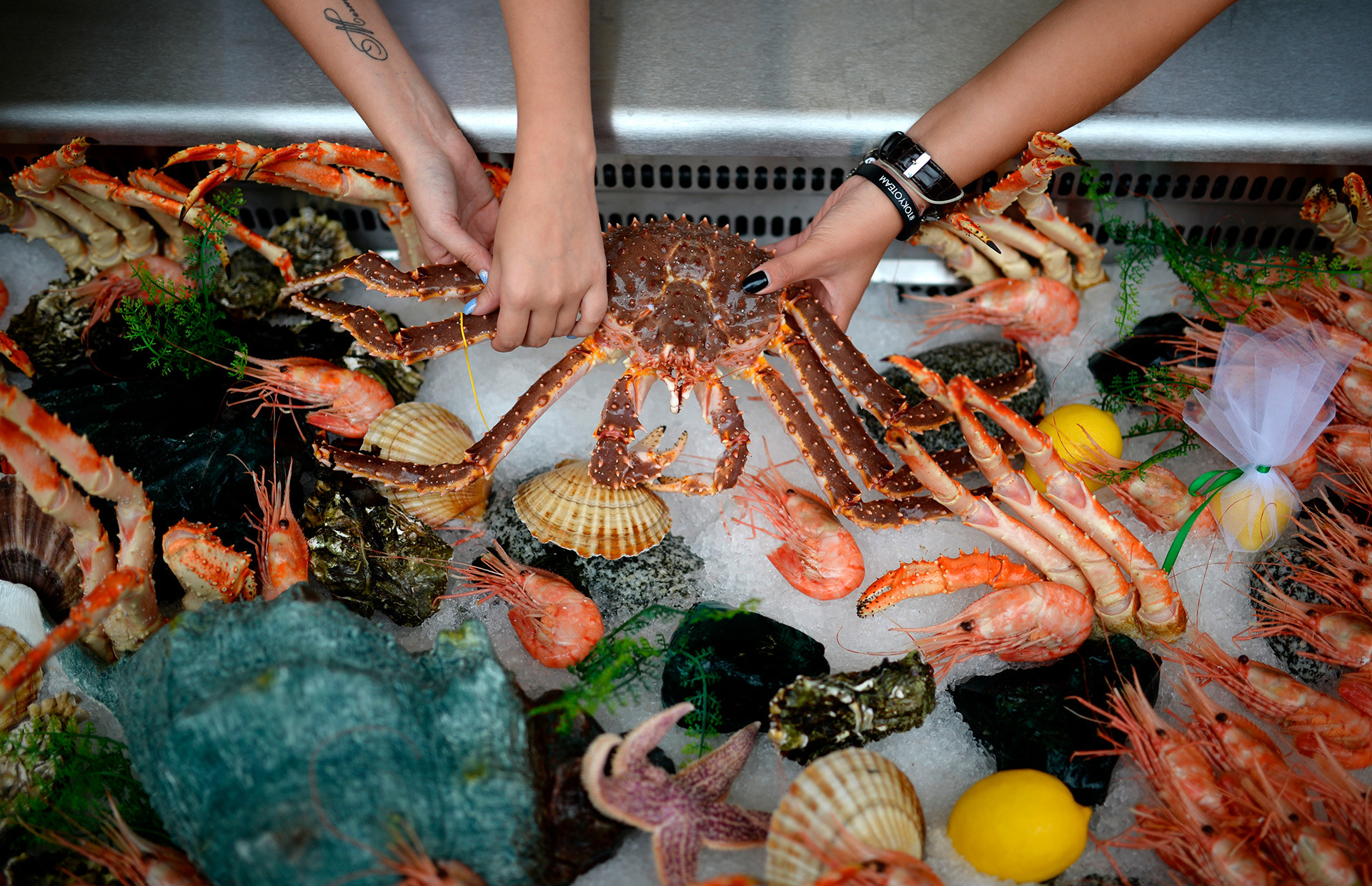 While this crab is called 'Kamchatka' this doesn't mean that it lives only by the Kamchatka Peninsula. Also known as red king crab, these magnificent creatures live in the Sea of Japan that washes the shores of Vladivostok.
Restaurants here suggest boiling or steaming an entire crab, but we advise ordering it only if you are two or more persons - it's really big! This is an experience that all Chinese tourists are having here.
If you don't want to deal with cracking the crab legs, however, there are many other dishes with crab: pastas and noodles, salads, as well as boiled or grilled cleaned legs. In any case, the crabs are cooked from the tank and aren't frozen, which is probably the secret of their fresh taste. For sure, it can't be compared to the fake crabsticks that most Russians are used to.
Where to find: Zuma restaurant, Pyaty Ocean, Ogonek, Novik Country Club
N.B. On Sept. 17-27, 2018, Vladivostok's restaurants are holding the International King Crab Festival, 'Grab a Crab.' Isn't this a good reason to come to Russia's Far East?
2. Scallops – sacred local food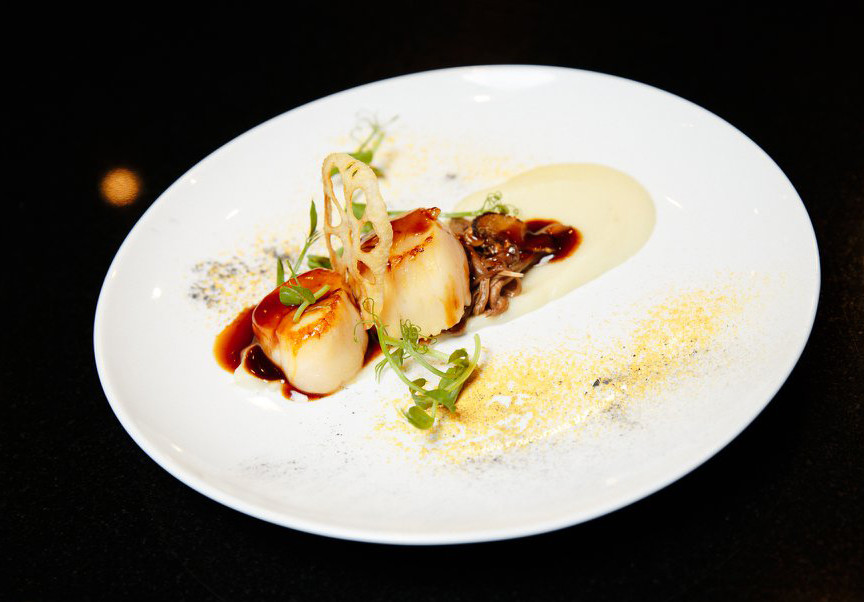 There are many scallop farms in Vladivostok's small bays, and this food is one of the most beloved by locals. It doesn't matter which way you prefer eating it – raw, grilled or baked – all of them are perfect.
Try at least one raw scallop with a drop of lemon or soy sauce. Some restaurants serve live scallops in shells, and they move and seem to breathe. If you dare clean them – order them; it will be cheaper sometimes. Scallops have a pleasant sweet taste, which is a little weird for seafood. You can also order scallops baked with other seafood; halibut for example, or a plate of mixed seafood.
Where to find: Port Cafe, Shturval, Vysota, Palau Fish, Zuma

N.B. On July 1-16, 2018, Vladivostok celebrates its Festival of Far Eastern Scallops – catch them all!
3. 'Pyanse' – street food with a Korean accent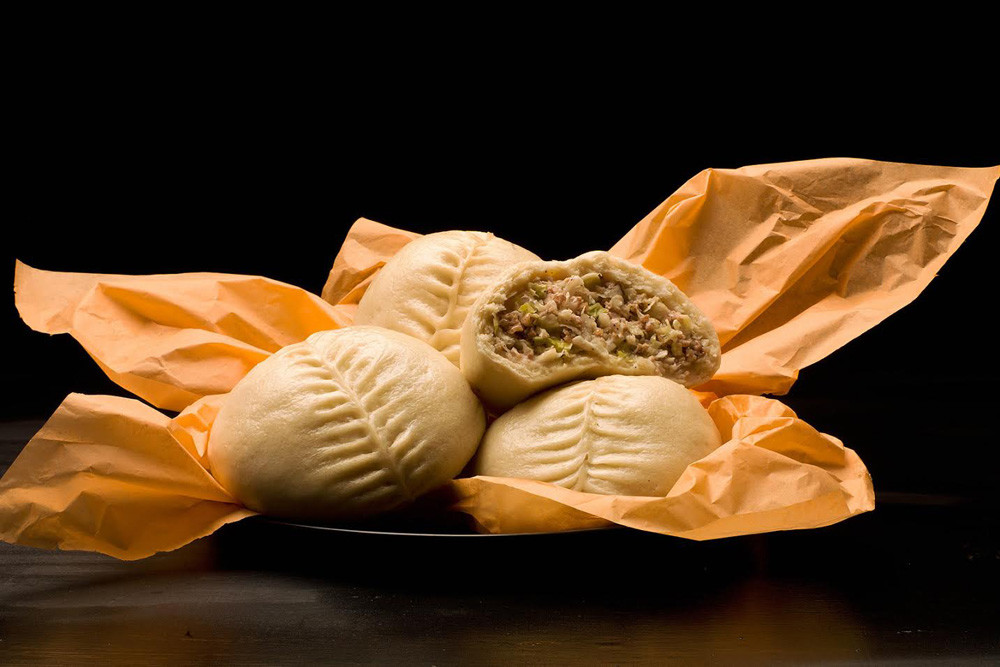 vladivostok.travel
This is a Russian Far Eastern variation of Korean cuisine, and even its name has roots in Sakhalin's dialect of the Korean language. Pyanse became popular about 20 years ago; locals say it replaced Soviet fast food – pies with whale meat, and fish chebureks (deep fried filled pies).
Pyanse is a steamed filled pie, or pirozhok, as we call it in Russian. The filling is usually stewed cabbage, meat and spices. We should warn you: it's a fatty and high-calorie food; but it probably will be a proper quick lunch for those who jump around tourist paths and Vladivostok's hills.
Where to find: Shiraz Mazzeh Kebab on Yubileyny Beach, or any of the small red food courts around the city
4. Sea cabbage with calamari – snack from the supermarket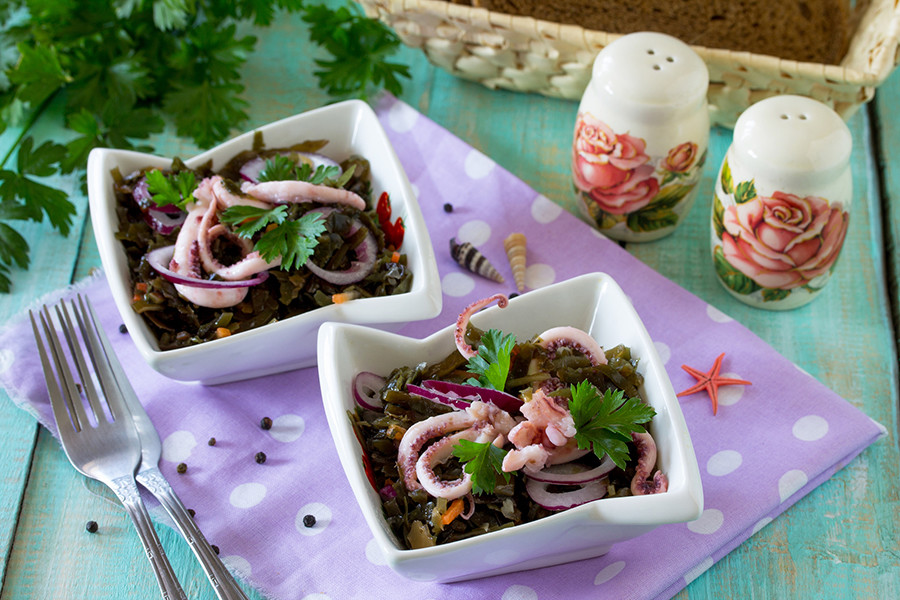 Legion Media
Ussuriysk 'solyanka' is something you won't find anywhere else for sure. If you need to have a quick lunch at your hotel or apartment, this will do the trick. All locals eat it often and strongly recommend it.
Actually, it's just a salad made from sea cabbage, chopped calamari, onion and carrot. As Russians use stewed cabbage to make solyanka, this is a Far Eastern take on solyanka. Its salty and iodine taste is something that you will not find elsewhere, but it is a fresh and nice snack.
Where to find: Rybny Ostrovok food store
5. Sea cucumber (Cucumaria or 'trepang') – the weirdest thing you've ever tasted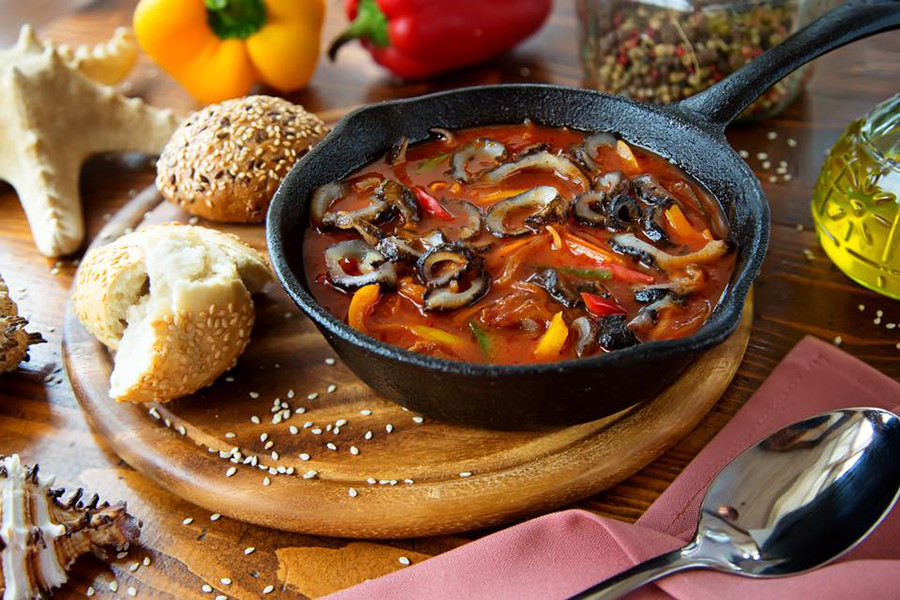 Vladivostok is one of those rare places where you can try this dish, and if you like to taste authentic local food, don't miss this one.
Sea cucumber is actually not a vegetable, but rather it's a sea floor animal. Maybe we didn't get lucky because it was challenging to chew due to its muscular texture. You can either buy sea cucumber in the food store, or order its restaurant version, which is frequently fried with chicken, pork or vegetables.
Where to find: Seven Feet, Svoy, Rakvon, Melnitsa, Pyaty Ocean

6. Primorsky candies – sweets from local natural ingredients

This is another symbol of the Far East and a frequent souvenir that Russians take from Vladivostok. These candies are famous for their natural thickener, agar, which is produced from algae. Candies are also known as ptichyemoloko ('bird's milk') and its analogs are widespread across the country.
Be careful: there are three tastes: lemon, vanilla, and rum and almond that are unpredictably mixed in the box… But all of them are delicious. We advise candies as a snack for the famous local Ussuriysk balm.
Where to find: local food stores
24 or 48 hours in Vladivostok: What to do in Russia's most eastern metropolis

If using any of Russia Beyond's content, partly or in full, always provide an active hyperlink to the original material.