How foreigners change Russian cuisine: Jeremy Uruty tries his hand at 'herring under a fur coat'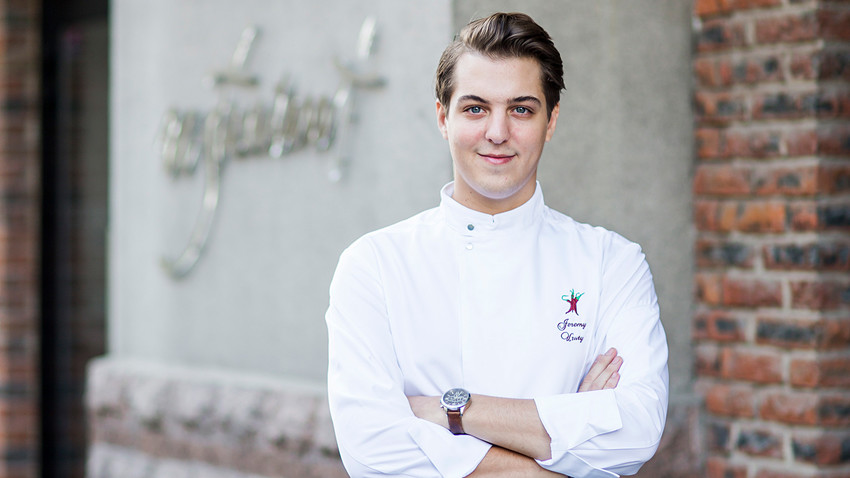 What's the strangest Russian salad you can think of? Of course it's 'herring under a fur coat,' which Russians absolutely adore! And at least one Frenchman.
Jeremy Uruty is used to working with chefs whose talent is recognized by Michelin (Joel Robuchon and Nicolas Massey). Now he cooks French cuisine in Moscow "with a little bit of Asian fusion," and is trying to learn the Russian language.
It's hard to believe but the Russian capital doesn't have many French restaurants, especially those that offer haute cuisine. It's just too expensive and not close to Russian tastes. Also, due to economic sanctions it's not easy to find all the necessary ingredients. Jeremy, however, runs the kitchen at Le Restaurant, which still offers a collection of delicacies and an extensive wine cellar.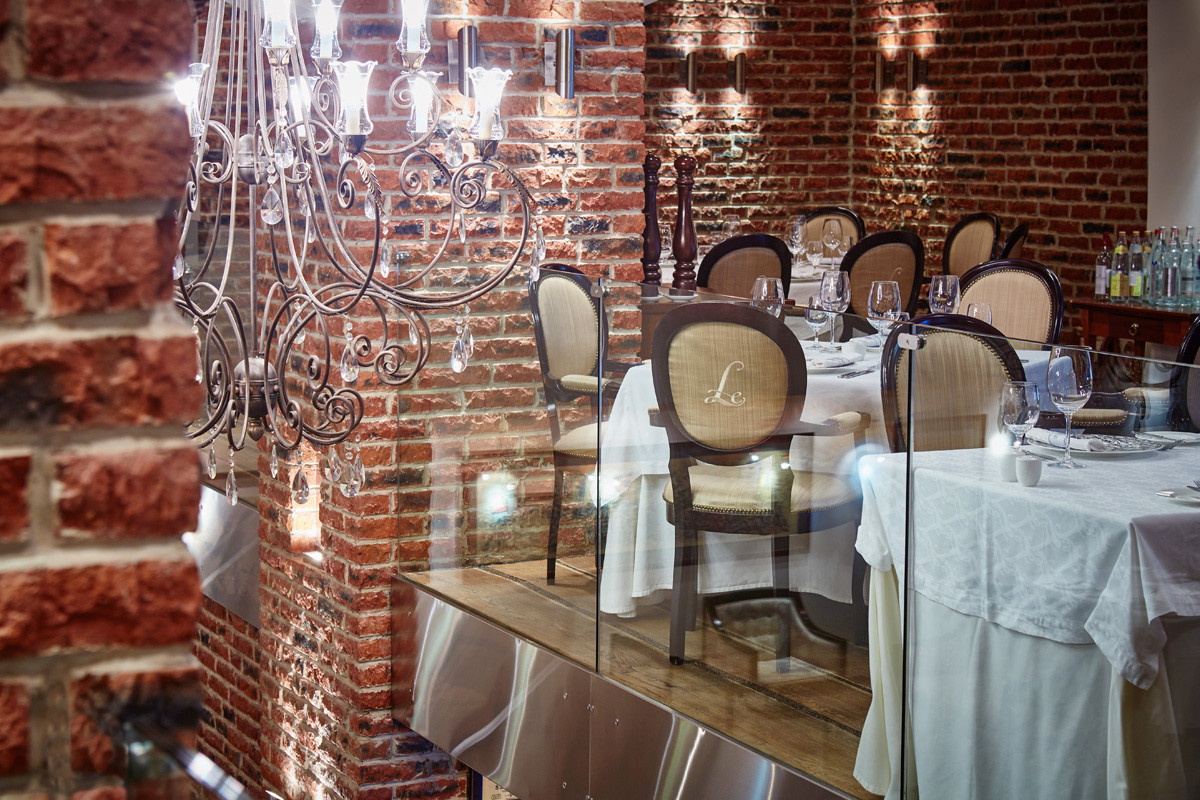 He fondly remembers the time when he worked in his father's restaurant as a waiter and how he dropped out of university to pursue his dream. After several years of work with the masters, Jeremy today serves up his own vision of French cuisine.
We talked to Jeremy about his work in Moscow and learned his special version of the Soviet salad, "herring under a fur coat."
What brought you to Moscow?
I came here because I met a Russian girl in France. She is now my fiancée. When I decided to move to Moscow I went back to my teacher from culinary school to ask if he knew anyone here and he directed me to Le Restaurant. I love Moscow and the people here. Russians are a lot more passionate and honest than the French. Here, if you have a friend you have someone who will always help you and who you can rely on no matter what. Having a Russian friend is like having family. Russia is good for business and Moscow has so much to offer in terms of culture. But when it comes to learning the language and especially the tenses, I want to shoot myself in the leg!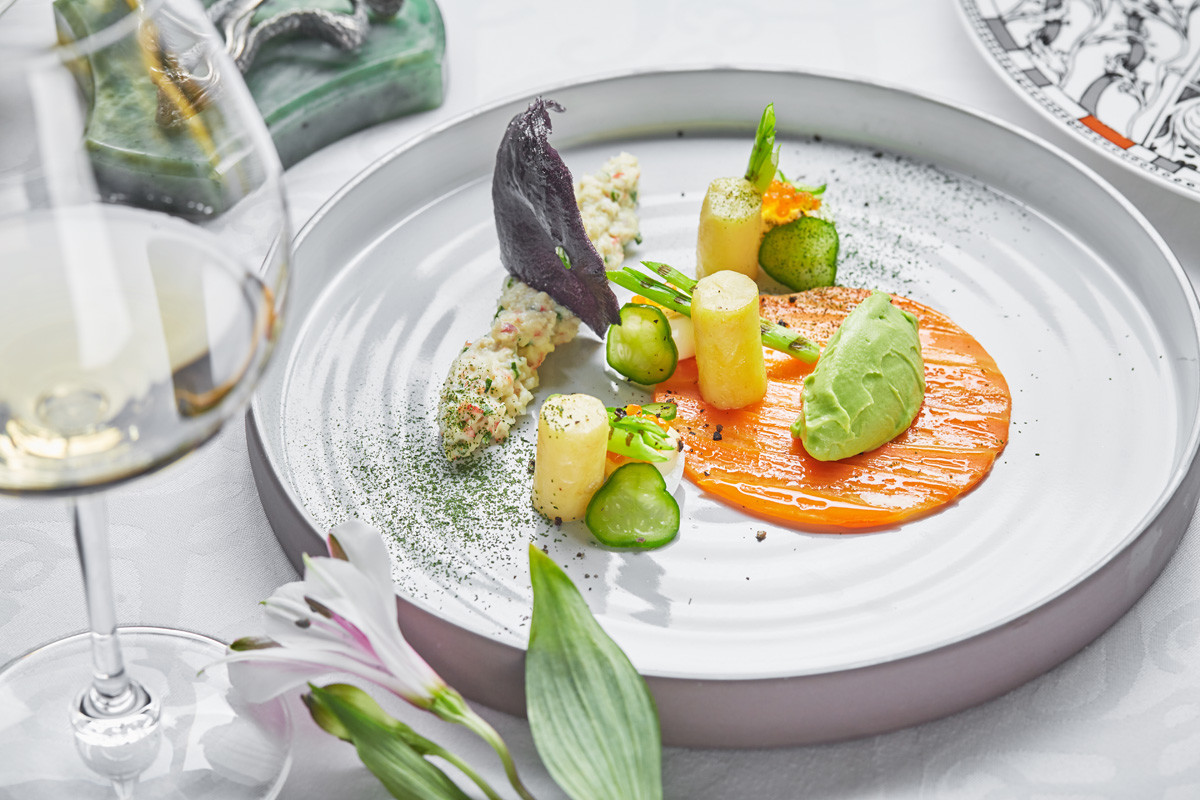 The "Olivier" salad with a king crab, caviar and pea ice cream
Press Photo
What are your culinary plans for the future?
I want a new concept for the restaurant, to make it more dynamic. Afterwards, I'd like to open a brasserie in the center. As long as there's work I definitely plan on staying in Moscow.
How do you like Russian food? What's your favorite dish?
My favorite is "herring under a fur coat." I like Russian food in general, but what I will never understand is baking food with mayonnaise. It should be forbidden!
French style "herring under a fur coat" with carrot and horseradish sorbet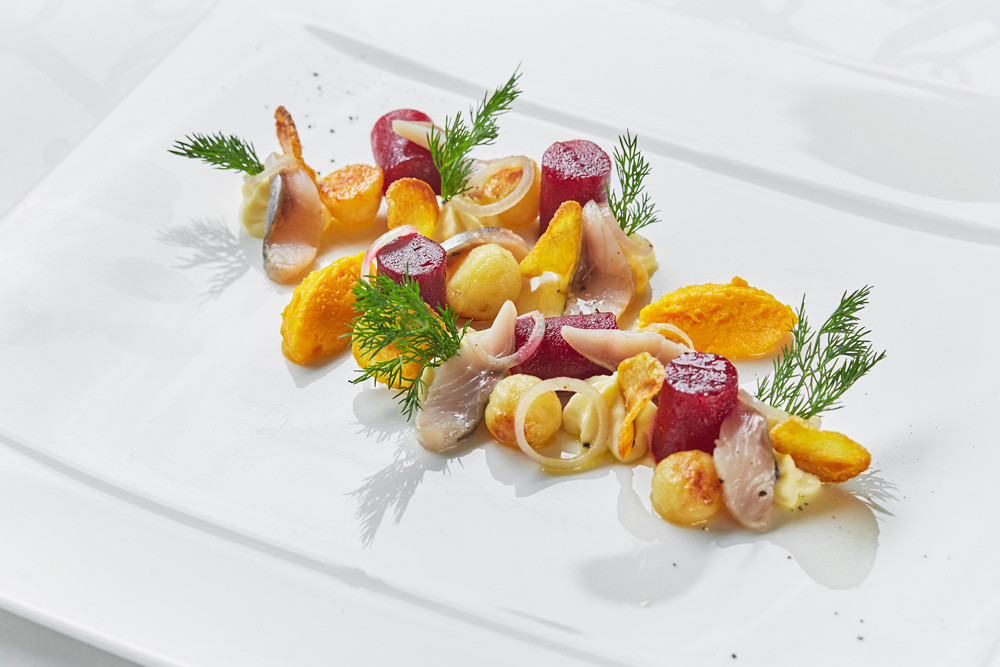 Press Photo
Ingredients:
Herring fillet – 20g
Mini potatoes – 20g
Duck fat – 20ml
Potato chips – 20g
Mayonnaise mousse – 30g
Beetroot – 49g
Shallot – 6g
Olive oil – 12ml
Dill – 1g
For sorbet:
Carrot – 61g
Horseradish – 4g
Cream (33% fat) – 6ml
Pepper
Salt
Pepper
Preparation for sorbet:
Bake the carrot in aluminum foil. Afterwards, peel off the skin, mix with other ingredients in a blender and put in the freezer.
Preparation for mayonnaise mousse:
Mayonnaise – 11g
Eggs – 22g
Boil the eggs and then mix with mayonnaise in a blender.
Preparation for the rest:
Boil the beetroot and then remove the skin. Using a cylindrical shape, make little pieces and fry them slightly on a pan for 5 minutes. To make potato chips, cut the potato into thin slices and fry in oil. To make potato confit, bake the potatoes in duck fat at a low temperature. Then arrange the beetroot, potatoes, potatoes chips, mayonnaise mousse and shallots in a chaotic manner on the plate. Put the sorbet on opposite sides of the plate, decorate with dill and enjoy!
In our series, "How foreigners change Russian cuisine," Russia Beyond sits down with Moscow's most brilliant foreign chefs to talk all things food and to offer our readers a special Russian recipe in their own original interpretation that you can easily make at home!
If using any of Russia Beyond's content, partly or in full, always provide an active hyperlink to the original material.