15 places where you can eat 24/7 in downtown Moscow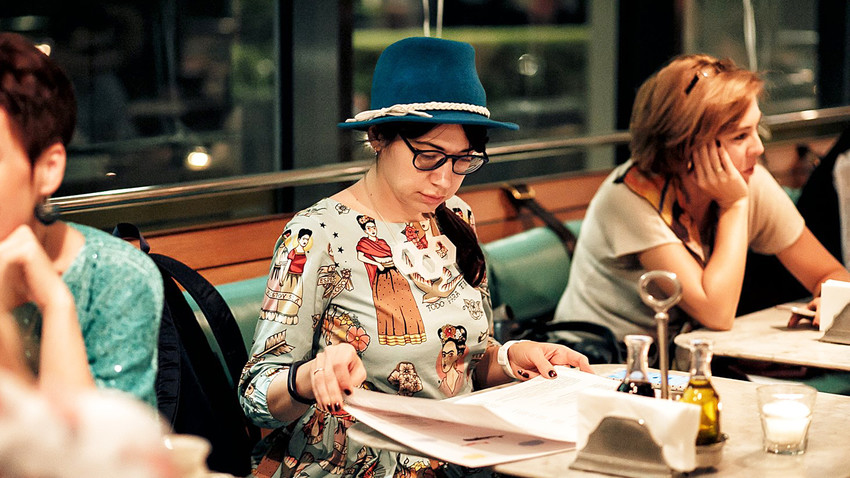 Early birds and night owls can be certain that they won't starve. The Russian capital can serve up food for every palette at any time of the day.
1. Cook'kareku - round the clock breakfast
No matter what time it is, you can enjoy a nice breakfast from any country, and not just your ordinary pancakes or fried eggs: Australian beef steak, Japanese unagi, Mexican tortillas with guacamole and much more.
2. Grand Cafe Dr Zhivago - round the clock Kremlin view
This restaurant serves Russian cuisine with Far East seafood, legendary Pozharsky cutlets, caviar and pickled vegetables. Don't forget to dress up a little.
3. Coffeemania - round the clock best coffee
In the courtyard of the Moscow Conservatory the desserts are exquisite and expensive. But worth it. Some are even vegetarian. Try the almond cappuccino, and check out the dinner menu, which includes schnitzel.
4. Eat & Talk - wait until the metro opens
Right next door to Biblioteka Imeni Lenina metro station you'll find this nice place for both after party chilling, as well as business meetings. Treat yourself to a club sandwich, carbonara or pizza margarita.
5. Taras Bulba - round the clock borsch and homemade liqueurs
This perfect hangover dining place has authentic Ukrainian interiors and dishes. Borsch and the vareniki stuffed dumplings are a must, and you can wash them down with radish, cranberry or pepper liqueurs.
6. Cafe Pushkin - round the clock 19th century time machine
Fancy yourself a Russian nobleman and try rasstegai pies, pike's head, and deer steak. Don't forget to drink tea with any of the homemade jams.
7. Bobry i utki - round the clock democratic lunch
This restaurant's name translates as ''Beavers and Ducks," and the menu is simple. Try their white wine or red wine tables, and if you want to save money then come late at night when prices become even cheaper, starting at 2 a.m.
8. Mumiy Troll Bar - round the clock music bar with Far East cuisine
Opened by the popular Vladivostok rock band, Mumiy Troll, this place often features live music and serves up Kamchatka crab, scallops and whelk served in a variety of ways.
9. Pirogi - round the clock Russian pies
Pies with fish, cabbage, mushrooms, meat or a range of sweet fillings - it's always a challenge to chose one! For those who don't like pastries, you can try skoblyanka from beef or fish for example.
10. Shater - round the clock terrace on the water
Various cuisines are all under the tent on the pond known as Chistye Prudi. With its pseudo open air format, there are plenty of shashlyk (grilled meats)dishes and cocktails to choose from.
11. Starlite Diner or Beverly Hills Diner - round the clock American fare
Burgers, sandwiches, Texas fried potatoes and enormous milk shakes are served in authentic interiors that would make Uncle Sam gush with pride.
12. Baga Bar - round the clock shisha and lounge
Not far from the party-friendly Pyantitskaya Street you'll find a place with an amazing menu of four national cuisines, including Indian, Uzbek and Japanese; as well as huge summer terrace and midnight discos.
13. Osteria Bianca - round the clock Italian classics
Fancy a restaurant with a summer terrace on Belaya Square, which is famous for its contrasting neighborhood of office buildings and an Orthodox church. Menu favorites include: risotto a la Milano, beef carpaccio with truffles, and Ligurian ravioli with rabbit meat.
14. Torro Grill - round the clock steaks
This place probably has one of the best steaks in Moscow, but at an affordable price. Torro also offers roast beef and a list of burgers, as well as a nice choice of wines.
15. Bourbon Street - round the clock whiskey
Have your whiskey, rum and gin straight up; or try the cocktails inspired by these noble drinks. The wide choice of bourbons will help you relax and enjoy the great music and party atmosphere.
Read more: Where to eat in Moscow: Ultimate guide to Russian restaurants (and where to find them)
If using any of Russia Beyond's content, partly or in full, always provide an active hyperlink to the original material.