A few years ago seafood was a luxury in the Russian capital, but today there are restaurants and cafes for every taste and budget.
Expensive and special occasion
1. La Marée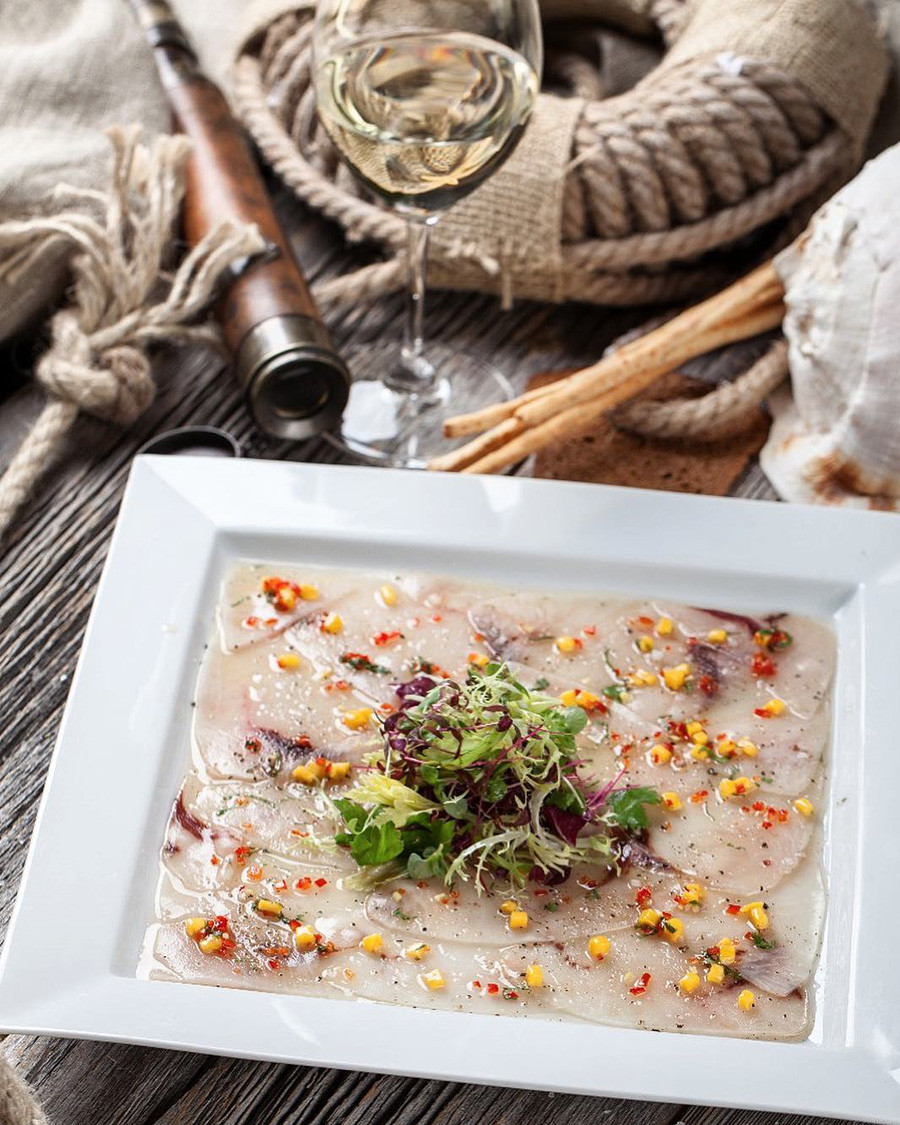 One of Moscow's oldest seafood restaurants, La Marée still is the place to take someone who you really want to impress. The sky high prices are justified by the fact that this is one of the very few restaurants in Russia with daily shipments of fresh fish from all corners of the globe. Already in 2007 La Marée earned itself a spot on the highly prestigious "Chaîne des Rôtisseurs," an international gastronomic society founded in Paris in 1950. The menu, however, is fairly simple without any trendy fusion dishes because the chef believes that the key to a fine seafood meal is to have, for example, a fritto misto taste just like one in a small seaside restaurant near Marseille. Average bill: $40 per person and higher.
Petrovka St. 28/1
2. Beluga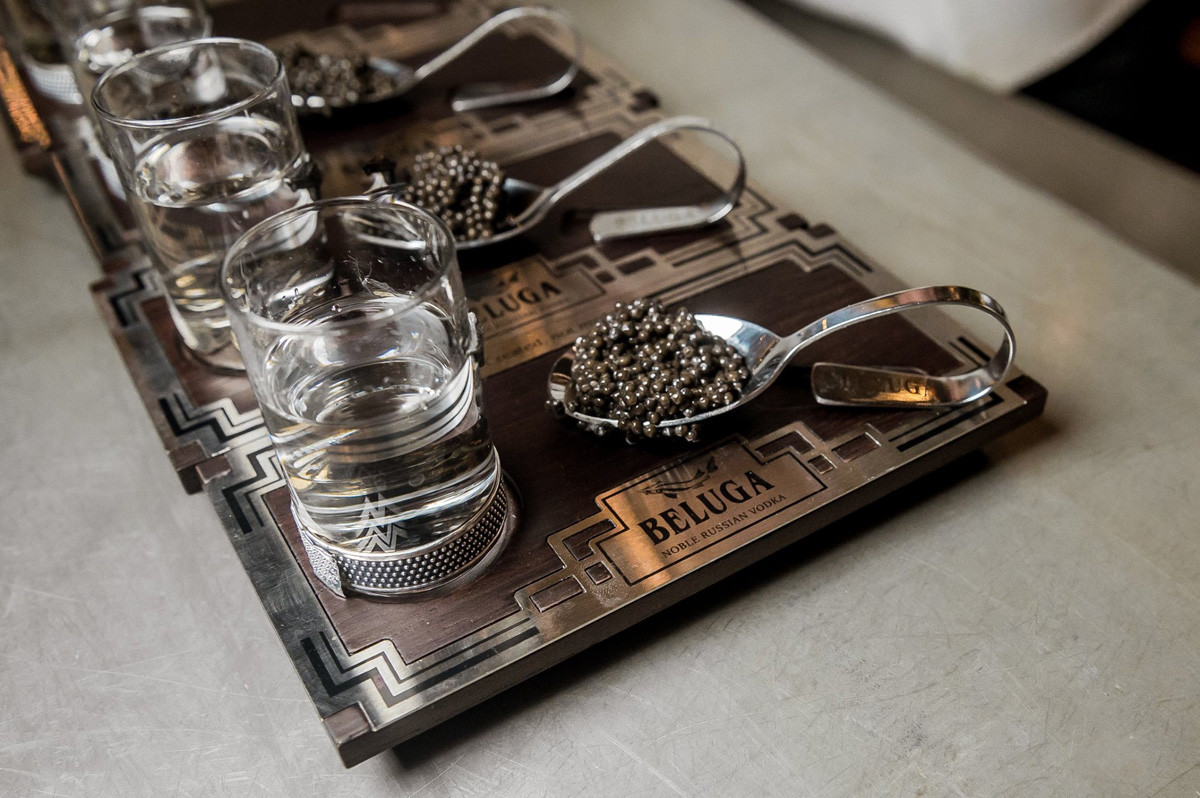 Most people associate black caviar with swanky parties and champagne, but it's much more than a cocktail party cracker topping. The fish eggs actually contain nutrients that can boost your immunity. Beluga, a spectacular restaurant on the second floor of the National Hotel overlooking Red Square, has two dozen unique varieties of black caviar (along with a few reds) – the best assortment in Moscow. Try 25 grams with a shot of high quality vodka, and a tasting set of three kinds of black caviar. Apart from black caviar, the menu also features other delicacies from the oceans, seas and rivers such as urchins, giant oysters, muksun, toothfish and more. Average bill: $40 per person and higher.
Mokhovaya St. 15/1 (2nd floor of the National Hotel)
3. Rybny Bazar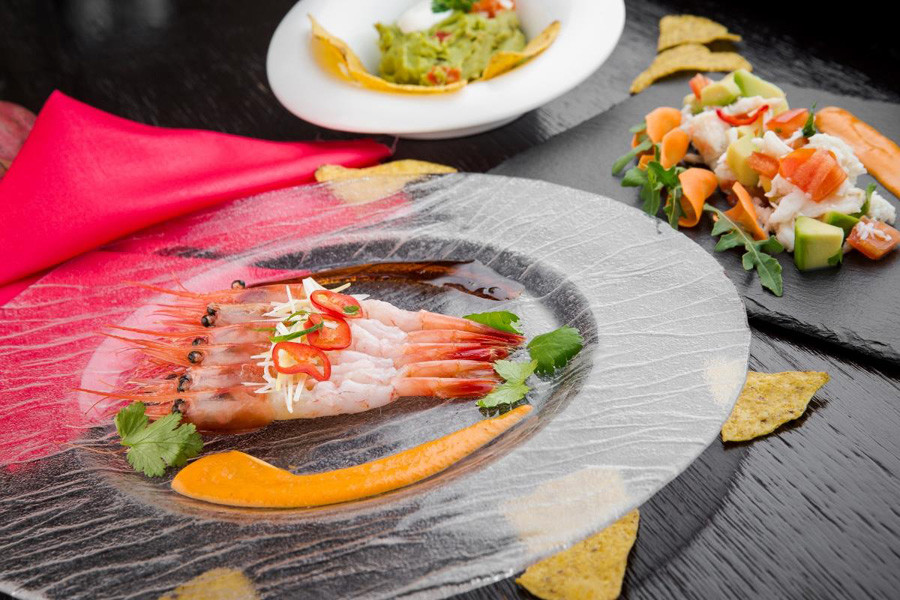 In its 14th year, Rybny Bazar has established itself as one of the most respectable seafood restaurants in Moscow. It is an elegant and upscale Mediterranean-style restaurant serving a wide variety of fresh fish and exotic seafood delicacies including lobster and sea urchins. Guests are invited to the large aquarium to pick what they feel like eating, and can then tell the waiter how they want it (grilled, fried, poached, boiled, etc.). If you struggle to make a decision, you can always opt for specials from the chef or the à la carte menu. Average bill: $40 per person and higher.
Trekhprudny Per. 10/2
4. Volna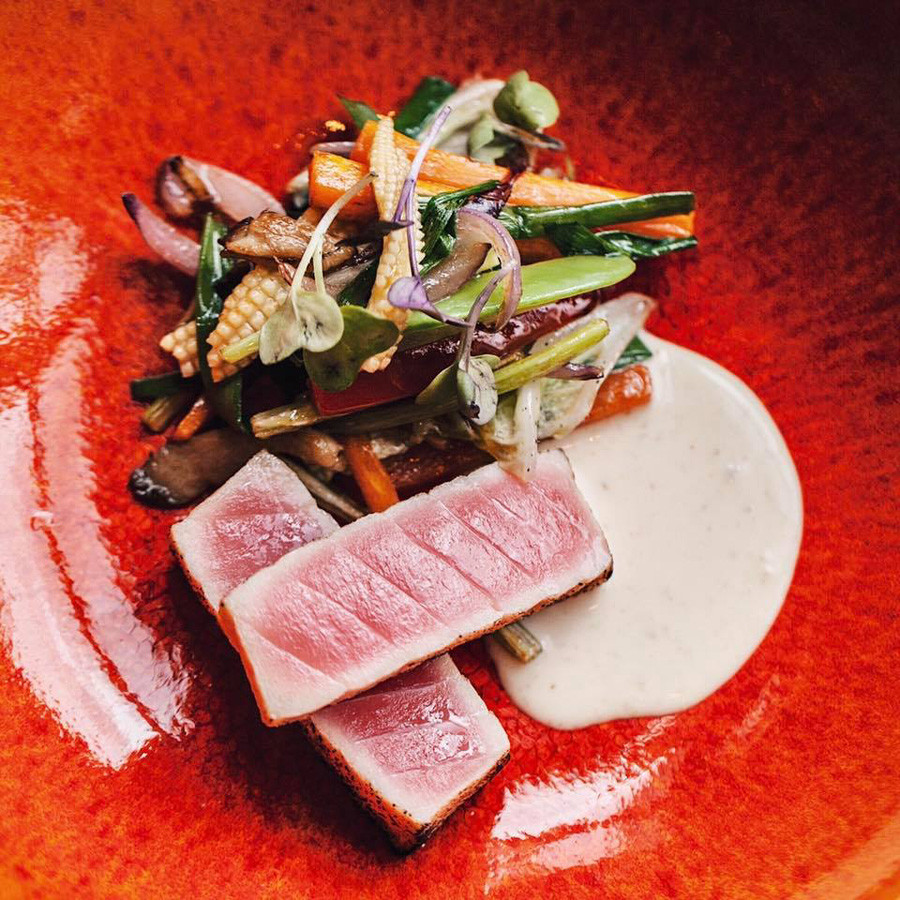 Imagine a river bank where fishermen are cooking their catch; after only a few minutes it's ready to eat. Such is the formula at this ritzy restaurant. But don't be deceived by its apparent simplicity. The food quality and attention to detail, coupled with the experience of the chefs, come together to form a strict gastronomic equation. Fish are sourced from across the country. Omul, taimen, wild Arctic sturgeon, nelma, sockeye and muksun come from northern rivers. Narva lamprey and smoked eels arrive from the Baltics. The Black Sea provides mullet, scad, mussels, anchovies, turbot and conch shells; the Russian North – wild Murmansk salmon and halibut; and the Far East – shrimp and crab. Average bill: $40 per person and higher.
Tverskoy Boulevard 26
High quality for midrange prices
5. Ryba Moya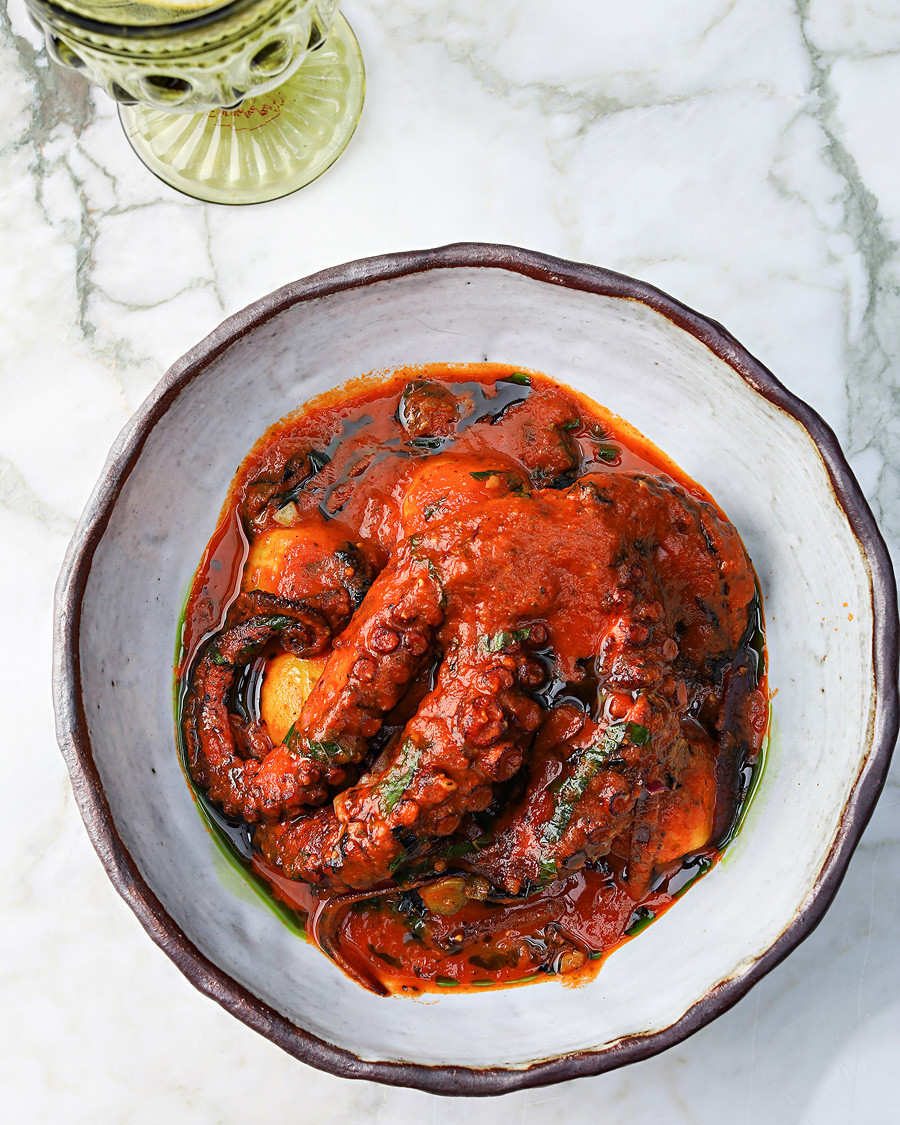 Octopus in tomato sauce with potatoes and capers
Ryba Moya
The good people at Ryba Moya set out to kill the stereotype that high quality seafood has to be expensive. The restaurant has its own sea fishery in Morocco that delivers fresh free-range fish twice a week by air. You can feel like a millionaire and order yourself some lobster for $7.30 per 100 grams – the lowest price for this exquisite crustacean – or stick to the oh so trendy ceviche, tartare and carpaccio for just $6.50 per portion. Thanks to the big open kitchen you can watch the entire cooking process, not to mention feel like you're at a friend's dinner party, not a restaurant. Average bill: $22-40 per person.
1-ya Tverskaya-Yamskaya St. 21
Tsvetnoy Boulevard 2
6. Kombinat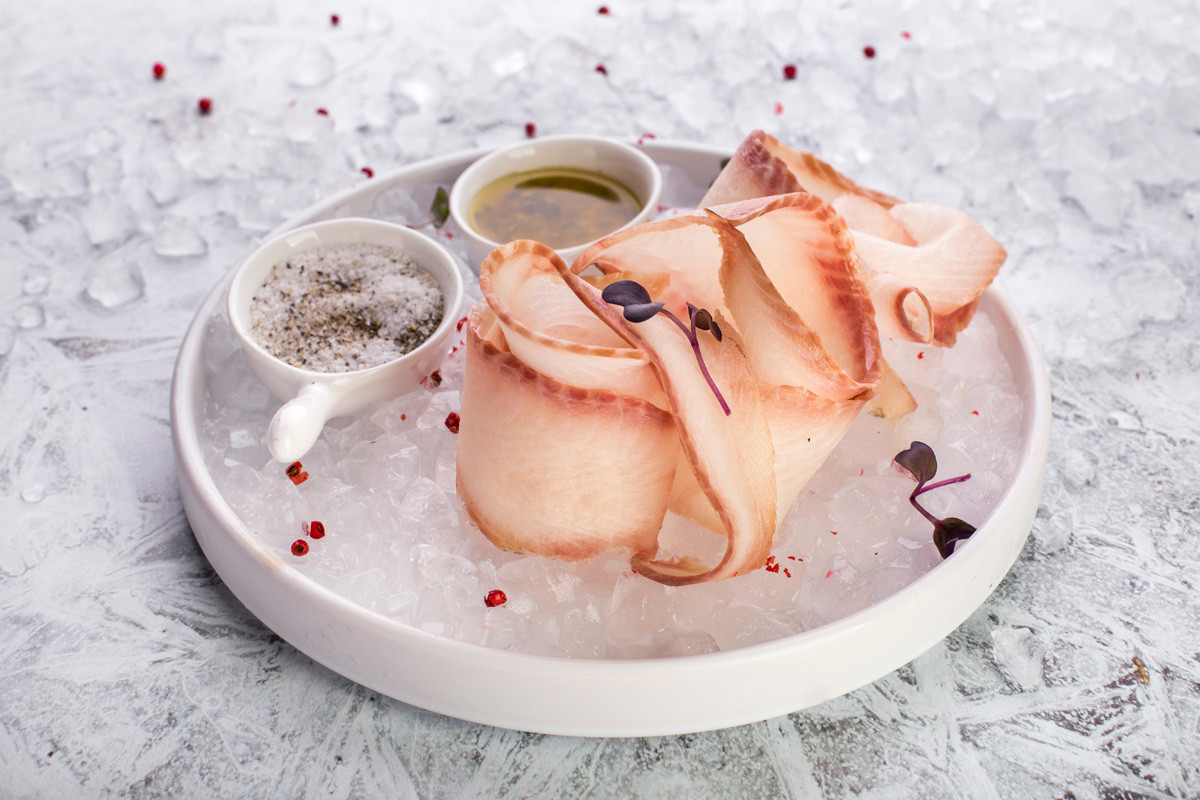 Muksun
Restaurant Kombinat
Enjoy the seaside without leaving Moscow at Kombinat, a new restaurant where seafood and fish is a religion. The moderately priced menu showcases the best that Russia's seas and oceans have to offer: five types of caviar, five types of oysters, starlet, muksun, "Medvedka" prawns, Grey's mussels and more than 15 species of fish and seafood. The first floor is a hip raw and champagne bar (on weekends people mingle and sway to the tunes of a DJ spinning tracks), and the second floor is a very spacious and warm dining hall where you can sample the entire menu. Average bill: $22-40 per person.
Timura Frunze St. 11/13
7. Mollusca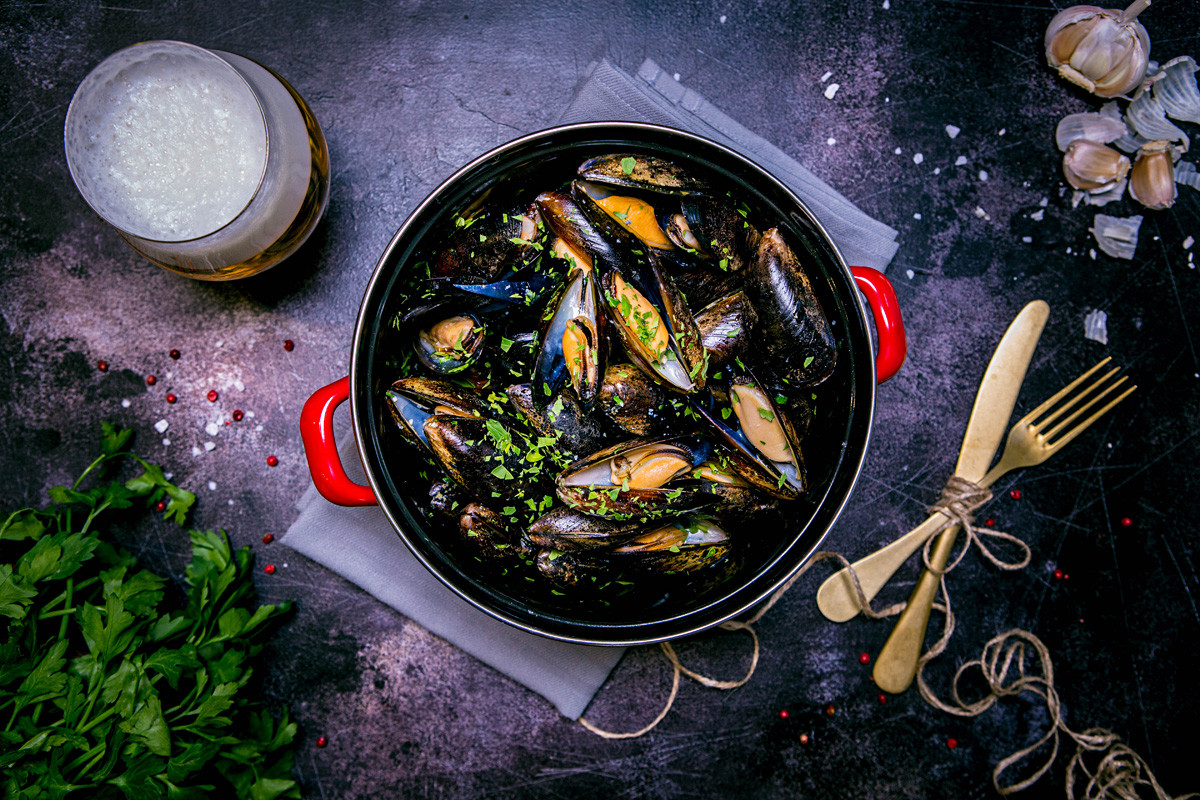 Mollusca
Located in the trendy Patriarch's Ponds neighborhood, at Mollusca it's all about mussels, just as the name suggests. Here you'll find mussels in 33 different sauces, starting from the classical Marinara and finishing with condensed milk/wasabi or Aperol Spritz. Even Mollusca's signature bonbons are mussels in Belgian chocolate. There's more than mussels, of course. Other dishes are made with crab, prawn, scallops and other fish/seafood. Mussels' best friend is beer, and here you can wash down your meal with one of the more than 200 craft beers from 16 countries. Average bill: $22-40 per person.
Bolshoy Kozikhinsky Per. 19/6
8. Tokyo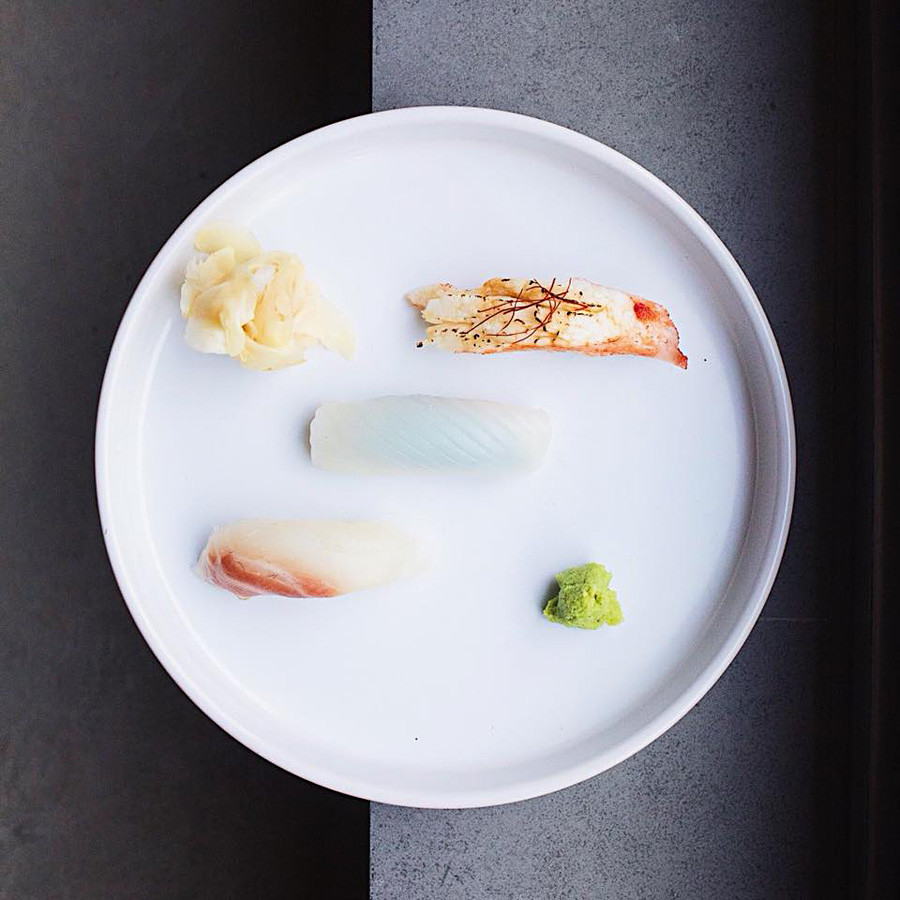 Japanese food is associated with fresh fish and seafood, and one of the hottest Japanese restaurants in Moscow at the moment is Tokyo. Ingredients are imported from Japan, and the menu consists of the usual suspects (sushi, rolls, sashimi, tartars and tirades), as well as fusion dishes such as nori crab tacos and scallop ceviche with yuzu marinade. The best part is that the prices don't bite: you can get hamachi sushi from $3.40 or a baked crab roll for $9.50. Famed Moscow sommelier Vlada Lesnichenko has put together a wine menu with more than 160 positions to complement your meal. Average bill: $22-40 per person.
Bolshaya Nikitskaya St. 22/2
Rozhdestvenskiy Boulevard, bld.1 Central Market Trade Center (stand)
9. Wine & Crab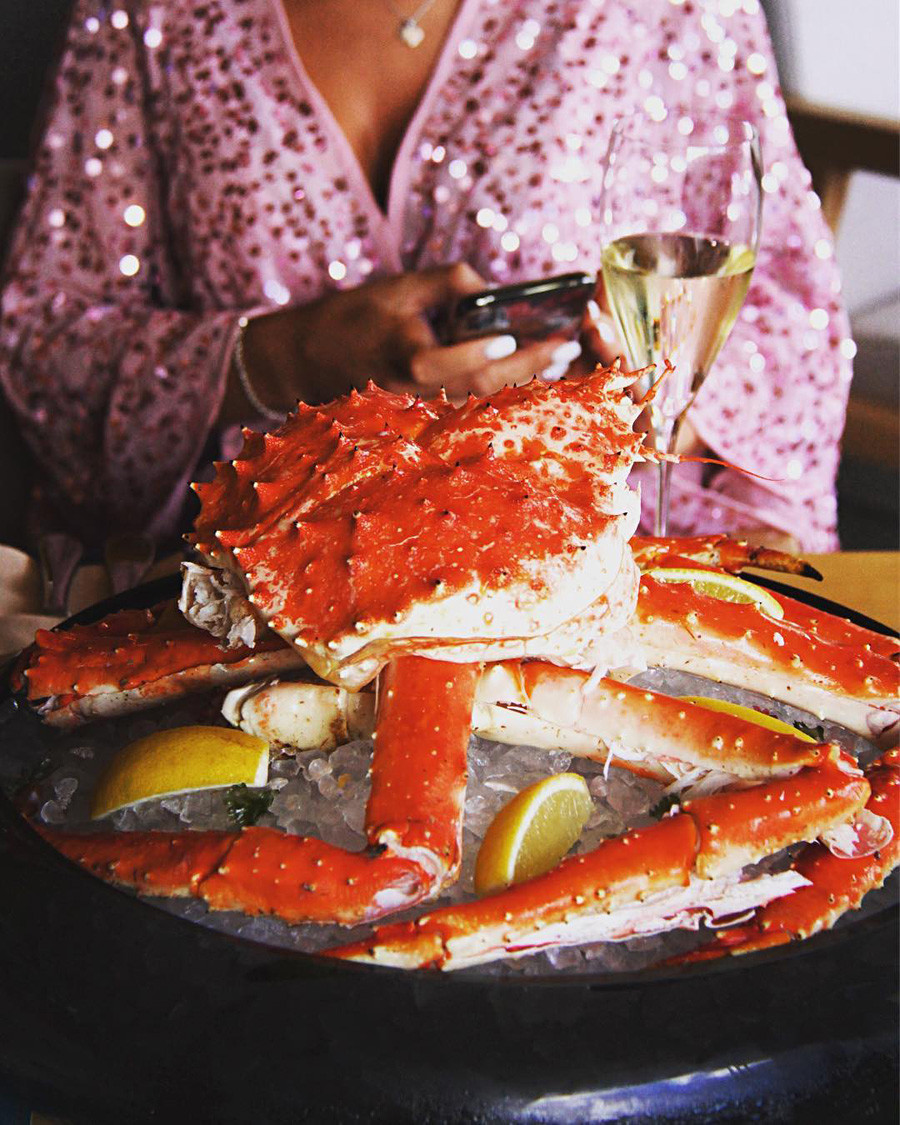 Wine & Crab - the brainchild of the famous twin brother restaurateurs, Ivan and Sergey Berezutsky – offers nine varieties of crab (all from Russian waters) that are new to the capital. The brothers travelled far and wide around the Russian Far East in order to be the first to bring unusual kinds of crab to the Moscow restaurant scene. Apart from the beloved and familiar Kamchatka king crab, and the snow crab (opilio), here you can taste the blue king crab, spiny crab and even the peculiarly named "hairy crab." Pick one of the more than 900 varieties of wine from the iPad wine list that is divided into countries of origin and types. Average bill: $22-40 per person.
Nikolskaya St. 19-21
Something for students
10. Crabster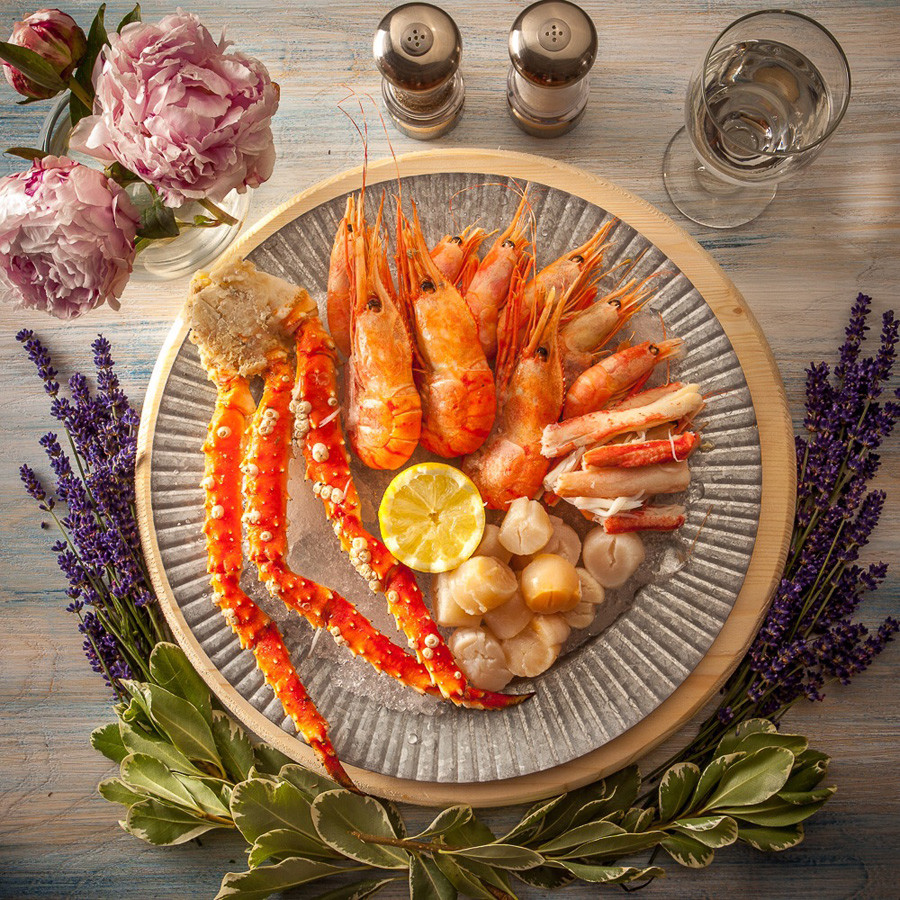 Crabster is a casual eatery that sources seafood straight from the Far Eastern port city of Vladivostok and other Russian cities. Fish & chips will set you back $4.60, while a hearty portion of Murmansk cod with black risotto costs $8.50 A pint of Russian craft beer comes out to just under $3. Average bill: $10-22 per person.
Arbat St. 6/2
11. Crab Meet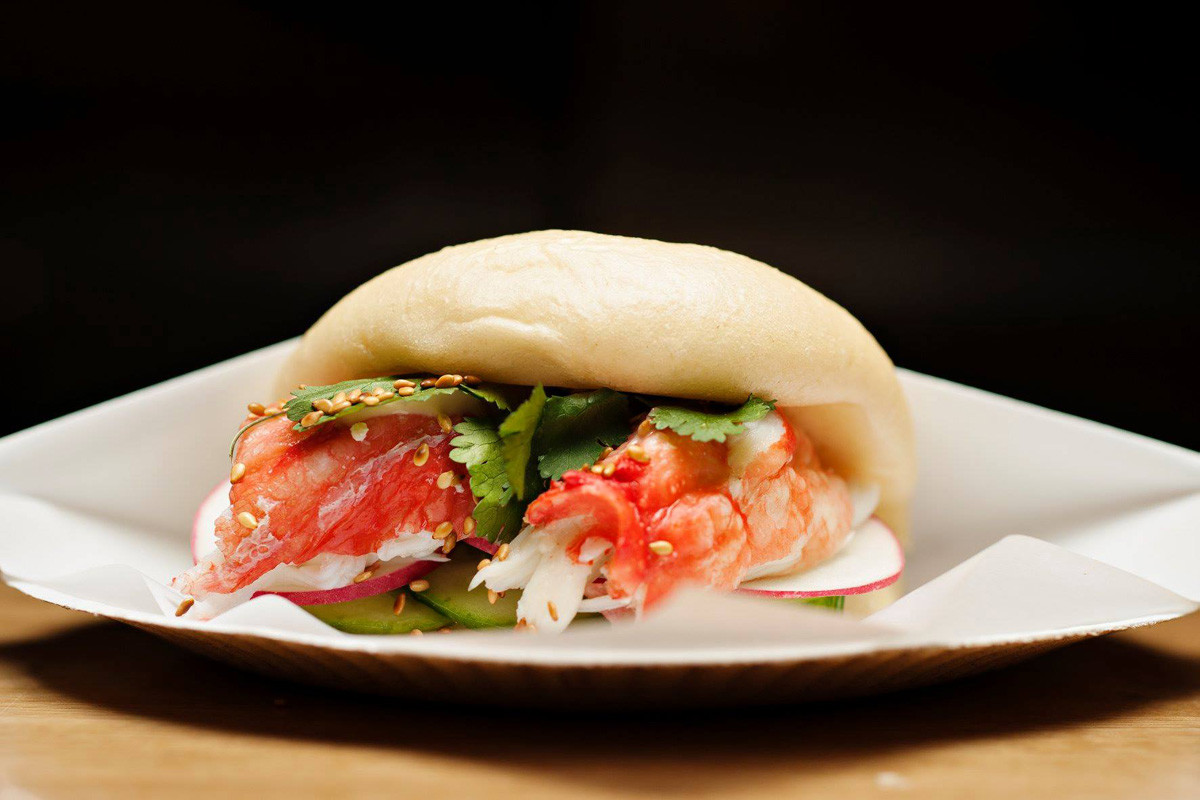 Once known as Crabs Are Coming, Crab Meet is the renamed and rebranded version that calls the hip Danilovsky Market home. The concept is very simple: affordable dishes made of Kamchatka crab. The steamed bun with crab, and fried rice with crab, are two of the biggest hits on the menu. Average bill: about $10 per person.
Mytnaya St. 74 (inside Danilovsky Market)
12. Lure Oyster Bar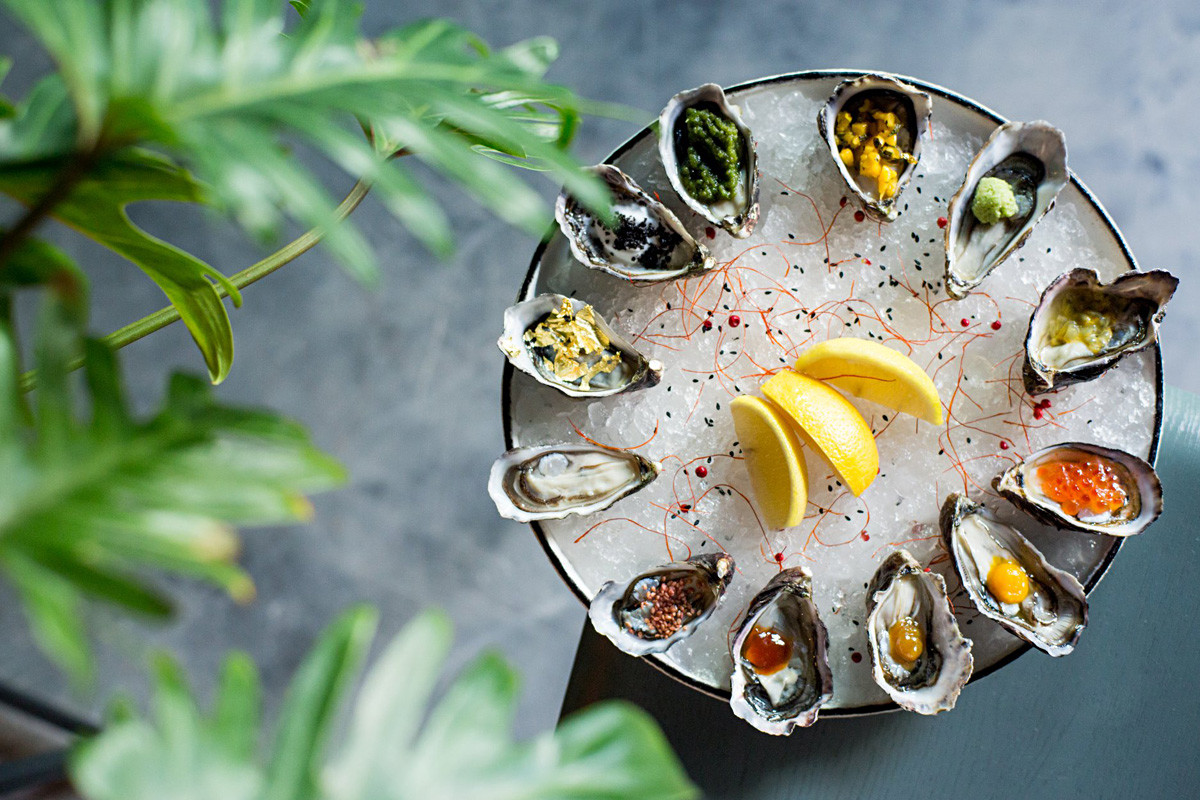 Though not as cheap, during happy hours (12 noon to 5 p.m.) this stylish oyster bar near Belorusskaya metro station treats guests to Casablanca oysters for $1.50 a pop. The à la carte menu is also pretty affordable. For example, the spicy salmon salad with eel mousse is $10.20, tuna tartare is $7.30 and the hearty bouillabaisse is just a little over $10. Average bill: $10-22 per person.
3rd Yamskogo Polya St., 9
13. Privet, Crevette!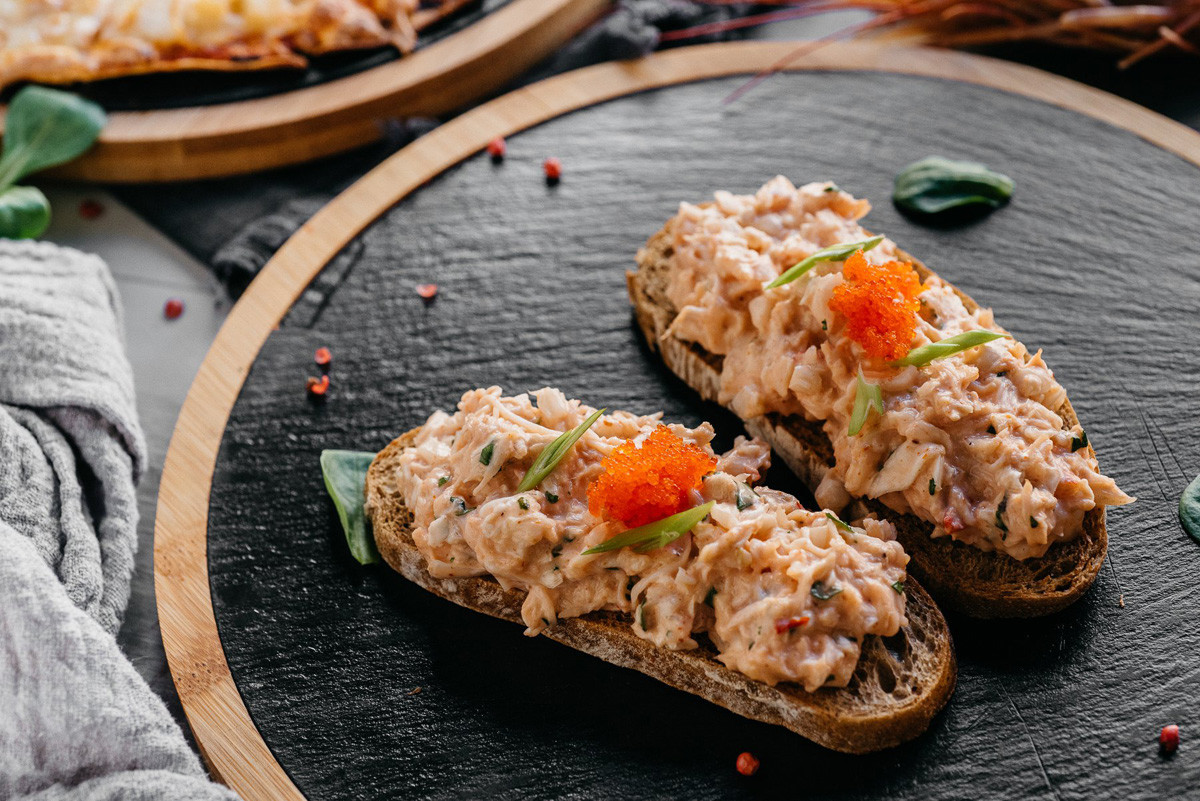 A relative newcomer, Privet, Crevette! is a fun, youthful and quirky little café in the hip gastronomic cluster Food Store on Rozhdestvenka Street. Nowhere in central Moscow will you find prawn ceviche for $5, Kamchatka crab bruschetta (2 pieces) for $5.80, salmon and prawn burger for $5.80, and much more. There's also a raw bar that's sure to pleasantly surprise you with its prices. Average bill: $10-22 per person.
Rozhdestvenka St., 6/9/20 building 1 (Food Store foodcourt)
Read more: Cheap and tasty: The 7 best places to eat for $5 in Moscow
If using any of Russia Beyond's content, partly or in full, always provide an active hyperlink to the original material.