These homemade 'pigeons' will make you fall in love with Russian cabbage rolls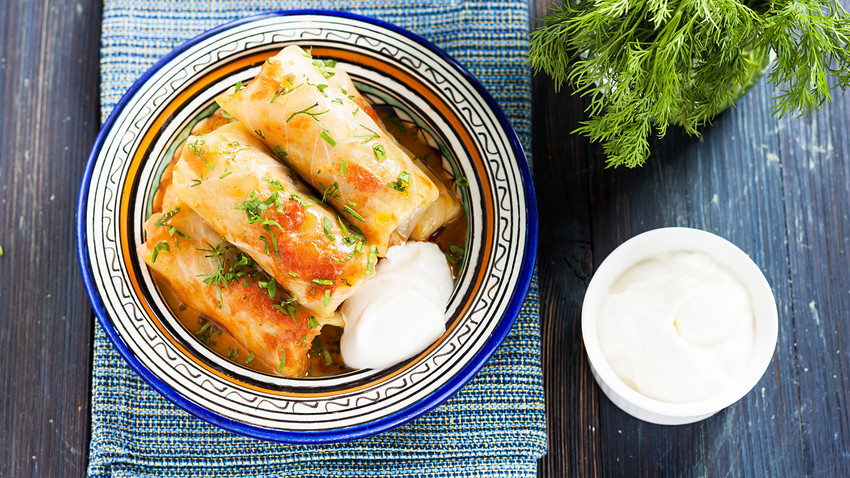 Golubtsy is a very hearty dish loved by nearly every Russian. Still, it's not something you eat every day, but rather, it's usually made for special occasions.
Nowadays, golubtsy are such a basic part of Russian cuisine that they're considered traditional food. Their origins in history, however, are quite unclear, and there are a number of legends.
Among the Eastern Slavs, the name golubtsy appeared relatively recently under the influence of French cuisine that was fashionable in the 19th century, when whole pigeons were cooked for sumptuous dinners. The dish in Russia was called "golubtsy" (literately "pigeons"), and it comprised a whole bird wrapped in cabbage leaves and baked on coals. At about the same time, however, they began to serve 'false pigeons,' which were made of minced meat wrapped in cabbage leaves. Instead of expensive ingredients, substitutes were used such as finely chopped meat, making it a more affordable dish for common people.
Other historical sources, however, say that golubtsy came to us much earlier as a result of the 13th century Tatar-Mongol invasion and the subsequent blending of cuisines. Tatars and Turks prepared a dish called dolma, which is chopped lamb meat wrapped in grape leaves. Since northern climates are not suitable for the growing of grapes, the Tatars had to look for a local substitute. And what could be closer and dearer to Russians than cabbage? Naturally, lamb was replaced with local beef or pork. Also, the cooking process changed a little by adding sour cream while stewing the cabbage wraps.
During cooking, it's important to make the cabbage leaves soft, elastic and malleable, without ruining them before the stuffing is wrapped inside, says William Pokhlebkin, Russia's foremost food writer. For this you need to blanch the cabbage leaves in boiling water, or even to wrap the leaves in foil and keep them in the oven for 5-7 minutes. Once the stuffing is inside and the golubtsyare being cooked, it is also important not to overcook them so that the cabbage doesn't become mushy and fall apart.
While it takes much time to prepare this dish, you won't regret it when you see the satisfied faces of your family and friends. Just remember: no one says "No" to homemade golubtsy!
Ingredients:
1 big head of cabbage
600g ground beef or pork
½ cup of rice
1 onion
1 carrot
2 garlic cloves
2 tbsp tomato paste
150g sour cream
parsley,
salt, pepper
Cooking:
1. Cook the rice and let it cool completely.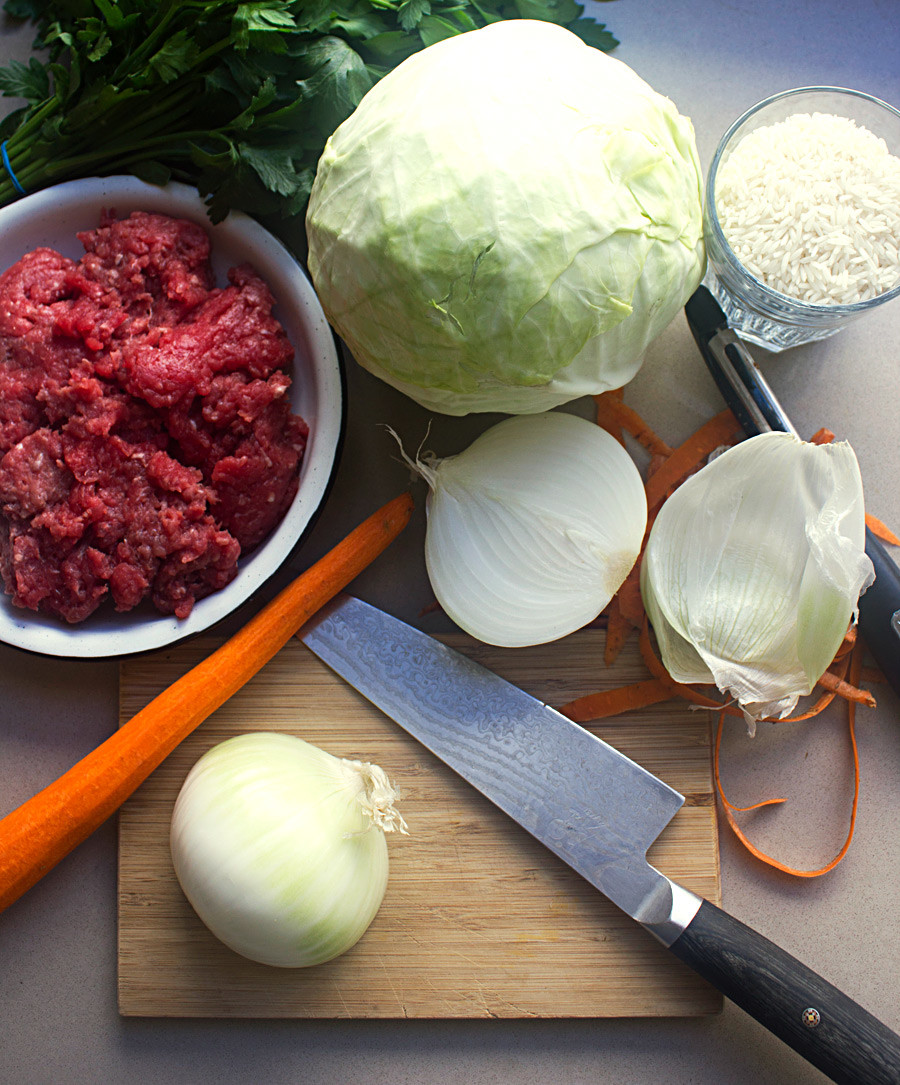 2. Chop the onion into small pieces. Peel and grate the carrot and finely chop your garlic. Start by sautéing the onion in a pan with oil until soft and translucent. Then add grated carrot, and keep cooking the mixture until the carrots are soft. Next, add garlic and cook the mixture a little more. All the vegetables should be soft. Put the mixture in a bowl and let it cool completely.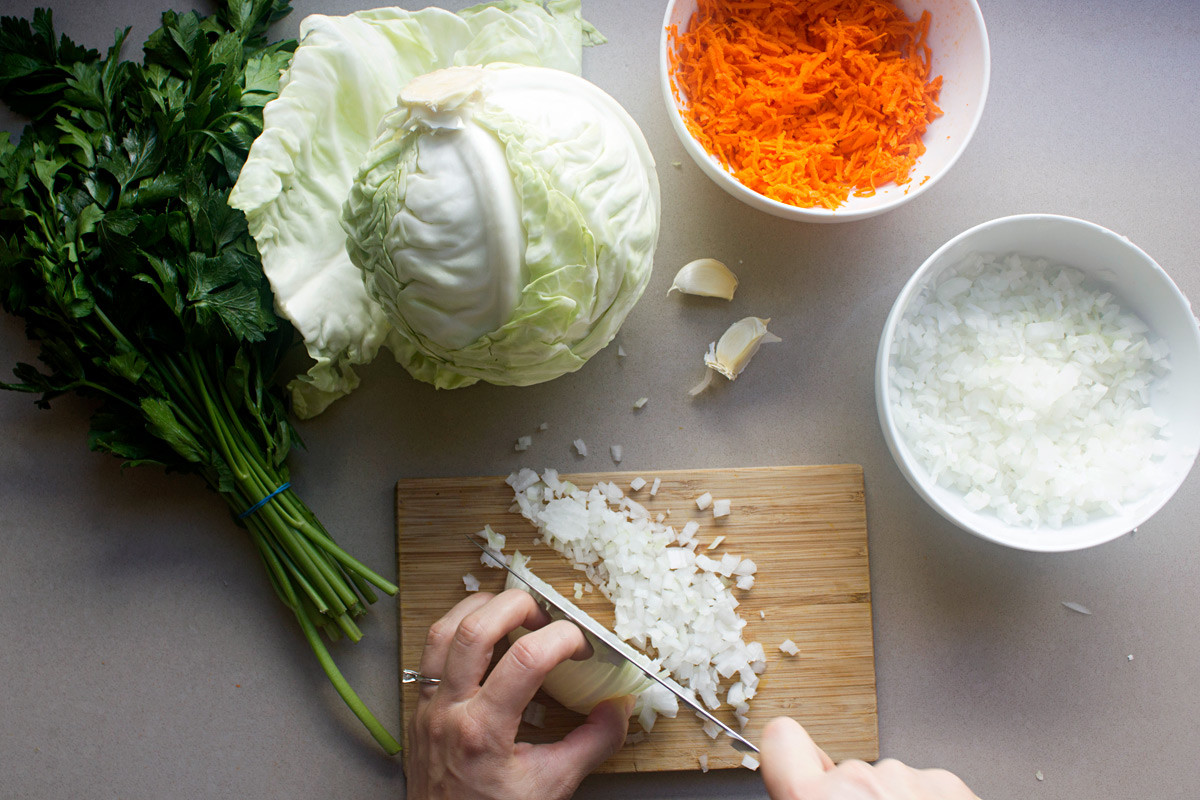 Vasilisa Malinka
3. Get you cabbage ready. Remove the old and soft leaves, and carefully remove the stalk trying not to damage the cabbage. Take a pot with boiling hot water and add some salt. Take a deep bowl with ice water. Drop the whole cabbage in the boiling water for about 2-3 minutes. The leaves will soften and will be easy to remove. Then, start removing them one by one, putting into ice water to halt the cooking process. Each time you remove 3-4 leaves wait about 2 minutes for the leaves underneath to be cooked.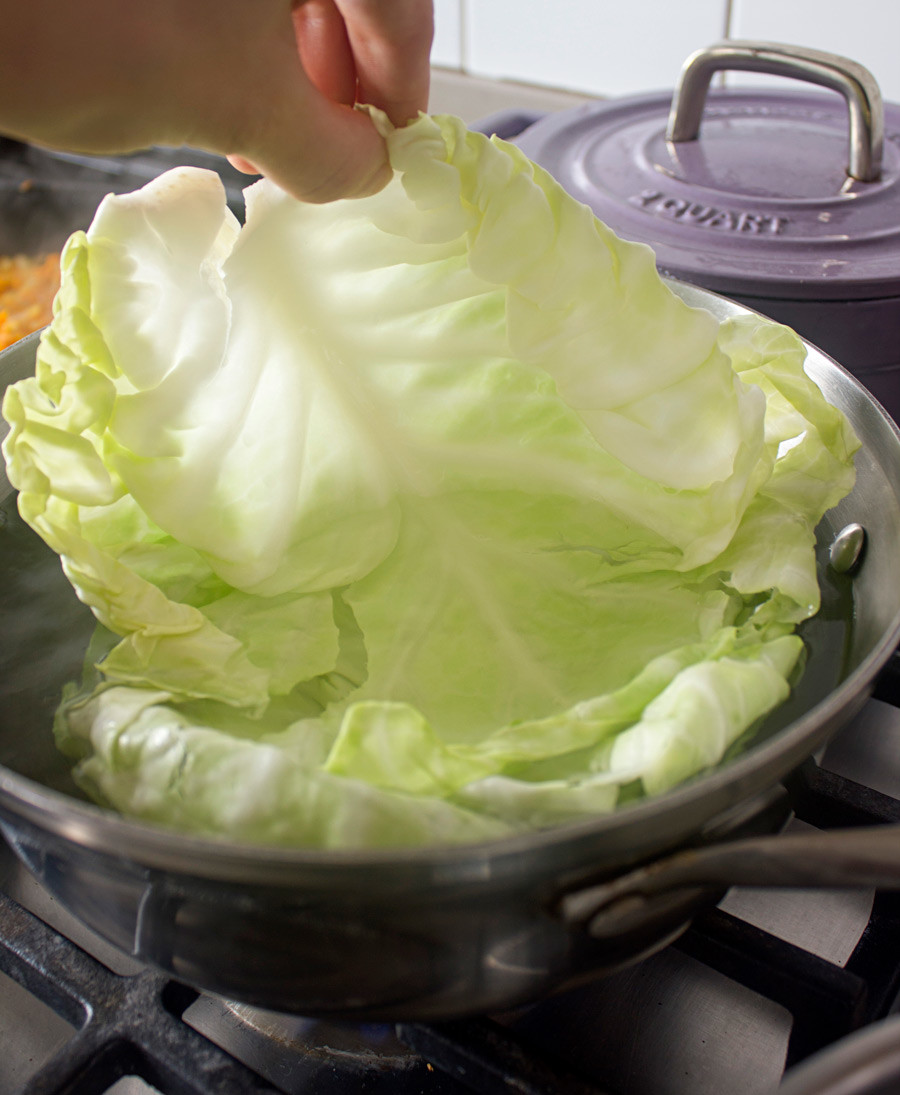 Vasilisa Malinka
4. Chop your parsley, and set aside.
5. Once all the leaves have cooled in ice water, remove and put on a kitchen towel. Pat dry completely.
Vasilisa Malinka
6. Take the blanched leaves and carefully cut the stalk in horizontal motion, to make them flat and easy to wrap. Set aside.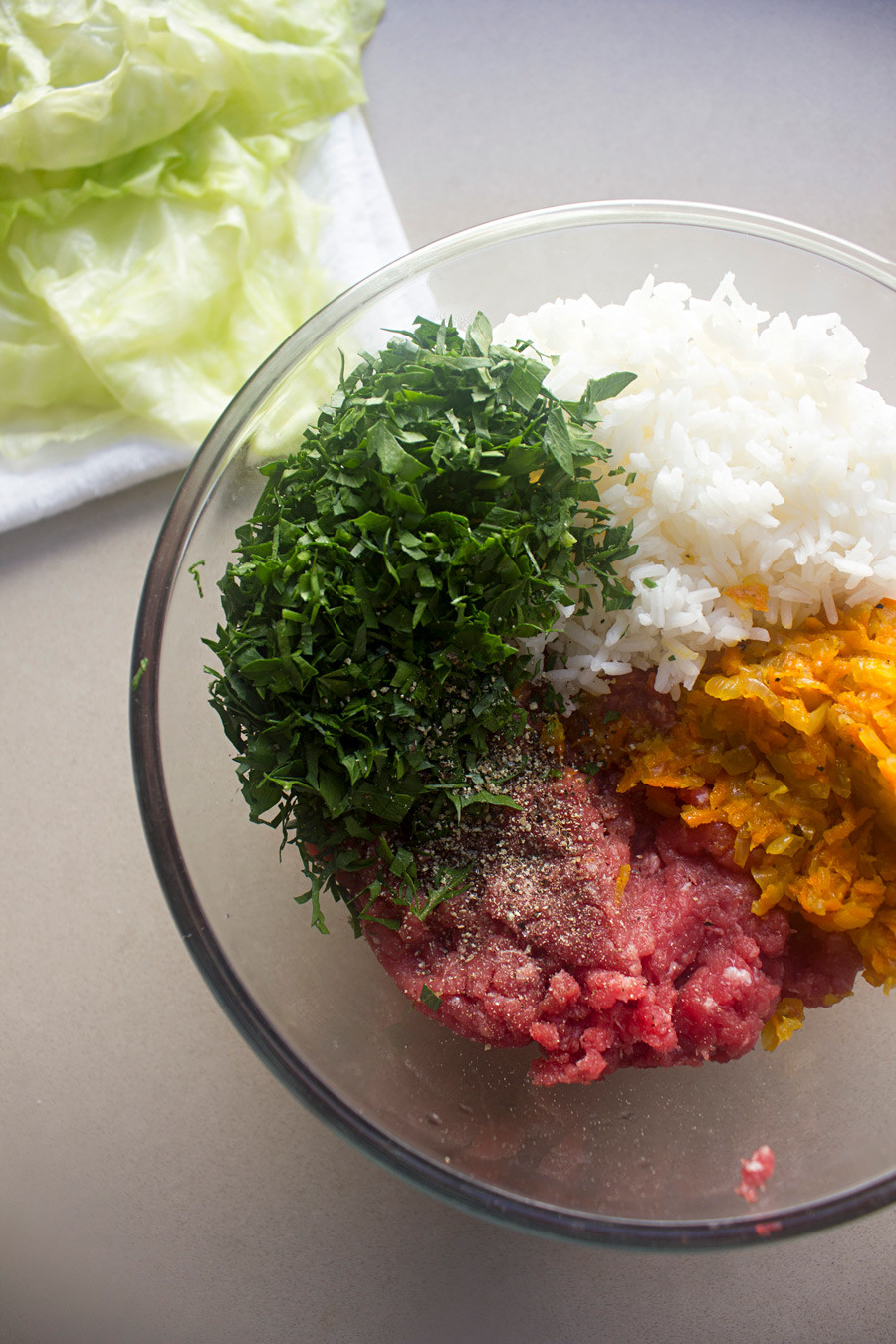 Vasilisa Malinka
7. When your rice and vegetable mixture has cooled, mix into your choice of ground meat and add parsley, salt and pepper to taste. Incorporate all the ingredients into your stuffing.
8. One by one, wrap a spoon full of stuffing into a cabbage leaf, starting from the stalk side, tucking in the sides and making the wrap tight.
Vasilisa Malinka
9. For the sauce, chop the second clove of garlic and sauté a little on the pan; then add the tomato paste, cook a minute more and add sour cream, salt and pepper. Add about a cup of water to the pan and mix well.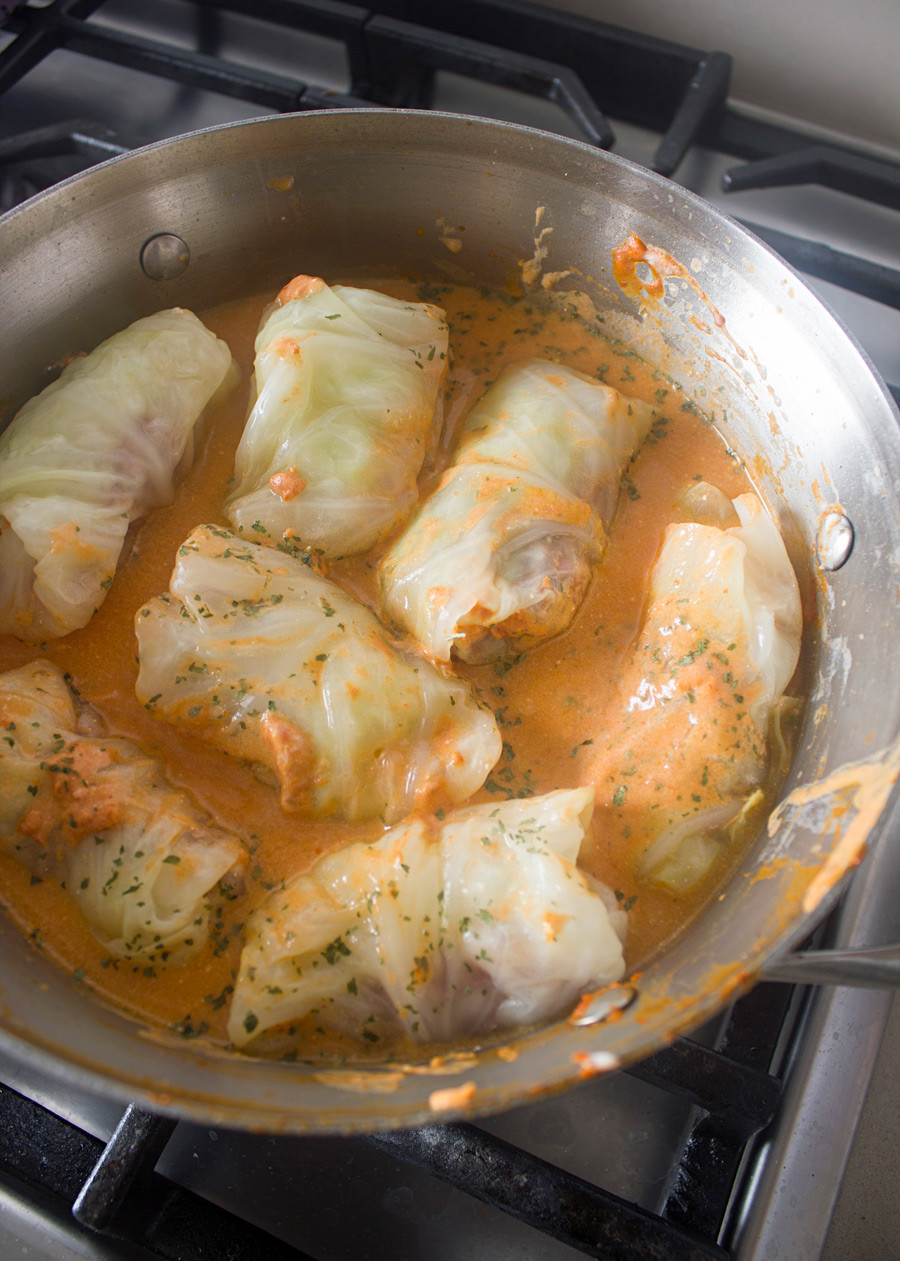 Vasilisa Malinka
10. Carefully place your cabbage roll in a deep pot and pour the tomato sauce on top; then add water so the liquid is about a finger lower than your golubtsy, and bring to a boil. Next, lower the heat to medium and cook for 20 more minutes.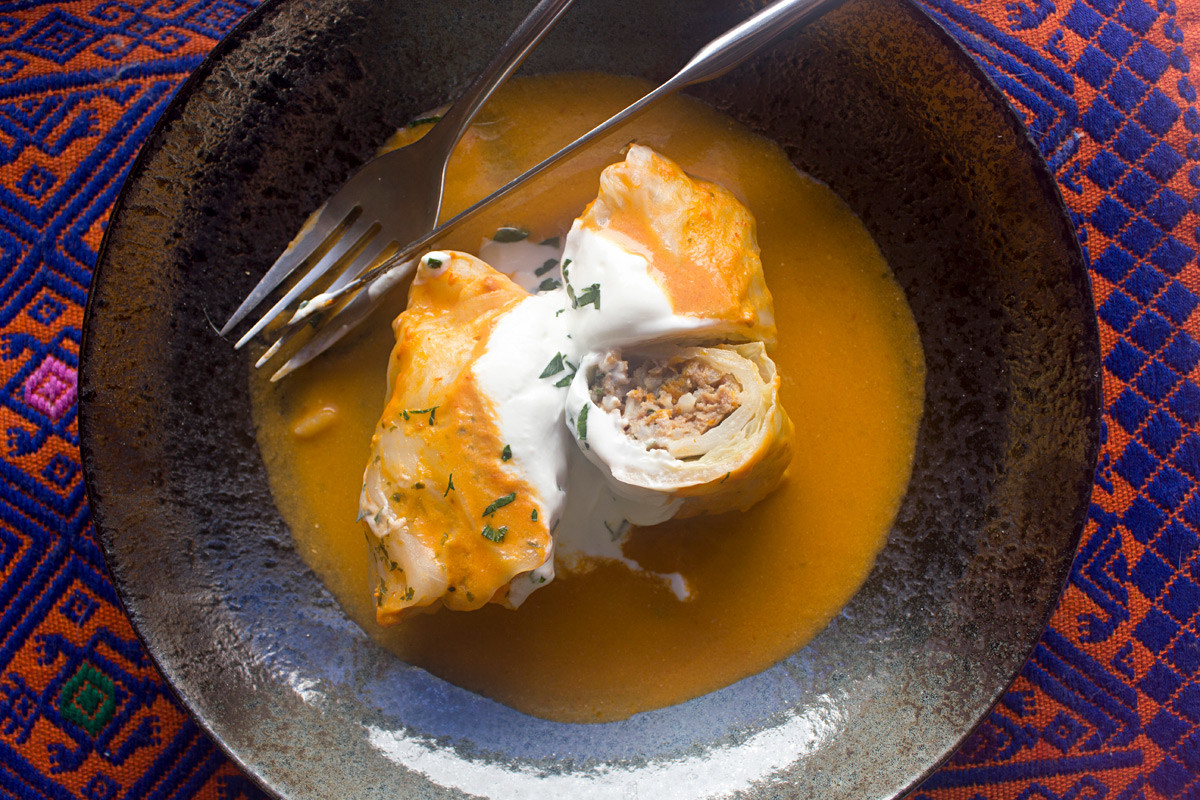 Vasilisa Malinka
11. Once the golubtsy are ready, serve on a plate with sauce. Don't forget to put sour cream on top. That's the perfect way to complete this dish!
Read more: 5 reasons the Russians put sour cream on EVERYTHING
If using any of Russia Beyond's content, partly or in full, always provide an active hyperlink to the original material.