How to cook roast venison with cranberries à la the historic Hotel Metropol
For over a century, the restaurant of Moscow's legendary Hotel Metropol has been the origin of culinary masterpieces prepared from the finest Russian ingredients sourceable only inside the country. Chef Andrei Shmakov shares one of his top recipes.
Whole sterlet with crawfish tails and horseradish, or piglet baked with buckwheat and quail's egg glazed in honey—these and other dishes are still made according to traditional recipes at the historic Hotel Metropol in central Moscow.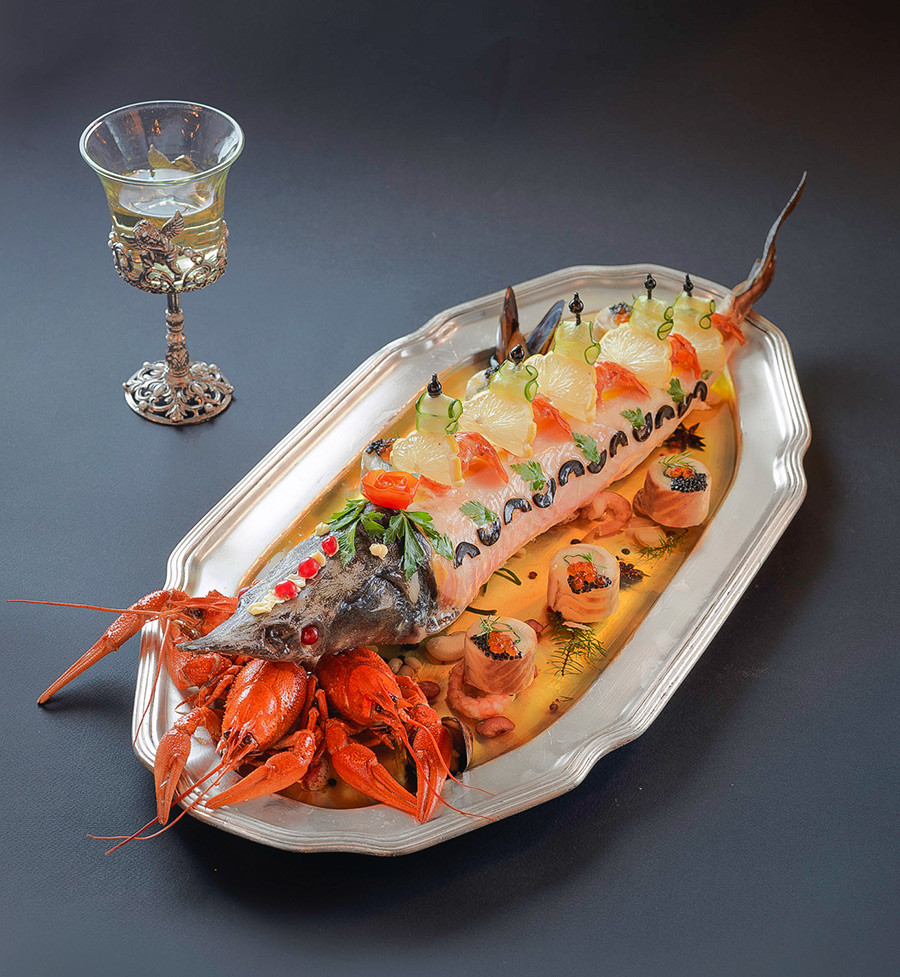 Under Frenchman Edouard Ninone, the restaurant's first chef in the early 20th century, diners were treated to blackbird fillet with truffles, Siberian grouse, and stuffed quails with cedar nuts. Famous Russian writer Leo Tolstoy often dined in the restaurant, and opera singer Fyodor Chaliapin once outdid himself by singing the revolutionary song "Dubinushka" standing on a table there.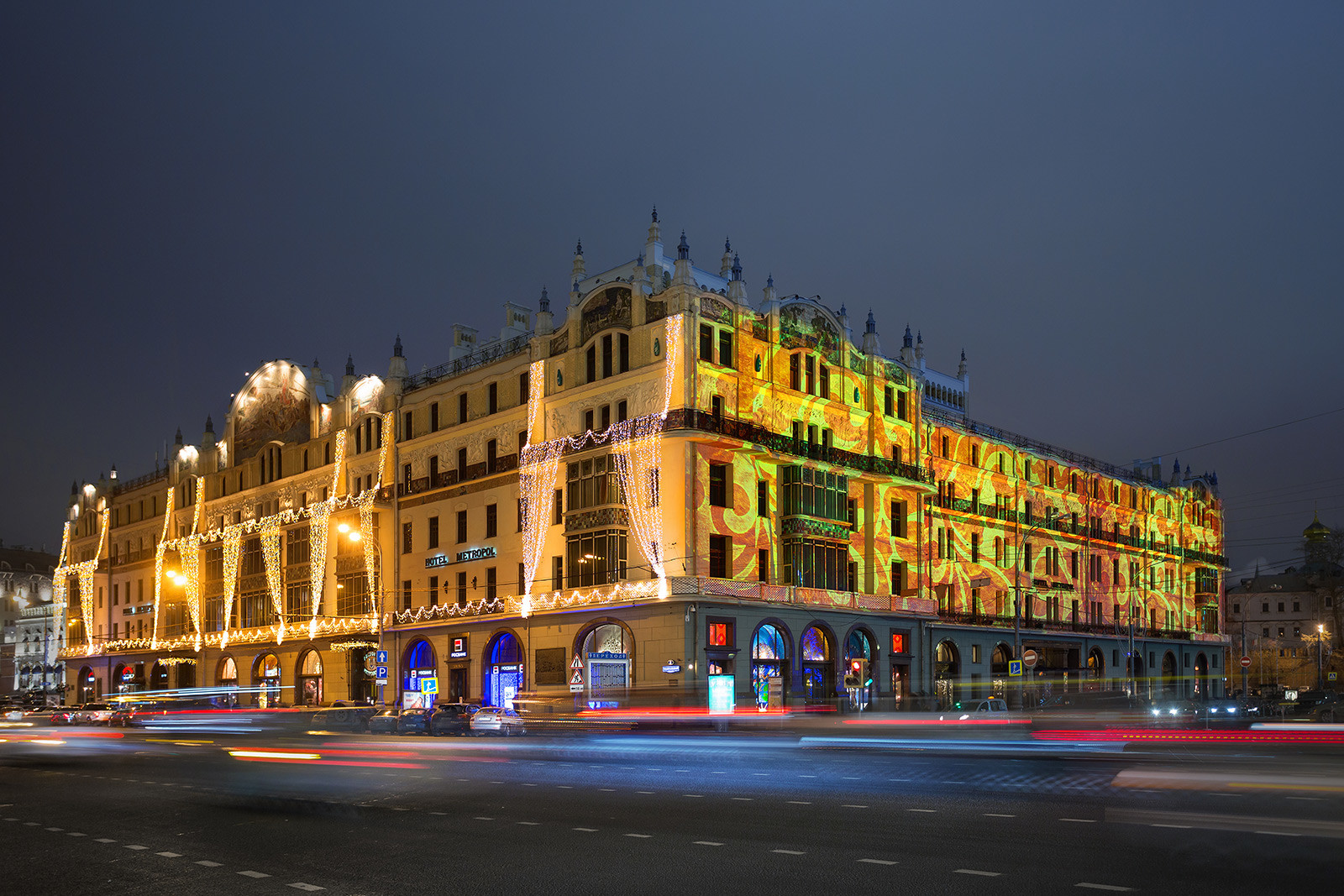 Press Photo
After the 1917 revolution, the Bolshevik elite lived at the Metropol, until in the 1930s the restaurant returned to its previous role as a catering establishment.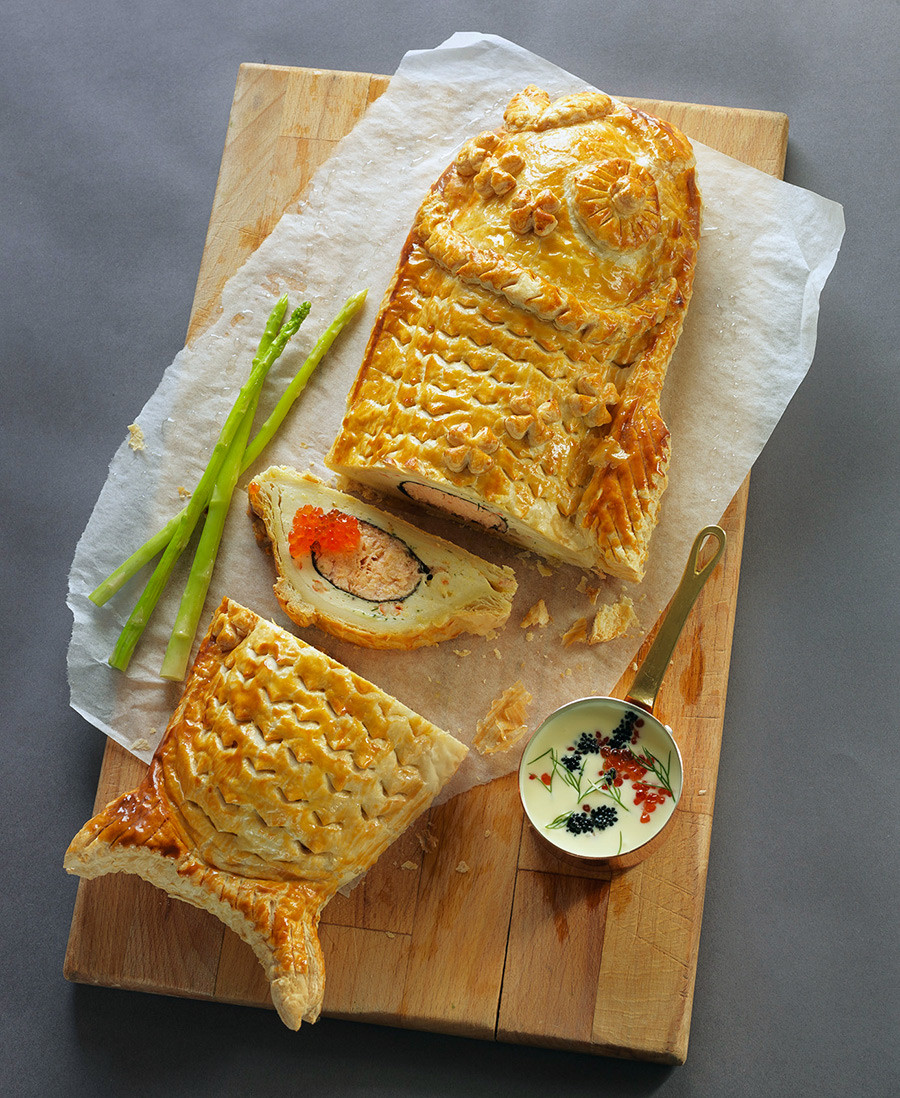 Kulebyaka with salmon
Press Photo
Today, chef Andrei Shmakov, who was awarded the title of best hotel chef in the 2018 Gault&Millau international gastronomic guide, is in charge of the Metropol's famous kitchen. There, he experiments with all kinds of food preparation techniques, adding spark and vitality to recipes. One example is red borsch with farm duck and cherry. His oven-baking methods—very much in vogue at present—are just the thing for dishes based on traditional Russian recipes.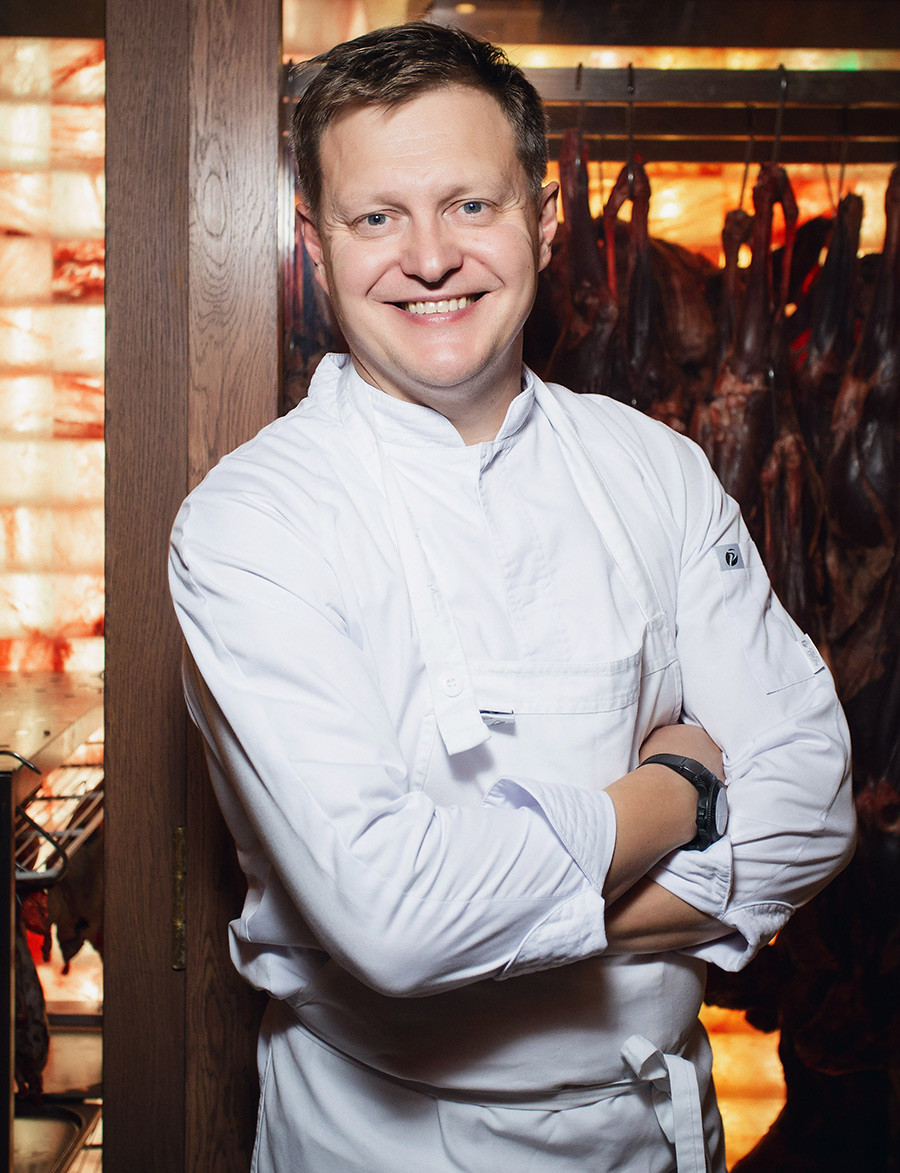 Andrei Shmakov
Press Photo
Shmakov's aim is to revive forgotten foodstuffs. "These products were popular when the hotel was founded, but then disappeared from the Moscow menu during the Soviet period. We often use guinea fowl, root crops, and long-forgotten cereals. We combine inexpensive products with delicacies, for example, root crops with truffles," says the chef.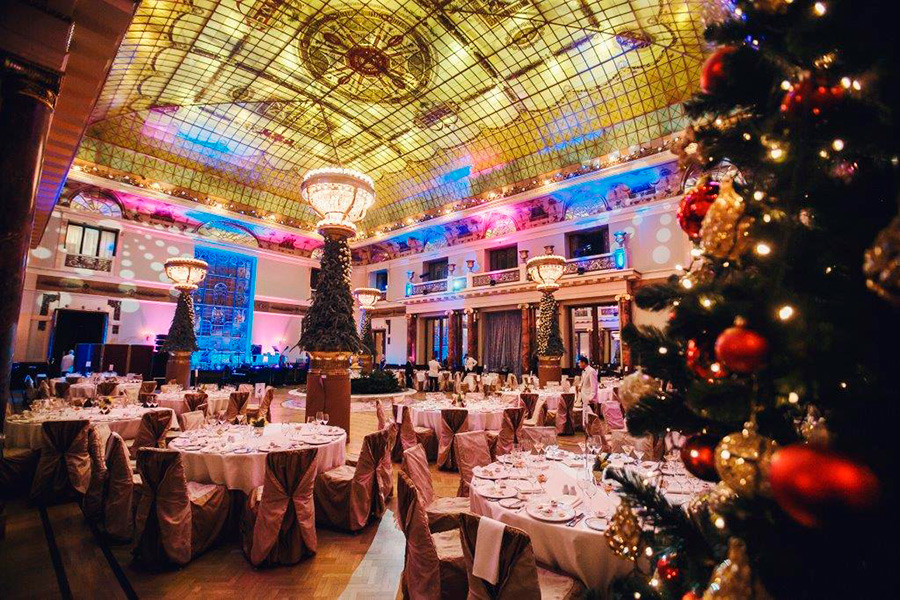 Press Photo
An all-time favorite dish among guests ever since the founding of the hotel is roast venison with cranberries. The cranberries were and still are sourced locally in the Moscow Region, a throwback to the days when the hotel's creator, entrepreneur and philanthropist Savva Mamontov, would invite artistic luminaries for lunch at his estate near Moscow. It was from these social gatherings that the recipe is said to have been born. Today, roast venison with cranberries at the Metropol is served with horseradish cream sauce.
Roast venison with cranberries and horseradish cream sauce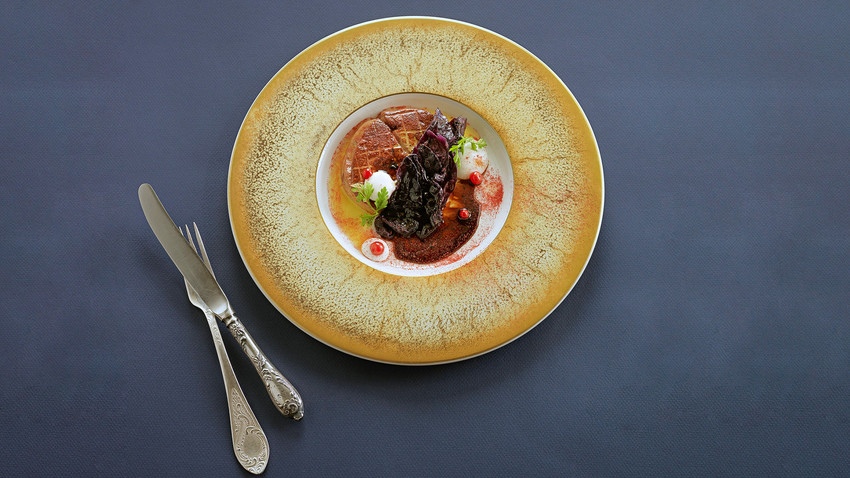 Roast venison with cranberries and horseradish cream sauce from New Year Eve's menu at the historic Hotel Metropol
Press Photo
Ingredients:
Brisket of venison on the bone 3 kg
Honey 100 g
Mustard 50 g
Juniper berries 2 tbsp
Kvass wort 500 g
Salt 2 tbsp
Ground black pepper 2 tsp
Onion 3 pcs
Parsley 50 g
Cooking:
1. Mix all ingredients and grease the brisket with the marinade. Marinate at room temperature for 4 hours, then coat with the marinade again. Turn over and refrigerate for 12 hours.
2. Remove the marinade from the brisket, strain through a sieve. Do not pour the marinade away.
3. Grill the brisket and oven-bake at 120 degrees Celsius with a meat thermometer (stuck through the center of the brisket) set to 48 degrees Celsius (cooking time: about 35 minutes). Grease with the remaining marinade every 5 minutes.
Ingredients for grated cranberries:
Fresh-frozen cranberries 800 g
Honey 200 g
Mustard 50 g
Cooking:
Grind cranberries, honey, and mustard with a mortar, and then mix.
Ingredients for horseradish cream sauce:
Cream cheese 300 g
Fresh grated horseradish 50 g
Horseradish cream 180 g
Black pepper 1 tsp
Cooking:
Mix all ingredients.
Serving:
Thinly slice the venison, top each slice with 1 tsp of grated cranberries and a little horseradish. Serve with rye bread and parsley.
Read more: 10 dishes that you can taste only in Siberia
If using any of Russia Beyond's content, partly or in full, always provide an active hyperlink to the original material.