Old Russian winter dish: Pryazhenina with oat pancakes (RECIPE)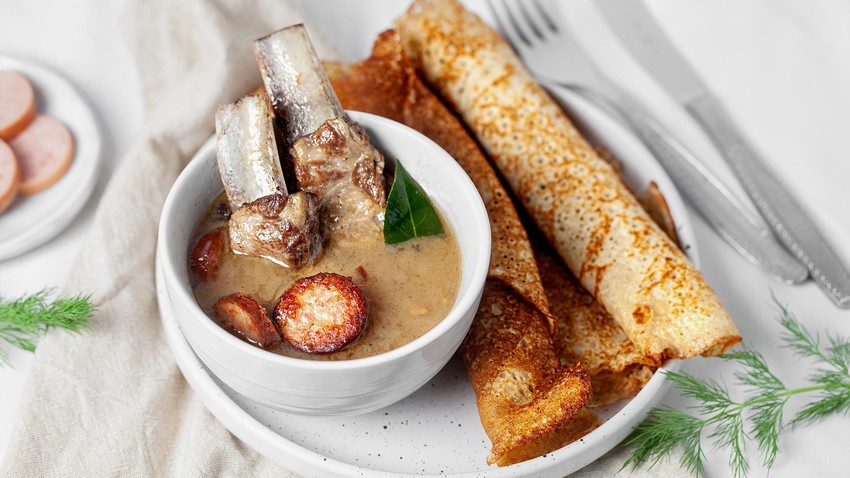 Taste pryazhenina with oat pancakes.
Yulia Mulino
What to eat when the Christmas roasted geese and turkeys have been devoured, but you're still in search of a warm and hearty dish? Try pryazhenina, a long forgotten festive Russian dish.
I've been often asked by my Italian relatives and friends about our main winter holiday dish. Roasted goose comes first to my mind, of course. Having studied this subject thoroughly, it turns out that we have plenty of forgotten dishes. Pryazhenina impressed me the most.
The name "Pryazhenina" derived from the old church Slavonic word, "pryazhit", ('to fry'). In fact, frying in a large amount of melted bacon fat is considered quite old. Some researchers argue that this means of cooking was common in the 15th century. Although it was very popular in Russia, Belarus and Poland at Christmas (celebrated in January by the Orthodox) and Christmastide (Jan. 7-17), now it is almost forgotten.
Pryzhenina is a nourishing warm winter meal, a stew of pork spare ribs and homemade sausages in a thick sauce. It was cooked in a cast-iron pot inside a brick stove.
Pryazhenina was traditionally offered with oatmeal pancakes – another must on the winter festive table. Both dishes are served separately. Pancakes should be soaked in a thick flour-based sauce. Fresh garlic and dill complete the recipe with special flavors and enrich the meal with vitamins.
Ingredients: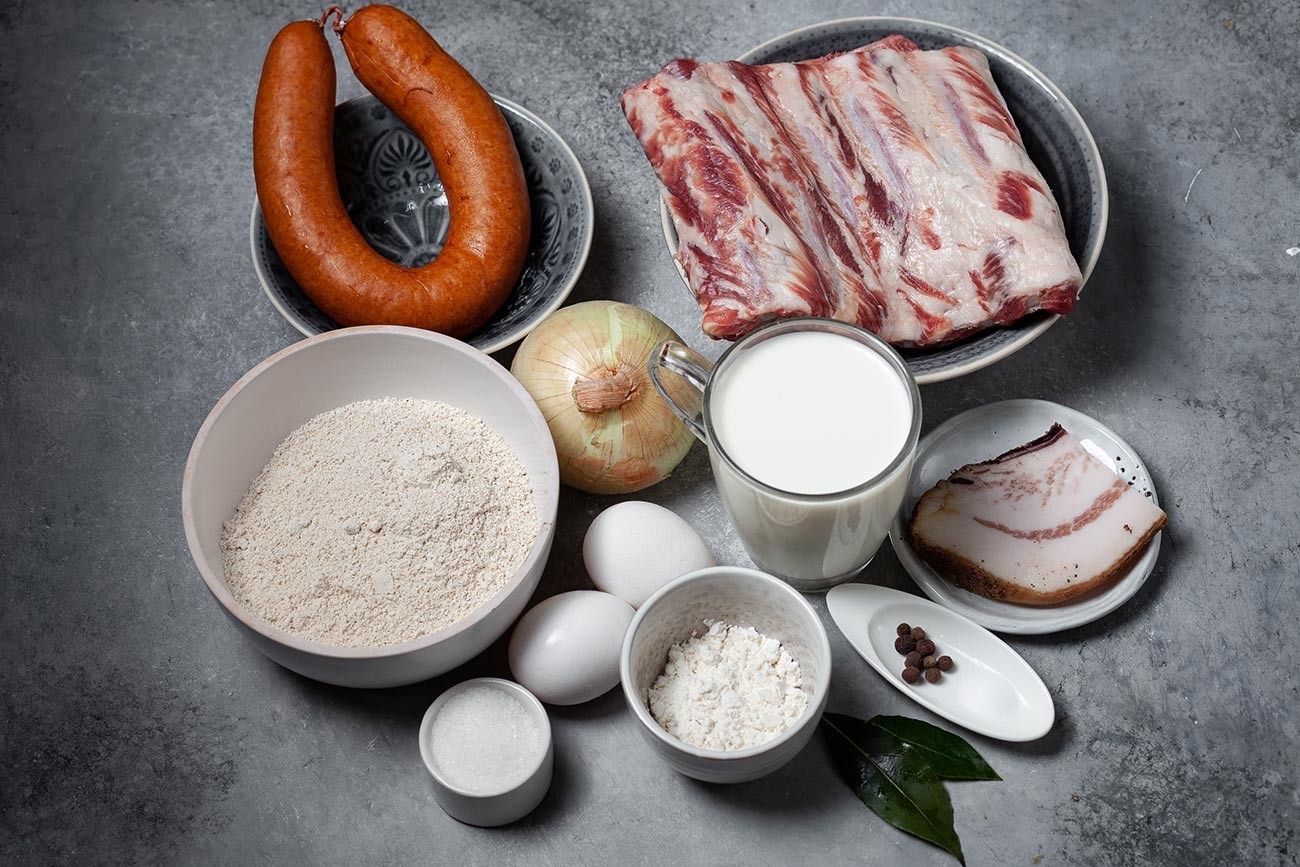 For pryazhenina:
Pork spare ribs – 700 g
Smoked sausage – 500 g
Bacon – 50 g
Flour – 1 tbsp
Water – 380 ml
Onion – 1 pc
Garlic – 2 cloves
Salt
Black pepper
Bay leaf
For oatmeal pancakes (7 pcs):
Oat flour – 130 g
Milk – 375 ml
Eggs – 2 pcs
Oil (sunflower) – 2 tbsp
Sugar – 2 tbsp
Salt – ½ tsp
Baking powder – ½ tsp
Preparation:
Making pryazhenina:
1. Cut bacon and melt in a deep pan with a thick bottom until all the fat runs out.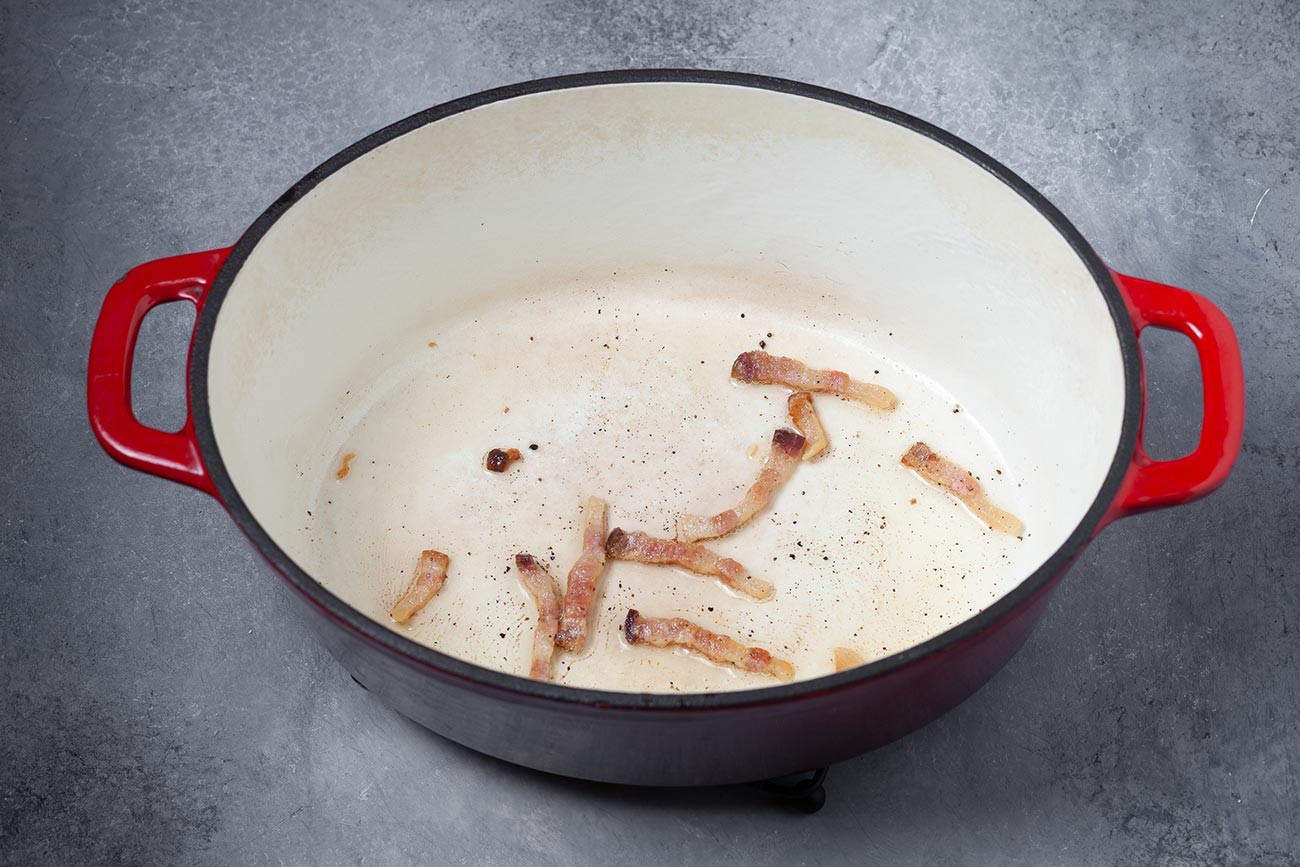 Yulia Mulino
2. Cut up the ribs.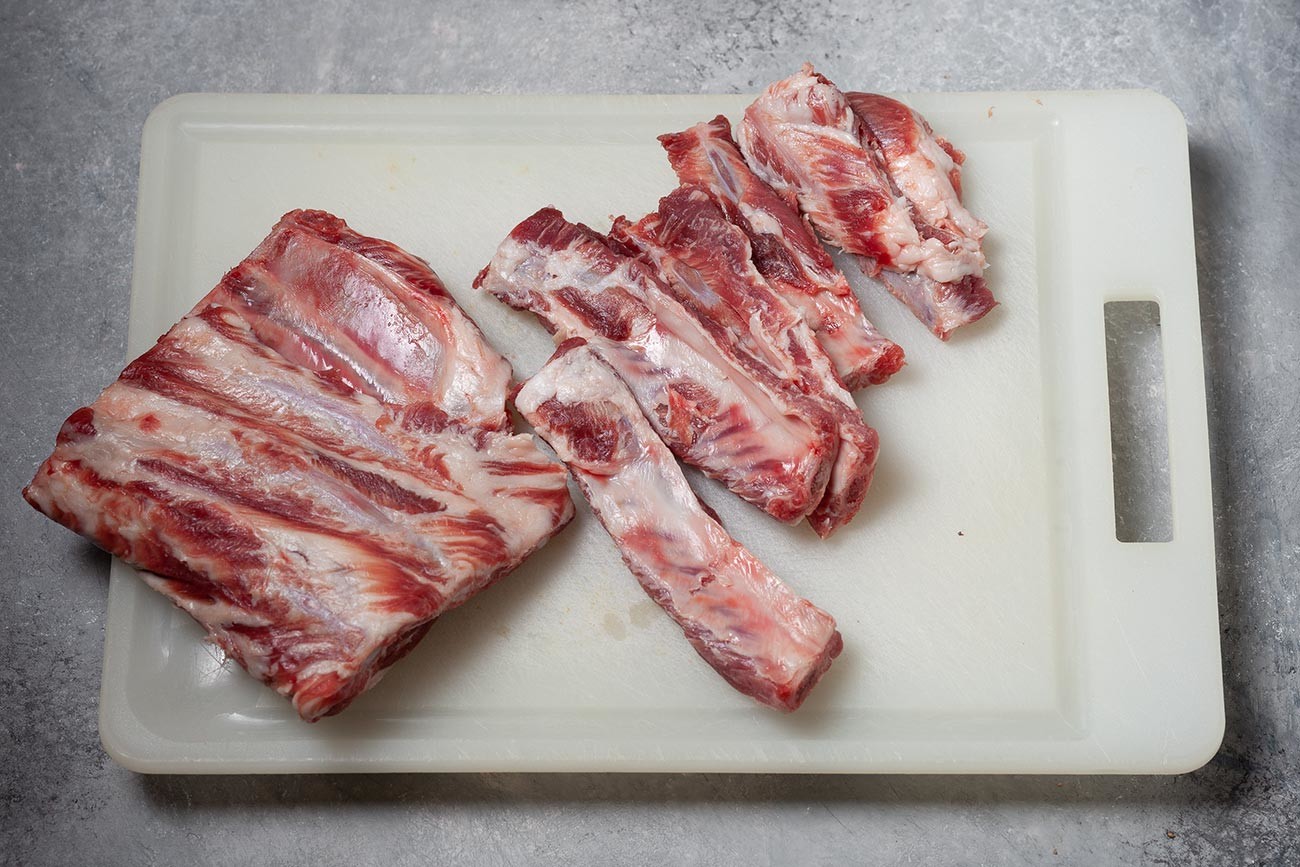 Yulia Mulino
3. Fry the ribs in the fat until a crispy crust forms. Then remove from the pan.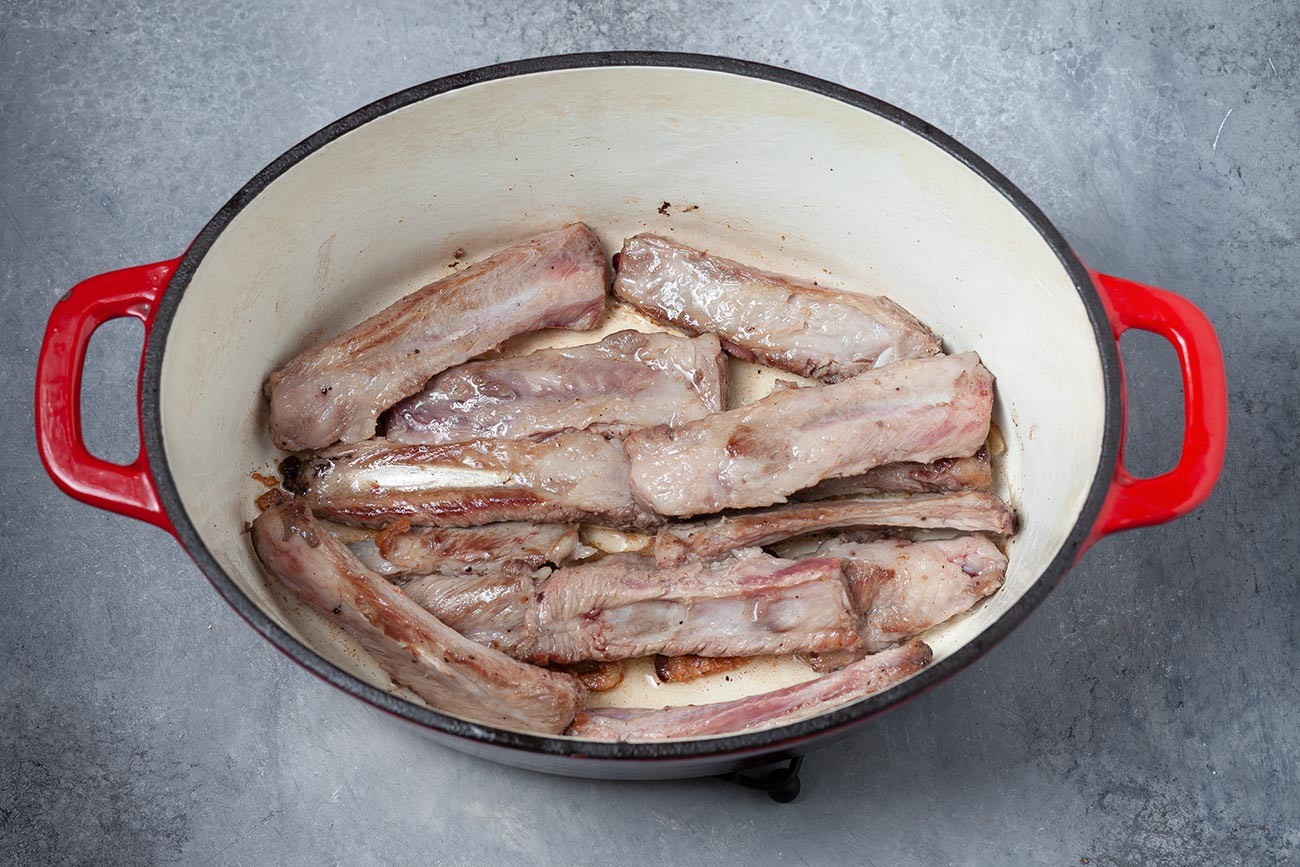 Yulia Mulino
4. Fry the sausages in the same pan. Then also remove.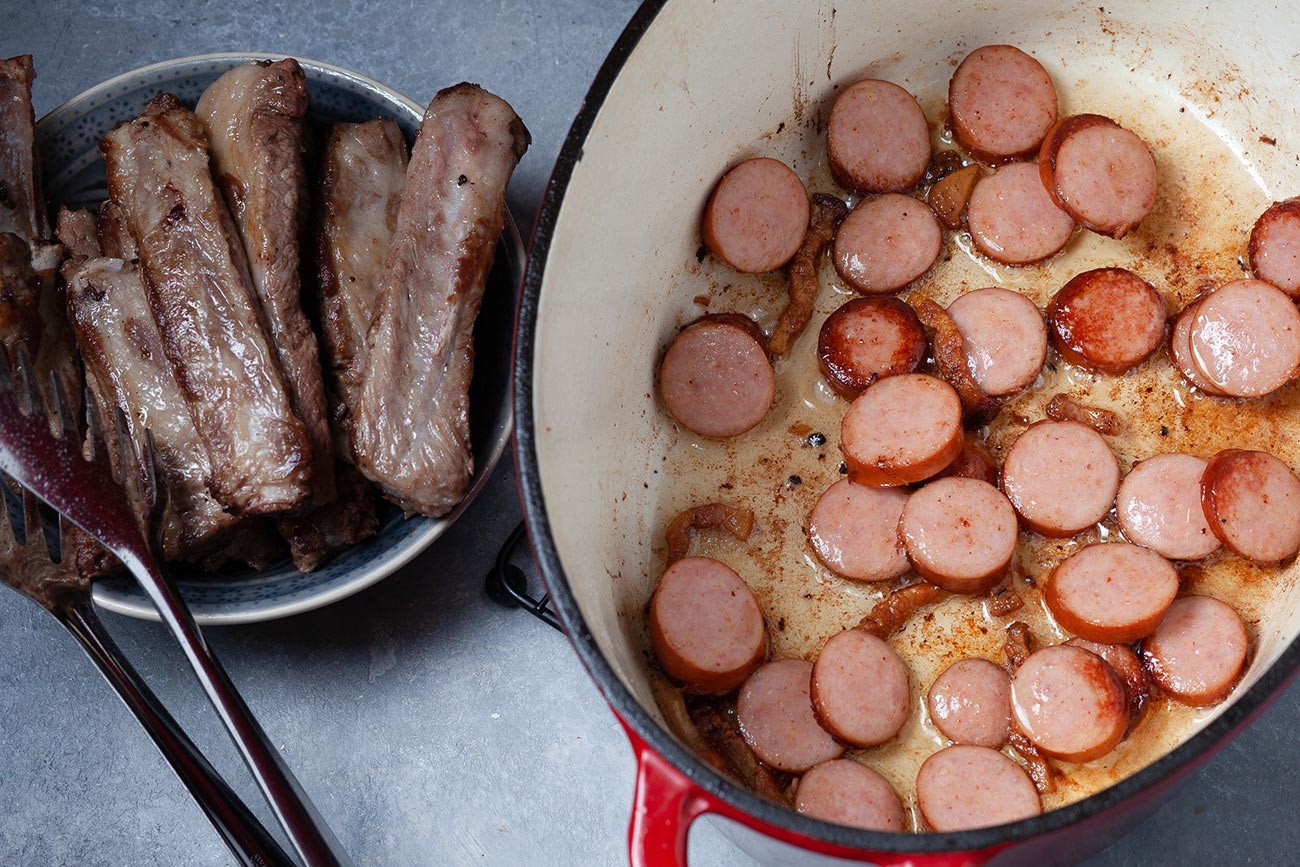 Yulia Mulino
5. Cut the onion and garlic, and fry in the pan till soft and golden; add a spoon of flour.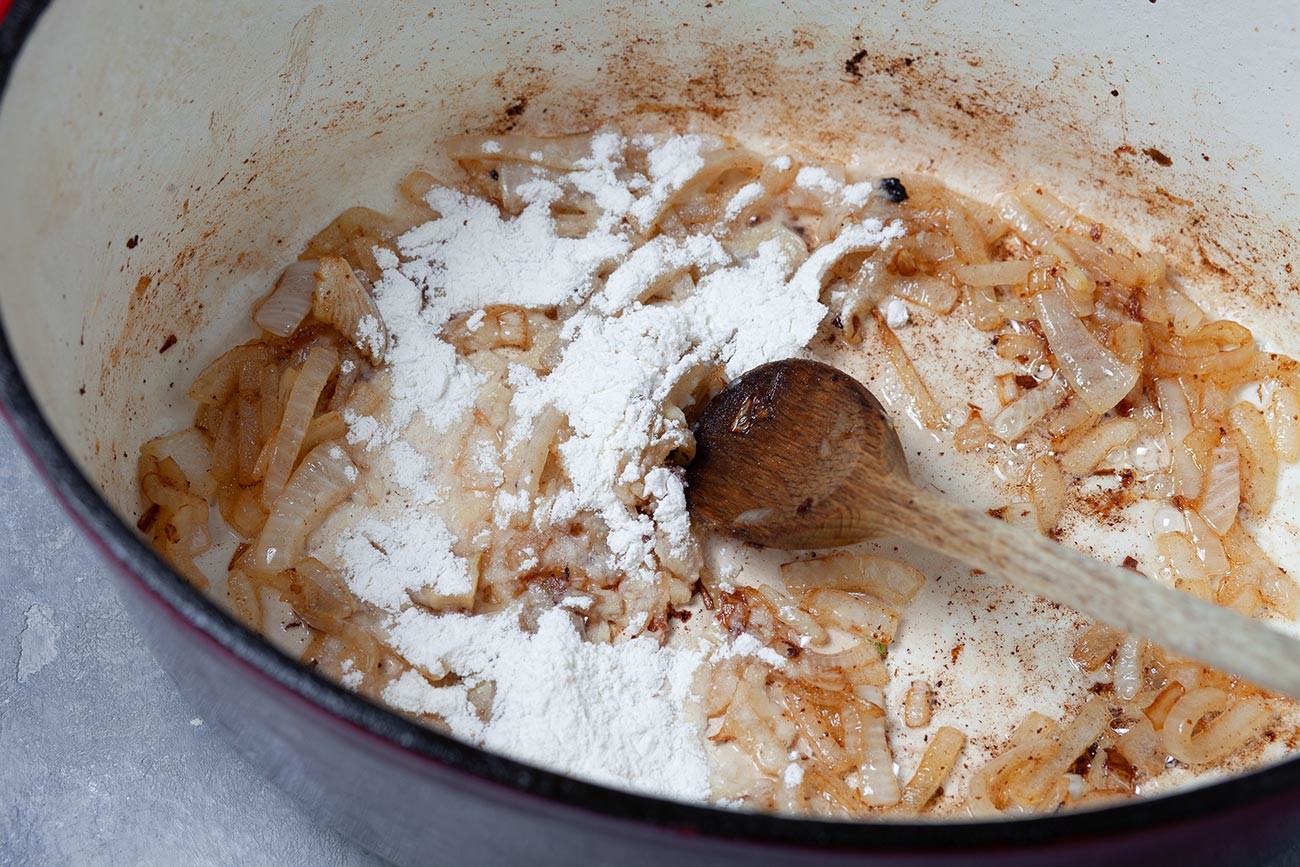 Yulia Mulino
6. Pour water and stir the sauce to prevent the flour from sticking. Stew for 5 minutes.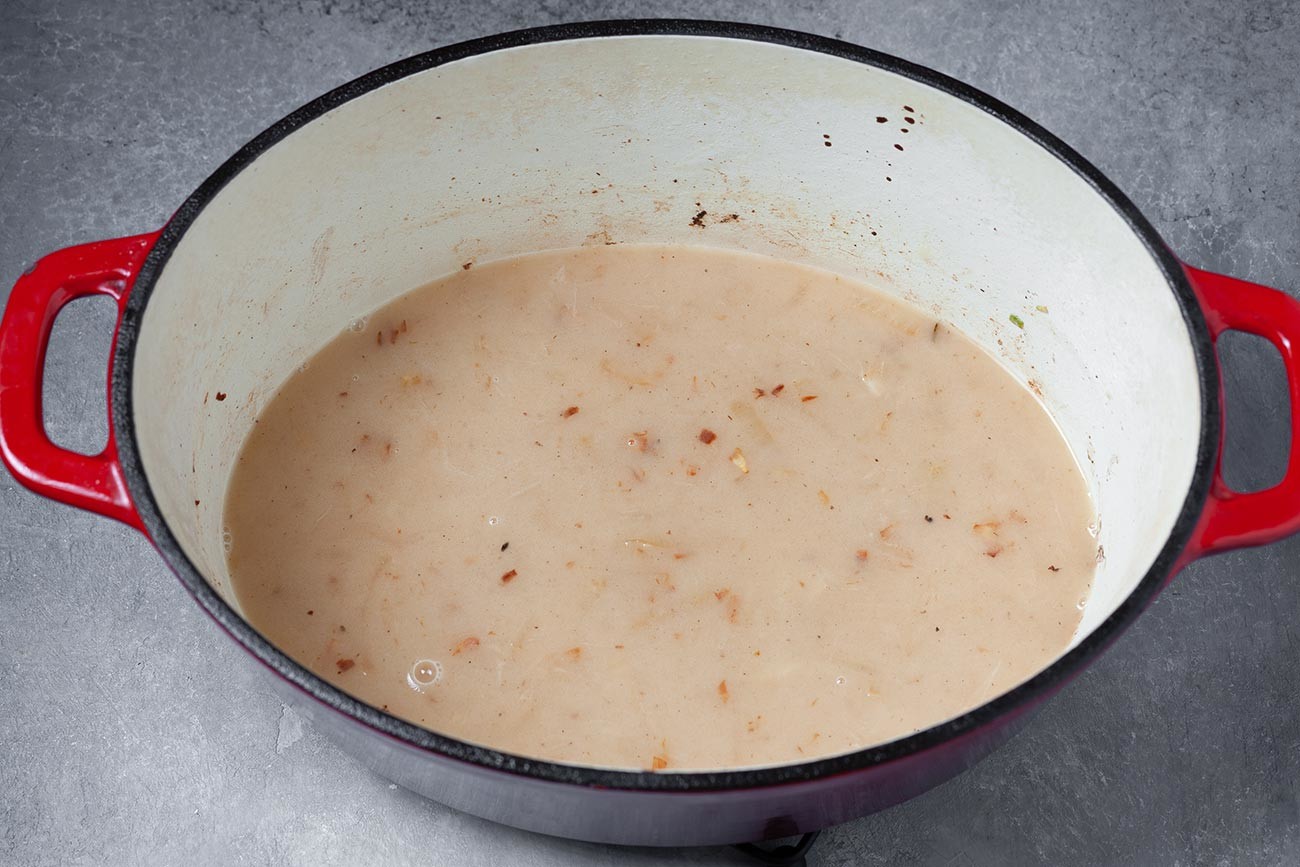 Yulia Mulino
7. Put fried ribs and sausage into the sauce; add bay leaf, salt, black pepper and bake in the oven for one hour at 180°C.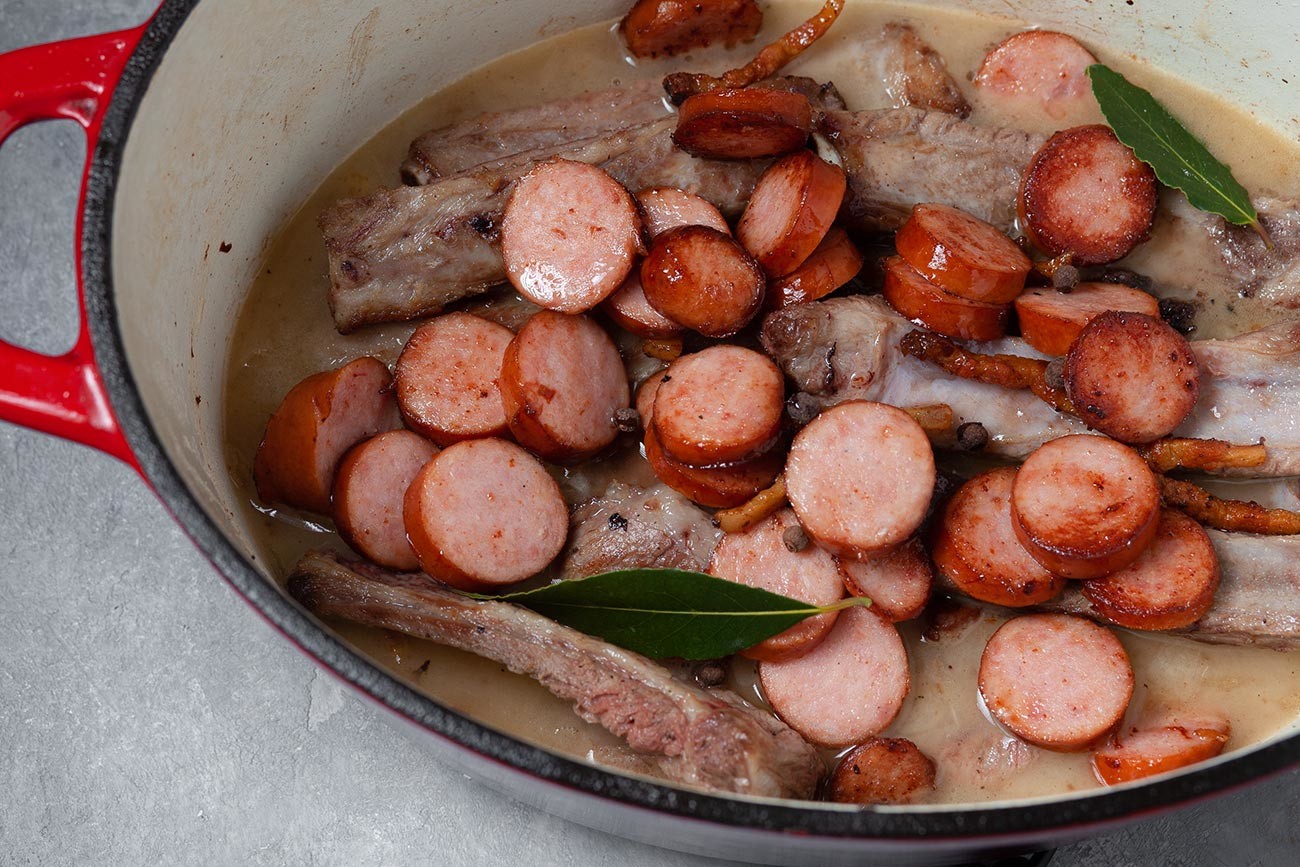 Yulia Mulino
8. Remove from the oven, squeeze fresh garlic and let it sit 10 minutes with a closed lid.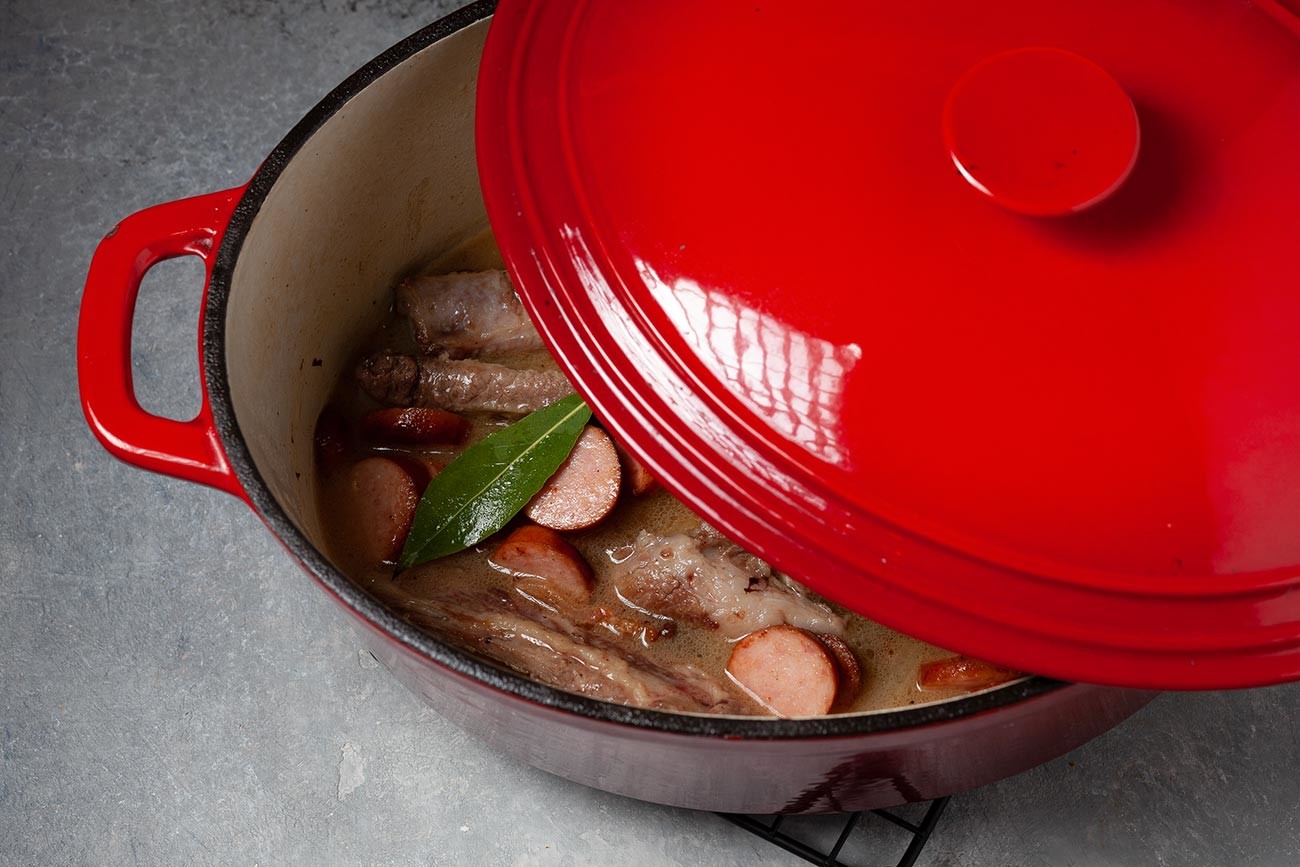 Yulia Mulino
9. Serve pryazhenina hot with oat pancakes. Ribs and sausage can be offered with sauce or in a separate cup. Fresh herbs enrich the taste.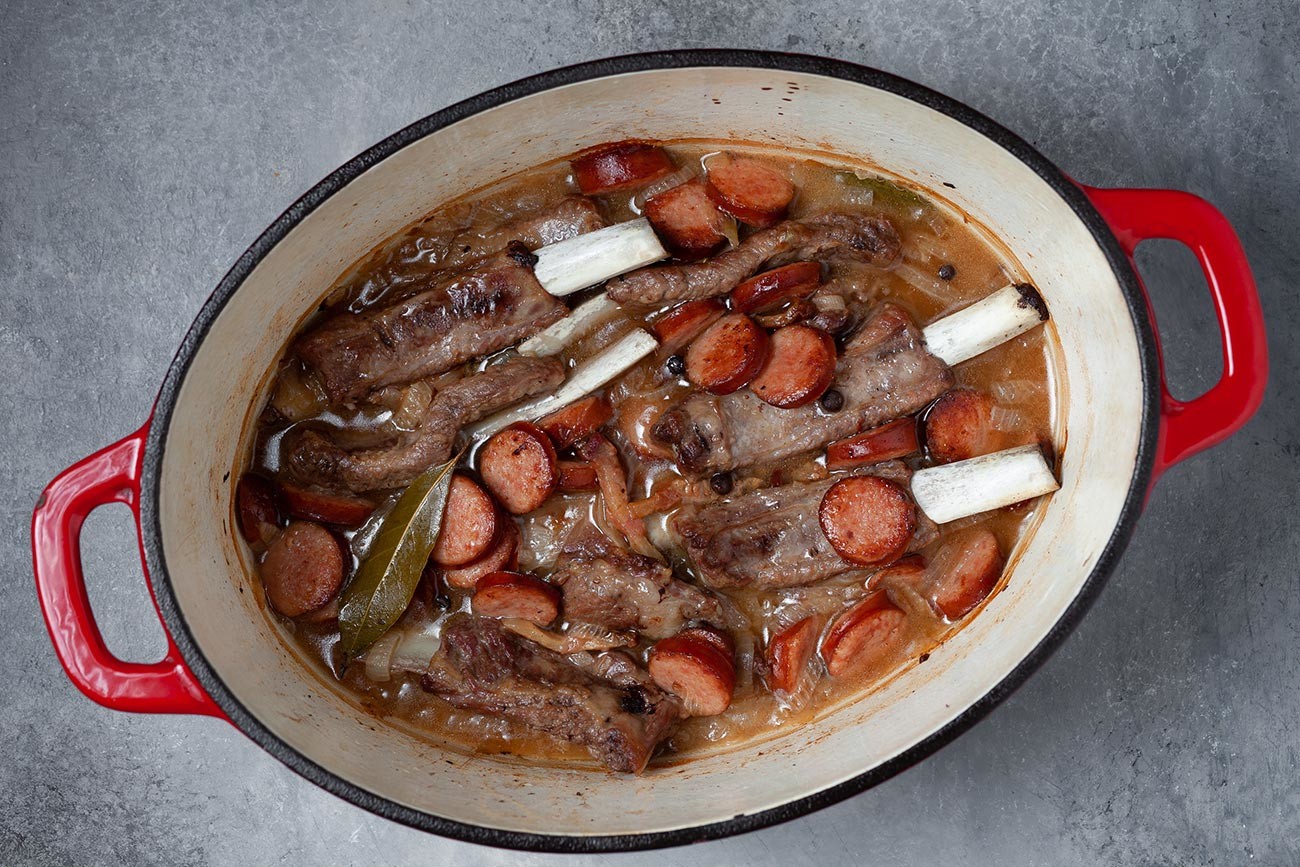 Yulia Mulino
Making pancakes:
1. Mix eggs, salt and sugar in a deep bowl.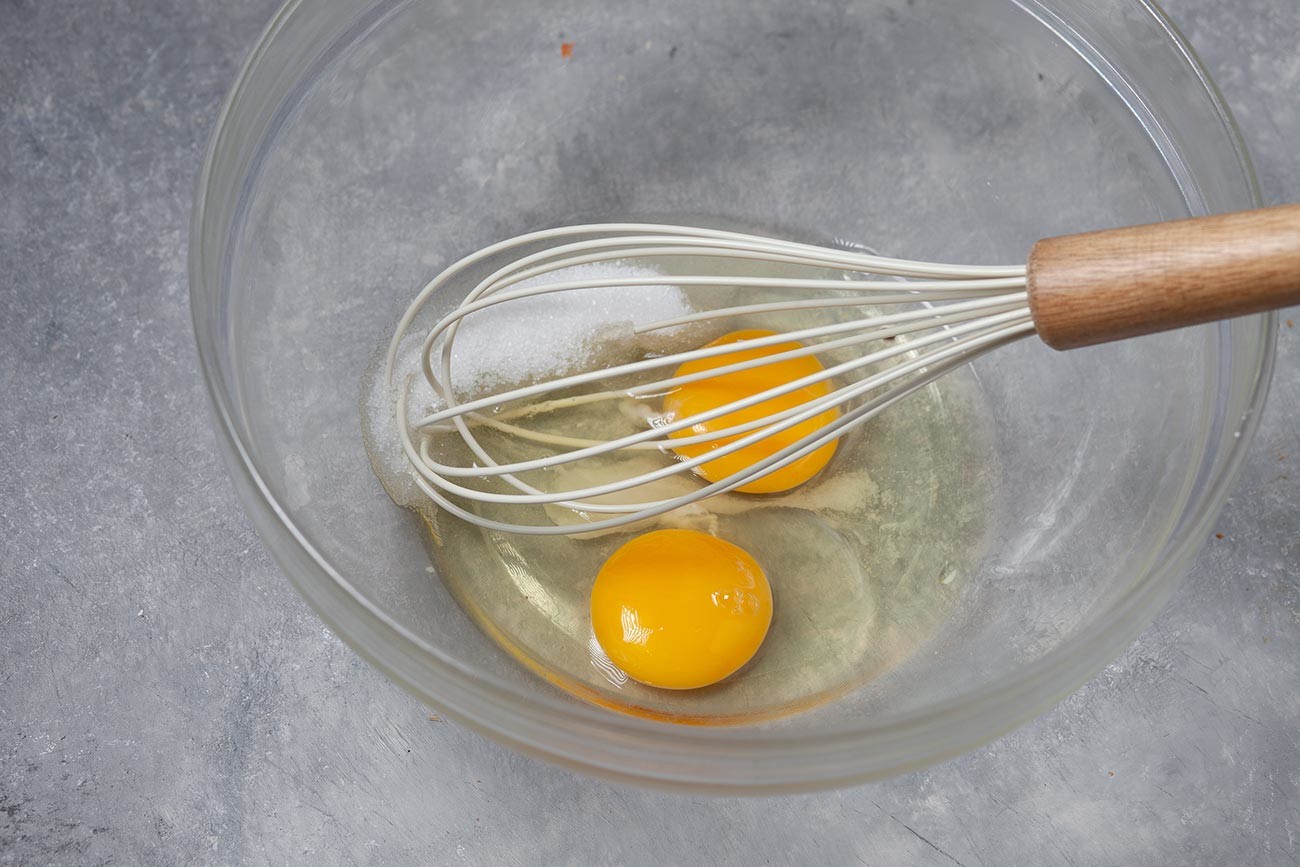 Yulia Mulino
2. Add warm milk. Sift flour with baking powder and stir the dough thoroughly.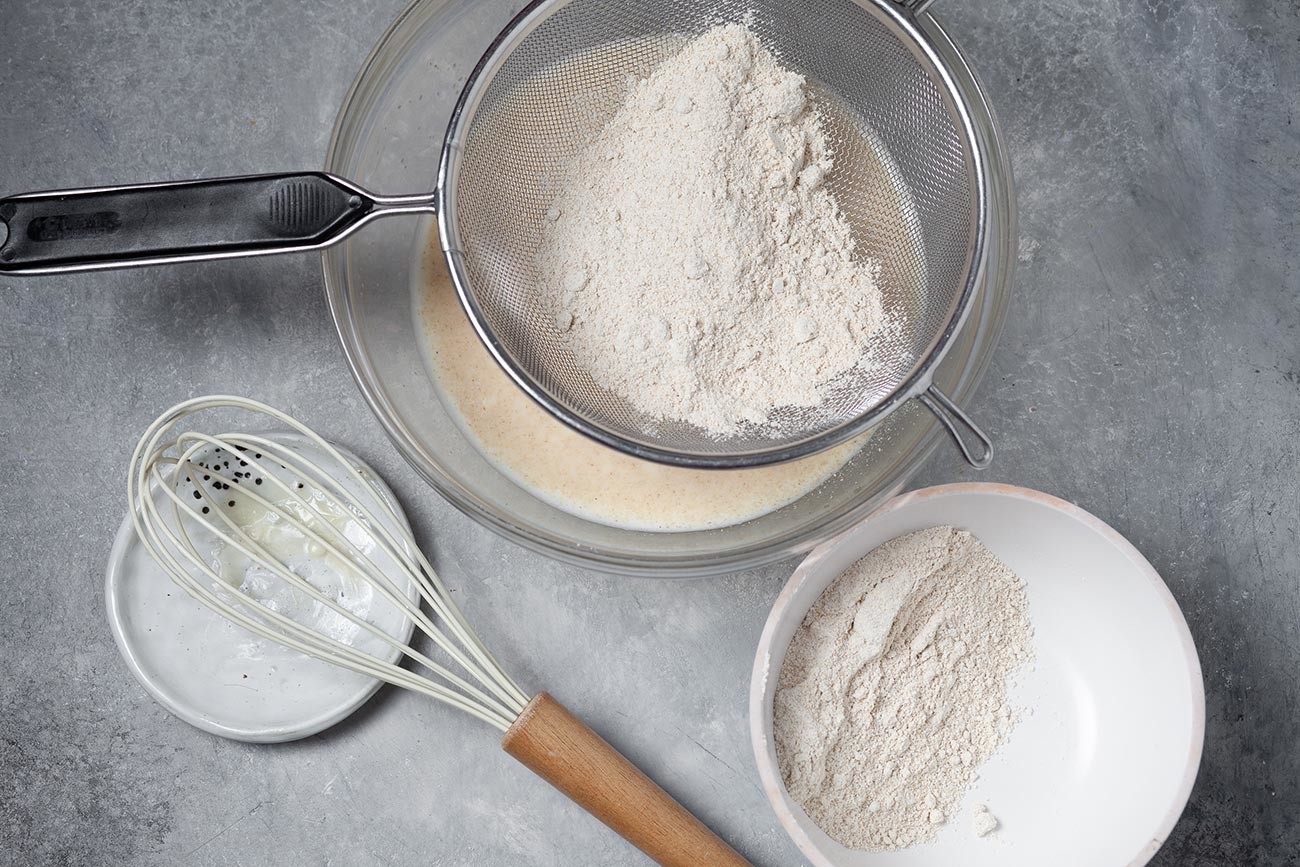 Yulia Mulino
3. Add oil and leave the dough to sit for about 30 minutes. It will become thicker.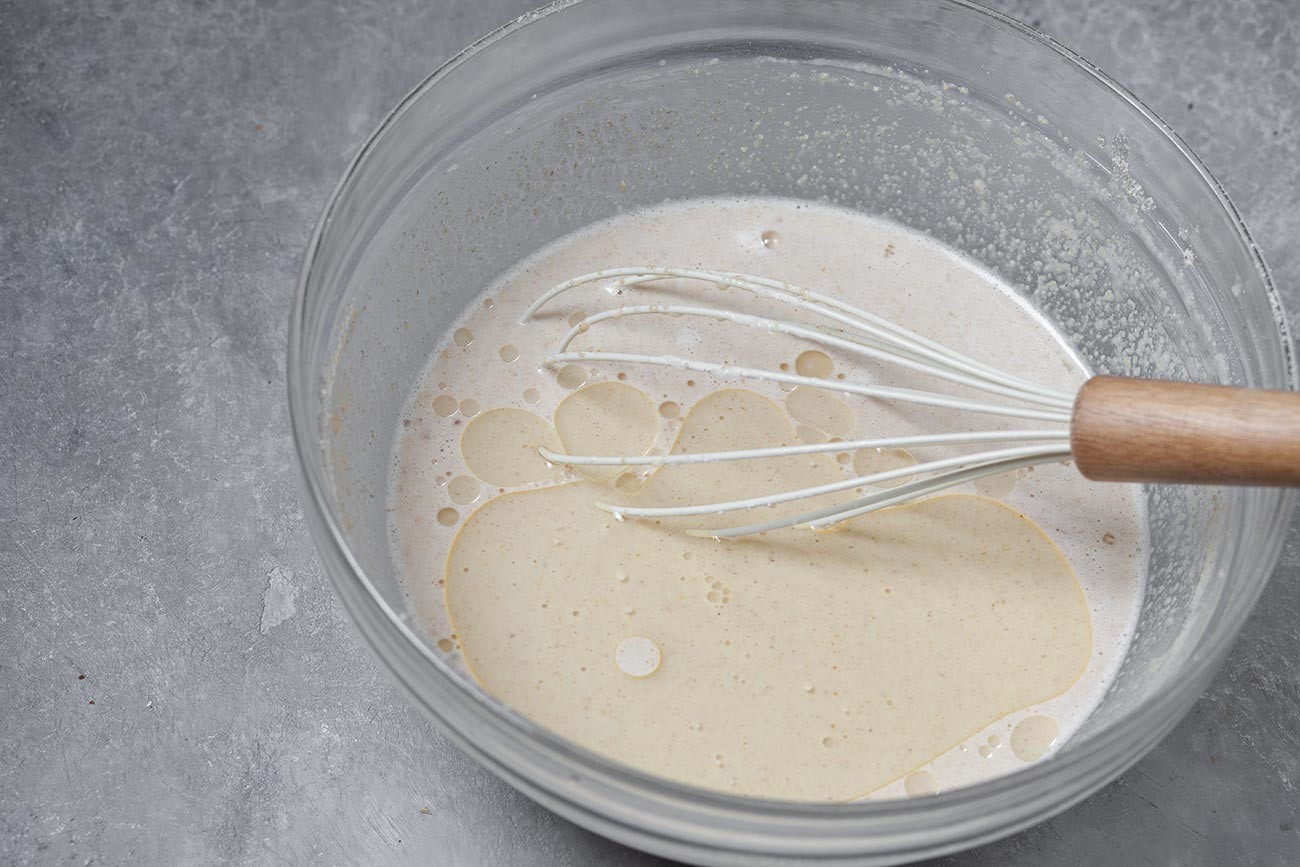 Yulia Mulino
4. Bake pancakes on a hot flat pat, flip carefully.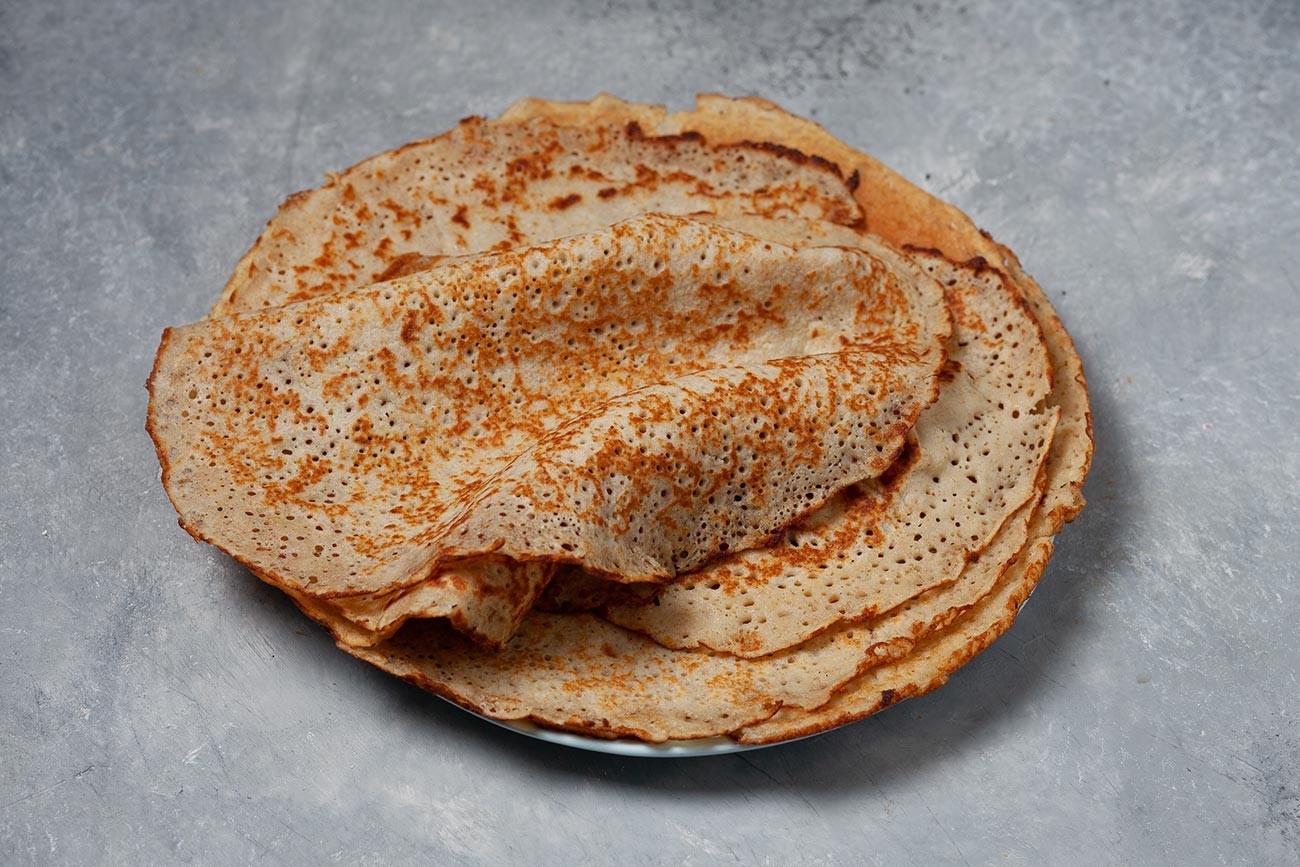 Yulia Mulino
Enjoy pryazhenina with oat pancakes!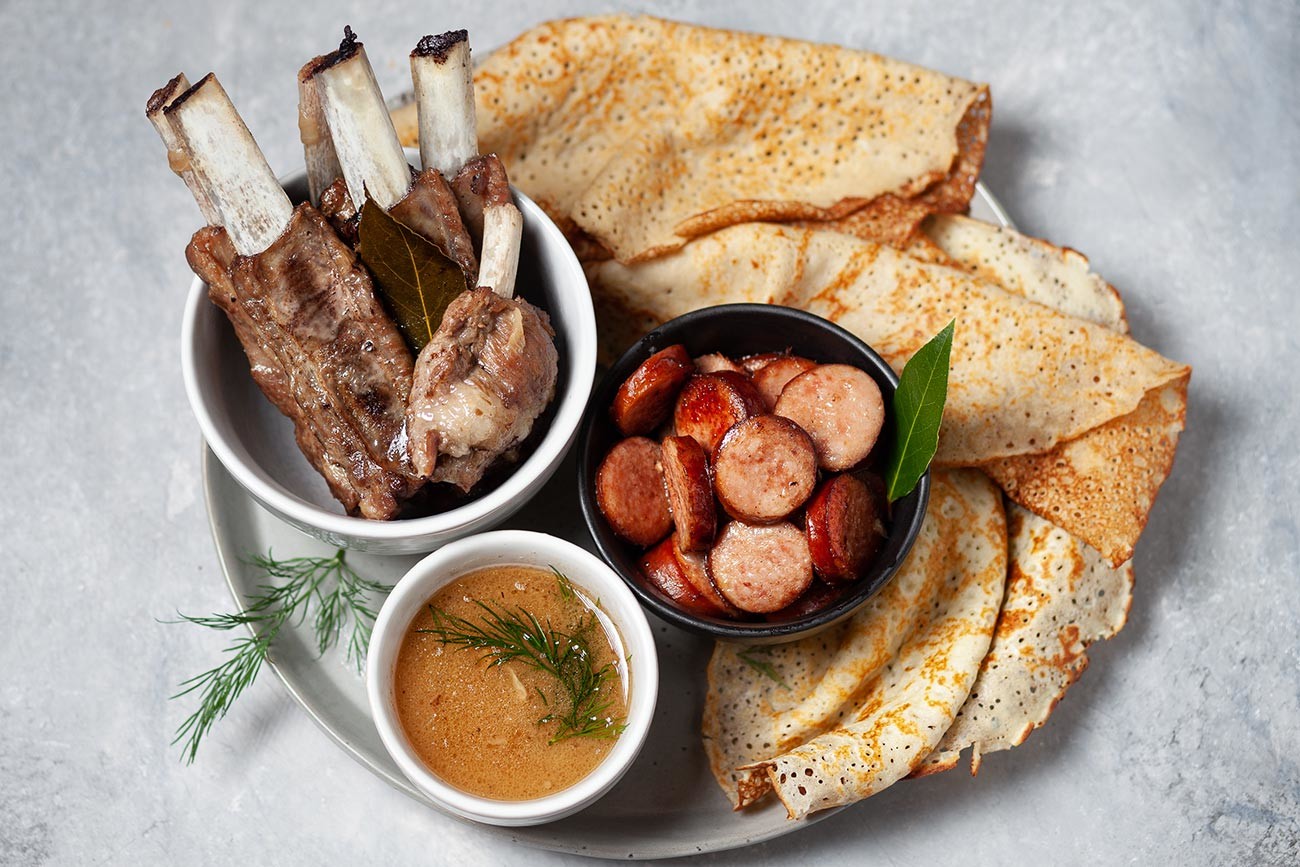 Yulia Mulino
If using any of Russia Beyond's content, partly or in full, always provide an active hyperlink to the original material.