3 hot Russian beverages made with berries and fruits (RECIPES)
Famous berry and fruit drinks enjoyed by Slavs for centuries that will warm you up on a cold day.
Legion Media
In the cold Russian climate, hot and comforting beverages are indispensable. Sbiten, vzvar and dusheparka are recipes from the past, but they still go down well today. And it is easy to make them at home.
1. Sbiten Tayozhny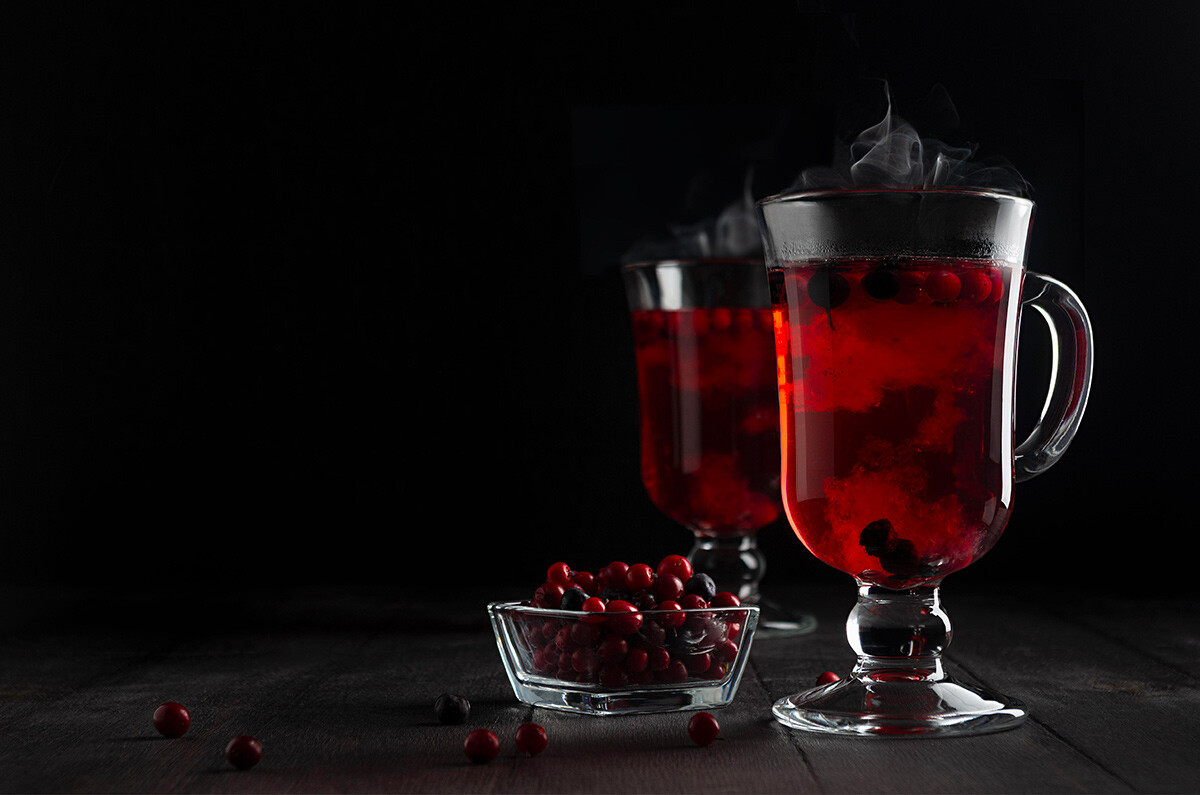 Sbiten appeared in Russian cuisine in the 12th century. It was particularly popular in the 18th-19th centuries before tea and coffee became widespread. Sbiten was made either alcohol-free or alcoholic with the use of wine. It was sold at fairs, in taverns and on the street. Sbiten vendors served the beverage from enormous copper samovars that they carried on their back wrapped in heat-retaining fabric.
Initially, sbiten was prepared in two pots - honey was dissolved in one and spices infused in the other. Then the contents of the two were mixed and "beaten" together, giving the drink its name (derived from the Russian verb "sbivat" - to beat, to whisk).
It is a thick beverage with a concentrated berry flavor. In the past it had to simmer for up to two hours; nowadays, half an hour will suffice. It is usually accompanied by baranki or sushki (two types of ring-shaped dry bread rolls that are briefly cooked in boiling water before being baked, a sushka being smaller in size than a baranka), bubliki (similar to bagels), krendeli (similar to pretzels) or kalachi (ring-shaped white bread rolls). If you have a sweet tooth, you will enjoy it with pryaniki (gingerbread). It can be served hot in winter and cold in summer, and thanks to its slightly sour taste, it is a great thirst-quencher.
Ingredients (for 3-4 servings):
Water - 1 l
Honey - 100 g
Sugar - 3 tbsp (optional)
Lingonberries - 250 g (cranberries can be used as an alternative)
Cloves, cinnamon, cardamom, bay leaf, allspice - to taste
St. John's wort or other herbs - 20 g (optional)
Pine syrup - 250 ml (optional)
Preparation:
Squeeze the juice from the lingonberries. Pour water over the pulp, add the herbs, bring to a boil and simmer on low heat for 30 minutes. Strain the infusion.
Pour hot water over the spices (except the bay leaf) and boil for 10 minutes. Add the bay leaf and simmer for another 5 minutes.
Strain the spice infusion, add the berry infusion and the fresh lingonberry juice, sugar and honey. Instead of sugar, extra honey can be added, as was done in the past. Stir and bring to a boil. Pine syrup can be added to give it the aroma of the taiga.
2. Vzvar of stewed prunes and pears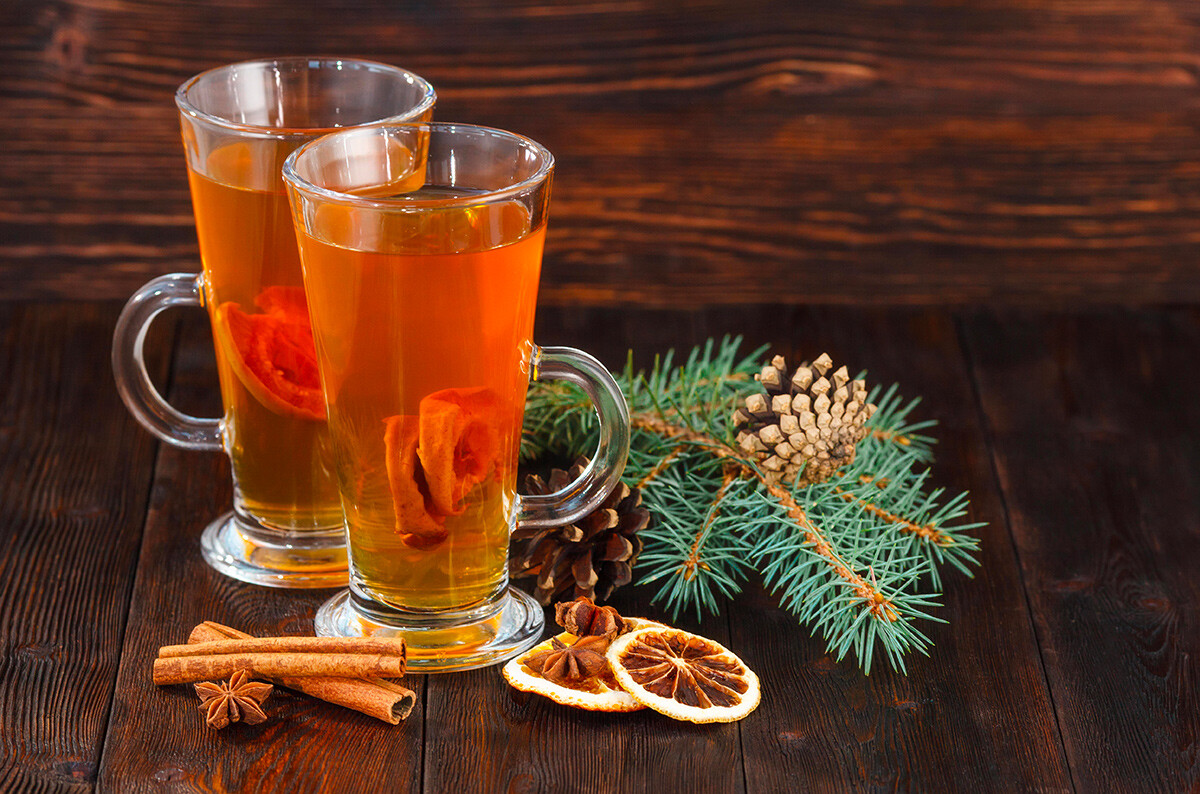 Vzvar of stewed prunes and pears.
Legion Media
A vzvar is a stewed infusion of fruit, berries and herbs. Vzvary are most commonly made of cranberries, lingonberries or apples, and the apples can be fresh, dried or soused. Mint, currant leaves, thyme and other aromatic herbs can be used.
The name comes from the Russian verbs "varit" (to cook, simmer) and "zavarivat" (to steep, infuse). The recipe calls for the dried fruit to be steeped, not cooked. Only honey is added - not sugar.
Ingredients (for 4-5 servings):
Water - 1.5 l
Dried apples - 100 g
Pear - 1
Dried prunes - 250-300 g
Honey - 1 tbsp
Cloves - 3
Preparation:
Wash the dried apples and prunes and steep them in warm water for 1 hour.
Pour out the water and cover with cold water. Bring to a boil.
Add slices of fresh pear and simmer for 3-4 mins. Add a spoon of honey and carefully stir. Leave the vzvar to infuse for about an hour, and pour into glasses.
3. Dusheparka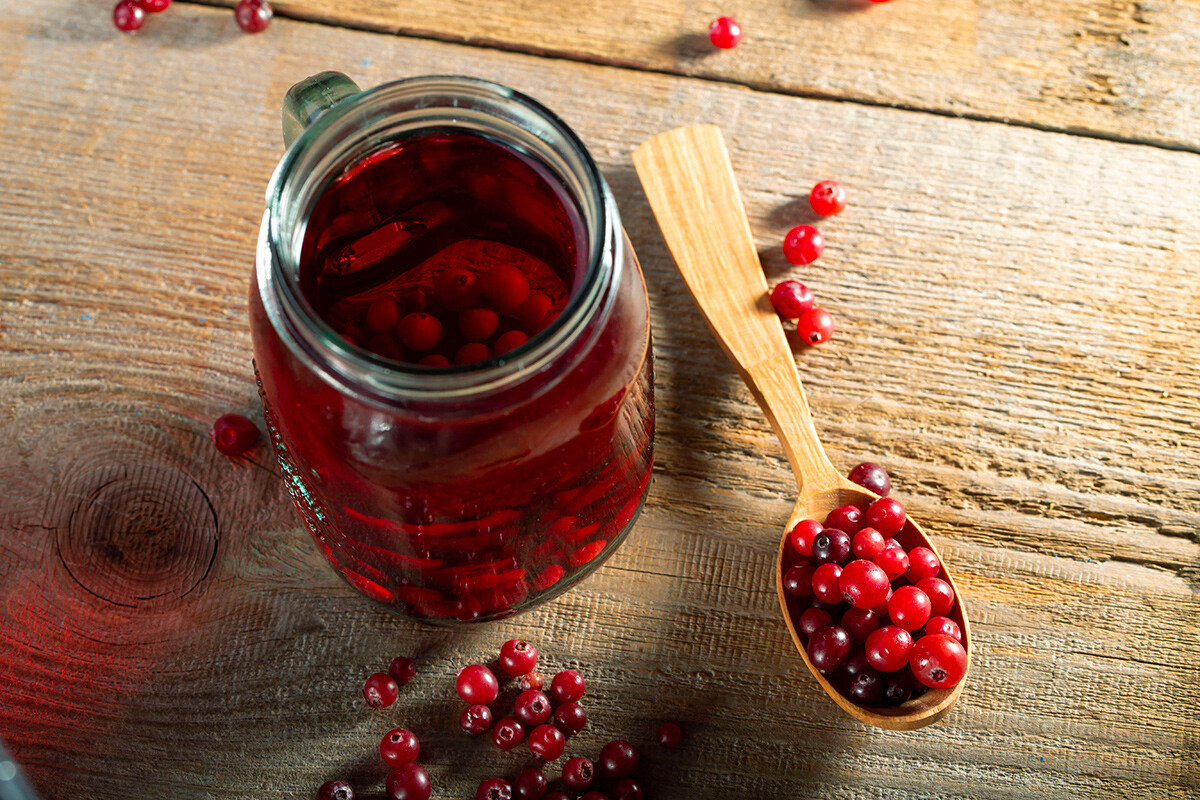 Dusheparka with cranberries.
Legion Media
This ancient Russian berry- and honey-based low-alcohol drink originated in the Yaroslavl Region. Dusheparka is enjoyed hot. The name, which is suggestive of the Russian words "dushuparit" (it can be loosely translated as "steam for the soul"), comes from its warming effect.
Dusheparka has a sourish-astringent taste because of the sourness of the berries, and there is also a "pepperiness" from the spices and a slight bitterness from the beer.
Ingredients (for 3 servings):
Dark beer - 0.5 l
Runny honey - 150 ml
Cranberries, lingonberries or blackcurrants - 250 g
Semi-sweet red wine - 200 ml
Spices (ginger, cinnamon, cardamom, allspice, St. John's wort) - to taste
Sugar - 3 tbsp or to taste
If you want a milder flavor, pale beer can be substituted for dark, and the quantity of honey doubled.
Preparation:
Mix the honey, berries, beer and spices in a saucepan. Bring the mixture to a boil and simmer on low heat for 15 minutes.
Stir and strain the infusion. The pulp can be discarded.
Pour the infusion into a saucepan, add the wine and sugar, and stir everything together.
Heat the dusheparka but don't allow it to boil. As soon as you see it begin to bubble, remove from the heat and pour into glasses. The result is a low-alcohol drink containing about 6-7 per cent alcohol.
Dear readers,
Our website and social media accounts are under threat of being restricted or banned, due to the current circumstances. So, to keep up with our latest content, simply do the following:
Subscribe to our Telegram channels: Russia Beyond and The Russian Kitchen
Subscribe to our weekly email newsletter
Enable push notifications on our website
Install a VPN service on your computer and/or phone to have access to our website, even if it is blocked in your country
If using any of Russia Beyond's content, partly or in full, always provide an active hyperlink to the original material.