How to fuel in Russia and keep your car safe?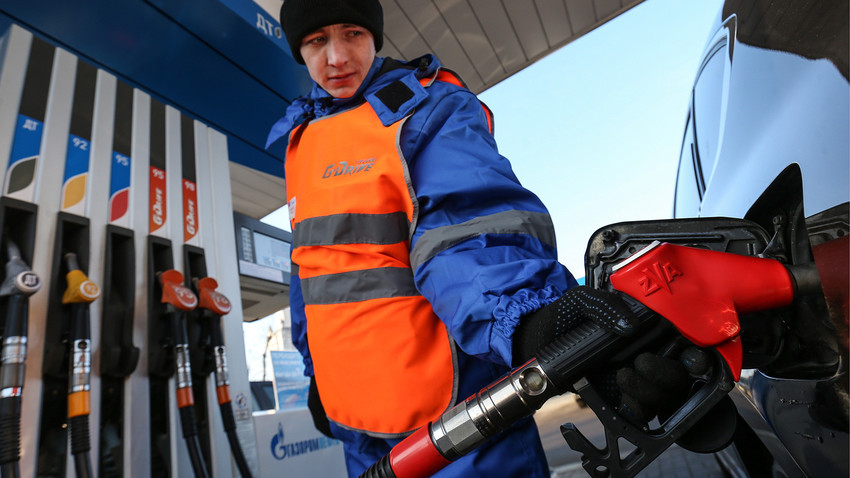 Fueling in Russia is not a piece of cake
Vyacheslav Prokofyev/TASS
Traveling in Russia by car is an awesome, but challenging experience. Driving along a highway through deep Siberian forest, you may encounter a gas station every 100 km, plus bad fuel could ruin your car completely. Russia Beyond gives you 15 tips on how to fuel your vehicle and not get into trouble.
1) Try to fuel at the largest gas station chains in the country: GAZPROMNEFT, ROSNEFT, Tatneft, BP, TNK, Shell, Lukoil, etc. Fueling at an unknown station is too risky. There have been cases in the Moscow Region when a gas tank was fueled with water. Your car won't thank you for that.
2) Don't choose gas stations with surprisingly low prices. Good gasoline can't be cheap. Very likely, it is of low quality. Russia's misfortune is that fuel is often diluted. According to research, low-grade gas has been found at one in eight gas stations.
3) Always take a check or demand it if you're not given one. You can complain about the quality of the gas and get a refund.
4) After fueling, check the operation of the engine. If it starts to "sneeze" and get rusty, forget about this station forever. You know why.
5) Ask your Russian friends where they fuel. If they can't help you, a taxi driver can. They know for sure what local gas stations are the best.
6) A good indicator is lots of cars lined up, or, even better, truckers. If a gas station is empty, go find another one.
7) Demand a certificate of quality from the gas station if you doubt the quality of the gas. The document should specify where the gas was purchased, who produced it, and the octane rating.
8) Polite and efficient staff are not only a nice bonus, but also an indicator that the company wants to protect its reputation, so there's no reason to expect unpleasant surprises.
9) Even stations of the same popular brand may differ in terms of quality of gas. You just have to experiment.
10) If you have to fuel your car at an unknown station, don't risk filling the tank! Fuel a small amount of gas to check.
11) Avoid gas stations where the gasoline containers are situated above ground. During hot weather, gas expands. You may fuel ten liters, but in fact get only nine.
12) Don't lose sight of your vehicle while fueling. An unscrupulous worker might siphon off gas from your pump to a canister while you're not looking.
13) Detect a strange smell at the gas station? Leave immediately. The gas there is certainly diluted.
14) If a drop of fuel accidentally falls on your finger, look what happens to it. If it evaporates completely, the gas is of good quality. If just a tiny trace remains, there is a chance the gas containers are used for diesel. Or vice versa. Anyway, it's better to find another station.
15) As Russian drivers say, it's better to fuel your car when you see a decent gas station (even if it's not urgent) than wait for another good opportunity (which might not come).
If using any of Russia Beyond's content, partly or in full, always provide an active hyperlink to the original material.