Few things seem so typically Russian to foreign travellers as wooden buildings. Mikhail Milchik, vice director of the Research Institute of Restoration in Saint Petersburg calls wooden architecture "the most original and most unique part of the cultural heritage of Russia."

View A taste of old Russia:Twelve places to see wooden churches in a larger map
For those people wanting to see old, wooden churches in remote and natural settings before it is too late, Richard Davies author of "Wooden Churches: Travelling in the Russian North" (White Sea) suggests staying in one of the northern towns or cities, like Arkhangelsk, Kargopol or Onega.
Davies said there are a growing number of hotels and travel agencies in Kargopol that can provide a car for travelling out into the countryside to visit the isolated churches and villages listed in his book.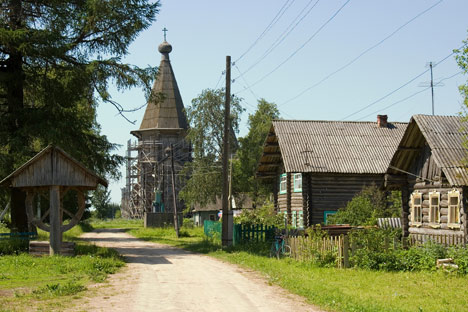 Kargopol. Source: Lori Images/Legion Media
He also recommends Petrozavodsk as a base from which to visit the staggeringly beautiful churches at Kizhi. The Russian artist Ivan Bilibin wrote: "I have never seen such an architectural fantasy as at Kizhi … you can't help thinking that you really are on the threshold of some fairy-tale Kingdom."
Many of the churches Davies photographed are clustered around the White Sea coast or along the Dvina and Onega Rivers. More accessible are some of the museums of wooden architecture. Milchik sees these as important in helping to popularize folk culture, but serving mainly as "reminders of what we have lost."
Davies concedes that they introduce people to the kind of beautiful buildings that need restoring and recommends the Malye Karely collection near Arkhangelsk. The five-domed Church of the Ascension and other gems of 17th century architecture have found a picturesque new home here, even if they have lost some of their authenticity.
The Vitoslavitsy Museum near Veliky Novgorod is another great collection in an evocative setting. Restored wooden buildings from across the region are ranged on the marshy shore of the Volkhov River.
There are similar museums in Suzdal and near Vologda, in the village of Semenkovo, a short taxi ride out of town. This ethno-architectural museum has examples of wooden buildings from the last two centuries, explanations in English and a lively museum of butter, all set among flowering meadows with grazing horses.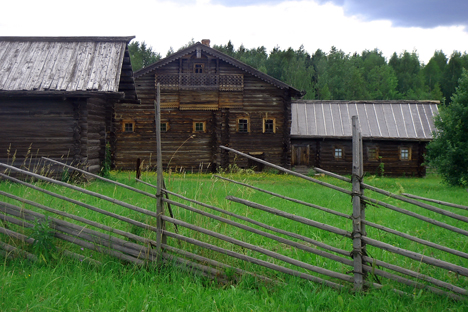 Semenkovo. Source: Lori Images/Legion Media
The wonderfully wooded hilly park at Kolomenskoye, just twenty minutes south of central Moscow, has its own museum of log churches and castle stockades. Particularly lovely is the three-domed, 17th century wooden church of St. George, originally built on the banks of a little tributary of the Dvina River. The artist Ivan Glazunov was responsible for rescuing the dilapidated church and transporting it to its new location.
There is a working wooden church, dedicated to St Nicholas, in the "Kremlin" at the Izmailovsky craft market in eastern Moscow. Everything about the fairy tale landscape here is unashamedly fake. It was all built from wood-clad concrete about fifteen years ago, but it is still quite a scenic area, a great place to buy souvenirs and there are some genuine imperial remains on a nearby island, part of the view from the church's observation platform.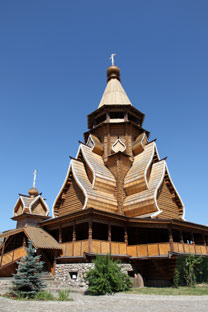 The intricate Church of St Tikhon in Sokolniki Park in northern Moscow is also a working church with an interesting history and attractive surroundings. The current building is a reconstruction of a 19th-century building, but its log-burning ceramic stoves and painted benches make it feel older. The Sokolniki were the Tsar's falconers and some tales say one of them founded this church.
Another hidden gem in Moscow's northern suburbs is the church of St George in Voikovskaya. This thriving church was built in 1997 and closely modelled on the churches of the Russian North. It has five traditional "hipped" roofs with domes and a bell tower and serves the community in the densely populated Koptevsky area. (Take tram 23 from Voikovskaya metro to the market).
On the other side of the Timiryazevsky Forest near Timiryazevskaya metro is the timber Church of St Nicholas. Modelled on designs by the great, art nouveau architect, Fyodor Shekhtel, the original church was consecrated in 1916, not a great moment for religious buildings.
Many of Moscow's incredible monasteries include wooden chapels, often a simple structure over a well. One such building can be found as part of a picturesque ensemble in the village of Kosino, east of Moscow. The wooden St. Tikhon chapel is nothing special, but the atmosphere of the cloistered, waterside garden by the Beloye Ozero (white lake) makes it worth visiting. (You can catch a bus from Vykhino metro station and then walk around the lake).
Suburbs like Kosino give an impression of village life, if you can ignore the noise of Moscow's ring road, but for real rural peace, you will have to head further afield. For a day trip from Moscow you could try Melikhovo, where Anton Chekhov had his country house. The restored wooden church in the village is just a short stroll from the dacha, through a lane with wandering chickens and well-tended cottage gardens.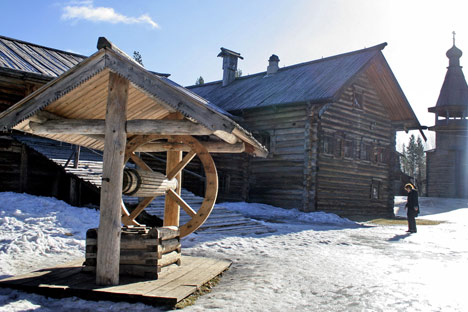 Malye Karely. Source: Itar-Tass
Whatever pleasure visitors derive from wooden churches, old or new, should help to draw attention to the plight of some of Russia's architectural treasures, now on the verge of extinction. Milchik lists churches already lost and those under threat in this "disappearing page of Russian and world culture" and asks: "will they be rescued in time?"
All rights reserved by Rossiyskaya Gazeta.