An odyssey celebrates the miracle of wooden churches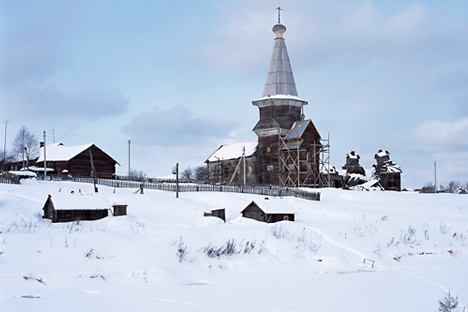 Samino Pogost, Arkhangel region, Church of The Prophet Elijah (1692 -1702). Source: Richard Davies
A many-domed wooden church stands in a field of snow. It is a quintessentially Russian image, one that goes beyond stereotypes to deep cultural and spiritual roots.
More than a decade ago, architectural photographer Richard Davies found some old postcards of wooden churches by Ivan Bilibin, a Russian artist famous for his fairy-tale illustrations. In 1902, Bilibin had made the first of three trips to explore the folklore-rich Russian North and record his findings. Exactly a hundred years later, Davies set off to follow in his footsteps. His journeys would span nine years and many thousands of miles.
The resulting photographs are a haunting survey of perishable, architectural treasures in various stages of decay. Less than half the churches Davies searched for had survived the intervening century of communism, war and weather. Collapsing towers and copies of anti-religious propaganda from the 1920s are shown alongside breathtaking shots of churches under Arctic skies or next to sunlit rivers. Several cities, including London, Moscow, Tallinn and Helsinki, have hosted exhibitions of these photographs and the book has done well. John Sandoe, a bookseller in Chelsea, tweeted last November: "We've sold more of the fab 'Wooden Churches' than 'Fifty Shades of Grey'."

View A taste of old Russia:Twelve places to see wooden churches in a larger map
For Davies, his journeys through the Russian North were "pure pleasure," something that occupied most of his spare time and money. "Instead of going to the beach or going skiing," he told RBTH in a recent interview, "I went to Russia … that was where I wanted to be." There were "no difficult moments," Davies said, "but several funny ones," including a brief run-in with local security services where he ended up sympathising with officers who had to fill out handwritten forms in triplicate.
"The thing about travelling in the Russian North is that every day is an adventure. You never know what is going to happen." Alexander Popov, a physics professor from Saint Petersburg, drove and accompanied Davies in an old Volkswagen. Davies described his "amazing admiration for the people" and occasional frustration at being "stuck with my tripod, waiting for the light to shift, while all around me was the life of the village." His next book may involve photographs of the vanishing culture that surrounds these churches. Rural depopulation has destroyed more buildings than war or vandalism. "Churches especially suffer where the village has disappeared," said Davies. "At one stage there would have been a church every ten to fifteen kilometres [six to ten miles] along the Onega River and so on Sunday the whole river would have rung with bells."
Wood can be a fragile building material, but the local pine logs are dense and last well. Traditional building techniques did not involve nails or complicated tools, simply an axe and a beautiful dovetailing of interlocking pieces of wood. "They were building with a material they understood intimately," said Davies. "The technology is simple, but skilled architects and craftsmen can push it to the limit." The great preservationist Pyotr Baranovsky, famous for saving Saint Basil's Cathedral, wrote: "I don't know anything more miraculous than Russian wooden architecture."
Since Soviet times, a series of outdoor museums have preserved examples of this architecture. For Davies, they provide a useful introduction, but "the churches were built for locations … you can see a lion in the zoo, but it looks even better in the wild." For those travellers who want to attempt their own church-safari, Davies recommends starting in Kargopol, with its 17th century stone churches, and then following the Onega River towards the White Sea. At Lyadiny, a village about 20 miles west of Kargopol, there is "a troika of two churches and a bell tower, which is very rare." It is one of the few complete surviving ensembles and the sky-blue ceiling inside the summer church is painted – as co-author Matilda Moreton describes it – with "seven archangels, the four evangelists and a sprinkling of gold stars."
Winter was no barrier to Davies' continued exploration and some of his most atmospheric shots were captured in the long months of snow. The church on the book's cover is in Podporozhe in the Arkhangelsk Region. Moreton describes their first impression of a "cut out church … against a violent orange sky." "We arrived in the evening and the light was amazing," said Davies, "and we came back in the morning. The frozen river was covered in mist and we walked across the river and the church appeared out of the mist. The winter in Russia is magical, especially in the countryside, if you've got the right clothes." Occasionally, he admits, he envied Moreton, when "I was outside up to my neck in snow, photographing the churches, and she would be inside interviewing grannies and being fed blinis."
A journey through literature
Davies, who has worked with many top architects including Norman Foster said he is not a Russian expert, but "a simple jobbing photographer." He jokes that a lifelong interest in Russia began with "head banging to Prokofiev while my friends were head banging to the Rolling Stones.
You can buy 'Wooden Churches: Travelling in the Russian North' from Amazon.com. You can also buy it in several european and american bookshops, listed here.
Ecclesiastical architecture is closely connected with Russian art, from icons to Vasily Kandinsky and beyond, via well-loved landscapes like Isaak Levitan's "Above Eternal Peace," with its isolated wooden church. The book features these and literary quotations, from Leo Tolstoy's "Resurrection" to Vladimir Mayakovsky's iconoclastic poetry, becomimg, in effect, a journey through Russian culture as well as an extraordinary travelogue.
Moreton's moving introductory essay summarizes the complex historical background and concludes with a tribute to the resilient "survivors of hard times, who have shared their stories with us." They continue, Moreton writes, to "sweep the wooden churches of the Russian North, light the candles and kiss the icons … and decorate the windows with pussy willow on Palm Sunday."
All rights reserved by Rossiyskaya Gazeta.