A local's guide to wine bars: Where to get a good pour in Moscow in 2017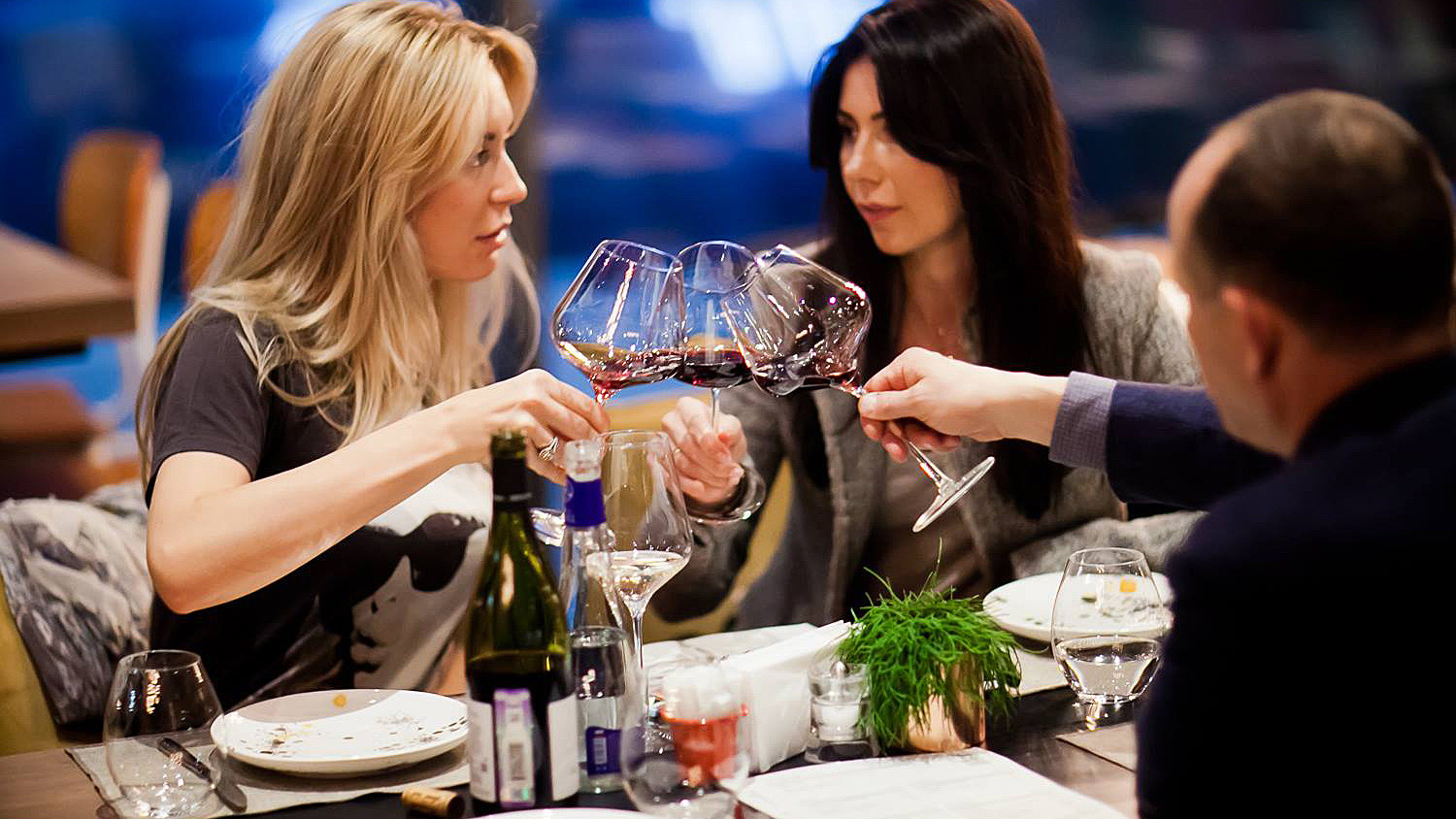 Moscow's wine bar scene is very quickly catching up with other cosmopolitan world capitals. There are many places where you can savor the nectar of the Gods in an awesome setting and with some tasty nibbles!
Beer & Brut
Beer for the gents and sparkling for the ladies! In all seriousness, Beer & Brut on Pokrovka St. is a fun-loving pub where you will find exactly what you like, be it a full-bodied red, an oak-aged white or a delicate sparkling with citrus notes. The wine menu was developed by head sommelier Andrey Arbatov, a well-known figure on Moscow's winescene. For him it's the best of the best (think Nicolas Feuillate Champagne, Markus Molitor Sekt or La Vida al Camp Cava) or something that doesn't compromise on quality even if it happens to be affordable. The food menu boasts a wide range of mouth-watering dishes to perfectly complement both beer and wine but the pizzas here are the real star of the show!
Hleb i Vino (Bread and Wine)
This mini-chain has four very central locations in Moscow: Maroseika St., Patriarch's Ponds, Tverskaya St. and 1905 St. The name translates simply to "Bread and Wine" and the concept is reflected perfectly. A wine cellar where you can pick up a nice bottle to take home or, for the same price, sit in and enjoy with something delicious from the constantly expanding menu of tapas, salads, soups, pastas, risottos, meat, fish and various street food dishes. The atmosphere is laid back and not much interferes with guests enjoying their wine and their friends' company.
Vinniy Bazar
The idea to open a bar with no wine menu but rather shelf after shelf stacked with wine bottles at store prices came to Evgenia Kachalova in 2014 and that's how the first Vinniy Bazar on Komsomolsky Prospekt came to be. Muscovites reacted extremely positively to this new concept of getting together with friends, trying out new wines and nibbling onwine-friendly snacks and tapas.
By now, there are four Vinniy Bazar locations in and around the center: Komsomolsky Prospekt, Nikitsky Boulevard, Petrovsky Boulevard and Bolshaya Sadovaya St. Brand chef Ilya Lustin created a full blown food menu to accompany the nectar of the Gods and each dish is a real hit. And as with any great wine bar, the atmosphere and interior is very conducive to all night conversations with your friends.
Prostiye Veshi New Vintage
Unlike the other restaurants under the Prostiye Veshi brand, the one called "New Vintage" on 1st Brestskaya St. (near Belorusskaya station) is a more mature and grandiose establishment - in the good sense of the word. New Vintage occupies two floors in a beautiful mansion, which is aesthetically extremely pleasing, and in terms of wine, you can get a very wide range by the glass at very reasonable prices. The cocktail menu has lots of surprising cocktails based on sparkling wine and the approach towards food here is a combination of unique cooking techniques and easy to understand ingredients.
Magnum Wine Bar
The masterminds behind Torro Grill and Boston Seafood & Bar are consolidating their grip on the trendy Belaya Square area by making their debut on the wine bar scene with Magnum Wine Bar. With a pleasant European winebar feel, more than 100 types of wines (half of which you can get by the glass), delicious food and democratic prices, Magnum Wine Bar has become an instant hit with Moscow's wine lovers. What really makes Magnum stand out from the rest, however, are the weekend brunches with 150r. Cava, 250r. Prosecco and 350r. Champagne! Also keep an eye on their Facebook page for all kinds of wine tasting events.
Litro
The talented Giuseppe Davi (of the Semifreddo and Butler fame) now works his magic in the open kitchen at Litro, a new Italian restaurant on Bolshaya Gruzinskaya St. with a heavy focus on wine. You can get wine in all sizes (bottles, one liter bottles, half bottles or glasses) and from virtually every wine region imaginable (even Luxembourg, Israel and Crimea) all for reasonable prices. In addition, here you can make your wine obsession an affordable one because on Wednesday's there's a 50% discount on a thematic wine (new theme every week) and on Sunday's all bottles can be purchased at half price.
Lavka Lavka
Although this is not a wine bar per se, Lavka Lavka's focus on all things Russian means that you will struggle to find awine menu in Moscow with more types of Russian wines than here. Apart from wine, you can imbibe some delightful cocktails based on polugar - a more ancient type of spirit. It is quite different from modern vodka, rather more akin to legendary Russian bread wine, the noble father of vodka!
If using any of Russia Beyond's content, partly or in full, always provide an active hyperlink to the original material.