Live music and running like 'hares': 5 things you'll only experience on 'elektrichka' trains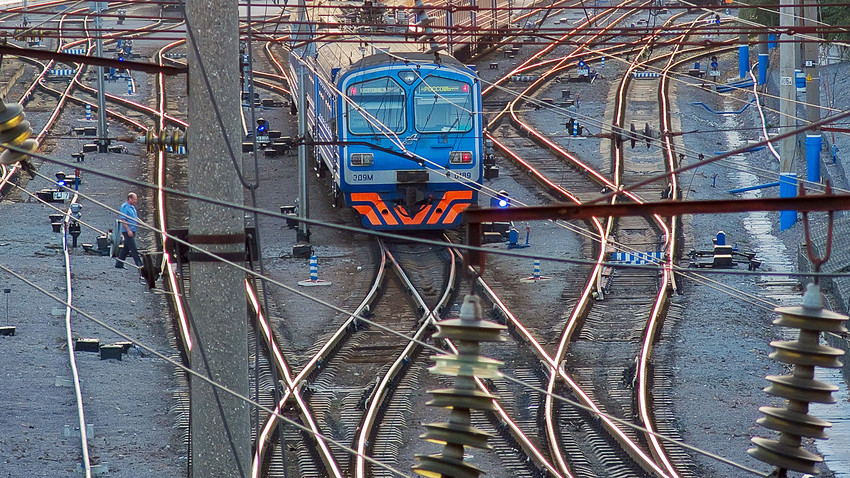 It's possible to get a taste of the real Russia on the country's suburban rail network, especially as a foreigner!
Each day, many Russians travel rather a long way to work. One of the cheapest and most reliable forms of transport are elektrichkas: Suburban trains connecting small towns and villages with cities. Here are some tips for your next trip from a real expert.
Every day about two million people commute to the Russian capital on elektrichkas. The main rush hour at the regional train stops is between 8 and 9 a.m., when people rush to Moscow from all over the land to earn money. You don't need any documents to buy a ticket on elektrichkas, unlike on big trains like the Sapsan.
Getting in, getting out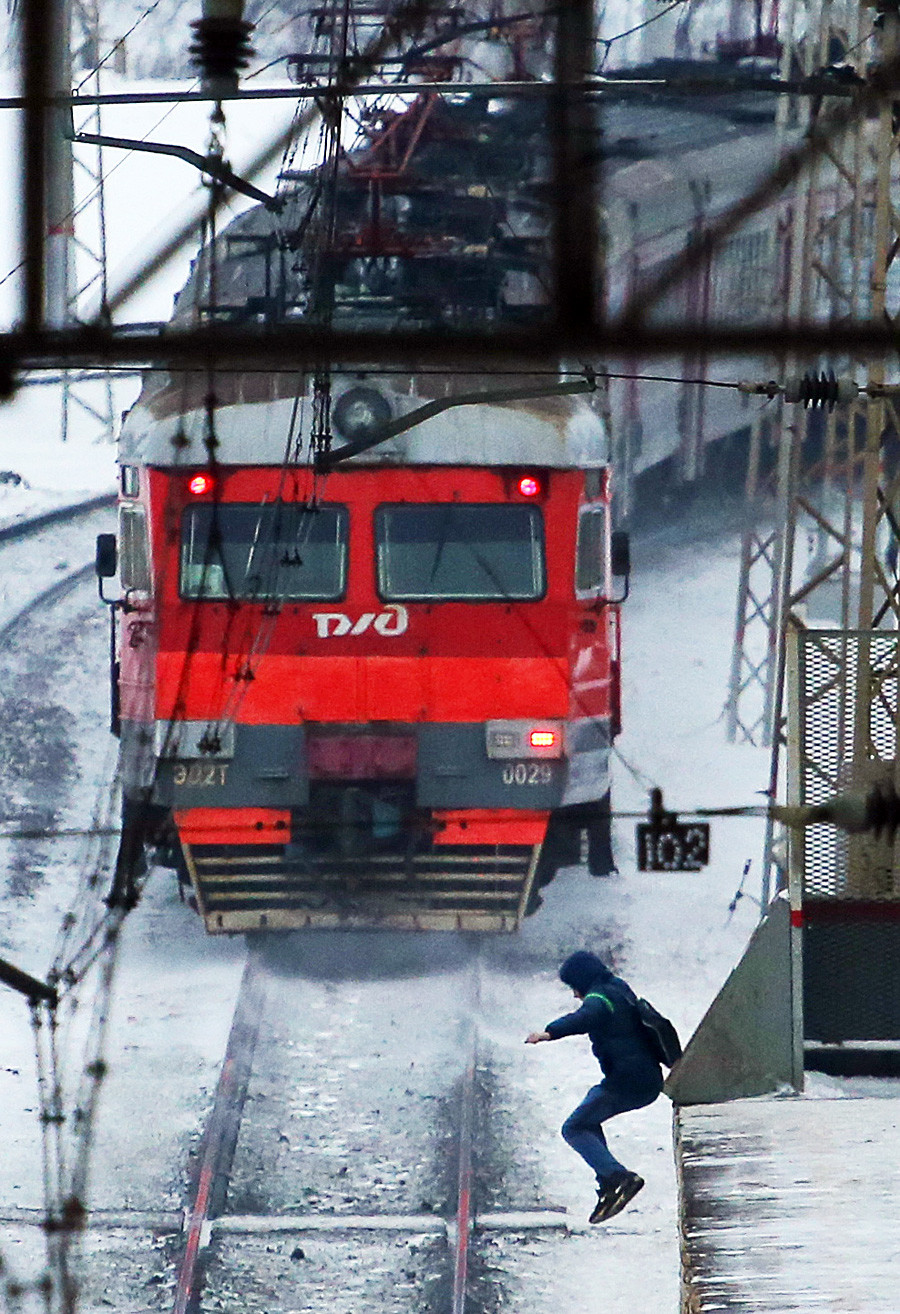 It's pretty straight forward buying a ticket (between 70 and 500 rubles, $1-8 dollars) just look for the "prigorodnyepoezda" ("suburb trains") signs in the train stations. When you reach the tourniquets, flash your ticket, and you're away! Actually, don't get too carried away: Sometimes someone will check your ticket before you hop on the train because people often jump the barriers. Out of the two million people who use elektrichkaseveryday it's thought around 300,000 get away without paying.
Remember to keep your ticket - you need it to exit your destination station.
Finding and fighting for a seat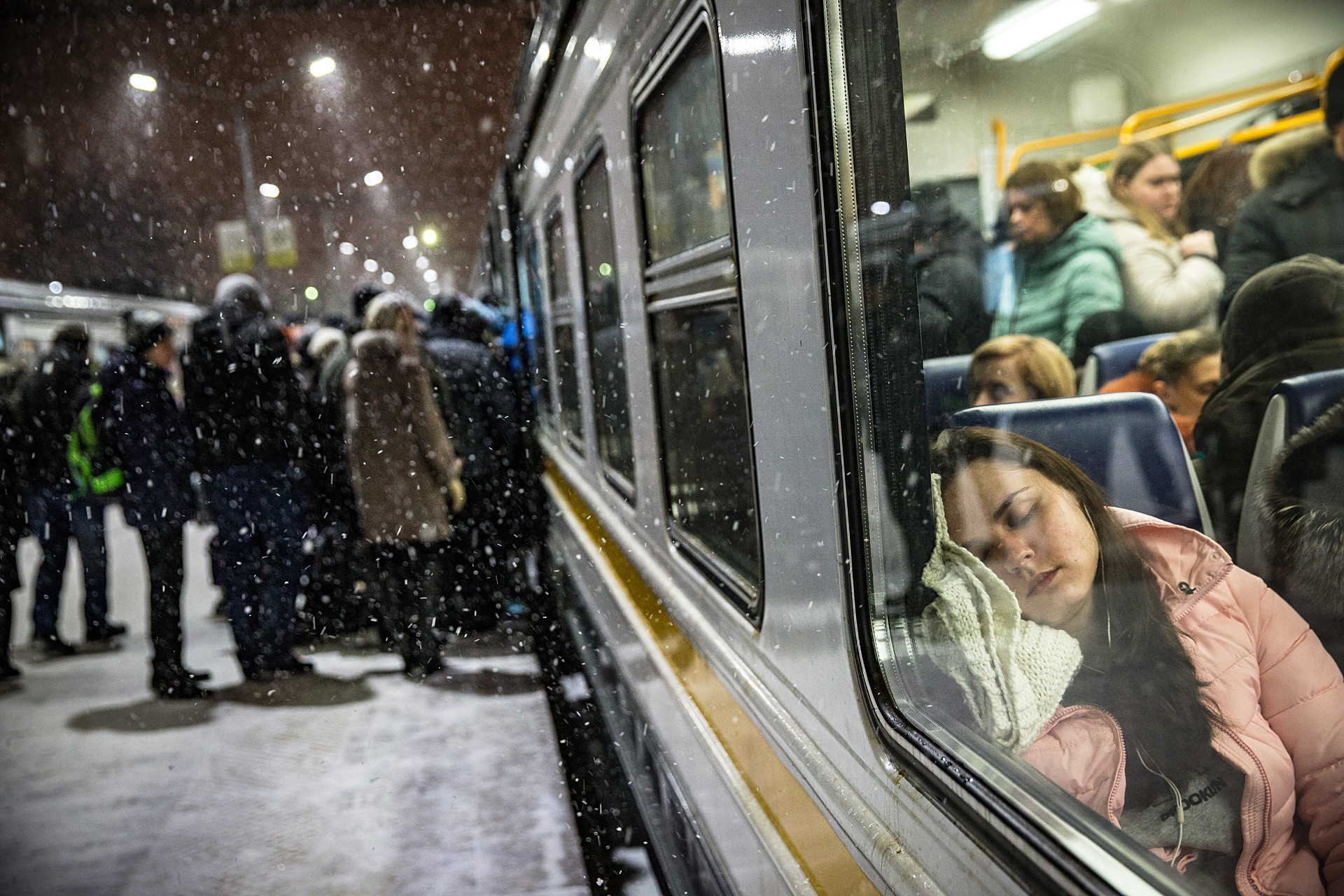 Passengers on a platform of the Odintsovo railway station.
Dmitry Serebryakov/TASS
On the old elektrichkas you can still open the windows and people sometimes throw their bags through from the outside to reserve a seat. Try to find a spot that hasn't been earmarked. On these old trains the seats typically face each other: Three people starting at three people.
Another annoying habit - sometimes someone (more often a woman aged 55 to 60) sits alone on a row and reserves the rest for people who won't jump on the train until later, perhaps a few stops down the line. This can be very frustrating. Do you fight for a place or suck it up and stand? The choice is yours.
Merchants and musicians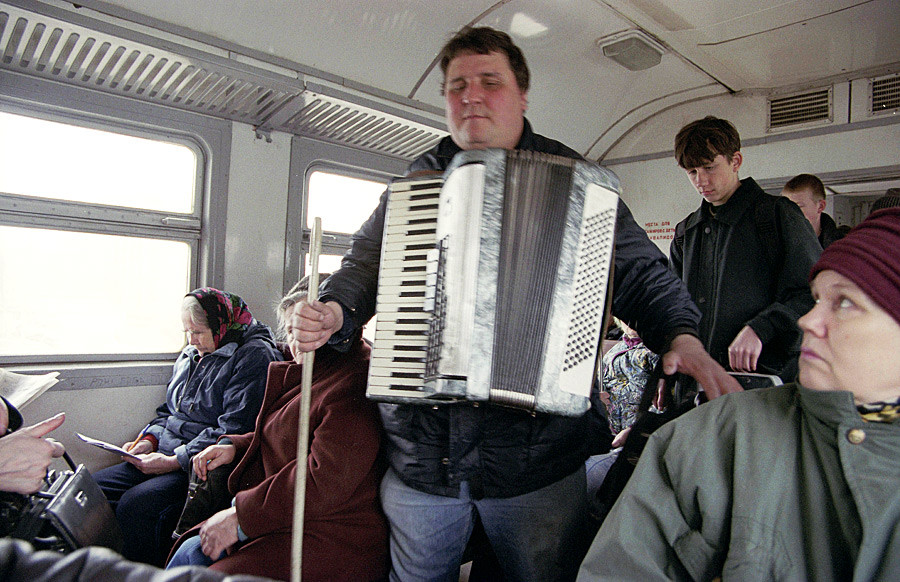 Zamir Usmanov/Global Look Press
"Dear passengers..." These words are not only uttered by the driver when he is making an announcement but also by all the people trying to peddle their merchandise on board: Papers, pencils, lighters, bags, socks, dishcloths, and other stuff. If you don't meet one of these people you are sure to meet an elektrichka musician: Students, pensioners, or the unemployed try to earn some money by singing traditional or religious Russian songs, playing the guitar, and covering rock classics. If you like it, why not give them a few rubles?
Actually, selling things and singing on the trains is not really allowed, but it's often just ignored. Keep in mind: The cheaper the transport, the more freedom reigns.
Eating, drinking, smoking, and …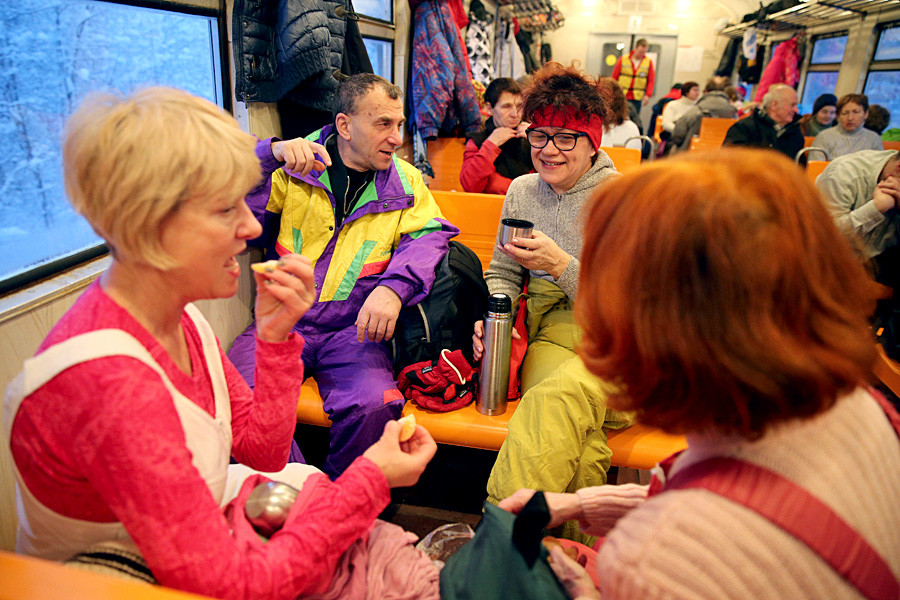 People on a 'Lyzhnaya Strela' (Ski arrow) train, a free of charge train which takes people to ski-runs.
Ruslan Shumakov/TASS
The same "rule" counts for eating, drinking, and all the other physical needs people have. Officially it's forbidden to consume alcohol, but the conductors often turn a blind eye.
Most elektrichkas don't have any toilets – or only one in the first wagon - and it's not recommended to use these. The "tambur," the space around the doors and between the wagons, is often used by travelers to relieve themselves...so these spots can be a little smelly. In fact, people smoke (despite the no smoking signs) kiss, drink, fight, etc. in the tamburs: They can be pretty lively.
Running 'hares'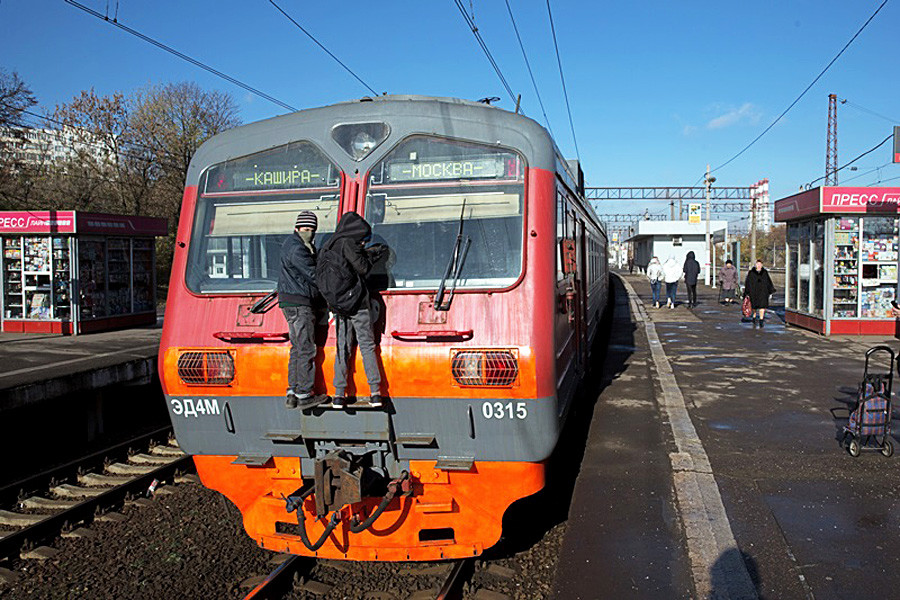 Kommersant
Often there will be a huge exodus throughout the train. A few moments later and four conductors will walk through, looking for those who haven't bought tickets. Look out the window and you'll probably see those cheeky rascals running away.
These people are called "zaytsy" ("hares"). Around 15 percent of all passengers on elektrichkas are "hares." They hide from the conductors. The funniest thing about them is that they often don't look like poor people at all: Women in high heels, businessmen with notebooks and iPhones, stylish hipster students. Lots of people think transport should be free and refuse to pay out of principle.
Ostorozhno, foreigners! Be yourself!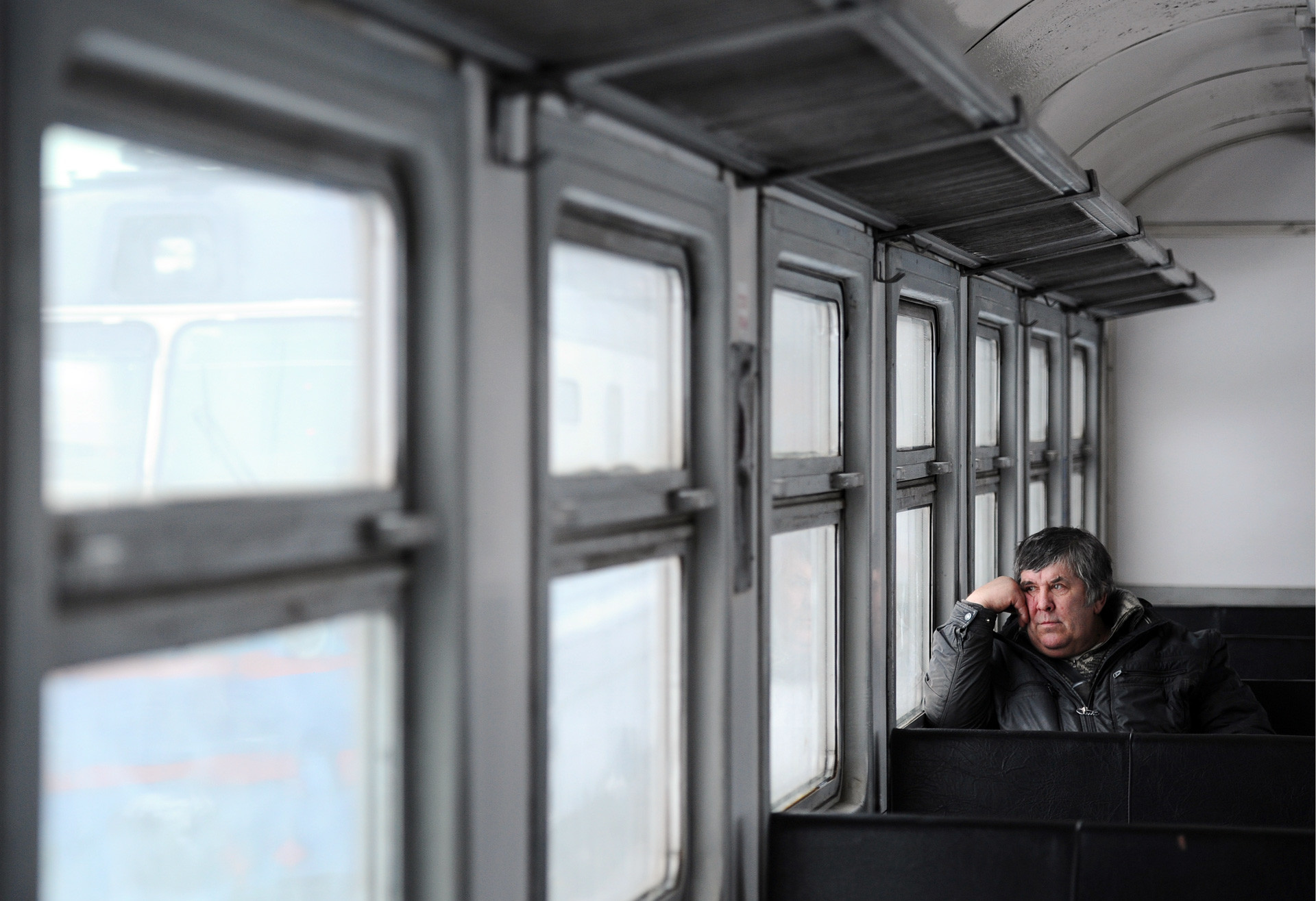 A man looks through the window as he sits in a commuter train.
Alexander Ryumin/TASS
While Russians only usually take the elektrichka for short ways from home to work and back, the Moscow-based journalist and traveler Alexander Luchkin made it all the way from Vladivostok in the Far East to the Russian capital on the trains!
"In Russia we have a special relationship with foreigners, it's a historical thing," Luchkin says. "Russians show foreigners extreme politeness and reverence, more than their compatriots. At the same time we look at them as foreigners, who do not know our real life. For a traveler that is an advantageous position: Here you can be like a curious child, and everyone will excuse you for that." Sometimes, Luchkin says, even he himself tried to play the role of a foreigner when he traveled through Russia. "Because people are more willing to give you recommendations and help you."
If using any of Russia Beyond's content, partly or in full, always provide an active hyperlink to the original material.